Cutler dealing with diabetes, eager for season
Updated: May 2, 2008, 6:15 PM ET
ENGLEWOOD, Colo. -- Jay Cutler realizes he should have recognized something was wrong last season when lost 35 pounds and some zip on his famous fastballs.
"I had no energy," the Denver Broncos' third-year quarterback said Friday. "We thought it might be stress and the grind of going through a whole season. But once I got back here and started working out again, I just wasn't making any improvement. I wasn't getting any stronger. I was still losing weight."
Routine blood tests that are required before players participate in the team's offseason strength and conditioning program revealed the answer: His sugars were about five times higher than normal.
[+]
Enlarge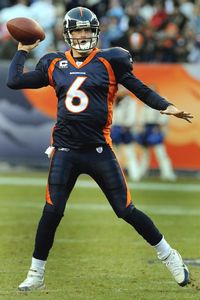 Steve Dykes/Getty Images
Jay Cutler said he lost 35 pounds last season before being diagnosed with Type 1 diabetes.
The 25-year-old quarterback met with doctors last month, who told him he's an insulin-dependent diabetic. He got a crash course in the disease and its ramifications if uncontrolled.
"It's a little overwhelming to get that news and realize you're going to have to completely change your life," said Cutler, who accepted his fate after a few days.
"It's not something that's going to go away," Cutler said. "It's something I'm going to have to deal with my entire life and you've got to come to grips with that."
He said he never worried about his career being in jeopardy.
"No. That's the first thing they said to me: 'It's going to affect your lifestyle a little bit, but you'll be able to continue to play football,' " Cutler said. "I'm not the first athlete to get diabetes and I won't be the last."
Other professional athletes who dealt with diabetes and had successful careers include NFL quarterback Wade Wilson; tennis stars Arthur Ashe and Billie Jean King, Olympic swimmer Gary Hall Jr., NHL star Bobby Clarke, baseball Hall of Famer Ty Cobb and boxing greats Joe Frazier and Sugar Ray Robinson.
As long as Cutler manages his disease through exercise, medication and diet, there's no medical reason he wouldn't be able to continue performing at the NFL level. He'll have to monitor his blood glucose levels during games and drink some Gatorade if his sugars drop too low or take a shot of insulin if they skyrocket.
"I've got a lot of people watching me," Cutler said. "It's not going to affect me on the field. I'm going to make changes off the field, eating and stuff like that."
About 21 million Americans have diabetes, meaning their bodies cannot properly turn blood sugar into energy. Either they don't produce enough insulin or don't use it correctly. With the Type 1 form that Cutler has, the body's immune system attacks insulin-producing pancreatic cells, so that patients require insulin injections to survive. It usually, but not always, strikes in childhood.
The 6-foot-3 Cutler said he dropped from 238 pounds to 203 by season's end but is back up to 220 since beginning insulin injections after he was diagnosed last month. <!-- PULL-QUOTE (BEGIN) -->

They would ask me what was up and I would say, 'I don't know. I'm just so tired.' I was pale, I was skinny, I couldn't run. It was pretty dramatic.
-- Jay Cutler

<!-- PULL-QUOTE (END) -->

"I've felt great. I've felt 100 times better," he said. "Just a difference now and four, five weeks ago is tremendous. It's hard to explain what you feel like when your levels are at 400, 500, it's different. You don't have any energy, you don't really want to do anything, you sleep a lot. It's tough to deal with."

Cutler said he had all the classic signs of diabetes: unexplained weight loss, frequent urination, constant thirst, lack of energy. Without a family history of the disease, though, he never suspected that was the culprit.

Cutler, the 11th pick in the 2006 draft, threw for nearly 3,500 yards and 20 touchdowns last season but the Broncos missed the playoffs for a second straight year. It was obvious as the season wore on that his arm strength wasn't what it was his rookie year, when he started the final five weeks of the season.

"I'm not going to blame it on that, but thinking back, there were some throws that didn't have a lot on them," Cutler said. "I was able to go out and perform, I just wasn't that energetic. I was tired. After the games, I was completely wiped out. Some games I didn't do a whole lot. There was something wrong."

In the weight room, he couldn't lift as much, and when he and teammates Brandon Marshall and Tony Scheffler gathered in Atlanta over the winter to work out together, Cutler said there were times he couldn't get out of bed in the morning he was so exhausted.

"They would ask me what was up and I would say, 'I don't know. I'm just so tired,' " Cutler recalled. When he went back to campus to visit friends at Vanderbilt, they, too, wondered what was wrong: "I was pale, I was skinny, I couldn't run. It was pretty dramatic."

Now, he feels like a million bucks and he's eager to get into practices and exhibitions to see how his body reacts and how he can keep his blood sugars in control during competition.

As for his changes in diet, no more eating, as he put it, "anything and everything."

"It's a big adjustment," Cutler said. "You're 25 years old, you're used to eating whatever you want, doing whatever you want. If you want to go out to lunch, go ahead and go. Now, you're counting carbs and eating healthier and injecting insulin at the table. You've got to have your insulin, your needles, your glucose meter, yeah, it's a big change. But it's something you have to deal with."

Eating less fast food is a silver lining to his diagnosis, said Cutler, who is looking into getting an insulin pump in the next month and plans to expand his charity work to include juvenile diabetes.

He also wants fans to know he's going to be all right.

"This is a serious, serious disease, and I'm going to have it for the rest of my life," Cutler said. "It's not going to change me on the field. I'm going to have some lifestyle changes, but I'm probably going to be a better quarterback this year than I was last year."

Copyright 2008 by The Associated Press

<!-- promo plug --> <!-- end promo plug --> <!-- end story header --><!-- begin left column --> <!-- begin page tools -->