Okay.... I've got more than I probably should have.  I've got a Jay Cutler Home Jersey, Action Figure and J. C. Saves T-Shirt (thanks to a post found on here). 
In talking to my buddy who comes down to L.A. from Vegas for the draft every year we were trying to figure out what to do with our stuff lest we become one of those goofballs you see at sports bars wearing a Travis Henry or Clinton Portis jersey. 
 Like an ex-girlfriend that left in the night we are left with a bunch of expensive stuff that we don't want....  The question is, once Jay is gone, what do we do with his crap? 
There have been a couple ideas of what to do with this stuff.  We'd thought about a ceremonial burning in the fireplace on draft day.  Kind of a sacrifice to the Bronco gods... But then I thought with the recession on we might as well donate these items... to children with emotional problems.... Fitting right?
Now the action figure (I don't know what to call it - it's one of those McFarlane figure things...  Here's a picture...)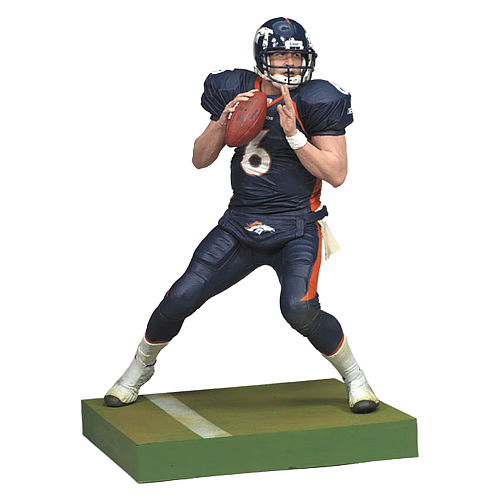 What do you do with this?  The sacrifice idea doesn't work because well frankly it's kind of creepy to see a Bronco melting in the fireplace... You can't donate it to needly children....  Bury it in the yard?  Dog toy?  See how long Jay holds up on busy Fair Oaks Avenue outside my house (perhaps a metaphor for life in Detroit with a sorry-a$$ o-line?)? So many options....
What do you suggest?  I got the gear and plenty of ideas.... What are you going to do with your Jay gear?
J