Alright I've been debating about doing a mock, but have felt it is still a little early. While sitting here at work bored I decided to get my 1st one out of the way. the draft is one of my favorite parts of the football season. I'm not positive if the pick numbers are correct that I will be using, but hopefully close enough. I will be trading a few guys as well as I've seen in numerous Mocks on this site. So this really is just my opinion. Lets get started:
1st Trade: Brandon Marshall to Tennessee for 1st (#13) and 3rd (#74)
2nd Trade: Tony Scheffler to Cleveland for 3rd (#69)- I really don't think Scheff could get us a 2 anyway
3rd Trade: Peyton Hillis to Washington for 5th (#131)
Draft looks like:
1st Round: #10 and #13
2nd Round: #50
3rd Round: #69 and #74 and #80
4th Round: #110
5th Round: #131
6th Round: #177
7th Round: #208
1st round #10 Overall Alabama LB Rolando McClain
If he is still around at pick 10 I do not see how we can not take him. Coach Nolan gets a clone of Patrick Willis and will take over the leadership role of the D when B-Dawk hangs them up in a couple years.
1st round #13 overall Tennessee NT Dan Williams
6'3" 327 LBS of beast at the NT position. This is the pick because I don't see a WR worth it here since Dez Bryant will be off the board.
TRADE pick #50 and pick #74 to Buffalo for pick #39 and #198
2nd Round #39 Overall Idaho G Mike Iupati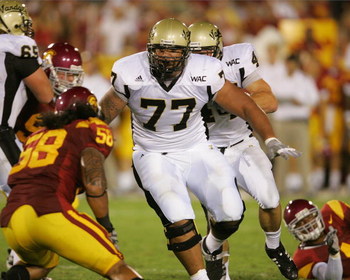 6'6" 330 LBS mean nasty Lineman. We all know Stink would love this pick too being from his school. Guards do not typically get taken in the 1st round the last I believe was Ben Grubbs by Baltimore a few years back. Iupati starts over Ben Hamilton/Ross Hochstein immediately.
3rd Round #69 overall Missouri WR Danario Alexander
6'5" 215 LBS with the WR draft as it is somebody will fall to the 3rd round I just picked Alexander being he's a Big 12 guy.
3rd round #80 overall Duke DE/DT Vince Oghobaase
6'6" 300 LBS has been inconsistent at times and missed some time due to injury. Boom or bust prospect.
4th Round #110 overall BYU TE Dennis Pitta
6'5" 250LBS could go anywhere between rounds 2-4.
5th round #131 overall LSU RS Trindon Holliday
5'5" 160 LBS will be the fastest player at the combine hands down. Takes over at both Punt and Kick returner and shows Devin Hester like ability
6th Round #177 Overall Tennessee QB Jonathan Crompton
An NFL after thought until this year. Smart guy makes all the throws required by NFL QB. Takes back-up job from Brandstater this year and starts next year over KO
7th Round #198 Overall Oregon RB LaGarrette Blount
Seen this pick in most mocks and LOVE it. He becomes a huge weapon on short yardage and gives us a reason to cut old reliable Lamont Jordan
7th Round #208 Overall Florida LB Ryan Stamper
ST demon will remind us all of Kieth Burns. Urban Meyer says one of smartest and will work harder then anyone. Probably will never be a Starter, but will be a pro bowl caliber STer.
Well that killed like an hour at work so I'm pretty happy! Let me know what you guys think. And thanks for checking it out.