Growing up in Colorado, I had no choice but to be a Bronco fan. I bled orange from the get-go, I had no choice. I thought Tom Jackson was my best friend, though I never met him. I thought Louie Wright would never have a pass completed against him. I thought that Steve Foley would some day marry my sister. I firmly believed that the "M&M Connection" was unstoppable! I knew that Rob Lytle was going to be better Jim Brown. AND also knew that Randy Gradishar was the best linebacker in football no matter what anybody said in Pittsburgh! More LOVE AND HATE after the jump.
Being a young child of the early Orange Crush days here are a few flash-backs:
Though our beloved Orange Crush Defense of 1977 didn't look on the surface as mean as the hated Raiders, the ORANGE was what it was all about! Boy was I sad when Lyle went to the Browns.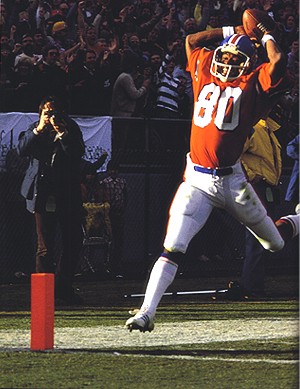 Yes I voted: "Upchurch for President"
Man I hated these two!
Dave Casper was good but not a Bronco!
Yep that's stick-em all over his socks, my mom called him gross, who was I to argue?
The most hated of them all in our family room was Ken Stabler, The Snake!!
My favorite game of my youth, yes a kicker named Jim Turner helped in the glory:
Oct. 16, 1977: Denver 30-Oakland 7
A team record seven interceptions helped Denver to its seventh straight win, including two from last season, and gave the Broncos sole possession of first place in the AFC West. Oakland took the opening kickoff and marched 70 yards in 10 plays, capped by a nine-yard pass from Ken Stabler to Dave Casper. The first of three interceptions by linebacker Joe Rizzo led to the Broncos' first score, a Craig Morton-to-Riley Odoms pass covering 10 yards. Lonnie Perrin's 16-yard touchdown run and a 25-yard pass from holder Norris Weese to kicker Jim Turner following a fake field goal gave the Broncos a 21-7 halftime lead. Louis Wright picked off a Stabler pass in the third quarter and raced 18 yards for a touchdown to put the game out of Oakland's reach. Stabler completed 20 of 40 passes for 274 yards, but his seven interceptions set club marks for both teams. The loss snapped Oakland's 17-game winning streak, which tied for second most NFL wins ever.
Yes, the "Predominately Orange" unis got us our first World Championship, but we are in need of an influx of ORANGE! I want my friends to come over on Sundays bringing an orange phone, wearing and orange helmet and turtleneck. I want another orange Jeep. I want my neighbor's house to be painted orange! MR. BOWLEN, PLEASE GIVE US OUR ORANGE BACK!!!!