With free agency peeking it's head around the corner, I am still making these picks with a bit of uncertainty.  Like my last draft, I am still not going to have any trades.  So without further adieu...
Round 1--#10/11 Overall:  Rolando McClain   ILB   Alabama   6-4   256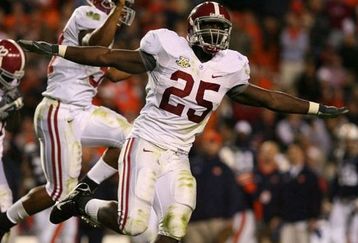 Round 2--#45 Overall:  Maurkice Pouncey    C    Florida   6-5    318
Round 3--#80 Overall:  Mike Johnson    OG    Alabama    6-5    305
 

Analysis

Pass blocking: Explosive initial punch. Sustains his blocks with good hand placement and upper-body strength. Locks on quickly and consistently controls his opponent in pass protection. Anchors well against the bull rush. Good balance. Plays with proper leverage and on the balls of his feet. May lack the lateral quickness to handle blocking on the outside. Struggles to recover laterally if forced to vacate his area.

Run blocking: Accurate hand placement and quick power steps to turn the defender efficiently and ride him out of the way to create holes for interior running. Good short-yardage run blocker. Very good use of leverage to create movement. Will get fundamentally sloppy when blocking straight ahead and lunge, allowing stronger defensive tackles to handle his initial surge and discard him too easily.

Pulling/trapping: Good initial and lateral quickness for the trap and reach block. Slows quickly, however, and struggles to adjust to moving targets in space.

Initial Quickness: Good initial quickness off the snap. Quick, explosive hands to gain an instant advantage on the defender in the passing and running games.

Downfield: Takes proper angles when blocking at the second level and can pancake the defender if he gets his hands on him. Only marginal agility when run blocking at the second level. Plays high and lumbers a bit when needing to move more than a few feet, allowing defenders an opportunity to elude him.

Intangibles: Cerebral blocker who adjusts quickly to surprise blitzes. Plays with a high motor. Versatile blocker with experience at all four exterior positions. Recognized as a team leader.

NFL Comparison: Justin Smiley, Dolphins
Round 4:  Jacoby Ford    WR    Clemson
Analysis

Hands: Generally looks the ball into his hands to make the secure reception. Has a tendency to allow the ball to get into his chest and will drop a catchable passes on occasion. Can snatch the ball outside of his frame and has improved adjusting to poorly-thrown passes. Good toughness to maintain control despite taking a big hit. Good hand-eye coordination and balance to track the ball over either shoulder.

Route running: Used predominately as a deep threat early in his career and still learning the nuances of running routes. Developing as a route-runner but has good foot quickness and balance to ultimately excel in this area. Rarely asked to go across the middle but has made strides when he's asked to do so.

After the catch: Faster in a straight line than he is quick. Doesn't dazzle with his lateral agility to elude in tight quarters, but if given space can be quite elusive and make defenders miss in the open field. Good vision to find the lane and has an explosive burst to squirt through the hole and into the open. Lacks the strength and size to run through tackles and too often goes down with initial contact.

Blocking: Only a pesky blocker despite good overall strength and competitiveness. Provides a pop to the cornerback and looks to help downfield.

Intangibles: Has the physical tools to develop into a better pro than collegiate receiver. Well-built athlete with a football player's physique -- as opposed to that of a track star -- who shows the willingness to run through traffic. Experienced return specialist with two career kickoff return touchdowns. The 2009 national champion in the 60-meter dash. History of injuries teams will more closely investigate. Missed the final five games of the 2007 season with a broken ankle; suffered a pulled hamstring during the NCAA Track and Field Championships that slowed his progress during this '09 preseason.

NFL Comparison: Ted Ginn, Jr., Dolphins
Round 6:  Stephan Virgil    CB    Virginia Tech    5-11    180
Analysis

Read & React: Good reaction skills. Peeks back at the quarterback and reads the body language of his receiver to gain an edge. Does a nice job of keeping his balance and waiting for the receiver to commit to his route, so as not to be beaten over the top by double-moves.

Man Coverage: Quick, active hands to supply a good initial jam when in press coverage. Loose hips to turn and run with receivers. Good balance and quick feet to change direction quickly and mirror his opponent. Active hands to ride the receiver as the route progresses. Good body lean to push the receiver toward the sideline to cut off routes. Has the top-end speed to run with receivers deep.

Zone Coverage: Stays low in his backpedal and gains good depth to maintain his cushion. Quick feet and good balance to turn and has a nice initial burst out of his breaks to close. Good recognition for zone coverage. Reads the eyes of the quarterback and is quick to jump on underneath routes, but keeps his head on a swivel to protect the deep half.

Closing/Recovery: When healthy, shows an explosive burst back downhill to close on the ball. Has good straight-line speed and is rarely out of position against the deep ball, but doesn't have a true second gear to recover when beaten initially. Has good body control and timing to compete for the jump ball. Locates the ball in the air, can contort in space, and shows good hands to make the interception.

Run Support: Reads run quickly. Strong hands to take on and quickly disengage from receiver blocks. Has a knack for penetrating the line of scrimmage to make tackles for loss in the running game -- despite his disappointing senior season, he led the defensive backs in tackles for loss with six.

Tackling: Reliable open-field tackler. Good face-up hitter. Takes on bigger ballcarriers low and wraps his arms around the legs to bring them down quickly. Flashes the ability to be an intimidating striker across the middle and will lower his shoulder into the ballcarrier.

Intangibles: Quality special teams player. Has seen action on five units over his career (punt return, kickoff return, punt block, punt coverage, kick coverage). Showed his toughness by playing through a knee injury throughout much of the 2009 season that required postseason surgery. Has a 3-year old daughter.

 
Round 7:  Cord Howard    OT/OG    Georgia Tech    6-5    310
All the analysis sections came from "nfldraftscout.com".  I think that once free agency comes and we see what this team does in it, then it will be easier to make these picks.  Hopefully, whatever they do, it is the right choice.  Sorry I didn't provide much insight on the picks, I'm not exactly, an draft expert, but whatever.  I hope the pictures make up for it though.  Thanks for reading and.......
GO BRONCOS!!