Here at MHR, we have nearly beaten the Tim Tebow horse into a bloody pulp, so I'll keep this pretty short and sweet.  I found a pretty saucy article over at ESPN.com this morning, which some of you may or may not have already taken a look at.
http://sports.espn.go.com/nfl/draft10/news/story?id=4935351
If you don't know my stance on Tebow, I absolutely love the guy.  You can compare it to Mike Golic's love for Brady Quinn if you want.  I simply think the guy is destined to succeed, and I have indicated on multiple occasions that it would be a colossal mistake for us to miss out on him, but I'm not quite sure where to place him in the draft.
We all need to mark March 17th down on our calendars.  Lots of NFL talent going to be showcased at UF, and Tebow will be under the microscope with his alleged new throwing motion.  I love this game!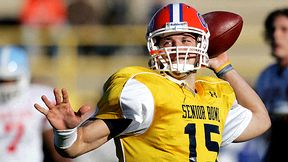 via ESPN.com