Every GM, Coach, and Owner shutter in their boots at the thought of spending millions of dollars on a player that ends up having character problems, bad work ethics, or talent that just doesn't translate in the NFL. We have had our fair share of these kinds of players during the Shannahan  era. Hopefully, we will will reduce the amount of those kind of players with McDaniels. It is too early to tell how the class of 09 stacks up, but it is just about time to start looking at the players that we should stay away from.
Terrence Cody
With the 11th pick in the 2010 draft, the Denver Broncos select a guy who can't stop ordering double cheeseburgers!? I used to be in favor with drafting Cody. He has the potential to be a strong Nose Tackle in this league. However, Sayre said something on one of my mock drafts that was so obvious that I didin't even think of it. It made me realize whoever picks him is taking a big risk. He said, (paraphrased) "What kind of a player shows up to the biggest interview of his life, out of shape?" It is simple statement that sums up why we should not take Cody. He has always had trouble with his weight. Throughout college his coach could not get him to keep his weight under control. He fluctuated all throughout college. He is too much of a risk and Denver does not have the luxury to draft a risk.
Carlos Dunlap
With the 11th pick in the 2010 draft, the Denver Broncos select the typical "athleticism of a pro bowler, but character of a child" style of player. Carlos Dunlap has freakish athletic ability. He ran the 40 yard dash at 4.71 speed. He is 6 ft 6 and 277 pounds. He has all the tools to succeed. However, there have been questions as to how much effort he really gives on the field. He also got a DUI in December of 2009. We already have one Florida bust in Jarvis Moss. We don't need another in Carlos Dunlap.
Jason Pierre-Paul
With the 11th pick in the 2010 draft, the Denver Broncos select a guy who is being drafted based solely on potential. How many guys have been drafted based on potential, but the potential never equated to anything? After just 1 year of Division 1 football, Pierre-Paul blew up the football scene and recorded a whopping 45 tackles and 6.5 sacks in 2009. (That last sentence was sarcastic just in case you couldn't tell) He has the potential to be a dominant defensive end in this league, but when you draft someone based on potential, there is always a risk. With the Broncos, it is an unnecessary one.
Rolando McClain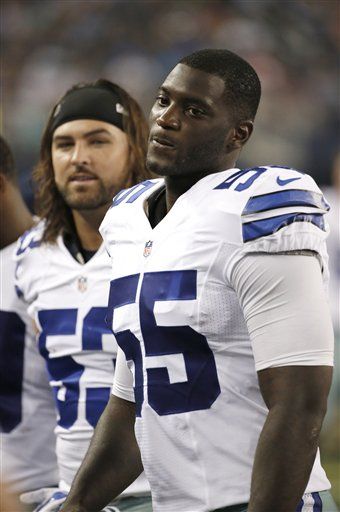 With the 11th pick in the 2010 draft, the Denver Broncos select an intense linebacker with plenty of experience in the 3-4 scheme. If somebody would have said that yesterday, I would have been thrilled and commented on how I couldn't agree more. However, today McClain revealed that he has Crohn's disease. It immediately turned me off to McClain. It's amazing how 1 little thing can totally change your perspective. Let me make myself clear, I think whoever drafts McClain is going to get a great player with a bright future. However, with the 11th pick, I just don't know if McClain is worth the risk anymore. If a doctor were to state that this disease would not affect his playing at all then I would reconsider.
Dez Bryant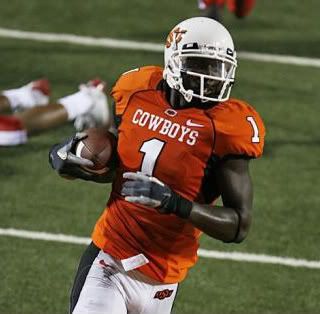 With the 11th pick in the 2010 draft, the Denver Broncos select a wide receiver with more character questions then Brandon Marshall, Al Davis, and O.J. Simpson combined. Okay maybe that is a little extreme, but you get my point. For a player who is supposed to be the best wide receiver in the draft, he has shown that whoever is going to get him is just going to get problems instead. On top of being suspended for all of 2009 for lying about his interactions with Deon Sanders, it has been reported that he often showed up late for team-activities and even games. If we trade Brandon Marshall, we will have a glaring need at wide receiver, but I would rather draft a receiver in every round of the draft then draft Dez Bryant.