After the Marshall trade I decided why not throw together one more mock draft before next week. Lets get started right away after the jump.


TRADE
Tony Scheffler to Arizona for 4th round (123)
1st Round Pick #11 (1250) to Houston for pick #20 (850) and pick #51 (390) Houston selects Joe Haden
DRAFT
With the 20th pick (Houston) Denver selects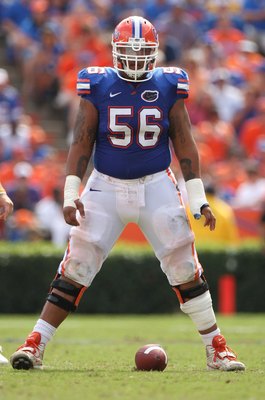 Maurkice Pouncey 6'5" 312 lb C Florida
I don't think we need to get into why anymore really.
With the 43rd pick (Miami) Denver selects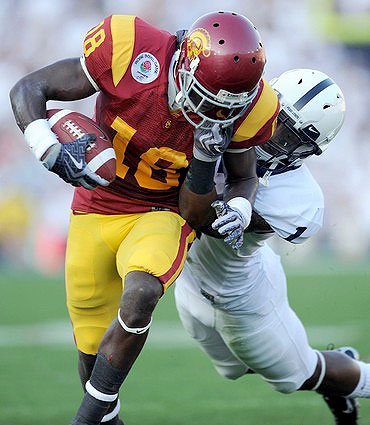 Damian Williams 6'1" 195lbs
Debated between Williams, Golden Tate and Arrelios Benn. All should be pick between the 1st round and here so I decided on Williams. Has soft hands and rarely drops passes. Good size with a frame that will allow him to bulk up some without losing any speed.
With the 45th pick Denver selects
Linval Joseph 6'5" 328lbs NT East Carolina
Has flown up draft boards after impressive workouts. Ran 5.09 at 328 and 39 reps shows he's in damn good shape. Has played since his true freshman year. Total stats in career are 143 tackles 29.5 TFL 6.5 sacks. Plus gets pressure on the QB had 6 hurries in 2 games for division and conference championship
With the 51st pick (Houston) Denver selects
Vladimir Ducasse 6'5" 332 lbs OL UMASS
Can start at Guard and provide depth at Tackle
With the 80th pick Denver selects
Toby Gerhart 6'1" 235 lbs RB Stanford
Big RB that can get the short yards behind the bigger OL now in place.
With the 114th pick Denver selects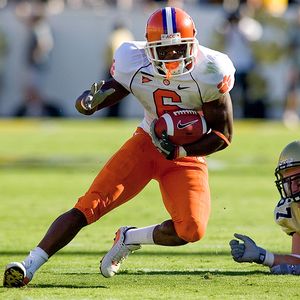 Jacoby Ford 5'9" 186 lbs RS/WR/RB Clemson
SPEED. Returns kicks from day 1 and McDaniels finds ways to get the ball in his hands in space.
With the 123rd pick (Arizona) Denver selects
Arthur Jones 6'3" 300lbs DE Syracuse
Learns behind the veteran DL we currently have. Should have solid career like Aaron Smith. Has very athletic family brother is UFC light-heavyweight prospect Jon "Bones" Jones.
With the 183rd pick  Denver selects
Micah Johnson 6'2" 256 lbs
If healthy should get a solid amount of playing time behind DJ and Mario Haggan in the middle. Only falls because of injury.
With the 220th pick Denver selects
Michael Hoomanawanui 6'4" 263lbs TE Illinois
Big athletic TE to help in short yardage and redzone situations.
There it is comments/concerns?