I was having a conversation with a buddy about the degree of "fun" one would have being an NFL owner.  Sure you can assume you have all the luxury items you ever wanted (McMansion next to your ex-coach or whatever).  But say you are the lone owner of your beloved team.  Is that fun or not?
I decided to pass - in my fictional world I just crumpled up the piece of paper and tossed it away.  I'll stay a fan.
Besides having to worry about the economics of the sport and having to sit next to Ralph Wilson and Al with their halitosis every year, I'd be hearing everyone's "brilliant" suggestions as to how to improve my team including from hacks who claim some sort of journalistic credentials.  AND every so often when I want to change the direction of the team, people will call me senile.
No thanks. 
Honestly, Bowlen has been the best owner a fan could ever hope for.  He has made tough decisions in bringing in young coaches who have built their teams with enthusiasm and creativity (please ignore the Wade era).
But what IF I was given "ownership" for one game.  What would I do? Well, since this is all fictional anyway, let's throw out some of the procedural hurdles to get the following done:
1) Of course, it would defintely be throw back jersey day and this would be our jersey.  I truly miss seeing these uniforms - and maybe some who used to wear them;)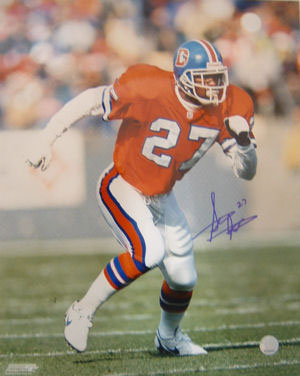 2) All tickets would be flipped in seat assignments.  First row folks would sit at the top of the stadium, and all top row would sit in the front row.  The only ones not affected would be the ones sitting right smack at mid-level.  The prices would be adjusted for the one game, so the ticket prices would be fair - luxury suites excepted since they pay big for my team-for-a-day.
3) All food and beverage would reflect the year of the throwback jersey.  I would use 1990 for the pricing.  I am guessing hot dogs would be $3 instead of $8 and "beverages" would range from $3 to the now $9 (or more).
4) I would raffle off every game jersey to one of the ticket holders and mail them the game worn  jersey without cleaning it.  This saves on the cleaning bill...economics inserted its ugly head even for my one game.
5) I want Alan Roach to give divisional game updates during timeouts.  I want people booing at the Raiders even when we're not playing them.
6) I may be insulting our very own Broncos culture but I feel the "In"-"com"-"plete" chant is tired (sorry).  We need a new orchestrated one.
The best team name ever is the Broncos.  BTW a two syllable team name is the perfect length.  Chanting it flows naturally.
When you think about it, each Broncos syllable has a deep, strong guttural tone.  No other team really has that.  Think about it: Sea-hawks, Dol-phins, Ben-gals, Eag-les, Gi-ants, Rai-ders, Char-gers, Cow-boys, Red-skins, Pack-ers, Vi-kings, Fal-cons, Jag-uars, Ti-tans, Ben-gals, Nin-ers, Tex-ans, etc...
Why havent we taken advantage of  this?! 
Now picture this, before every Broncos kickoff (since nowadays the only time fans get in unison about any chant the "jumbotron" has to instruct them, but that's another beef for another time), I would show a picture of half the stadium (west) and start with BRON!!! (think 2 seconds to say each syllable) followed by the other half (east) of the stadium would pop up and chant COS!!! This would happen about 6 times and culminating with the entire stadium popping up together and and screaming BRON!!!!(pause)  COS!!!  another 6 times.  It would shake the stadium.
Can you imagine to start a half or after a score, this chant raining down on the opposition?  The kick returner would need an extra layer of under armour where he sits.
Yes, it seems a bit college-y or soccer-ish, but with such a fanastic team name we should be using it to our advantage. I'm the owner, so it is done.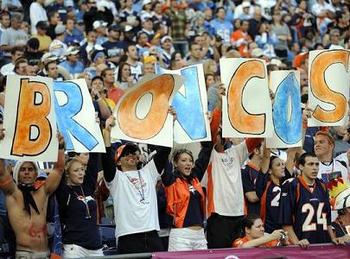 7) Please note I am not meddling in the team's buisiness...I'm a good owner. dont pay attention Al, keep doing your thing...it's working for you. 
Well, that's all I can think of for now.  So be ready, if I get my one-game ownership opportunity I'll expect everyone here to join me in my owner's suite:) 
Suggestions are welcome (since I'm only a one-game owner I'll welcome them).