This little trip down memory lane may seem self serving, but I am doing this to try and get a better understanding of how this community feels about certain things, and as a person who deals with society and how it works as a job, I find this to be a fun experiment.
To those who may not know this, it may have come to public light recently, well actually it's been on my profile for a while, but it has come out recently that I am actually a fan of other teams as well as Denver. This may feel like a shock or betrayal to some, and I know it is hard to take, but you must be strong so I can explain myself. Now just imagine we have those sweet little dream effects going on like during a flash back in movie, we'll continue after the jump.
A Little History:
I was born in southern Oregon, a place where the closest two football teams were about evenly distanced from us, San Fransisco and Seattle. Born in the mid 1980's, I was blessed to have been raised in the hay-day of 49er glory, so growing up they were an easy team to root for. I mean you had Joe Montana and Jerry Rice, then to Steve Young and Rice, and so on. Even to this day, it brings a tear to my eye thinking about Candlestick Park, the stadium where I saw my first NFL game. Seattle was the other team, now Seattle was pretty average team throughout my youth, and because the divisions hadn't been split yet, there wasn't too much of a problem between SF and Seattle at that point, but going to school one day and saying you like Seattle more the San Fransisco was a poor idea. Let me tell you, 4th graders can sure lay it on when they rub Joe Montana, Jerry Rice and Bill Walsh in your face and all you have is Cortez Kennedy, it can make any kid cry, which I did. So I hid my childhood love Seattle deep in my heart, where it still resides, bravely showing it's head every once in a while, like when Shawn Alexander broke the touchdown record, only to have it broken by LT the next year, it was a sad day.
There was no love for Kennedy in 4th grade
But as I grew, my knowledge of other teams expanded, and while I liked the 49ers of the 1980's and 90's, I became a real lover of gridiron football, the kind played in Chicago. As I learned more about football and it's history, I was swept up in the smash mouth football of Bears. I loved how the Bears played in the snow, played through pain, just that gritty image was ingrained in my brain. While the Bears in the 1990's were far from great, very removed from the Bears of the 1980's, I still became more and more wrapped up in that style of football, and because of that, I would prefer that every game was played in snow, temp around freezing and a strong wind, but sadly that's not going to happen.
My brother, who is a year younger then me became a fan of the Colts at the same time. Now this was pre-Manning, so the Colts weren't top notch in any way, but his first jersey was a Marshall Faulk, and he stuck through with that team through Faulks departure and Manning's rise. Now the Colts are the apogee of everything I despise in football, a dome team, lead by a pure passer, and they are successful. Now when the Bears and Colts met in the Super Bowl, there was quite the smack talk session going on at the time over the phone. Now I wasn't the biggest fan of Grossman, prefering Orton, but hey I'm not coach, and I was just happy to be there. So in that wonder place called Miami, I watched Hester return the first play for a touchdown, and then watched my dreams get blown away, not by Peyton Manning, but by the great running game Indy showed up with ( A small prize for me was that the Bears beat the Colts in the next season opener). With the collapse of the Chicago defense after the Super Bowl, the Bears have struggled to recover and have lost their identity, in part by trading for Jay Cutler. I didn't really care for Cutler personally before he came to Chicago, but the biggest thing I was mad about was the departure from who the Bears are, and because of that I am temporarily boycotting them. I call it temporary only because I don't think this change will last more then 2-3 seasons. And in reality this is more of a joke anyways, kind of like the whole "lets let Dick Jauron and Dave Wannstedt coach our team" fiasco.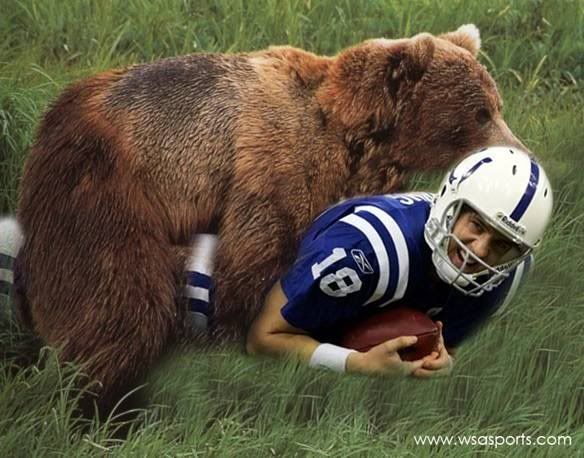 Kind of wish I saw more of this during that Super Bowl
Now I need to point out one thing, my favorite player of all time in Dan Marino. This may shock many, and it is the reason I will root for the Dolphins, but he is my favorite because I hate pure passers like him so much, that his sheer skill was able to impress me so much that it overwhelmed my hate. Every game I watched with the Dophins, I wanted the Dolphins to lose, I wanted Marino to get picked off, but during each game, Marino took my breathe away. I can't say it well enough, but he was so good at what he did, I was so impressed by his mastery of throwing the ball, that it opened a little door into my passer-hating heart just for Dan. Mannning is almost at that stage, I can honestly say that besides Marino I have never seen anyone control a game like Peyton Manning. This type of respect is hard to come by for quarterbacks like them, but Marino will always be my favorite just because he was the only passer to overcome all my stereotypes and barriers and leave me a naked and breathless football fan after a game (after typing that, I realize that came off a bit awkward, but liking the tone, I decided to leave it).
The Man I hate to respect
Now Denver entered my life a few years before the time of the division changes in 2002. With the changes that lead to Seattle and SF being in the same division and having seen all the Denver & Seattle games, I began to take an even greater interest Denver knowing the with the coming changes, that the division would grow and change in new ways. Now I had been a fan of Shanahan for some time, but while I acknowledged John Elway as a great passer, I never really cared for him. It really wasn't anything against him, but till I was in my early teens, I watched Montana and Marino, so it was hard for me to really get excited about Elway. But in the mid to late 1990's as I watched Elway change who he was and how he played the game I grew more excited with each passing season. While I wasn't really enthusiastic about some changes that took place in the early and mid-2000's, I still loved to watch Denver play. While I think things began to unwind around that time, so looking at what McD has done, he has given me a lot of hope that Denver can turn back into a team I can look forward to watch. Now as I started taking a more active part in SBNation, I was spending time in a number of blogs, but because of the quality of Mile High Report, I settled down here, and made it kind of my base of operations. While I still am active on other teams blogs, this has been my busiest one, and because of that my knowledge of the Broncos and they their history has increased.
Summery:
Now that I am no longer in the States often, it makes it hard to actively keep up with weekly games on the TV, so I am an avid watcher of games online. It has also made me a bigger fan of other sports such as soccer, and have come to better understand how hard it is to be away from the places, people and things you love, and that definitely includes football. So thanks MHR for giving me a home away from home for all my football needs.
Now to conclude I did this because I wanted to show that just because Denver is a team I have loved for a number of years, but despite this, that I have strong ties to other teams. This applies to other sports as well, for the NBA I am a life long Lakers and Raptors fan, MLB, Athletics and Mariners, hockey, Canucks and Kings. My love for another team doesn't take away for my respect for other teams. I am engaged to a proud Chargers fan, and while I am no supporter of the Chargers, I do respect those things that deserve respect. For example, while many don't like Philip Rivers, this includes myself, I respect that he is a great quarterback, it is pretty much an accepted fact, and while he isn't Peyton Manning, he has done some great things in his career so far. I love the Chiefs draft and especially Eric Berry's pick up, I like the Raiders moves these past two years, becoming a more physically dominant team, and especially picking up Jason Campbell. You can respect moves made by another team and not have it take away from your love of another team.
So my question to you is two part, the first will be a poll, the second is this, if you follow other teams like I do, what are they, and give a mini-bio about how you came to follow them?