Ladies (there are a few of you out there!) and Gents, it's been a while since I've posted, but I've got something fresh, new, and exciting. Training Camp is almost here and the pre-season heat is cranking up. The arduous hump-crossing has hit it's peak and we're about to rollercoaster dive into the 2010 season at full speed. I was commenting on another post and had a few thoughts that sparked something much bigger. Hope you all enjoy. Let's hop to it!
I think it's safe to say that nearly 100% of the fanbase was pretty disappointed by the offensive play and execution we saw last year, especially with the offensive line. The line was battling injuries and a scheme change last year that will hopefully be in our past. By the end of Training Camp our starters should be clearly defined (vets coming back from injuries, and rookies getting their feet wet). Our Defensive Line didn't fair much better, who - although having a great season start - quickly showed their age and lack of experience by mid/late season. I will definitely commend their efforts given the situation (more than 50% roster/staff turnover with completely new schemes, on both sides of the ball), but last year's performance just didn't cut it - and Josh McDaniels and the
Broncos
players themselves would be the first to tell you that. Assuming that our O-Line manages to hold their ground and get some push in the run game, and assuming that the Defensive line is able to hold up against the run throughout the duration of the season; then I'm expecting to see 17 episodes of Gridiron-Gone-Wild over the course of the next several months.
I am not the first to point out (and appreciate) the collective wisdom, ingenuity, and over-all football-I.Q. of MHR; nor will I be the last. That being said, I have a strange hunch that even all of our observation, speculation, and educated guessing will fall short of predicting how this 2010 Broncos team is going to play.
McDaniels has given slight glimpses of his masterplan this year - though not nearly enough to quench the insateable thirst of MHR - but we haven't even scratched the surface. The overall theme this year seems to be aggressive play, on both sides of the ball. More meat in the trenches, more punching people in the mouth, more confident and aggressive play downfield with deep passes on offense and confusing coverages on defense. More blitzing and aggresive playmaking on Defense over-all... but what about the offense.
Who are these Tebow and Thomas characters? What are they going to do for us right now? Maybe I can provide some insight. It may be COMPLETELY wrong, but its just a few things I've been contemplating and getting jazzed up about. Is every rookie going to produce right away and make a huge impact on the team? No, probably not. Last year proved that McDaniels and Xanders aren't drafting for immediate impact, but on a long-term (at least 2 year projection) basis. Heck, they've said that themselves publicly. So what i'm going to describe here and poke at we may not completely see this year, but I'd be surprised not to see it all unfolding in 2011 at the latest.
The Quarterback.
Orton. He's the man... for now. McDaniels is going to give the best man the job; and if it's Orton, than I'd expect him to improve off of last season's performance and present a very good case to the rest of the league that he's a top 15-20 QB and can be a legitamate starter for many teams. But after Orton leaves the picture (and maybe he will early in the season to injury or just poor play) than who is next? Quinn maybe? Sure, he's a veteran. He has some quality experience, has great arm for the deep ball and experience in a system similar to ours, probably already knows all the terminology right now. He may take the reigns for a bit, but its obvious that unless Tebow falls drastically short of expecations and is only used successfully as a special-package guy and gets stuck at #2 for his career... than Tebow is where the future is at. We all know what he did in college, and we've all heard speculation about what he might be able to do. In lay-man's terms, he's a run-threat Quarterback.. and because of his size... he's a blocking threat too (an Option you don't really get with Vick or even VY - though Young has size, he's not quite as strong or angry as Tebow on the field). Now store that in the back of your head for a bit, we'll pull it back out later.
The Running Backs.
Moreno is obviously the future centerpiece of our backfield here. He's young, explosive, mature, and provides a wide range of skills at the position. He's very agile, has amazing balance and ability to change directions quickly. He can also squeeze through tight spaces because he's smaller... yet still big enough to power against a linebacker or smash a safety/cornerback. He's kind of a jack of all trades (as TD was, but with a completely different style to his game). Moreno is a legitamate big-gain threat on the ground OR through the air, and he's just big and quick enough to provide added protection in the pocket when needed. The rest of our backs follow this general mode, though of course with different strengths. The main key here is versatility of role: inside/outisde running, power, quickness, solid hands, and pass protection. Moreno, Buckhalter, and Arrington all give us this option, which is solid depth at the position without sacrificing scheme change or any significant playcalls on any given gameday. Tuck these little factoids in there with Tebow while we continue on.
The Wide Receivers.
Before this year, we had a very diverse group of receivers (we still do) with little in common. Sure some guys played the same positions similar to another, but there wasn't any overall theme to them last year. We have that this year. With the additions of Thomas and Decker we've now exchanged the power, fight, and possession recieving skills of BMarsh for the power, fight, deepthreat of Thomas and the power, fight, possession skills of Decker. Assuming these two manage to find a nich early on and make an impact... then we've just added a whole other demension to our offense: WR's that can make a huge impact in the blocking game (outside runs, WR/RB/TE screens/reverses, etc.). Contemplate a few of the pass formations we can use with these guys that suddenly become very formidable run formations. File that for another minute while we cover one more position. Anyone remember Eddie Mac pancaking a packer on a Howard Griffith run to the outside in our first superbowl win? Yeah, expect to see more of that this year.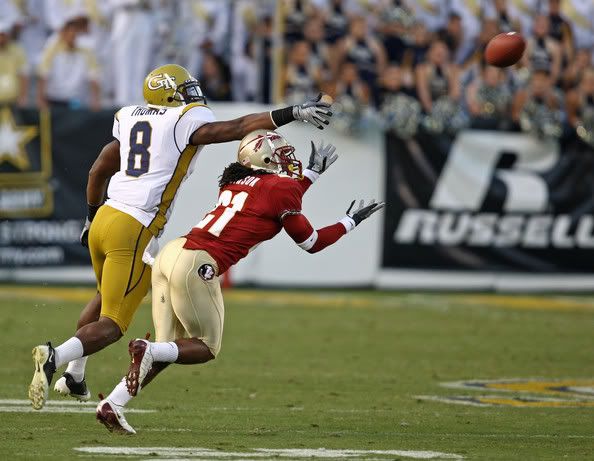 (**Notice the size/strength difference between the WR and DB's in these pictures**)
Tight Ends and Full Backs.
Our TE's have a main priority that gets them on the field in this offense: the ability to block for the run and pass. The capability of catching the ball for a screen or a short seam pass are just added bonuses but not a staple of the offense I've envisioned with this personnel. Graham has a couple more good years on him, and hopefully Quinn falls into step right beside him for a long productive career. Branson is a wildecard here as an H-Back who will play in multiple-TE packages as a small TE/big FB. A true H back will provide a wildcard threat of pass-catching, added blocking, or even a quick FB dive in short yardage (though I wouldn't expect to see that before other options are exhausted first). From the reports coming out of OTA's Spencer Larsen is - and surprisingly too - sticking more to the offensive/special teams side of the ball and forgoing Defense this year (somebody correct me if there's been a new development in the last few weeks I haven't heard). If that is the case than he will assume Hillis' role from last year as a pure FB in our two back sets. Anyone that watched gamefilm from the end of last year saw the difference Spencer made lead-blocking for Morneo and Buckhalter, especially in the first Cheifs game. Overall this position provides a beefier formation for runblocking with the potential to become pass/screen targets and escape/checkdowns for the QB.
Okay we've covered it all. Assuming our Oline can step it up from last year and provide some push up the center... this offense could be one of the most dangerous and unpredictable offenses in the league. The athleticism of our two tackles (Ryan and Ryan) provides the versatilty to both pass protect well and get great push on outside runs, screens, and WR reverses.
Pull those players back out and throw them in some formations. Tebow at QB Moreno and Branson in the backfield with Royal in the slot wide next to Thomas and Decker on the line in almost a TE position. That's a beefy formation that could go anywhere with the ball on the ground or in the air.
Or how about Tebow in the shotgun to the left, Moreno in the shotgun to the right, and Thomas, Decker, Lloyd wideout with Branson in a TE position? That's a spread out pass formation that can easily turn into a lead-blocked direct RB snap going to the outside behind those big WRs and TE.
The personnel we've got on hand creates extreme defensive scheming problems that's going to give opposing coaches headaches for years to come. They are a dangerous threat used traditionally... but the versatitly all of those players provide creates infinite options for gadget plays and offensive disguising.
I think it's going ot be impossible for our offense to be as stagnant as it was last year. Not with the sheer explosiveness and unpredicability these players offer. If the WR's and Tebow can make a quick transition to Pro-game speed... then we've just turned last year's Mazda Miata into a Porche 911T (no offense to Miata owners.. haha). I hope you all enjoyed the rosy-eyed speculation. I may be half-blitzed on koolaid but I'm freaking JAZZED up for this season to get rolling and to see what these rookies bring to Training Camp. If it's their A-game then our offensive line should be adequate and our skill positions are going to be nightmare to counter. If you take into account the new aggressive defensive disguising and blitzes than we're not looking at McDaniel's Aomeba Team, we're watching the Mile High Mystique in the making!