Football is once again upon us!! It's about time, the wait was about to kill me. Anywho, on to the point of this post.....Training Camp! More to come, but first let's jump!
August 1st, 2010 4 a.m.
"Bwah, bwah, bwah!" my alarm clock rings, telling me that it is the start of a new day. More then that, the start of Training Camp! Even though the morning practice was not scheduled to begin untill 8:45 a.m. I wanted to make sure that I had ample time to get there.
After about an hours drive time from my Parker home, I arrive at Dove Valley. The windows of my car are a tad but foggy, it is about 58 degrees f. A perfect day for football.
It is about 6:15, I step out of my vehicle to find already about 15-20 Broncos faithful standing in line, I cannot help but smile at the dedication. We truly are the best fans in the NFL.  It is early, I'm still a little tired, but I think I see a couple Florida Gator version Tim Tebow jerseys. Yes, indeed there is.....in fact, I count three. i look back at the parking lot and see a few cars with license plates from Florida! After that revelation I see Bronco Tim Tebow Jerseys....a lot. (including my own)
I make my way to the line and immediately I can feel the excitement in the air, it is envigorating, and intoxicating.....we were all "Mile High."
However, there is always someone that feels it necesary to rain on people parades. This year the douche bag award went to a short fellow rockin' a Orange Elvis Dumervil jersey. According to this fellow anyone wearing a Tebow jersey was a "Fair weather fan." It would be an understatement to say that this man hated Tebow. That is something that I learned, you either love Tebow, or you hate him.....there seems to be no middle ground.
I could continue with what this man said, however I do not think that his words are MHR appropriate. Needless to say this man pissed me off. In fact I turned around and had a few choice words to say. After a long stare-down he quickly shut up. I'm glad that I kept my temper in check. Had I not, then...well....I'll let you fill in the blank.
It is now about 7:30 and they finally allow us to take the field. I was one of the first there so I was ushered into the south endzone. Once I took my seat on the hill I took the time to familiarize myself with the fellow Broncos fans, there was some good conversation there, and once again I could feel the excitement in the air.
Then the first Broncos hit the field. Claps erupted all around me. Who is it you ask. Tim Tebow? Nope, it is none other then our starting Quarterback, the leader of the team, Kyle Orton. Orton seemed to bask in the praise but it was short lived, for on the horizon the future stood. Tim Tebow ran towards the field. Dove Valley absolutely went insane. I heard many shouts of "Tebow!" and "Welcome to Denver.....we love you!"
Eventually the entire roster made their way to the field, all participating in differing drills. The one that I paid particualr notice to was the one involving Kyle Orton, Tim Tebow, Brady Quinn, Demaryius Thomas, and Eric Decker.
It was nothing special, just your typical game of catch. The Quarterbacks would throw straight passes to the WRs. However, something that caught my attention was that all the QBs seemed to have that fire in their eyes. They were definitely competing.
In other drills witht the WRs Kyle Orton was, without question, the most "in-sync" However, I failed to ever see him hot the long ball. Quinn seemed to thrive in this area. Tebows release was still slow, but was considerably better from the Seinor Bowl.
Something I noticed. Tebow completed a pass to a WR (I could not see the WR...sorry) and the crowd went nuts! The fans from Florida espescially went crazy, jumping up and down like mad men. Some gave Gator chomps, and others waved Florida Gator flags.
I could only shake my head at this. On one hand I was amazed at the dedication of Gator Nation, but on the other I was a little angry. This is after all a Denver Broncos practice, we do not need any Gator celebrations.
I turn to my left and I see a man in a Dawkins jersye point at one of the chomping Gator fans and say, "Wow, they might as well call us the Denver Gators."
Another interesting play of note. Kyle Orton faked the handoff to Knowshon Moreno and gave the ball to Eddie Royal on a reverse. Eddie Royal turned up field for the go ahead score.
Players who impressed me:
Knowshon Moreno. Before he went down he looked dominant. He broke through the line several times. I wish him a speedy recovery.
Demaryius Thomas. Bey Bey looked great, showing great body control. He made some great catches right in front of me. He still looks a little stiff in his route running but I definitely saw some progress.
Eric Decker. This kid is the whole package. His route running was very smooth, it was almost poetic. He caught almost everything thrown at him. He could have a caught a bomb thrown by orton, but it was well played by Perrish Cox.
Kenny McKinnley.(spelling?) Really the whole WR corp looked impressive, but Kenny should me something today, he wants to be great. He was killer quick today, caught every pass that I saw.
Parrish Cox. Everything that we have heard about this kid from OTAs is true. This guy is a stud. He had great movement in his hips, covered well, and he showed me that he is a solid tackler......I was very impressed with Cox. At one point when he made a tackle I heard "Wink" shout, "Thats the way to set the tone!"
That is all for now folks, by now I have had a few too many to drink, so my words will probaly become real unintelligible here soon. I'm no professional, but I did take some pictures....enjoy!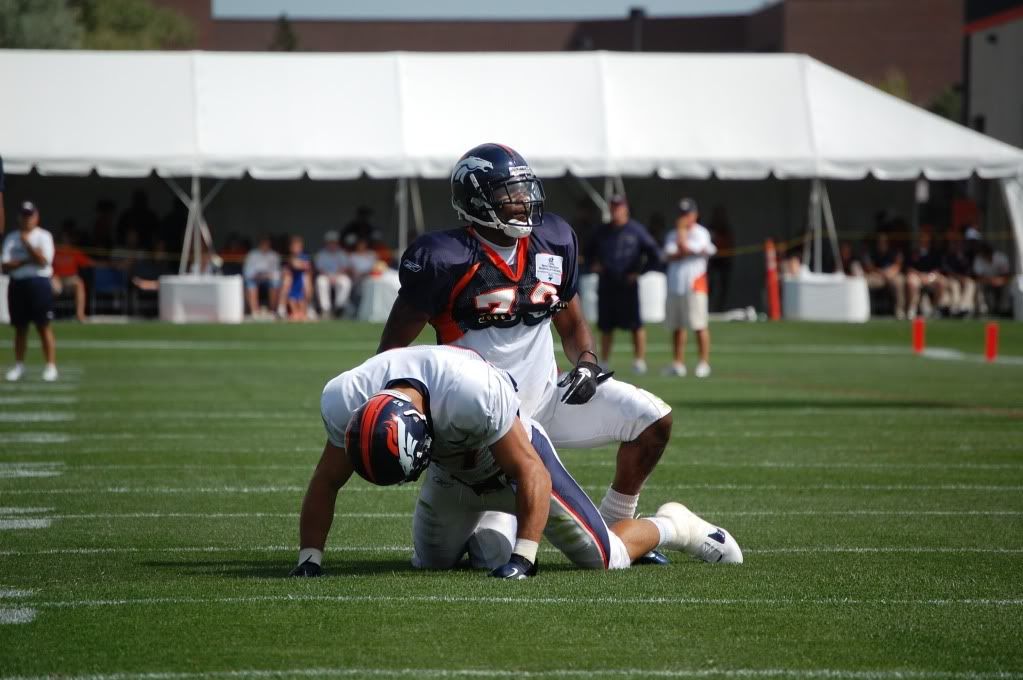 Parrish Cox broke up a pass intended for Eric Decker.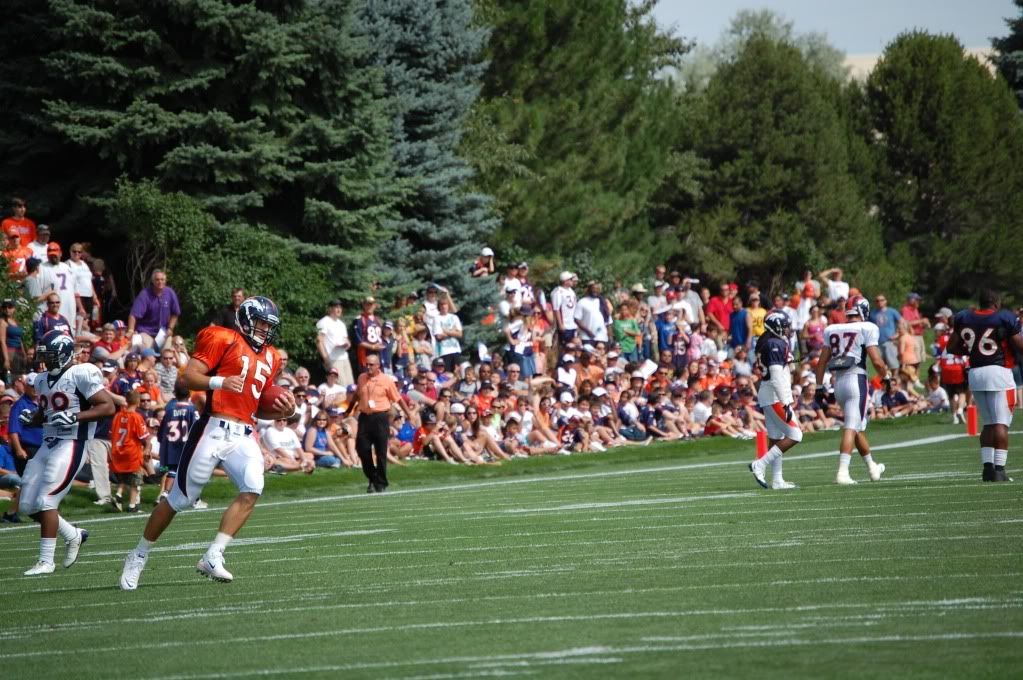 Tebow took the snap and ran up the field. (He did this a few times.)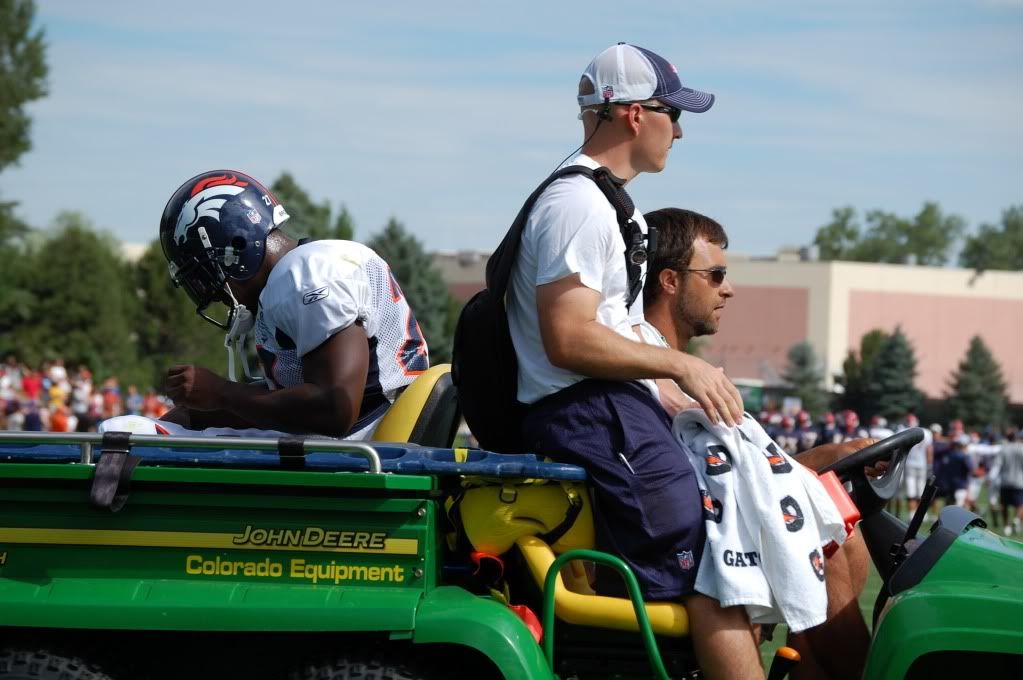 Knowshon being carted away. Shortly after I took this pic I yelled asking him if he was alright......he gave me a thumbs up.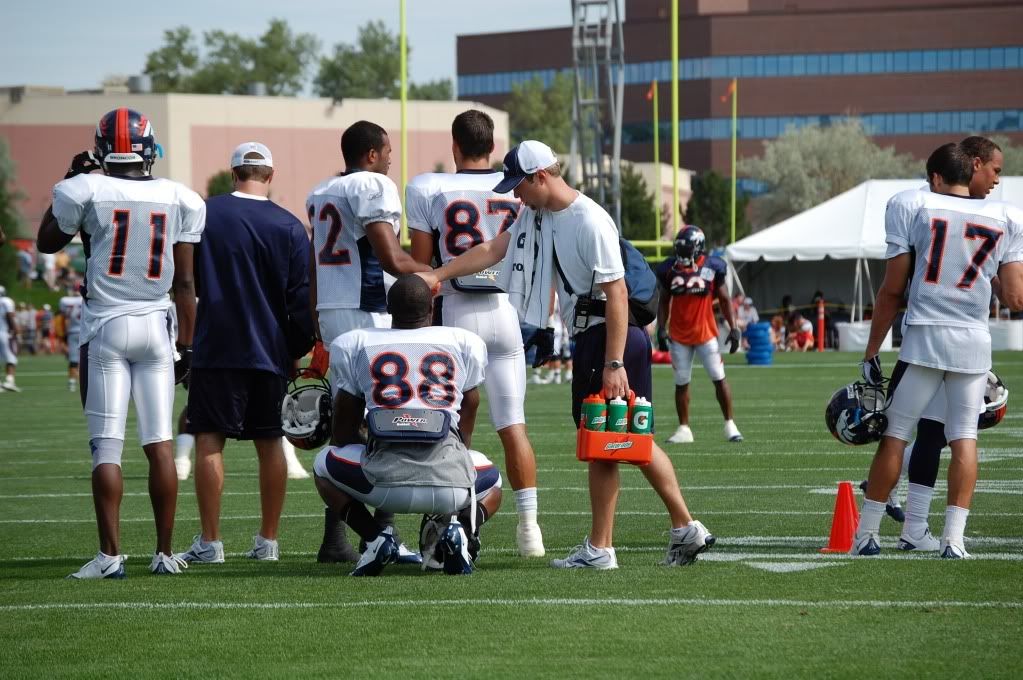 Demaryius Thomas took a seat right in front of me.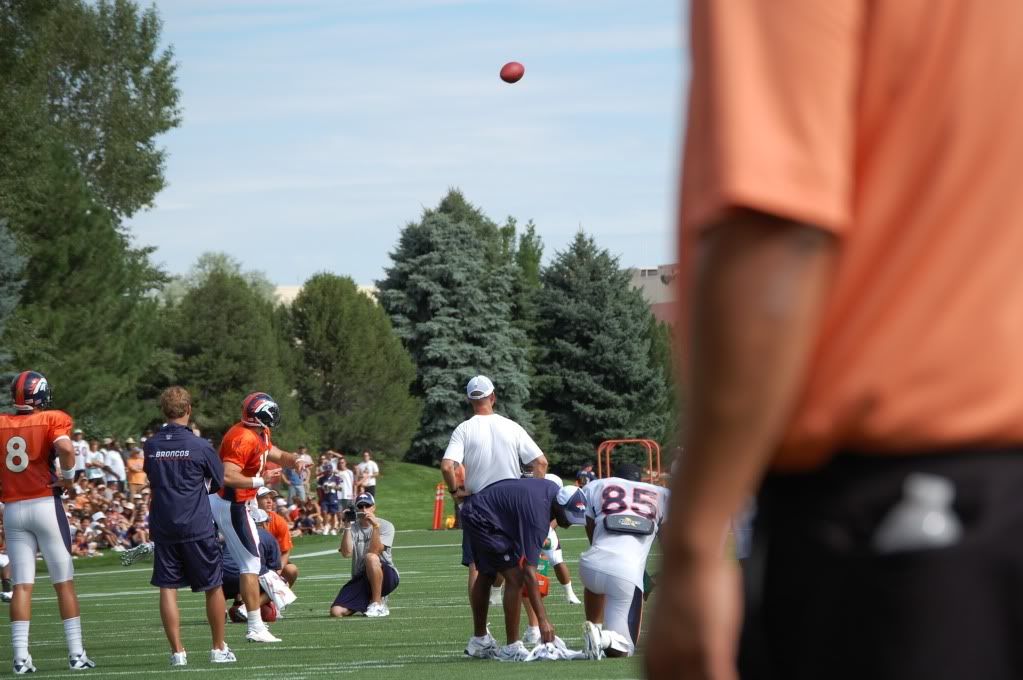 I was a little late taking this shot. After Tebow completed this pass the crowd went crazy!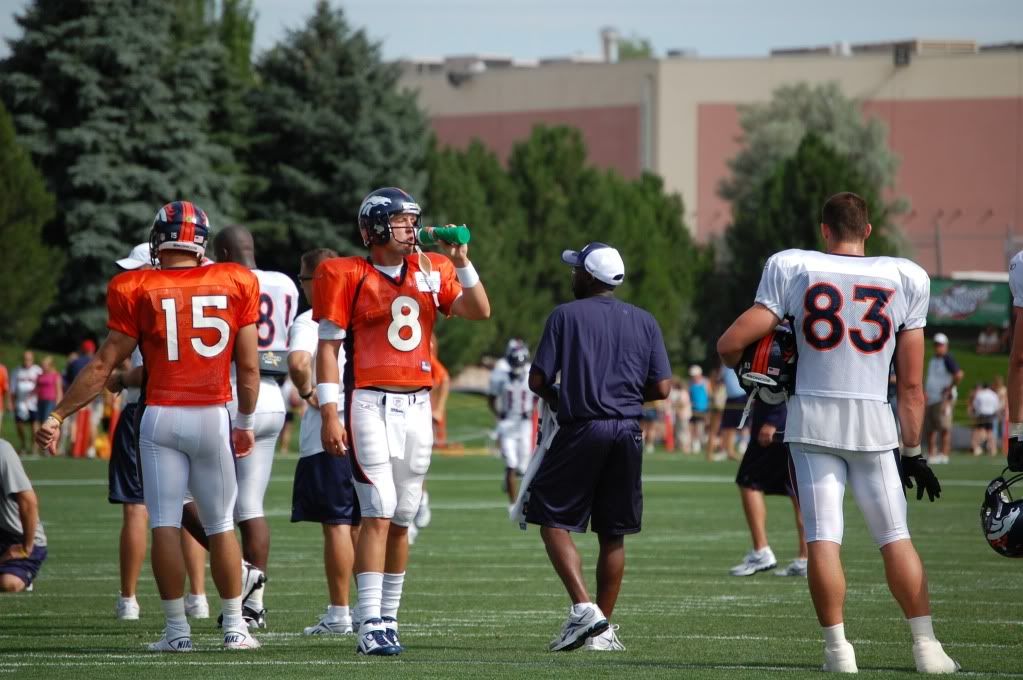 You all should be used to seeing pics of Orton "drinking" by now.   :p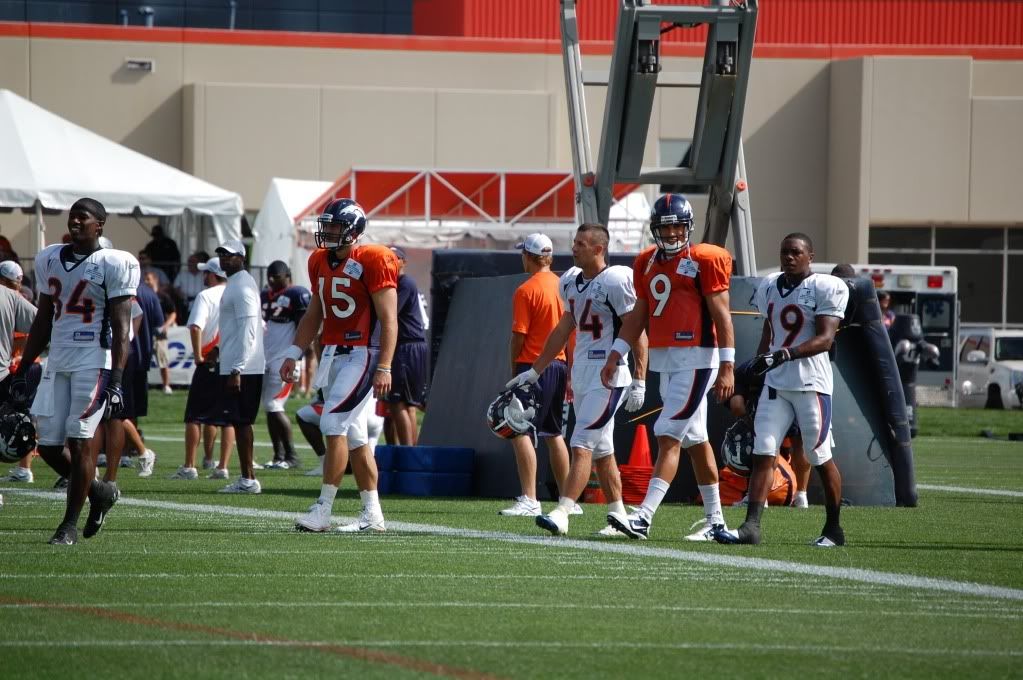 Quinn and Tebow hit the field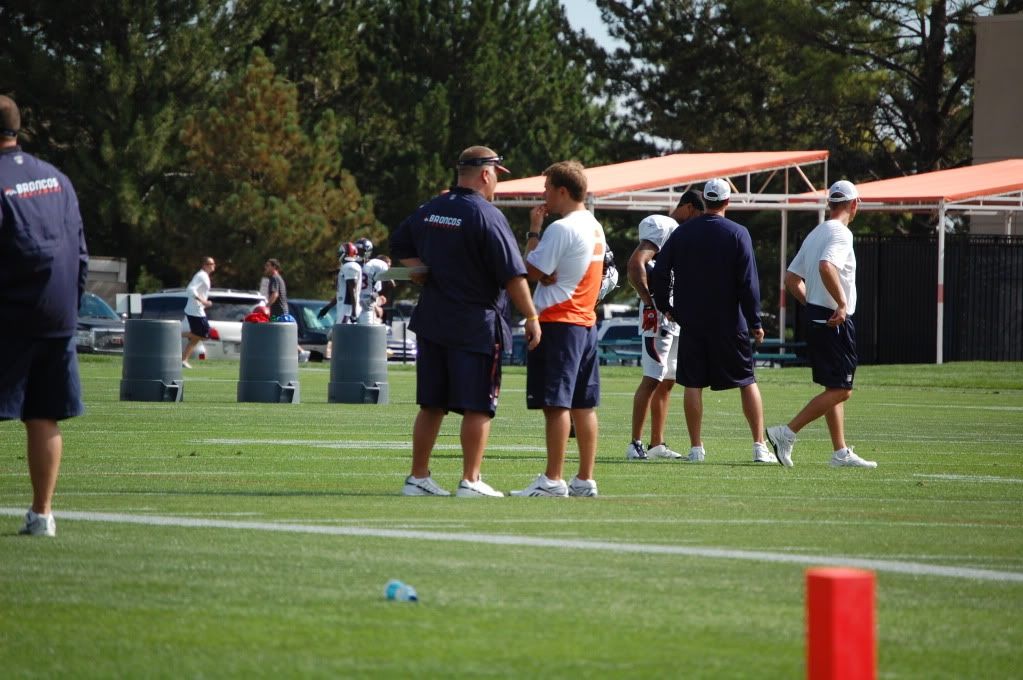 One of the only pics I have of "Wink" for a big guy he is hard to spot.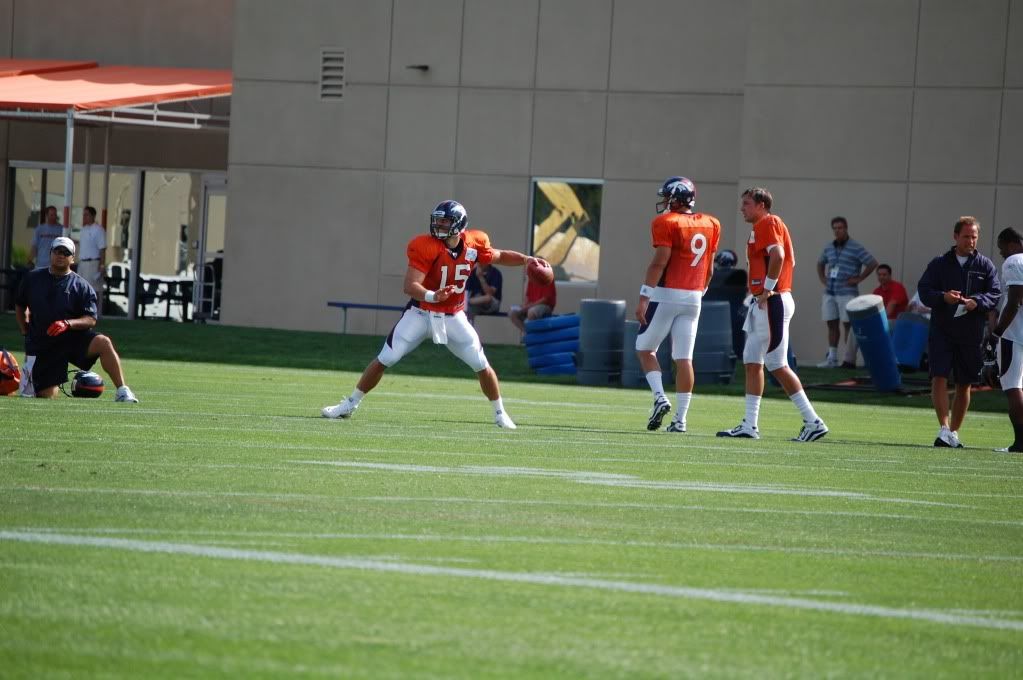 Tebow has an arm, he just needs to work on releasing the ball faster.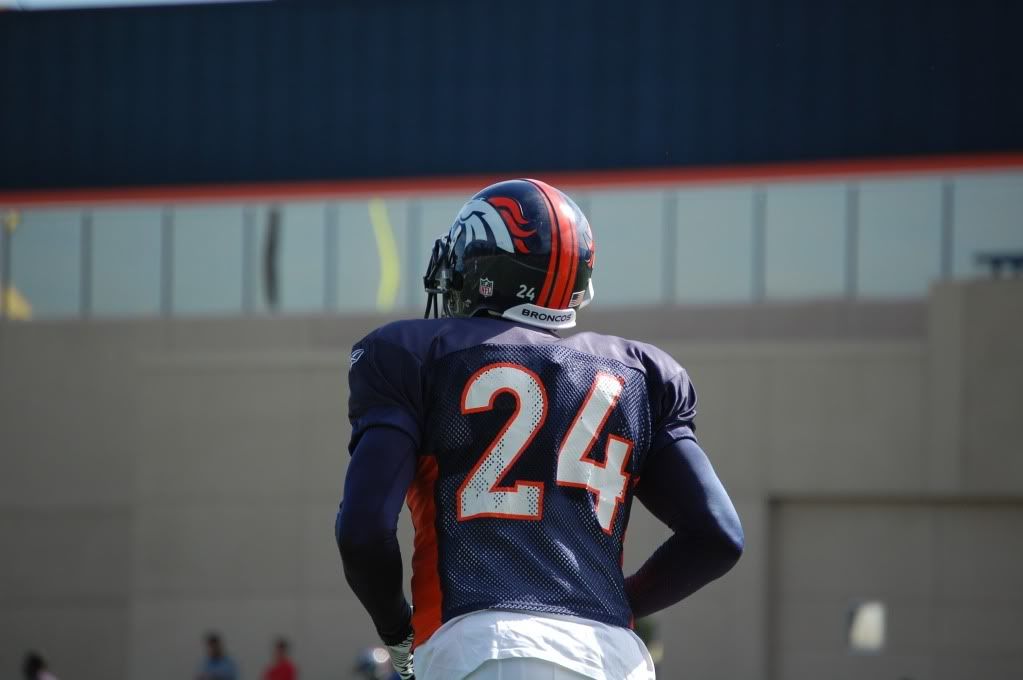 I used my zoom on this one, it turned out much better then I expected.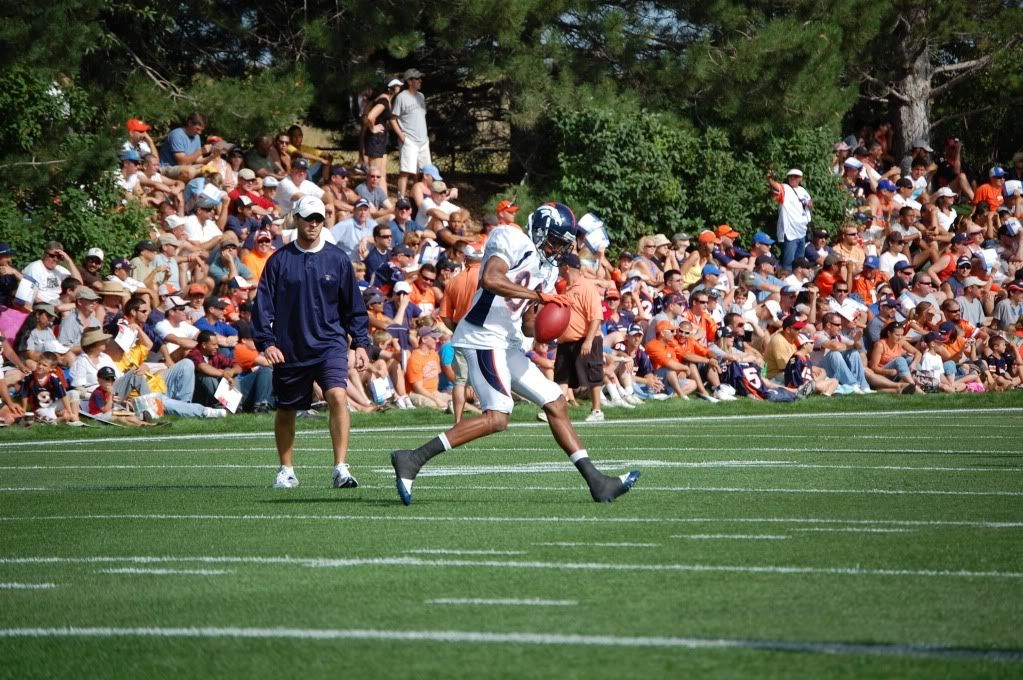 Thomas making a nice catch.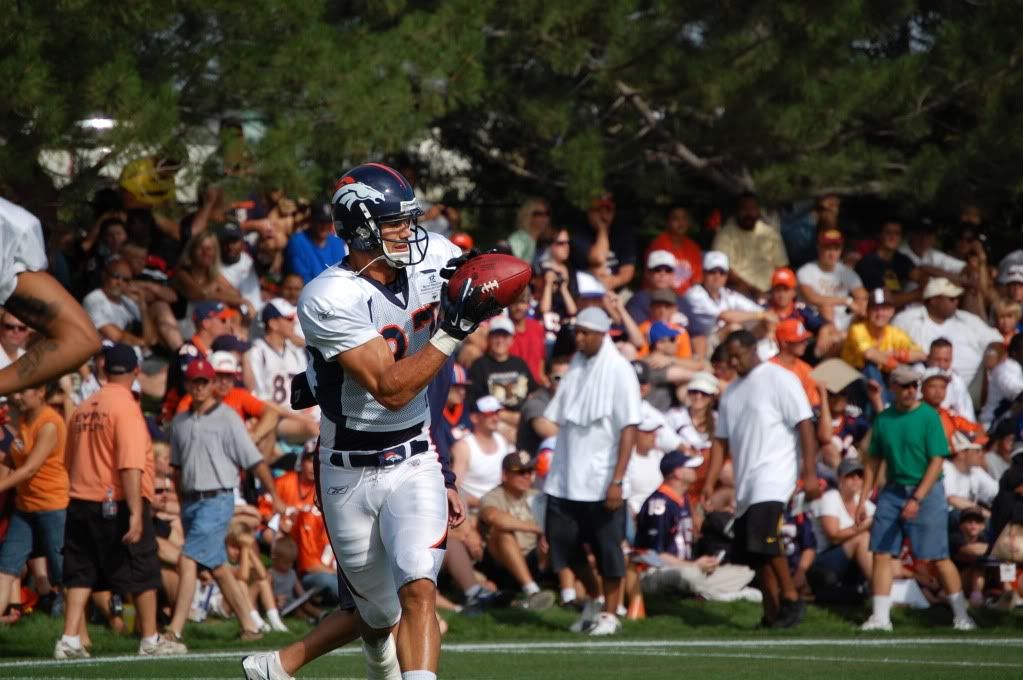 This is my favorite. This was in the end zone right in front of me. He looks a LOT like Eddie Mac!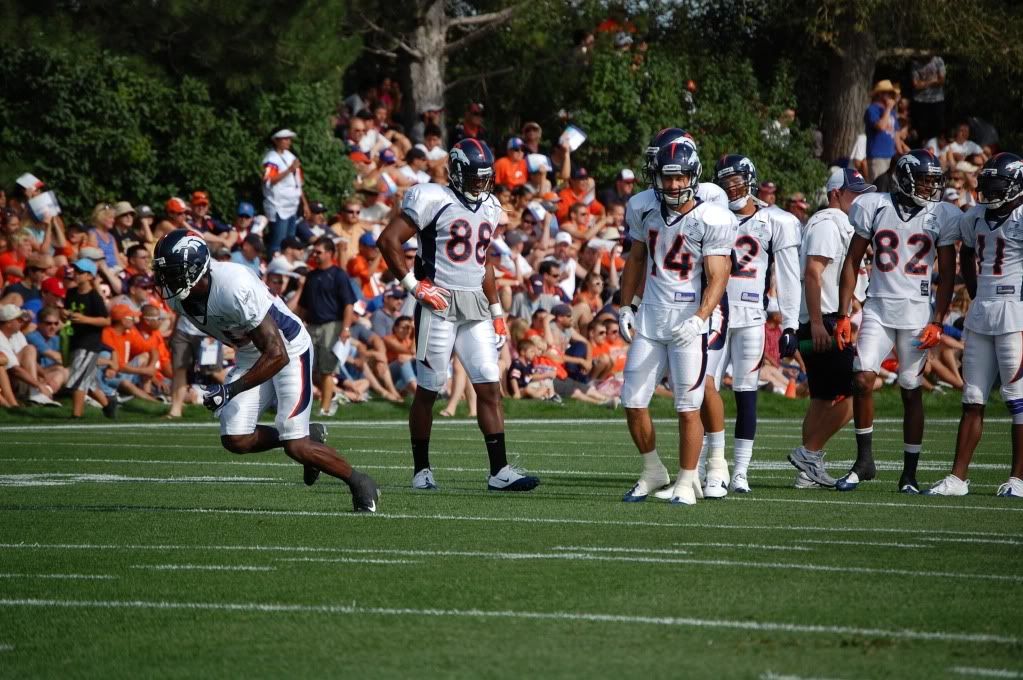 Brandon Lloyd ran a nice route and had an even better catch in the end zone.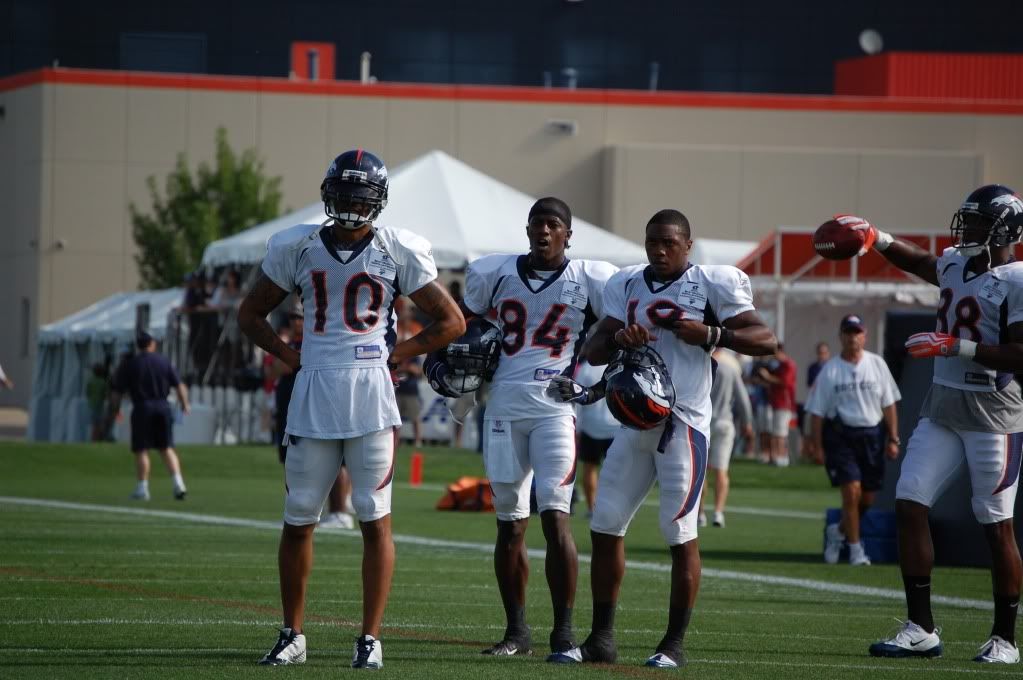 This one I told Jabar to strike a pose.....this is what he gave me. Lloyd burped, and Royal had no idea I was taking a pic.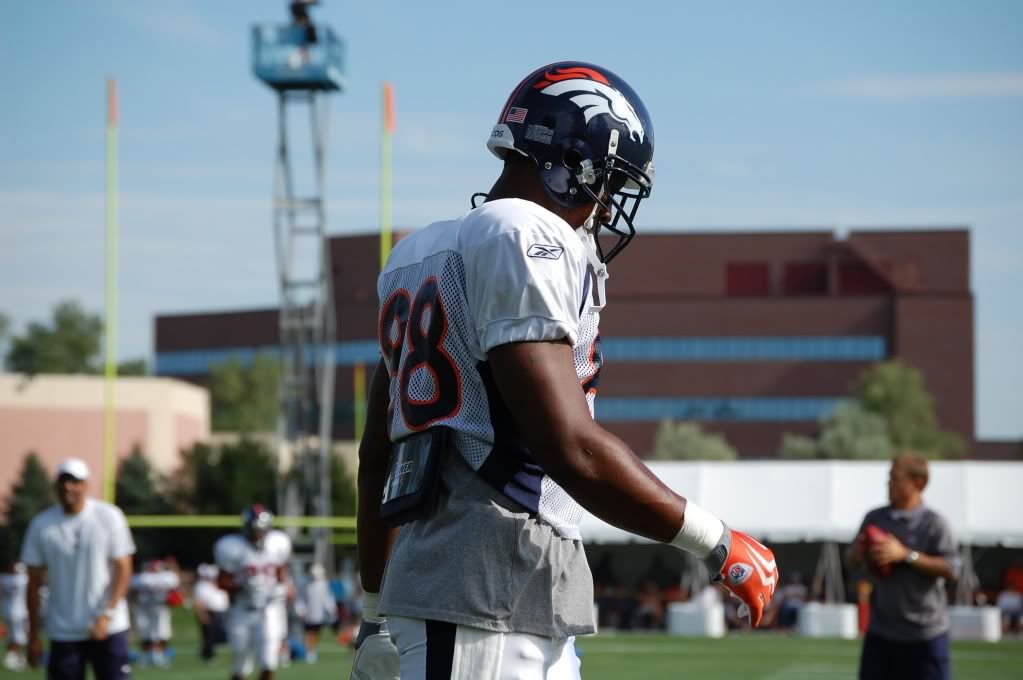 I was a little late on this one. Thomas made a catch in the end zone. He walked right in front of me and I took the pic. As you can see, Bey Bey is HUGE!!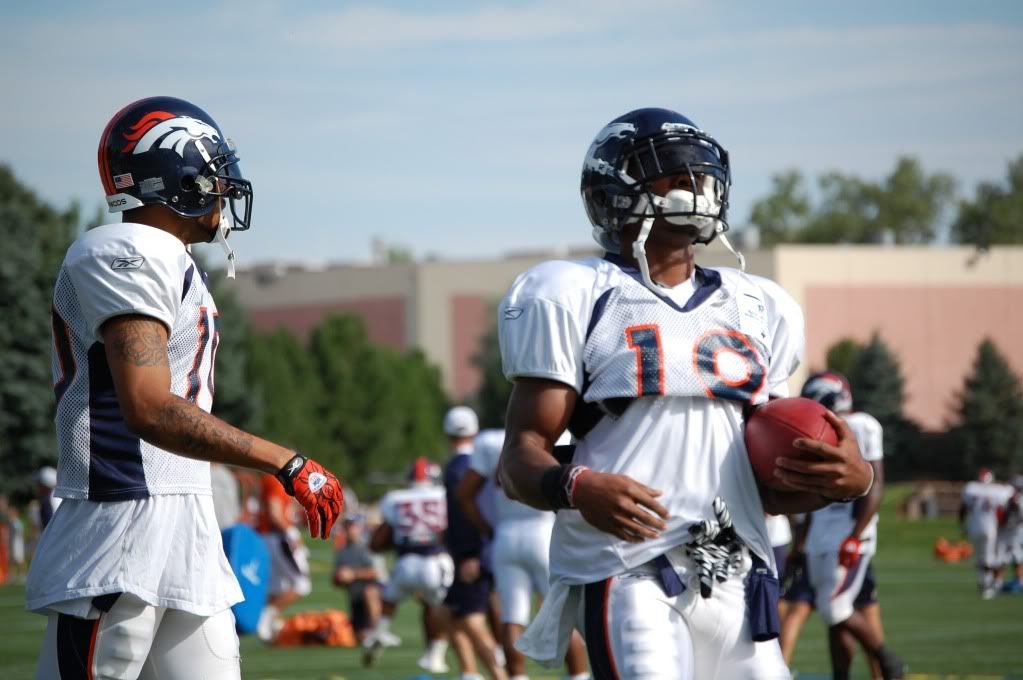 Royal made the catch and ran to the endzone right in front of me. I really had a nice spot.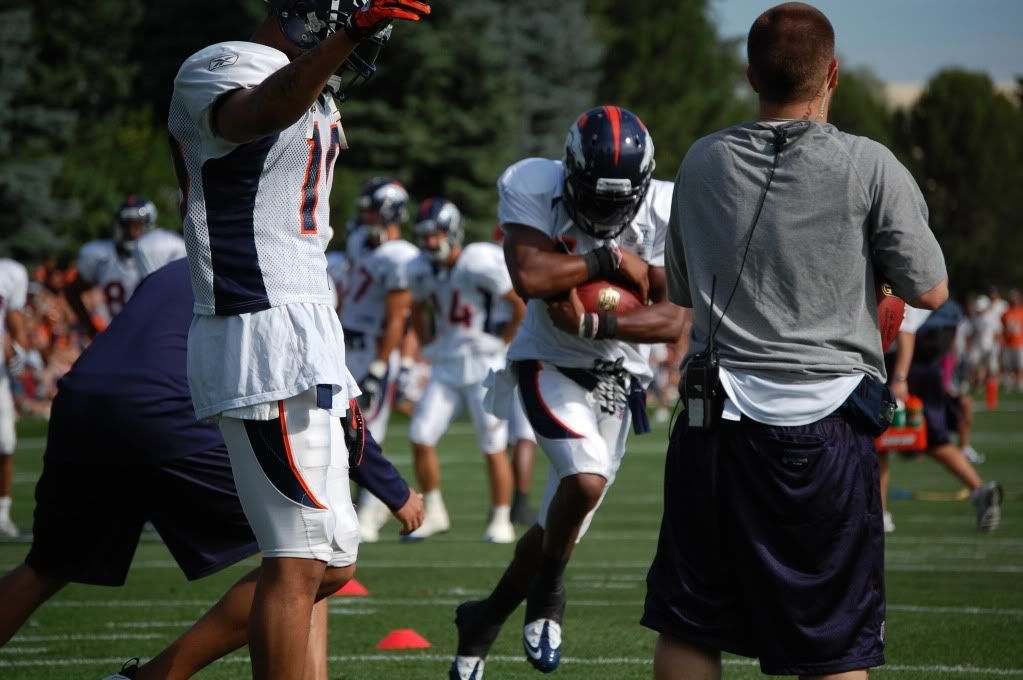 Knowshon going through a drill.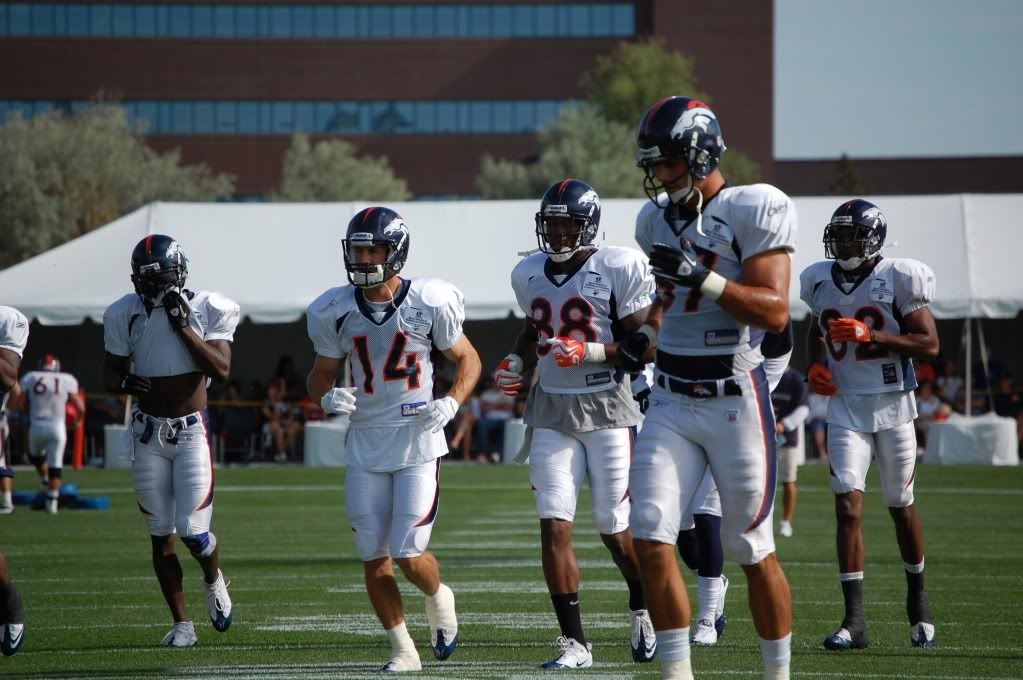 Decker leads the pack.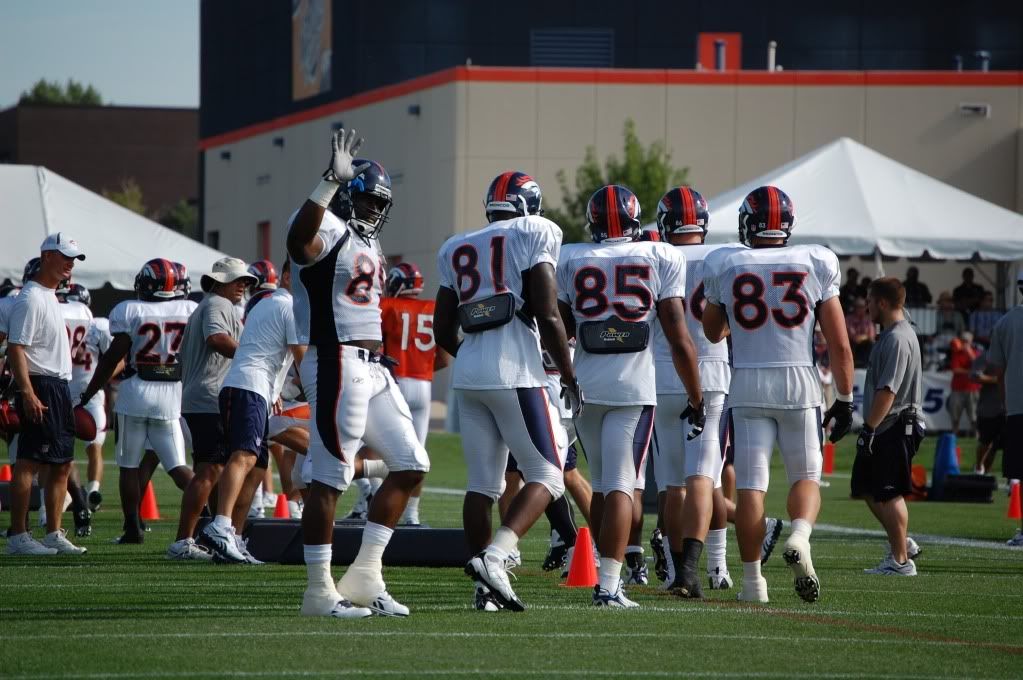 Daniel Graham waving to the crowd.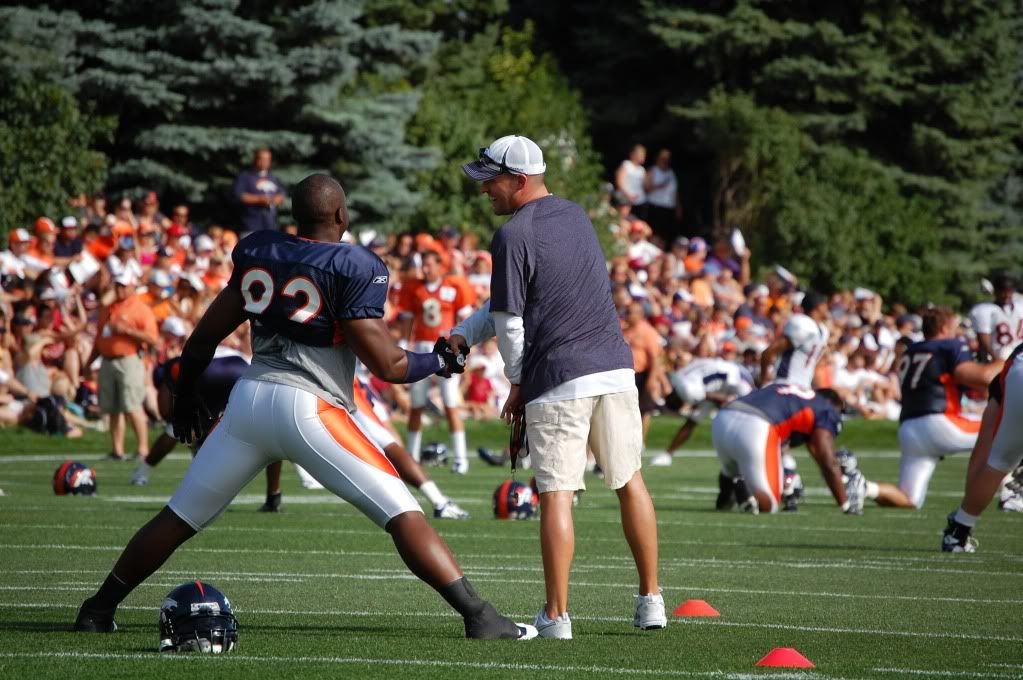 McD shaking hands with Dumervil.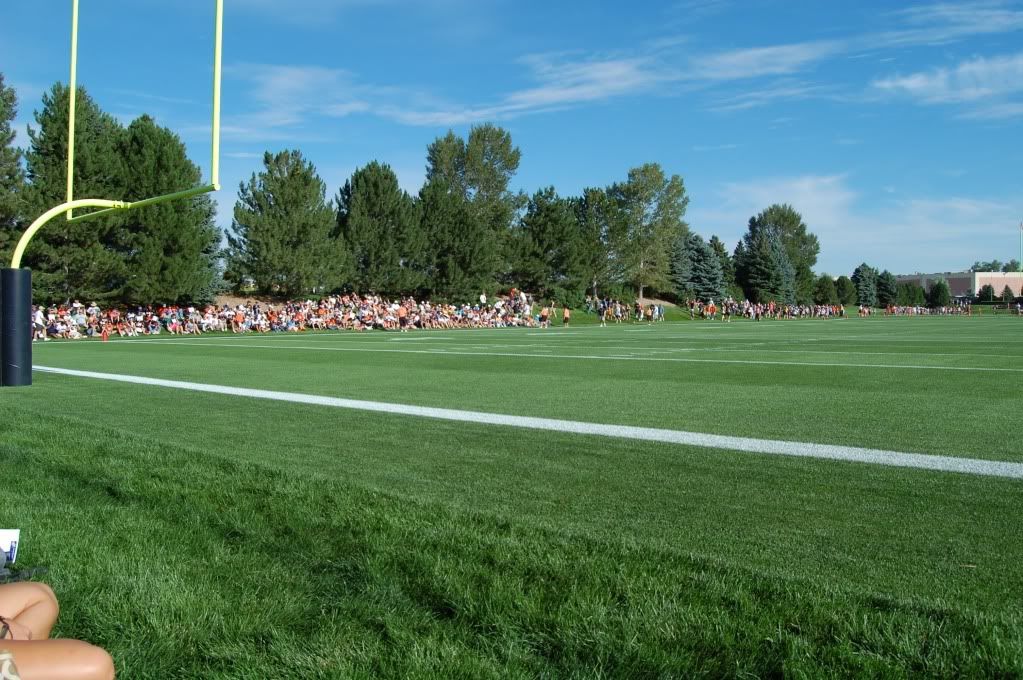 A lot of people showed up!
Well that's it, I hope you all enjoyed the pictures. Let's all wish Knowshon a speedy recovery.
Now, time for a random poll!!