So, for those of you who simply cannot get enough of the draft like Nick and I, this is the right place to be.  If you don't like talking about the draft during the season, then I would simply suggest another thread, or maybe reading with an open mind.
The draft, simply put, is never too far away, and both Nick and I have begun our scouting of the 2011 class.
By the way, NCSB is short for "Nick Cast & Sayre Bedinger" if you were wondering.
Either way, I think this mock draft was pretty indicative of the early season goings on. Nick is a Pac-10 guy and is well versed with the west coast athletes. I'm more of a Big Ten, midwest kind of guy, and so that's where my expertise is.  That is reflective in this mock draft, so we're still in the infancy stages of scouting.
Still, I think this is a fun break from the norm at this point in the year, and we're hoping to bring this to you on a semi-regular basis.  Also, if you have east coast or SEC college football expertise, shoot me an e-mail. I would love to get a complete scouting team together for these mock drafts, so let me know if you're interested.
On to the draft...Here's how Nick and I distributed the picks:
Alternate every other, starting with Nick
Picks are in same position (roughly) as last year
We agreed that the unknown pick acquired in the Alphonso Smith trade was a 6th rounder, though it could easily be a 7th
The picks are in sort of a conversation format, as we did this via e-mail
 There are a ton of positions that the Broncos should try to address through the 2011 draft. Despite it being the beginning of the season, it is clear that the Broncos lack depth in several positions.
OT Depth is a must for the Broncos. Ryan Harris can't stay healthy and behind him, there is nothing. We must acquire depth this off season.
We need a ILB and could also use an OLB. However, ILB is a bigger need so we will likely focus on that position.
Safety is a position to worry about. Dawkins is getting really old, Hill is starting to slow down, McBath keeps injuring his arm and Bruton is a mystery.
RB is a concern. Buckhalter is slowing down (that's putting it nicely), and Knowshon is the only solid rusher for the Broncos, but he can't seem to stay healthy either. We should definitely be thinking of picking up a RB somewhere in the first two rounds.
Tight End is also a big need.
So where do we go for our 1st round pick? I've thought about a few people including Adrian Clayborn, but the more I think about Clayborn, the more I think he is a top 10 pick, out of reach for us. I would love to trade down, but for now, lets assume we stay put.

1st round pick #14
Christian Ponder, QB, Florida State
Just Kidding.
1.  First Round:  Allen Bailey, DE, Miami (The U)
6'4" 288
Bailey has rare athleticism. He is a master at creating pressure. In 2009, he had 34 tackles, 7 sacks, 11 tackles for loss, and 2 forced fumbles. He has a non stop motor and would be a much needed addition to Denver's D-Line.
In 09, he struggled a bit with shedding tackles and getting the running back. So, that is something I will be watching for in 2010.
But for now, Bailey has rare athleticism that Denver desperately needs on the D-Line.
via Canes Time
I very much like the Allen Bailey pick. Going big in the first round is essental in my eyes, but perhaps I'm missing something. Either way, I think the defensive front seven will be an area we address early and often in the up-coming draft, and I'm looking forward to it. I love the Bailey pick because he is extremely versatile.
 
You talk about a guy who came into Miami as a linebacker, and has since bulked up to nearly 290 pounds. He's insanely athletic, as you pointed out. One thing I really like about him is that he is known for his work ethic, and I think he certainly has the frame to add maybe 10 pounds without losing quickness. You look at this guy, and he could be as you said, a pass rushing fiend. Great pick, Nick. I like it a lot.  Also fits the pattern of first round picks drafted from the south by the McDaniels regime.
 
In the second round, we're giving the Broncos the 43rd and 45th picks, the same picks they would have had in this year's draft, one coming from the Dolphins. I think Nick and I are both in agreement, if the right player falls on draft day, it would be nice to use these picks to move back into the first round, but this team needs depth. But if, say, the Broncos had the opportunity to draft Adrian Clayborn early, and Mark Herzlich late, we both think that would be a stellar draft combo.
 

 It's going to be hard to steer away from the offensive side of the ball here. There could be some enticing RB's available, and that is certainly a position the Broncos must build depth. I'm not sold that we're going to look for one in this spot unless there is a can't miss type of player available, and there certainly could be.
 
There are RB's in this draft that I really, really like, but not any of them with the 43rd pick. It's not a very deep RB class, and taking one here would be a stretch in my opinion.
(RB commentary added before the Laurence Maroney trade, so obviously the trade for Maroney frees up a spot early in the draft where we were potentially looking at adding to the RB position.)
 
Even with the selection of Allen Bailey in the first round, I still think the defensive front seven is an area this team will focus on early in this draft, mainly because DL is one of if not the deepest area in this entire crop of prospects.  
 
2.  Second Round:  Christian Ballard, Defensive Tackle, Iowa.
 
I know, I know--the Iowa fan picking a Hawkeye. Go figure.
Ballard is an unsung hero on Iowa's defensive line, and is a huge part of Adrian Clayborn's success. Ballard, like Clayborn, is equally capable against the pass as he is the run. I have never seen a four man front get as consistent pressure on opposing quarterbacks as Iowa does in my years of watching college football. Christian Ballard is ideal size (6'4" 290) for the position, is disciplined, and I think Ballard's ability to play both DT and DE have helped him in his Iowa career.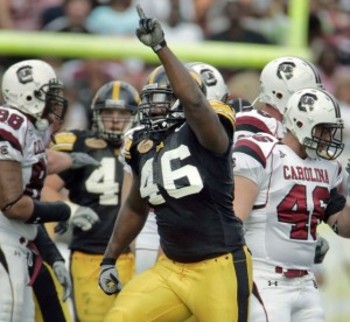 via Bleacher Report
 
I read an interesting comparison when researching more on Ballard, which compared him to Cal defensive tackle Tyson Alualu. Ballard has strikingly similar numbers to Alualu, who was taken with the 10th pick in this year's draft by the Jaguars. It will be a shock to me if some team takes a similar chance on Ballard like the Jaguars did with Alualu, but Ballard is going to be a hot commodity for 3-4 teams, so snagging him here in the 2nd round might be a steal.
I know that some people aren't going to like back to back DE's, but I definitely endorse it. Right now, our starters are Justin Bannan and Ryan McBean. Bannan was strictly a rotational player in Baltimore and McBean is not great at rushing the passer or stopping the run. Both players would be best used as depth.
Sayre knows his Hawkeyes better then anyone, so I will let him tell you why Ballard is a great fit for us, but I've seen some highlights and this guy is very quick off the ball. Check out this clip http://www.youtube.com/watch?v=tytIyL8Q0n0
This is just one of his 5.5 sacks in 2009.
Bailey and Ballard both in 1 draft? AFC West offensive lineman are praying that we are wrong. The D-Lineman might not stop here either, but more on that later.
Now onto the next pick.
Originally, I had the Broncos drafting DeMarco Murray with our 2nd 2nd round pick. However, with the trade for Maroney, RB goes down on our list of needs. Maroney is a young, tough player. He is a former 1st round draft pick. We have a tandem of Knowshon and Maroney going forward. McD just solidified and put some much needed youth in our running back corps for the value of a 5th round pick. Amazing.
So I am re-mocking the 2nd round pick. We have Allen Bailey and Christian Ballard with our 1st 2 picks. So, with Miami's 2nd rounder, we get to address a big need for the Broncos. I still don't believe he will go 3 straight defensive players. So here we go:
3.  Second Round (from Dolphins):  Derek Sherod, OT, Mississippi State

Tackle is a big need going into the draft. Back up tackle to be specific. Ryan Harris seems incapable of staying healthy. We need a player who can step into his shoes if and when he goes down with injuries. Sherod is playing LT for Miss St, but his run blocking ability will give him the versatility to swing either left or right tackle. He is a good athlete and is probably best in his pass blocking. Sherod is not a bad run blocker, but he doesn't have elite strength or a nasty streak. Sherod is a solid player overall and could easily be a starter when asked. He steps in and we get some much needed depth at tackle. Most importantly, he could be a very valuable blind side blocker for Tebow in the future.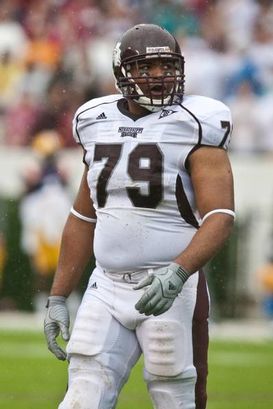 Offensive tackle is a must. I really like the idea of adding a potential starting right tackle of the future with this pick, and we certainly could. Ryan Harris is a very, very good pass protecting right tackle--when healthy. Problem is, as you pointed out Nick, Harris simply has not been able to stay healthy the last couple of years.
 
My concern with this pick--Sherrod is coming from a running offense at Mississippi State, and we're essentially trusting him as the blind side protector of Tim Tebow for the future.  I'm not trying to say this is a bad pick by any means, Sherrod is projected as a second round pick by NFL Draft Scout, in whom we trust.
 
I like the idea of adding a potential right tackle of the future if Ryan Harris is not in the plans. If Ryan Harris were to get re-signed before the draft, I would hope we go with a different position with suh a high pick.
I know we have depth issues on the offensive line as well as the defensive front side, but the line depth in this draft is simply fantastic. We don't have a clear-cut nose tackle of the future as it stands, and that situation could get hairier if Jamal Williams misses any significant time. This is not a situation I'm currently comfortable with going into the future.
With Allen Bailey and Christian Ballard already in the fold, I'm going to go ahead and finish this defensive line rebuilding project and take...
4.  Third Round:   Kenrick Ellis, Nose Tackle, Hampton.
 
Ellis is simply a mammoth at 6'5" 340 pounds. He has some character flaws as he was dismissed from the South Carolina football team in 2008, but I think that like Perrish Cox, his talent flaws are worth the risk at this point in the draft.
 
This season, Ellis has been absolutely dominant. In Hampton's recent win over Howard, Ellis had 17 tackles, two and a half for loss, and a fumble recovery for the Pirates.

Wayne Nunnely is, in my opinion, one of the better defensive line coaches in the league. Right now, the Broncos' defensive line is pretty patchwork despite the recent additions, and while it is good in the short term, this move could be good for the long-term.  Draft these big guys while they have a year to rotate with the veterans, and let loose the wall in year two.
I really like the Ellis pick. In fact, that was going to be my pick before we traded our 4th rounder for Maroney. With Jamal being advanced in years, we need to get a guy and start to groom him. Ellis plays division 2 football, but he is an absolute beast. He projects very nicely to a 3-4 NT. He is the 2nd best NT prospect behind Jerrel Powe.
Excellent pick, Sayre. Great minds think alike.
So we now have used our 1st, 2nd, 2nd, and 3rd round picks. So now, we go to our 6th round pick. Before I give my pick, I would just like to say that I would be shocked if we didn't add a mid round pick. Whether by trading down or trading future picks, I can't see us not obtaining a 4th or 5th round pick.
But for now, here is my 6th round pick:
5.  Sixth Round (from Lions):  Owen Marecic, FB/ILB, Stanford
McDaniels loves versatility and Owen Marecic is as versatile as they come. He primarily plays fullback for Stanford. He is a great goal line player. In 8 attempts, Marecic had 4 TD's in 2009. He also caught 8 passes for 132 yards and 1 TD in 09. He is a terrific lead blocker. He comes in at 6 ft 1, 248 lbs. He reminds me a little bit of Spencer Larsen, but better. I like Larsen, but Owen can simply do more then him. He receivers out of the backfield, he is a terrific blocker, great goal line back and is also starting at MLB for Stanford. Check out this article on Marecic from ESPN: http://espn.go.com/blog/los-angeles/ucla/post/_/id/2592/owen-marecic-is-stanfords-mr-everything.
He is a terrific get at this stage of the draft. His versatility will surely catch the eye of McDaniels.
via Scout.com
Nice pick, Nick. Marecic looks like he could potentially be a nice find late in the draft. Perhaps in the Mike Vrabel mold?  If you can find a guy like that who is smart and can contribute on special teams. I like that type of pick at this point in the draft.
 
For my pick, I'm going to add a bit of a curveball. Brandon Lloyd appears to be a solid deep play threat. Whether or not he is going to be able to keep it up over the course of the season remains to be seen, but he's had a very consistent pre-season and it's carried to the regular season.
 
However, great teams are great because of their great depth and competition. In the sixth round, you're not looking to fill needs. You're looking to fill depth. We've used zero picks thus far in the draft on playmakers, and it's time to do so.
 
I like to think our wide receiver position is set, but I'm going there again with this pick.
 
6.  Sixth Round (from New England) Derrell Johnson-Koulianos, Wide Receiver, Iowa
 
This guy is going to be the steal of the draft, especially if he falls to day three. He doesn't have DeSean Jackson speed, he doesn't have Andre Johnson's physicality, but he simply makes plays. At 6'1" 200 pounds with 4.5 speed, Johnson-Koulianos has the ability to separate. He has a great combination of size and speed, and though he's not physically imposing, he has managed to do very well for himself. 
 
DJK has led the Hawkeyes in receiving each of his first three seasons, and I see no reason why that can't or won't continue this year. I know I'm coming off as a bit of a homer with this pick, but I have no doubt that it's the right one. DJK can double as a return man if the need should arise, and he simply does whatever he has to do to win games. He was a quarterback and running back in high school, and doubles as a return man and receiver in college.
via Hawkeye Sports
 
Versatility, big play ability. I like that from my sixth round pick. Give the kid a chance to make plays and make your team.
At this stage in the draft, all you can ask for is a good depth player. I have not scouted Derrell Johnson-Koulianos, but Sayre, as everyone knows, watches the Hawkeyes very closely. He is a Big 10 guy and I am a Pac 10 guy. Notice when it comes down to the late round when it's up to sleepers, we both picked guys from the conferences we are most familiar we are with. If the guy makes plays, more power to him. We can NEVER have enough play makers. Good pick Sayre. I'm a firm believer in always adding depth to your strongest positions. That is why I believe we could easily pick a CB in the first couple rounds.
So the last pick. 7th round picks rarely make significant contributions. Tom Nalen's are 1 in a million. What we are looking for is a solid depth player. So with my final pick, here is a player who can fit that mold:

7.  Seventh Round:  TeJay Johnson, SS, TCU

TeJay comes in at 6 ft 1, 210 lbs. He runs about a 4.55 40 yard dash. In 2009, he got 59 tackles, 2 passes broken up and 3 interceptions. Dawkins isn't gonna play forever. Renaldo Hill looks like he has lost a step. McBath keeps getting injured and Bruton is a question mark. We will likely pick up a safety sometime in the draft. In the 7th round, TeJay is a player worth the gamble. He has a very inspiring story that is worth a read http://sports.espn.go.com/ncf/news/story?id=5524093
The story talks about his rocky start, his leadership on the field, and how he is learning sign language so he can communicate with his deaf sister. Great stuff.
The position, production, and character all line up. Looks like every other McD player we have drafted.
Final run down of the 1st mock draft by Sayre Bedinger and Nick Cast
1st Round- Allen Bailey,  DE, Miami (Pick by Nick)
2nd Round- Christian Ballard, DE, Iowa (Pick by Sayre...Iowa....big shocker)
2nd Round- Derrick Sherod, OT, Mississippi St. (Pick by Nick)
3rd Round- Kendrick Ellis, NT, Hampton (Pick by Sayre)
6th Round- Owen Marecic, FB/ILB, Stanford (Pick by Nick)
6th Round- Derrell Johnson-Koulianos, WR, Iowa (Pick by Sayre....Iowa....big shocker)
7th Round- TeJay Johnson, SS, TCU (Pick by Nick)
And that concludes the 1st mock draft of the 2011 draft. This has been an SBNC production ;)