At this time of year, if you're not a fan of a playoff team, chances are you're sitting around, wondering just exactly what went wrong.  In our case, we are among those kinds of people right now, and we have been for far too long.  Years of hideous Defensive drafting (bad at drafting anything, for the most part), untimely injuries (Al Wilson, Doom), lack of continuity at Defensive Coordinator, and the ball just not bouncing our way, have rendered us incapable of making it beyond the regular season, and in the case of this year, incapable of even reaching .500. 
     When Josh McDaniels, who was two years removed from calling the plays on one of the most dominant offenses in NFL history, was hired in as Head Coach of the Denver Broncos - I was ecstatic with joy.  Even though Steve Spagnuola was my first choice, after I saw Josh's hard nosed approach to football, and his hold-everyone-accountable philosophy, I was sold on the thought that he was the one to turn this ship around (I mean, pads on at every practice - no more Club Med training camps - sign me up).  Fast forward two years, and we see that not only Josh wasn't ready for the dual job of Head Coach / General Manager (a mistake on Mr. Pat Bowlen and Joe Ellis' part, just as much as McD's) we also see that nobody should just be "handed" that role.
     Enter John Elway (a Stanford graduate student - you have to be pretty smart there), a man that might not know the intricacies of a personnel dept. (yet), but has a firm understanding of the game we all love - better yet, a firm understanding of what the Broncos are all about.  Many here think guys like me are crazy for wanting "the old style" Broncos back - their reasons being: the game has changed since then, those old philosophies are outdated, it's foolish to dwell on the past.  Well, I'm here to tell you that running the football with authority ~ building, and priding yourelf on a powerhouse Offensive Line ~ creating recreating a home field advantage ~ and running the day to day operations drama free, are things that are very relevant to today's NFL.  When I look at teams like the Steelers and Ravens, I see teams that no matter who the Head Coach is, they keep the same football identity, year after year. 
     What we need here in Denver, more than anything (other than winning of course), is a Broncos team with an identity.  We need a team that does certain things so well, at the end of the day - we can hang our hat on them, and everyone in the country will know that this brand of football is the Denver Bronco brand.  To start building this identity, we need to scour over our current roster, and determine who's a guarantee going forward (regardless of scheme), and who's not up to task.  After weeding out the Denver Broncos from the other men, then we can start adding through free agency, and drafting the players who meet the qualifications for this new identity.
     Follow me after the jump, if you will, for part one of a look at the Denver Bronco roster, and help me determine (in the comments) if these players should, or should not be considered long term Broncos.  In the words of "The Clash" - "Should I stay or should I go now." 
Note to sensitive readers - if you are easily offended by pitiful attempts at humor.... read no farther (I promise you, this will be a "G" rated post, so if you want to work on your sensitivity issues and realize this is all in good fun, feel free to carry on).
Players we should keep (regardless of scheme)
Tim Tebow - QB (6-3, 250)
Fellow Denver Bronco fans, meet the face of our future.  Tim has a "high mountain to climb" before we (and apparently Elway) can call him a good NFL Quarterback, and that's fine, it's the truth as of today.  With the mediocrity of our past teams, it should be easy to have patience with Tim, having faith that one day he can be "the man."  I'd much rather have an unpolished guy like Tim, with the heart of a champion, than a pretty prospect with no substance, like Clausen.  Tim was born with everything you cannot teach (intangibles), and every flaw in his game, especially considering his second to none work ethic, is very fixable (just look at how much his mechanics have improved from the Senior Bowl to now). 
Tim is the type of guy that exudes positiveness, and he has this special ability to get the absolute most out of his huddle, that few are born with (Orton does not possess this quality).  Tebow, a freak specimen at the QB position, is extremely mobile (he's a power runner who is reminiscent of Mike Alstott).  He can evade the rush, and extend the play when the X's and O's break down.  And even now, with limited practice and shoddy mechanics/footwork, Tim can take a team on his back (Atlas) and carry them to the finish, or darn near close to it.  He is our QB going forward (thank you for being smart Elway), and he will show us soon, probably as soon as next year, why he's the man for the job.
Knowshon Moreno - RB (5-11, 212)
Knowshon is one of those players in which I'll never understand all the fan hate.  Is he a 1,000 yard rusher yet - no (53 yards shy his rookie year).  Has he been injury free and always dependable - no way.  What Knowshon is though, is an uber-talented player who's had some bad luck (injuries / hit the rookie wall), and has played behind a confused Offensive Line (we don't have the personnel for strictly a power scheme).  We've all seen the sick moves (hurdles) and the receiving ability (he's learned well from Buckhalter).  We've all seen his nose for the endzone as well - 8 total TD's this year (in limited play mind you), good for second on the team behind Lloyd / 9 total TD's last year (in limited play), also good for second on the team behind B-Marsh.
What it all boils down to, is Knowshon has easily been the best RB from the past two drafts (Arian Foster went undrafted), but yet we underappreciate him and find him unworthy of his draft slot.  LeSean McCoy from Philly had a comparable season this year, to Knowshon's rookie year, and everyone is bragging on him.  I don't understand it.....  oh well, life (and probably Knowshon's career here) goes on.  Knowshon, in my mind, is a keeper even if he never morphs into that workhorse back that everyone expects him to be (Warrick Dunn was never a workhorse either, but I would've taken him at #12 in a heartbeat). 
On a last note, I fully believe that Knowshon was created for the one-cut and get downhill scheme - he will thrive if we go back to the ZB (or some variant).
LenDale White - RB (6-1, 238)
The only reason I see our new staff cutting White, is if he's not healthy come training camp (if there even is a training camp - hope so).  LenDale, a troubled player for most of his career, is now back home in Denver.  I believe that coming back home for anyone, does wonders for the soul, and in his case, might hold him more accountable because family & friends will be at his games in abundance.
LenDale is a hard, super strong runner, who has the ability to get you double digit TD's out of goal line packages, and tons of first downs in short yardage packages.  To put it simply, Big LenDale White is a friggin' bull (a battering ram - "Grond", for all you "Lord of the Rings" fans).  He's under contract for one more year (and comes with a cheap price tag), so there's no reason not to give him another shot. 
Brandon Lloyd - WR (6-0, 194)
I really don't need to rehash the reasons why Lloyd should be retained (at all costs), but for the sake of discussion, I shall briefly expound.  One of our wonderful, fellow bloggers, came to the conclusion that Brandon Lloyd needed to be dealt for more draft picks (I understand that train of thought - we do need more picks).  His reasoning was the fact that Lloyd was so good at adjusting & catching poorly throw balls, it was almost to the detriment of the young signal caller throwing to him (it would become a dependancy to the young QB, and he would in return, ignore his other reads).  Ladies and Gents, this is one of the very reasons that I believe Lloyd is invaluable to an inexperienced QB.  He simply gets him out of trouble.
Lloyd has an amazing ability to control (and contort) his body in a way that Josh McDaniels (a man that's worked with Randy "Rand University" Moss, mind you) described as the best he's ever seen.  Double team - it doesn't matter, B Lloyd always has a chance (and a good one) at making the play.  Brandon isn't a blazer, and he won't wow you with an abundance of physical gifts, but... he's a wiley (finally) vet, who runs impeccable routes ~ never gives up on plays ~ has hands of glue ~ can out-jump 95% of all DB's ~ can adjust to any throw ~ is one of the best deep threats in the NFL (18.8 ypc - WOW!!!) ~ has great confidence ~ and has that ability to make the insane circus catch, that personnel men across the league covet. 
We have ourselves a #1 Wide Out on our hands, and we should do everything in our power to keep him in house, while getting him the money he deserves.  Brandon could end up being a cornerstone of our team.
Eddie Royal - WR/RET (5-10, 180)
A hard working, young, team oriented, no nonsense, blazing fast player, who can run reverses, catch screens, run nice routes, is great at getting YAC, and is a killer return man (even though we should rotate him out more)?  Why in God's green earth did I buy into the hype that "Fast" Eddie Royal "wit Cheese" was expendable?  Thank you BFree (and others) for talking me off the ledge. 
When you have a nasty, young receiving core like ours, why would you break it up?  Look no farther than the NY Giants, to see why a complete, young WR core, is a good thing to have (Mario Manningham, Steve Smith, Hakeem Nicks, Dominik Hixon, Ramses Barden, Victor Cruz).  Yeah, there's room for Eddie Royal on the Denver Broncos roster, because he embodies what the Broncos are all about. 
Demaryius "Bey-Bey" Thomas - WR (6-3, 230)
Big Demaryius Thomas is a guy anyone could like.  His Mother and Grandmother, in prison for selling cocaine - Demaryius Thomas has lived (early on) a tough life.  Most kids in his predicament would probably follow in the same, self destructive path..... but not Bey-Bey, he was destined for better.  Demaryius moved in with his Uncle (a preacher) when he was young, and stayed out of trouble, surrounding himself with the right crowd.  I know being a good person isn't everything when it comes to football, but it can't hurt.
DT has insane potential, and the sky is the limit for this young man.  If he didn't sustain all those injuries during the off season/regular season, and McD was wiser in his usage of him at KR (you don't make a man, THAT BIG, be your primary KR), I believe we would've seen more of that potential this year.  He doesn't run the best route tree in the world, and his hands could be more consistent, but DT is a super smart (2nd best wonderlic for a WR in the draft), hard working kid, which leads me to believe that all of his negatives are correctable.  Other than Thomas's freakish size, his other attributes are: 4.38 speed, great YAC ability, great blocking ability (called the best blocking WR in the 2010 draft), supreme leaping ability, great at the deep ball, super strong for a WR, humble & hard working (no more diva's), and he's deeply rooted in the philosophy of "team first."
IMO, Bey-Bey is too valuable a commodity to even entertain letting go (should McD's new team make an offer).  Most WR's don't break out year one (B Marsh), and come next year, we'll see a much improved, and much healthier football player.
Eric Decker - WR (6-3, 220)
hubba - hubba ;-)
If good looks would give you points on the football field, then the triumvirate of Tebow, Brady Quinn, and Deck, would win us many Super Bowls (we could be the "Tiger Beat" Broncos).  Note to self... you're married, you like women, and Decker would never give you the time of day anyway, and you sir, are a manly, manly man!!!
In all seriousness, Eric Decker could end up being a good (to great) Wide Out for us down the road.  His blend of size, route running ability, sure hands, hard working - team first mentality, and smarts (THE best wonderlic score for a WR - 2nd best score in the entire draft, all positions included), gives us a nasty WR core for the future.  I feel like Decker will create many opportunities for himself to stay with our club.
Ryan Clady - LT (6-6, 325)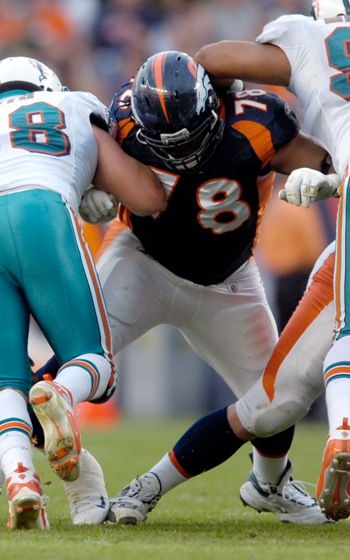 Don't listen to 'em Ryan - you get that game face ON baby!!!!
If I had to pick one player off this football squad to start a rebuild on another roster, it would hands down be Ryan "the franchise" Clady, every single time.  Ryan didn't have a stellar year this season, like years previous, but he showed us that he's ever dependable / durable, not missing one snap (again), even in the wake of a partially torn knee.  In (approximately) the words of Elvis Dumervil, Ryan is so unique because his reflexes, and freakishly long arms, give him the ability to 99% of the time, get his hands on you first.  When Ryan Clady is healthy, he might possibly be THE BEST, young Left Tackle, in the National Football League (Joe Thomas, Jake Long, and Michael Oher are in the discussion as well)
Ryan, a behemoth of a human being, moves like a man 100 pounds lighter.  He's brute strong, and he's a student of the game.  He is blessed with rare athleticism for a man of his size, and I wonder how in the heck we were able to draft him before Al Davis "the undead one" got his skeletal, virginblood stained claws, all over him (Clady is Bruce Campbell + intelligence, so the intelligence thing must have thrown "the undead one" off).  No question, Clady is the ultimate keeper.
Zane Beadles - OL (6-4, 305)
Hopefully we'll be seeing this tandem for a while
At the end of this season, Beadles was arguably playing the best football of any O-Lineman (I know this is debatable) on our squad.  Beadles is a good technician, and while he's not blessed with elite athleticism, he more than makes up for it with hard work, smarts, and versatility.  Beadles (and Walton's) greatest selling points this year were their dependablity & durablilty.  Beadles, in my humble opinion, could turn out to be a good to great lineman, if we give him the chance.  Seeing that he's just finished with his first NFL go-round, Elway and Co. will keep him on for further evaluation. 
J.D. Walton - C (6-3, 305)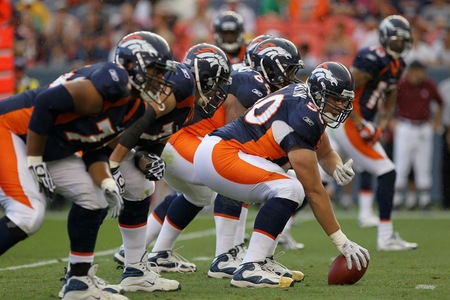 Playing and starting every game at Center in the NFL, as a rookie, is no easy task.  I believe that I saw enough out of Walton to consider him a player for the future (his double pancake block vs. Seattle in the redzone, the one which sprung Buck for a TD, was a thing of beauty).  Walton is much like Beadles, in the aspect of not being supremely gifted with athleticism, but making up for it with toughness, smarts, and hard work.  Not every rookie Center is a Maurkice Pouncey, and given time, Walton could blossom into a good one. 
I would advocate that our Broncos look to free agency to bring in a veteran Center (Casey Wiegmann, Olin Kreutz), who could hold down the fort until Walton is fully ready.  Walton has too much potential (and is too young), not to include him on the keeper list.
Chris Kuper - RG (6-4, 303)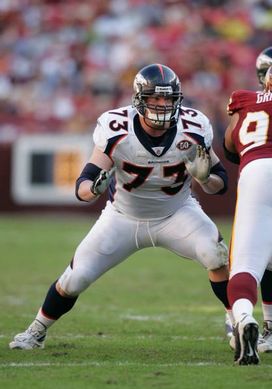 Chris Kuper might not be considered one of the best Guards in the NFL, but I guarantee you he's in the discussion for top ten (possibly top 5) Right Guard in the NFL.  Kuper is a big man, who lands perfectly placed blocks while on the move, and he was made for the Zone Block scheme (hopefully we'll be running more of it in the future).  I love Kuper's nasty streak, and I hope he rubs off on the rest of our line someday.  Kuper has solidified himself as a leader / mentor on our team, and his paycheck reflects his team-first attitude.  I'm glad that McD locked him up when he did, or else Kupe might have jumped town.  I really think that he's in the plans going forward.
Justin Bannan - DL (6-3, 310)
caption:  "He's behind me isn't he?..... OH CRAP, I knew it, he's right behind me."
After all was said and done after the 2010 regular season, I can look back and say, hands down, Justin Bannan was our most consistent, and best Defensive End.  Bannan is everything I look for (except his lack of athleticism) in a 3-4 D-Lineman, and he'd be a good fit as a 4-3 DT as well (he was in Buffalo).  Bannan has also shown the ability to play Nose Guard in a pinch, as he did a few years back in Baltimore, for 15 games (they had a nasty run D that year - no drop off with Bannan replacing Kelly Gregg). 
He's tenacious, relentless in his pursuit of the QB / ball carrier, versatile, brutishly strong at the point of attack, great at stacking and shedding, a great leader, very intelligent, and has the ability to take on multiple blockers.  Throw in the fact that he's always been a hard worker (he's had to be), and you'll see why I love Justin Bannan on our team.
Kevin Vickerson - DL (6-5, 325)
Big Vick showed great ability (at times) to clog running lanes, and stop the runner for a loss (many times in goal line packages).  He may, or may not not be a starter down the road, but what could it hurt to resign him to a cheap deal and keep our Defensive continuity going (we need all the depth we can get).  I'm all for keeping Kevin Vickerson.
Marcus Thomas - DT/DE (6-3, 316)
If a 300+ pound man is athletic enough to do standing backflips, he's athletic enough to be an absolute terror on the football field.  In limited duty this year, Thomas managed to rack up 35 tackles & a sack (not bad Marcus, not bad at all).  Like LenDale White above, Marcus Thomas was drafted a very young man (they were both 21 when drafted), and they still have time to mature, and refine their craft. 
Since we're almost certain to move back to the 4-3 now that John Fox has been hired, Marcus Thomas - with his explosive ability - has a chance to succeed at 4-3 DT.  If he's not too expensive, I say we keep Marcus Thomas. Athleticism-wise, this guy had a 1st round grade, but off the field trouble (he was suspended from their National Championship game, Tebow's freshman year) dropped him to the 4th. 
Elvis Dumervil - ROLB/DE (5-11, 248)
Thank you Brian Xanders and Josh McDaniels for signing this man - long term.  If he remained unsigned until now, his IR season might have changed the Broncos mind on paying him top dollar.  Elvis Dumervil isn't the worlds best run stopper, but few pass rush freaks are (Dwight Freeney).  Even though Doom is slight in stature (height), he makes up for it by playing super BIG!!!!  His short body, mixed with his freakishly long, ape arms, make him a nightmare for opposing lineman, and QB's in return.  Doom's game is all about hand placement / leverage, and he has this unique ability to keep his lower body on a predetermined path, while his upper body twists and fights for the one on one win, independant from his lower half (my Bills fan buddy says it reminds him of Bruce Smith - Doom and I will take that compliment anyday). 
There is no new coach in the world that wouldn't lick their chops at the opportunity to work with Doom, and even if they didn't, Elway would make sure #92 stayed with us for the long haul.  You do not let a player like Elvis Dumervil get away (Doom had 26 sacks in three years, one of which he didn't even start a game, as a DE in a three point stance.  8 of his 2009 sacks, also came from a three point stance - he will be fine if we move back to a 4-3 D).  Keep in mind guys, when Doom was a 4-3 rush end, he played at about 262.  He's dropped weight to become an OLB, and he can put it back on. 
Robert Ayers - LOLB/DL (6-3, 274)
caption: "What you lookin' at fool?"
Robert Ayers is another one of those players that fans are weirdly unpatient with.  I understand the worry with his sack totals, but you have to realize that he is the best run stuffer / edge setter, on the team.  Mike Mayock (a man I highly respect in this day and age of douch-bag analysts) proclaimed Robert Ayers to probably be THE BEST defender from the 2009 draft - when looking at him down the road (in two years, he proclaimed).  We have gone a ways down that road, but injury and a change at D Coordinator, made us (and him) take a pit stop. 
 Blessed with great athleticism for a man of his size, Robert has had to learn a new position in the NFL, on the fly.  A stout run defender (his pass rush will improve with better coaching), Robert Ayers is exactly what we need to return this D to former glory - even if it's in a rotation.
D.J. Williams - ILB/WLB (6-1, 245)
Alright, alright, you guys have turned the tides in my mind, and D.J. (especially on a D like ours - devoid of talent), is too valuable to let slide through the cracks.  We all know the argument - DJ can't fight off blocks, he's not a leader (not everyone is), he has no instincts, and he only makes tackles seven yards past the line of scrimmage, but all of this can change (this one's for Grind) with an improved Defensive Line.  DJ is one of those players who's a playmaker, and you need to keep him clean so he can roam the field.  I'm not overly impressed with his coverage abilities, but I'm not the leading authority on such matters anyway.
The DUI thing makes it a bit sticky, but I believe the players and the front office are willing to forgive DJ and move on.  His contract situation is hairy as well, but upgrade the D-Line and we'll see the full capabilities of DJ Williams. 
Joe Mays - ILB/MLB (5-11, 246)
Say what you want about the chances of Mays sticking on this roster, but I don't see how a coach couldn't fall in love with him.  Joe Mays is a big league hitter, just ask Tony Moeaki if he can lay the wood or not (if he can remember it).  It got to the point, after he had started a few games, that he was placing beautifully timed, big hits on people, and people were thinking twice about going back over the middle. 
Joe has a lot of things you look for in a TED linebacker, and I believe he'd be valuable in a 4-3 alignment as well.  What's the harm of keeping him, even for just a rotation man.  Instead of Iron Mike Tyson (who many say Mays bears a resemblance to), we can call him Iron Joe.
Wesley Woodyard - LB (6-0, 222)
This is another player that I struggled with the decison where to put him - keeper, or on the bubble.  After cranking it over and over in my head, I've came to the conclusion that Wood is a keeper for sure.  Blessed with raw speed and sideline to sideline roaming ability, Wes Woodyard has become an invaluable Special Teamer, if for nothing else. 
When you add in his diligent work in the community, and his potential to improve if we go to the 4-3 (he'd be a great Weak Side Backer), then it's easy to see why this great young man is a Denver Bronco.  IMHO, he could be like our new Keith Burns + boat loads more potential / athleticism.  Sometimes a guy is so important to the locker room / community / fans, you can't let him slip away - Woodyard is this guy.
Champ Bailey - CB/FS? (6-0, 192)
I'm not going to say very much concerning Champ, and I know it's silly for me to put him here, knowing the uncertainty surrounding him, but I think he needs to finish out his career as a Bronco.  He deserves it.  John Elway, please resign this man.  If Champ stays and we choose to draft Peterson, you would have a world of endless possibilites / combinations in the Defensive Backfield.
Andre' Goodman - CB (5-10, 184)
How can you not love Goody!  This guy gives his all (which doesn't include tackling, but that's ok) to our Broncos on every play, and where he hasn't been a starter for his whole career, he has relatively low miles for a 32 year old man.  Had Goodman not been hampered with injuries all year, I think we would've seen his true worth, once again.  With all the uncertainty surrounding Champ and Perrish Cox, it's a must that we keep this pure cover corner, for another year or two.
Syd'Quan Thompson - CB/RET (5-9, 191)
It seems like every time this kid has been on the football field, plays have been made.  Syd'Quan has a nose for the football and he excells in the return game as well.  He comes with a cheap pricetag, and there's no reason he shouldn't be kept around as a Denver Bronco.
Cassius Vaughn - DB/ST (6-0, 195)
Like Thompson above, there's no reason why Cassius shouldn't be retained.  He showed too much promise as an undrafted free agent, to just be thrown away.  Vaughn already is a good Special Teamer, and I believe he could one day be a decent to good Cornerback.  Vaughn was our best Special Teamer this year by a longshot.  I want to see Cassius Vaughn in a Bronco's uniform going forward.
P.S.  I also loved HIS play in the Titans game to secure the fumble that Bruton knocked loose.  He had a nice fumble recovery in the Seahawks game as well.
David Bruton - SS (6-2, 211)
His Special Teams value alone, as a gunner, should ensure Bruton a spot on this team.  I wasn't super impressed with Bruton's play on the field this year, but I wasn't discouraged either.  He did show a knack for bone crunching hits, which is always a good thing.  Will he ever develop into a good Safety? - Who knows, but you have to have Special Teamers too.  IMO, Bruton is a future Bronco. 
P.S.  I loved his heads up play to knock the ball loose from Marc Mariani's hands (on that weird kickoff from Prater) in the Titans game.
 Darcel McBath - FS (6-1, 198)
 When I started to really think about it, we can't go into the offseason with the possibilty of having one Safety on the entire roster.  Darcel McBath, who has been about as injured as a football player can be, has the potential to be a solid Free Safety down the road.  McBath was an All American Safety at Texas Tech, and a big reason for all of his success there (he had 7 picks his senior year) was due to the fact he faced Michael Crabtree everyday at practice. 
McBath is too young to be considered a bust, especially when you consider the amount of time he's missed (practice and live play).  I say we at least give him one more year.  If he proves himself incapable of staying healthy again, then make a decision.
Matt Prater - K (5-10, 187)
No matter how hard I try, I can't begin to explain to you guys the magnitude of my man crush on Matt Prater (we need a Bermanism for him - the Howitzer perhaps).  This guy went 30 of 35 last year, good for 85.7 %.  He went 16 of 18 this year, before an untimely injury derailed his season, which was good for 88.9 % (Wow!!) What is truly amazing, is the fact that he's gone 9 of 12 on 50+ yarders in his career, good for 75% (his longest was a 59 yarder this year, that would've been dead on from 65).  His leg power on kickoffs sometimes winds down when we get to the stretch, but he's still good for 20+ touchbacks a year (he's had 67 Touchbacks in the past three years here).
IMHO, Matt Prater is not only a keeper, he's a franchise Kicker (if there is such a thing - Vinatieri comes to mind) with a cannon for a leg, but good accuracy as well.  That's something you just don't see everyday - a guy with that blend of power / accuracy.  Please, please, pretty please with a cherry on top, Mr. Elway, bring this Bronco back into the fold for the long term.   
Stay tuned for Part 2, the players who are on the bubble, and could go either way.  Thanks for reading, peace!!!