Some Clarification is in Order - Off-Season Stats: Rookie Quarterbacks
Some Clarification is in Order - Off-Season Stats: Rookie Wide Receivers
Some Clarification is in Order- Off-Season Stats: Broncos Offense, a History
As I continue to unload more stats on your now weary minds, I move on to conclude a project I started at the beginning of the season when another member and I were talking about how backs gained their yards, through big bursts off-set by poor runs or by steadily gaining, or losing a certain number of yards. I did a post on this about the third way point of the season and again at the mid way point. This post will be a continuation and conclusion of this study.
Preview:
Now I took each run by a running back in the NFL this season and put it together in a handy spread sheet, now because of formatting and the sheer amount of data, I only included a few backs in this list, most of whom are some of the top backs in the league, as well as Moreno for perspective.
Here is the explanation I used for the previous two posts:
So I collected  data from these backs, the abbreviation in () is what is on the table:

- Adrian Peterson (AP)
- Steven Jackson (SJ)
- MJD
- Rashard Mendenhall (RM)
- Frank Gore (FG)
- Arian Foster (AF)
- Darren McFadden (DMF)
- Chris Johnson (CJ)
- Cedric Benson (CB)
- Ahmad Bradshaw (AB)
- LeSean McCoy (LM)
- LaDainain Tomlinson (LT)
- Michael Turner (MT)
- Jamaal Charles (JC)
- Knowshon Moreno (KM)

On the table, I include average YPC, Total Runs, then the runs are broken up into groups by by yardage, as well as the percentage each group makes up of the total runs. I then take their average, form a zone of +/- 2 YPC. For example, if a person averages 4 YPC, their average zone would be 2-6. I do this to see how often then reach this zone which is close to their average. This zone is used to see how often a back stays close to their average, and to separate backs into two types of rushers I set boundaries. When a back reaches majority of their rushes, more then 50% in their average zone, they are a "steady back", those who have less then 40% are considered "burst backs," those who get their average by balancing poor runs with big runs. Those with 40%-50% are "balanced backs."

The first table is a key. It includes the ranges for each class of backs (with number of each type in parenthesis) and a color code to identify what class of back each one is. Also included on this table will be a tally of those who either lead the good categories, in yellow, or are last in good categories. It is also vice versa, those who have a lower percentage of runs for less then one yard category for example would also get a yellow. I took the top two and bottom two of each area. So for example Jamaal Charles, his 35% of runs in his zone is the second worst among those studied, so he gets a red, but his 12% of runs for 11-20 yards is the leader, so he gets a yellow. Each groups total are listed in the first table.
The Tables: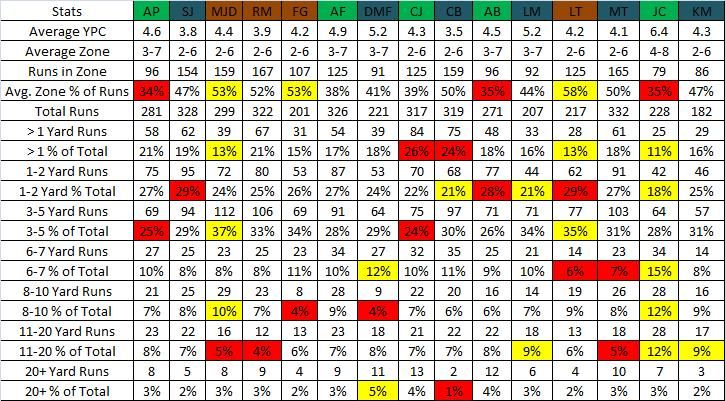 Now I apologize, This is a copy of an image, not a spreed sheet, because when I try and transfer the colored version from Word or Excel to the SBN Editor, the colors go away, and since they are a key part of this post, I will go this way.
Review:

Burst Backs (0%-39%):
- Adrian Peterson
- Arian Foster
- Chris Johnson
- Ahmad Bradshaw
- Jamaal Charles
Balance Backs (40%-49%):
- Steven Jackson
- Darren McFadden
- Cedric Benson
- LeSean McCoy
- Michael Turner
- Knowshon Moreno
Steady Backs (50%-100%)
- MJD
- Rashard Mendenhall
- Frank Gore
- LaDainian Tomlinson
Notes:
- LaDainian Tomlinson wins the award for best percentage of runs being in zone with 58%. Adrian Peterson has the worst with 34%.
- If you want to lose yards, use a guy like Chris Johnson, one if every four runs is for less then a yard.
- You want to get 3-5 yards a play, use a "steady back," half of their runs are in that range.
- LaDainian Tomlinson and MJD lead the group for runs of three to five yards with 35% and 37% respectively. Chris Johnson and Adrian Peterson did the worst here.
- It appears that "burst backs" have a high percentage in the 8-10, 11-20, and 20+ categories, but will almost always struggle to get positive yardage on their other runs.
- Foster is the exception, he has shown he can break it big, but he also is quite regular with keeping his runs our of the negative yardage with 63% of his runs for over 3 yards and 86% of his runs for positive yardage. Charles as well, with 29% of his runs for two yards or less and 71% for 3+ yards.
- Backs who appear to be overrated, or at least not living up to their name, include Steven Jackson, Chris Johnson, and Adrian Peterson.
- "Steady backs" usually have a lower YPC, but they are much more likely to get their average then a "burst back" would.
Best Tandems:
#1: Ahmad Bradshaw and Brandon Jacobs (NYG)
-They are by far the best group of backs, despite fumble issues. They compliment each other well, and while I didn't include Jacobs here because of space, both he and Bradshaw make the big runs and pound it in. Great, great tandem.
#2: Darren McFadden and Michael Bush (Oakland)
- This group is often overlooked, but McFadden is having a very solid season and Bush is quietly playing almost as well, especially at the goal line. With McFadden's big run ability, and Bush's power running, plus the big play, they are nearly perfect together.
#3: Thomas Jones and Jamaal Charles (KC)
- This is pretty much a tie for #2 and #3, but because of the late season decline of Jones and Charles, they slip to the #3 spot. Charles is a beast when limited to less then 20 carries a game to keep him fresh, and Jones is the perfect compliment to him, a guy who won't break it big often, but you can almost guarantee he'll get 3-5 yards a carry, every time. They are a great, balanced duo.
Knowshon Moreno:
I have a special section for our special back. Now many have ridden Moreno for his average play this season and for his injury issues. Now I agree he is hampered by injuries, but looking over each of Moreno's runs and then rewatching his play this season, I believe he isn't getting his fair due of credit. Moreno only has 16% of his runs for less then a yard, compared to 26% for Chris Johnson or 21% for Rashard Mendenhall or Adrian Peterson. He is also dead on where most backs should be for runs between 3-5 yards, with 31%, or one in about three. Now the biggest surprise for most is that fact that 28% of his runs are for 6+ yards and 20% are for 8+ yards. He's got big run potential tied in nicely with the ability to not get trapped in the backfield. Moreno has issues, but he's played better then most fans think.