Before reading, know that I updated the keeper list on part 1, because many of you are wiser than me.  The list of newly added keepers includes - DJ Williams, Eddie Royal, Wesley Woodyard, Darcel McBath, Matt Prater (I forgot about him - he was intended all along), Marcus Thomas, and LenDale White.  I wanted to make this series of posts interactive, and I appreciate all the help and common sense.  I'm glad it was rec'd enough to stay up, so you guys could go back and read the updates...
     This is part two of my previous post, in which we looked at the possible keepers going forward.  Now we will scour over the players that could go either way, depending on many different scenarios.  The biggest scenario that a guy might be on the bubble, is they just don't warrant (talent-wise) Elway keeping them around (which is always the case on a team like ours, namely a Defense like ours, who goes 4-11). 
     Follow me after the jump to see who might be a Bronco next year, and who might be either, on another team, or sitting at home.  Without further adieu.......
Brady Quinn - QB (6-3, 235)
I knew it, I just freakin' knew it.  Brady? (in a condescending, drawn out, accusatory voice)
Uhhhhmmm, perhaps this was at the "Village People's" reunion party?  Brady, it's getting downright obvious now.
Just kidding Brady, I'm only jealous.  You've had yourself some fine women, and congrats on being GQ baby.
Now that I've gotten that out of my system..... (what will become of me, not the players, is the million $ question)
What to do with Brady Quinn?  Other than his second half performance against the Vikes in the pre-season (against 3rd stringers mind you), Brady Quinn has looked absolutely horrible in every other oppportunity given.  I like his pedigree, I love his size / strength, and I still have a reserve of hope for his potential, but I wouldn't cry if the new regime didn't see Brady as a fit going forward.  He is a former 1st rounder, but I'm not gonna lie, I'm still holding a grudge from the Hillis trade.  Stay or go, it doesn't matter as long as Tim Tebow is there.
Correll Buckhalter - RB (6-0, 223)
I know many of you will disagree with me for thinking this, but I wouldn't mind keeping Buck around for one more year.  Hear me out - Buck had a resurgence of sorts with Tebow at the helm (he wasn't the only player), and was a key cog in the victory over Houston.  Like the announcer said during the final San Diego game, "You'd be hard pressed to find a better Running Back in the NFL, at patiently setting up his blocks on screens." 
Obviously, with Tebow needing time to refine his pocket skills, he'll be checking down to his outlets early and often, and throwing a bunch of screens.  Buck is relatively inexpensive, he's a great teammate, and when healthy, he's one hell of a player.  It could go either way, probably not the way I want, but I think Correll deserves one more shot.
Lance Ball - RB (5-9, 220)
Lance Ball has an underground following here, among the members of MHR, that's quite unique if you ask me.  He's never scored a TD.  He only has 262 total yards in his three years playing in the league, but like many of you, Lance Ball intrigues me.  I might not be as hot on him as some of you, but there's something about the guy that gives me the impression he could be much more.  At 5 foot 9, and 220 lbs., Lance Ball has the makings of a human bowling ball, and guys built like him have a way with defenders. 
Honestly, if I had to choose between him and Buck right now, I'd pick Buck (seeing how Buck has actually done something in the league, and so far, Ball has not).  But as of now, Ball has been much more reliable, availability wise - not production wise.  Another reason not to worry if we release Ball, is how hard could it be to replace a guy with his production - not very hard.  Ball really screwed the pooch when he dropped that sure fire TD pass, the one that hit him in the bread basket during the second Raiders game (thank you Al Davis, for firing Tom Cable you idiot).
Spencer Larsen - FB/MLB (6-2, 243)
When I think of all the good people who are employed by the Denver Broncos, Spencer Larsen is one of the first guys that comes to mind.  A devout Mormon, Spencer delayed his football career for a couple years by going on a church mission out of country. 
The ONLY problem I have with Spencer, is it seems like he can never stay healthy.  I love his attitude, I love his toughness, I love his versatility, and I adore him on special teams.  I even liked him as an offensive weapon in the first Chiefs game.  Now that we're possibly moving back to a four man front, Spencer could very well stick around as a reserve MLB / STer / FB, but he could just as easily be cut as well.  If we get an opportunity to grab Owen Marecic (FB - Stanford) in the 5th or 6th, then I say we move on from Larsen.
Jabar Gaffney - WR (6-2, 200)
Jab, or Gaff, as his teammates like to call him, has been a very dependable receiver for our team over the past two years.  Mixed in with a bunch of mistake acquisitions, Gaffney was one of the only players who worked out, among many that were signed off the Patriots squad (Lonie Paxton is darn good, but no better than Mike Leach).  Gaffney teamed with a resurgent Brandon Lloyd, to form one of the deadliest pass catching duos in the NFL this year.  Their signature celebration after a big catch (waving their hands in front of their face - to represent the fact that DB's can't see them, and therefore can't cover them), became a staple of our season. 
It would not shock me if Jabar stayed a Bronco for a long time, but it wouldn't shock me if he were dealt this off season either.  Because we are stacked at WR, but not with an abundance of draft picks, Jabar Gaffney could be looking from the outside in.  Either way, I will be happy with the decision.
Matthew Willis - WR/RET (6-0, 190)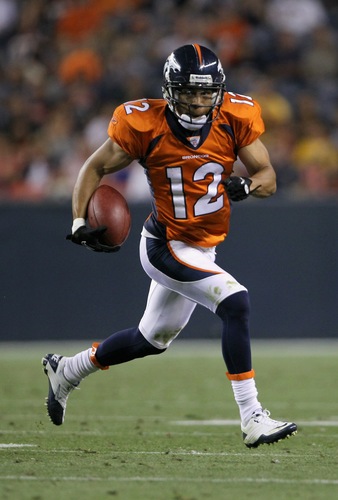 What happened to the Pre-Season phenomena known as Matthew Willis?  I know he ended up getting hurt, but the six games in which he dressed, he produced one 17 yard catch.  Who knows, maybe the coaching staff was so pleased with the players in front of him, they were holding his card in their back pocket, waiting to unleash him another day?  One thing is for certain, Willis was an absolute BEAST in the Pre-Season, but... will that be enough to keep him over Eron Riley as the developmental deep threat? 
Boy, we love picking up deep threat WR's that have been affiliated / associated with the Ravens (Willis played there before coming here ~ Riley was snagged off of their practice squad ~ DT was going to be drafted at #25 by BALT, but we all know what happened instead) - smart idea probably.
Daniel Graham - TE (6-3, 257)
I'm so glad I'm not the one calling the shots in Dove Valley, because among many reasons, I would probably do the opposite of what's best for the team concerning Daniel Graham.  Do we continue to pay top dollar to a TE that has become one dimensional, or, do we part ways with a fan favorite (Colorado alum) ~ team leading ~ masterfully blocking Tight End? 
I'm torn on it, but leaning towards parting ways with him.  I guess it all depends upon who's available in free agency or the draft.  I know one thing for sure, Daniel Graham has been an overall great Bronco.  A big Mile High Salute to you Daniel, whatever the outcome may be.
Dan Gronkowski - TE (6-5, 255)
What are the chances that three brothers, all climb the same path to the NFL and end up playing at the same time.  Hats off to you guys for living your dreams!!!
Dan Gronkowski is a guy that's synonymous with the Alphonso Smith debacle, but we shouldn't let that cloud our minds when evaluating him.  As far as production, Gronk hasn't done much, but when factoring in his potential, he could be a viable option for us going forward.  I like his pedigree, and he defintely looks the part of an NFL Tight End, but only time will tell the outcome of Dan Gronkowski.
Ryan Harris - RT (6-5, 300)
Where to begin with Ryan Harris?  Ryan Harris, when healthy, might be the key cog to our o-line's success (when he's out of the line-up, we go to pot).  He's blessed with nice athletic ability, he's a great pass blocker (awesome, since Tebow is a southpaw), he has a nasty streak (Orton said Harris's aggressiveness got the rest of the team going), and he's great on the move in the second level, but he's hardly EVER ready to go. 
If he gives us a slight hometown discount, then I believe we'll keep him.  If not, then Xanders and co. can find a suitable replacement in the 3rd to 5th rounds.  Zane Beadles might even replace him at RT (Beadles from Utah, might remind Fox of another Ute lineman he coached - Jordan Gross).  If this happens, then we're in the market for a new LG (who isn't named Stanley Daniels). 
Eric Olsen - OL (6-3, 305)
Judging by that picture only, Eric looks like a guy I want being the guard dog for my Quarterback.  When I first saw Eric Olsen, I assumed he was Merlin Olsen's son, because in my mind, he bared a striking resemblance to him.  I'm not for certain, but Wikipedia doesn't mention Merlin as being his father, so probably not. 
Eric Olsen is like every other O-Lineman drafted by McD - marginal athletes but great workers, smart, tough as nails, technicians, finishers, and versatile.  I personally like Eric (he reminds me of a Viking Berserker......  I want to play "Immigrant Song" by Led Zeppelin, every time I see him).  I hope he finds a home in Denver. 
P.S.  What is it with McD only drafting 6-3, 305 lb. lineman?
Chris Clark - OT (6-5, 315)
The only reasons I have Clark here instead of the cut list - I don't know anything about him, and I like his size.  We are desperate for OT depth, and probably a starter, so why not develop what we have.  If we move on without him..... well, there's no use in crying over spilled milk.
Jeff Byers - OL (6-3, 301)
Jeff Byers hasn't been on the active roster for long, but I can't leave him out.  If there was ever a college player with mobility enough to play in the zone block scheme, his name would be Jeff Byers.  What is crazy - a few years back when I was importing draft classes from NCAA football to Madden, Jeff Byers caught my eye. 
When I looked at his attributes, it became apparent that this guy was the ultimate zone blocker (you have to realize, back in the day, 300 lb lineman were considered big for our scheme - so naturally I was excited to find a guy with his size + his fast feet).  If we move back to the zone block, former USC Trojan standout, Jeff Byers, will probably make it into the mix.
Louis Leonard - DL (6-4, 325)
OK, I'm going to be honest with you.  The only two things I know about Leonard that would make me consider putting him on this list, is the fact he's a big D-Lineman, and he's worked with John Fox before.  Next.
Mario Haggan - OLB/ILB/ST (6-3, 267)
Before I get started, I want to say, regardless of what happens, thank you Mario for being a great Denver Bronco.  With that said, if we move to a 4-3 (which it looks like we will), Mario's chances of sticking around greatly decrease.  The only three ways I see him sticking around in the 4-3, is if they deem him a decent backup DE (he played DE in college), if they highly value his motivational / leadership qualities, or if they value his special teams presense (Mario is a stud special teamer - ask any Buffalo fan and they'll tell you).  If we stay in the 3-4 (which I hope we do), Mario is invaluable as a backup OLB, a backup ILB, and like I said above, a special teams maven.
Perrish Cox - CB (6-0, 198)
The only, and I repeat, ONLY reason I have him on this list, and not the keeper list, is because of his rape allegations.  If he's found innocent, then he's a sure fire Bronco going forward.  If he's not, then I'm glad a prison cell will be his home for a few years.  Perrish has the potential to be a lockdown CB and a great KR, given time.  Only the justice system can determine his fate with our team.
Chevis Jackson - CB (5-11, 193)
Chevis Jackson, a former 3rd round pick by the Falcons, has never lived up to his potential on the NFL level.  The guy has all the physical tools you look for when scouting DB's, but for some reason, it's never mentally "clicked" for him.  He's a player that could go either way right now.
 Renaldo Hill - SS (5-11, 205)
Man, I wish I knew what to do concerning Naldy.  On one hand, he's very experienced and a great communicator on our D.  On the other, his play is lack luster, he's old, and he's taking up a roster spot in which, I KNOW, we can fill it with someone better.  If he stays - great.  If he doesn't - great.  I'll let others with better understanding of our Defensive needs make that call.  If it was up to me though, I'd free up a roster spot at Safety.
Britton Colquitt - P (6-3, 205)
This all boils down to whether John Fox feels like he can do better or not.  I like Britton, and I think his pedigree speaks for itself.  He didn't do a bad job this year, but it wasn't stellar either.  If it was up to me, I'd let him develop, but it's not up to me.
Lonie Paxton - LS (6-2, 265)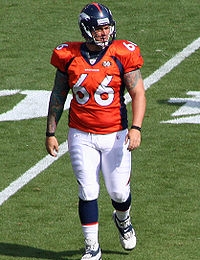 Is Lonie a good Long Snapper - certainly.  Is Lonie Paxton's contract size rediculous for a Long Snapper, especially when considering we had a good one in place before him, who was cheaper (hmm, hmm, Mike Leach) - why yes Jeremy, it is rediculous.  This one's up in the air, but I say we keep him (good one's like Lonie don't grow on trees).
Alright ladies and gents, this concludes part II of my roster rundown.  Next up - the dreaded AXE!!!   Thanks for reading my friends, and I hope you enjoyed it.  If you have any discrepancies with my decisions, let me know in the comments.  God Bless!!!!