OK guys, the time has finally come to see who, I think, has a chance to be either unemployed, retired, or on a different team come Sept. 2011.  There are some players on here I wouldn't think twice about putting on the original "Keeper" list, but I'm pretty sure they're going to hang up their cleats.  Without wasting anymore time, let's jump into the thick of it.

Jumping over....
Kyle Orton - QB (6-4, 225)
Good Lord Kyle, the alcohol's not going anywhere bud - it'll be alright, I promise.
Where do I begin with good ol' Neckbeard.  For starters, Kyle has been a pretty daggone good QB for our Broncos in terms of stats, and in the case of this year, the deep ball especially.  Kyle is a hard workin' (as evidenced by his remarkable deep ball improvement), tough, grizzled old SOB, who WILL play through almost any injury (after seeing him play injured though, you probably won't want him to).  Kyle is a protector of the football, a student of the game, a great game manager, and awesome at making adjustments at the line of scrimmage, but..... for all of those things he's good at, he stinks at some of the more important facets of the game.
Kyle has not been, is not currently, and will never be a guy who can change the outcome of a game through his sheer will and prowess.  He cannot take a team on his back, at any point in the game, even if down by one TD, and turn it around for the good (he's proven this so many times).  When the X's and O's of the gameplan break down around Kyle, he has absolutely NO ability to improvise or wing it - it all has to be "just so" for him to succeed.  Kyle Orton is also one of the most immoblie QB's I've seen in a long time, and many times if he just feels pressured, he'll drop to the ground like a sack of potatos and giftwrap the sack for a defender.  McD's mastery of the play action, masked Kyle's slow-as-a-snail feet, for the better part of this year.
Many will argue with me on this point, but I don't ever see Kyle being a true leader of men (that's a QB's job).  I know you don't have to be loud to be a leader, but during many of our losses (the blowouts especially), Kyle always has this indifferent look on his face, and no fire or passion when in the huddle.  I've seen many pre-game pump-up rituals from our team captains (Haggan / Dawk / Dan Graham), only to see Kyle standing in the background like a wall flower, like he couldn't care less about building some positive energy.  Kyle IMO, will never be anything more than a stop gap starter, or a really good back-up.  He will almost certainly be traded to the highest bidder before the 2011 Draft rolls around, and I bid him farewell.
Laurence Maroney - RB (5-11, 220)
Awkward!!!!
Hey Donatello, Raphael, where's Master Splinter at dude?
Let me start off by saying that Maroney was a 1st round pick, and he has lots of potential, but for whatever reason (doesn't work hard?) he never seems to reach it.  It's safe to say, he's a bust.  IMO, this was one of McD's top 4 worst trades, and that's saying something.  Just becuase you are a former Patriot, doesn't in any way make you good (Le Kevin Smith, Hochstein, Jarvis Green).  Laurence Maroney did absolutley NOTHING to help improve our football team, and he was a prime example of McD's total lack of ability, to use players he wasn't familiar with (Hillis!!!).  We are out a valuable 4th round pick because of this guy, and I'm 100% certain he will be cut.
Britt Davis - WR (6-3, 205)
I'm not going to say much on Britt Davis' behalf.  He is the odd man out on a roster chock o block (R.I.P. Steve Irwin) filled with WR talent.  Saying that, I do believe this kid can turn out somewhere else.  Next....
Richard Quinn - TE (6-4, 255)
As much as I'd like to keep Big Rich Quinn because of his youth and undiscovered potential - it just taint workin' out.  Quinn is living proof that you do not trade away two 3rd round picks, to move up into the 2nd, for a blocking TE (it just doesn't work).  I may be wrong about him getting the axe, and if I am, that's cool, I want to see him succeed.  I just doubt it's going to happen - his head is not into the pro-level game of football.  Sorry it didn't work out, see you on the flip.
Daniel Coats - TE (6-3, 264)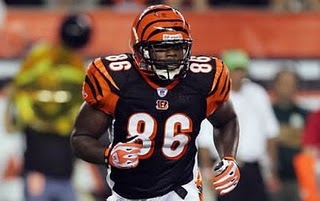 Sorry man, you've proven no worth to our team + we need the roster slot = goodbye.
Russ Hochstein - OL (6-4, 305)
I hope, for someone's own sake, that they don't own this jersey.
Russ Hochstein was another player that McD was familiar with, that did nada for the improvement of our team.  While Russ is able to man many positions on an Offensive Line, he simply isn't good (or even decent) at any of them.  Some will argue that we should keep him for his veteran presence, but I promise you we can do better in the talent pool.  Why did we trade for him again? 
Stanley Daniels - OL (6-4, 320)
We tried you at Tackle - nothing.  We tried you at Guard - nothing there either.  I do like Daniels' size, but that's literally IT.  When Big Stan was in there, our O-Line was pitiful - we can, and will, do better in the talent pool.  If it means anything, I did want him to work out - but it didn't happen.
Ryan McBean - DE (6-5, 297)
Ryan McBean is walking proof that just because a player was drafted by a great organization (Steelers), doesn't mean he's anywhere close to being good.  I was pleasantly surprised with McBean's 2009 peformance, but he regressed horribly in 2010.  His facemask penalties possibly cost us the Jags game, but that doesn't have anything to do with why he needs to go.  Put simply, it's time.  I'm not going to lie though, I did think (at one time) that McBean was a sleeper who would turn into a nice 3-4 DE (along the lines of Brett Kiesel - boy was I wrong).
Ronald Fields - NT (6-2, 315)
I don't think comes as a shocker to anyone.  Ron Fields, who started the 2009 campaign at NT (yikes!), was demoted to rotational / back-up NT this year, and did not impress.  I was never sold on the guy to begin with, so I have no problem seeing Fields cut next year.  The 2009 D-Line of Kenny Peterson, Ron Fields, and Ryan McBean, rivals the 2008 version (Engelberger, Robertson, Thomas, ans Ekuban), for worst in Bronco history.  Let's turn the page on this embarrassment, and get some real starters this time - please John?
Jamal Williams - NT (6-3, 348)
If Big Jamal Williams stays another year, I won't complain.  He's a great 1st down run stuffer, and a valuable resource of knowledge for the younger lineman (the one's we're about to draft).  The thing is, I don't think he's game.  Jamal Williams spent most of his 2010 season here, winded and on the bench, and I'm pretty sure he's going to retire in the off season.  I will say this, he didn't play bad at all for a 34 year old man, who weighs 350.  Jamal Williams didn't turn our run D into the beast that McD envisioned, but he didn't hurt it in the least.
Jason Hunter - OLB/DE (6-4, 271)
Guys, I like Jason Hunter, I really, really do.  He's a mature professional, always a hard worker, a great teammate, but.... in a numbers game, on a team depleted of Defensive talent - I'm afraid Hunter's going to get lost in the mix.  I hear people say that the likely move to a 4-3 D is the reason Hunter won't stick, and I don't believe that.  Hunter had a better season last year with Detroit, as a 4-3 DE, than he did this year with us.  He has a real nice frame for that position, and I think his run stuffing abilities would be on display better.  Like I said before though, in an off season where the focus will be on restocking the D - Hunter will more than likely slide through the cracks.  I really do like him though - no lie.
David Veikune - OLB/DE (6-2, 257)
Man, this one could go either way, but I'm not going to get greedy.  Fact is (much like 2009), when a D is as bad as ours, you're going to see roster turnover, and David Veikune hasn't shown Fox, any reason not to cut him.  I know the guy was a 2nd round pick, and I love the fact that he's Samoan (Tongan? - what is a Tongan?), but like Hunter above - it's a numbers game now.
Lee Robinson - LB (6-2, 256)
Wow, Lee Robinson looks a whole lot like a young Lawrence Taylor.  Does he not?
I'm going to be honest.  I don't know much about Lee Robinson, and I have no idea if the guy has any redeeming qualities or not.  So, to be safe, I'm putting him on the "axe" list, cause I doubt he'll survive the roster cuts that follow a regime change.  If he stays - cool.  If he doesn't - cool.  Best of luck to you Lee.
Nate Jones - CB/S (5-10, 185)
Nate Jones is the double of Russ Hochstein - as in, he can play a lot of different positions, but he's horrible at all of them.  Guys, I'm really not trying to be disrespectful to any of these players, and I know their livelyhoods are in question here, but we can't go another year with Nate Jones on our roster.  Josh McDaniels put such an over-emphasis on versatility, that he didn't even care if you were good, he just cared how many roles you could fill (at least it seemed like it - didn't it?).  I will say, Jones was pretty good at blitzing for a Corner, but when that's your only redeeming attribute, you are in serious roster trouble. 
Brian "Weapon X" Dawkins - FS (6-0, 210)
TAKE IT!!!!  TAKE IT!!!!
Before any of you jump me, know that if I had the slightest inkling of B Dawk's intentions of returning, he'd be one of the first ones on the keeper list.  Sadly, but truly, I think Dawk is gonna retire.  He's always said in pressers, that when his God given ability isn't there anymore, he'll gracefully (Hall of Famer for sure!!!) bow out of the National Football League.  Keep in mind, I'm not saying his ability is gone (even though it seemed like it this year).  We all know Dawk was working with a banged up, and talent depleted front seven - and, he was banged up himself, for most of the year. 
If he decides to give it another try, and the staff feels like he can still play at a high level, then I'm all for our beloved Defensive leader returning.  Brian Dawkins has never played the game any other way than it should be played.  He gives every part of his body, mind, and soul, on every single play.  He has the inner fire and passion of ten thousand men, and his toughness is unmatched.  Dawk, we love you baby, and if you feel like it can work again, our arms will be open.  Love ya brother, and thank you so much, for giving us your all.
Kyle McCarthy - S (6-1, 210)
Once again, I'm not going to claim that I know much about Mr. McCarthy.  He was an OK Special Teamer, an was a good teammate - but that's all I can say.  In a desperate numbers game, can we spend a valuable roster spot on Kyle McCarthy?  Only time will tell.
Steven Hauschka - K (6-4, 210)
If we didn't have Matty Prater, then I'd say Steven has a good shot to stick around (he did good in limited play).  We do have Matt Prater, so end of story.
Thanks so much for reading guys (and gals), and I'm looking forward to any suggestions in the comment section below.  Go Broncos!!!!  Mile High Salute!!!  God Bless!!!