Trades: Orton plus Marcus Thomas to Redskins for 2nd, 6th and Albert Haynesworth, Washinton needs a mentor for Grossman, and would dump Haynesworth to any team for a cheap price. Marcus Thomas has played for Shannahan before, would replace Haynesworth, and would be a cheap player to send away.
D.J. Williams plus 6th to Buffalo for 3rd, Buffalo would save their ailing run defense by giving a 3rd for a constantly arrested talent and a 6th.
Champ Bailey (Franchised) plus Mario Haggan plus to Ravens for 2nd, Baltimore needs a upgrade at CB, and a veteran would be best. With Ray Lewis aging, Haggan could assist him next to him.
After this Denver would have...
1st Rounder
2nd Rounder
2nd Rounder
2nd Rounder
2nd Rounder
3rd Rounder
3rd Rounder
6th Rounder
7th Rounder
Major Re-signs: Matt Prater
Free Agency:
Nnamdi Asomugha: A shutdown beast, my favorite corner.
DeAngelo Williams: A running back who would again thrive under Skipper and Magazu. Would push Moreno for the starting job, and would have the 3rd down back role.
David Harris: A hard-hitting leader for the Jets. Strong and is a presence in the middle of a defense. Would exellent in a 4-3.
C.J. Wilson: A depth corner who would follow Fox. Would sum up the greatest FAs in Denver history.
Cuts: Ryan Harris (Contract), Daniel Graham, Ryan McBean, Jamaal Williams, Perrish Cox (Prison), Andre Goodman, Renaldo Hill, Brian Dawkins (Retirment), Daniel Coats, Russ Hochestein. (Anyone who isn't on depth chart is cut.)
NFL Draft:
1st Round Pick: Da'Quan Bowers DE Clemson, My favorite prospect in the draft. A true athlete with a 275-285 frame of muscle. While being a stunning pass-rusher, he I an underrated run-stuffer, gathering up countless tackles for a loss. With Dumervil still healing, Ayers will take the relieving role, leaving Bowers to Ayer's side.
2nd Round Pick: DeMarcus Love OT Arkansas, A pure football player with raw skill, and with Magazu coming to town, I have no doubt that he will develop into a Pro Bowl tackle. Would fill Ryan Harris's role as Tebow's blind side protector and could do it well. He is also very capable in the run game, and with Magazu, he could become extremely capable.
2nd Round Pick: Kyle Rudolph TE Notre Dame, Tebow had Hernandez as his big target back in college. Rudolph can bring that athletic TE back to Tebow. Would develop great chemistry with him.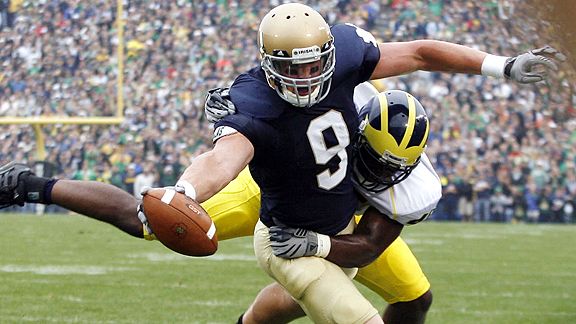 2nd Round Pick: Jimmy Smith CB Colorado, A pure shutdown corner who would fill the Goodman void. He and Asomugha would make one of the finest if not the best CB tandems in the league.
2nd Round Pick: Drake Nevis DT LSU, My favorite 2nd round prospect. He has the rare mix of size, athleticism, and speed. A rare talent to fall here and would be a premier 4-3 DT.
3rd Round Pick: DeAndre McDaniel SS Clemson, Draft status fell because of character concerns he got past. A value pick with the potential to become an interception machine.
3rd Round Pick: Casey Matthews ILB Oregon, Brother of Clay Matthews, Casey shows all the qualities you want in a football player. I would love him, and he completes our LB core for the future.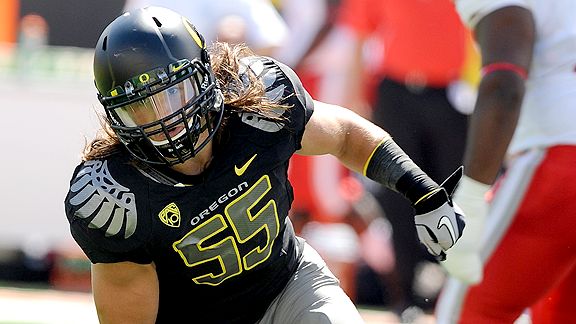 6th Round Pick: Greg McElroy QB Alabama, A developmental depth QB who I think has a bright future. Would be a good back-up for many years before he can really go for a starting job. McCoy learned from McDaniels how to groom and prepare young QBs in the NFL.
7th Round Pick: Chris Conte CB/SS Cal, Even though Conte was misused as a CB at Cal, he has the experience to develop into a back-up. His history with Thompson makes him great for the team. At SS though, he is a beast with 75+ tackles, two FFs and even an interception.
Depth Chart:
QB: Tebow, Quinn, McElroy
RB: Moreno, William, White, Ball (White goal line back)
3DRB: Williams, Ball
WR: Lloyd, Thomas, Royal, Gaffeney, Decker, Willis
LT: Clady, Beadles, Cark
RG: Kuper, Daniels, Olsen
C: Walton, Olsen, Byers
LG: Beadles, Daniels, Olsen
RT: Love, Beadles, Clark
RDE: Bowers, Hunter, Veikune
DT: Nevis, Bannan (Rotation), Fields (Fields for run-only)
DT: Haynesworth, Vickerson, Bannan (Bannan for run-only)
LDE: Dumervil, Ayers (Rotation, Ayers preferably for run-only), Hunter
MLB: Mays, Woodyard, Hunter
ROLB: Matthews, Woodyard, Hunter
LOLB: Harris, Woodyard, Hunter
SS: McDaniel, Conte (Conte for relief), Bruton
FS: McBath, McDaniel (Conte would become SS), McCarthy
CB: Asomugha, Smith, Thompson, Wilson, Conte
LS: Paxton, Kuper, Walton
K: Prater, Colquitt
P: Colquitt, Prater