The past few days have been eventful in the professional football realm.  Highly sought after by the Dolphins, Stanford's Jim Harbaugh signed a mega-deal with San Francisco 49ers (5 year, 28 million dollar deal - 1st round draft pick money), putting him in his own backyard, and in return, putting him out of the running for our own head coaching vacancy.  Even though Harbaugh was highly intriguing, I'm sort of relieved to know we won't be on the line for another expensive contract, and I'm proud of Elway for doing the right (smart) thing; gracefully bowing out of the Harbaugh sweepstakes.  Some here believe that Harbaugh snubbing us (I don't think that's the case), is a sign of things to come.  If you were a newly hired, first time Head Coach, would you want to move your family to an unfamiliar city, or stay home (being comfortable is important) while making millions - it was a no brainer for him and his loved ones. 
     Mark Mike Mularky was scheduled for an interview today, but respectfully declined, opting to interview after his playoff run with the Atlanta Falcons.  Mularkey will honor the Cleveland Browns request to interview him, citing the reason for them and not us, as they had contacted him first.  This is where it becomes cloudy for certain fans, as some think, yet again, a coaching candidate is snubbing us for whatever reason (front office, Tebow, rebuilding project), when in actuality it could've been because he's an extremely busy man, his team is a playoff contender, and he feels like two interviews in a small window of time, is simply too much on his plate.  If we haven't selected a Head Coach by the time Atlanta is eliminated from the tournament, or wins the Super Bowl, then we'll truly see if Mularkey is giving us the slip, or he's really interested in the gig.  Until then, it's all speculation.
     One guy down, another up in the air, and plenty more to go before we can say coaches are avoiding us like the plague.  Follow me after the jump to see who might, and might not interview with our Broncos, and who could be a good fit.
Set in Stone:
Eric Studesville - Interim Head Coach, Denver Broncos
Scheduled Interview - Sunday
Eric Studesville may not be the hottest name in the biz, he might not be the flashiest of coaches, and he might not be the most prepared for the job, but I can honestly tell you this, our owner, front office, coaches, and players love him.  What he lacks in head coaching/offensive coordinator experience, he more than makes up for it with positive energy, honesty, enthusiasm, integrity, loyalty, passion for the game, and his ability to get down to the players level. 
Eric has been a highly successful Running Back Coach for years now, and his work with the NY Football Giants (Tiki Barber, Ron Dayne), and Buffalo Bills (Travis Henry, Willis McGahee, Marshawn Lynch, Freddie Jackson), has produced some very productive ground attacks, and several 1,000 yard rushers in the process.  When we snagged him off of the Bills staff, my friend who is a huge Buffalo fan, guaranteed me that the Broncos had found themselves a really good coach.  Eric was so impressive to the Bills, at one point they gave him the job of Run Game Coordinator, which expanded his role from working with just the backs, to overseeing everything that goes into a ground game (O-Line, TE's, and RB's).
Eric might not be my first choice to become our new Head Coach, but I wont be devastated if he does.  Even if Eric doesn't keep his current job next year, I feel like it's imperative that we keep him on in some capacity.  Everyone affiliated with the Broncos right now has tons of respect for Eric Studesville, and men that draw that kind of positive response should be retained at all costs.
Perry Fewell - Defensive Coordinator, New York Giants
Scheduled Interview - Sunday
Perry Fewell, unlike Studes, has become a super hot commodity in the head coaching search these days.  Like Elway said, when asking certain officials about names of possible candidates, most, if not all of them had Perry's name near the top of their list.  Perry Fewell worked under Dick Jauron as Defensive Backs Coach of the Buffalo Bills in 2009.  Even though his team was, for the most part, devoid of defensive talent, Perry got the most out of his unit (this is an understatement).  While the Bills Defense struggled mightily against the run, their underrated Secondary became the talk of the league.  In limited attempts (because everyone and their brother just ran all game long on the poor Bills), the Buffalo Pass Defense generated 28 interceptions, and ended up ranking 2nd in the league, in pass yards given up.  
After the 2009 season, several teams took note of how productive Fewell's unit (DB's) was in Buffalo, and they became infatuated with the idea of Fewell becoming a Defensive mind for their team.  2010 saw Fewell land the NY Giants Defensive Coordinator job, and he didn't fail to impress again, as the Giants enjoyed a nice statistical year on that side of the ball.  Even though I credit the front four there in NY for most of this unit's success, Perry Fewell improved the Defenses numbers greatly from the previous year, the year in which Steve Spagnuola headed for St. Louie.  After tallying up the end-of-year totals, the Giants Defense finished at 7th in total D (8th against the run, 9th against the pass), 5th in sacks with 45, and tied for 9th in picks with 16.  This was a significant step up from 2009 in which they had the 14th overall D (19th against the run - 15th against the pass).  Known as a great motivator, and known for his ability to get the most out of what he's working with, I'm quickly warming up to the thought of Perry Fewell as Head Coach of the Broncos.
On Our Radar:
Rick Dennison - Offensive Coordinator, Houston Texans
Scheduled Interview - Tuesday (I know he's down if we offer him the gig).
We know him well, we love him well, Rick Dennison is a huge reason for the Broncos vaunted offensive line of the past decade.  When Josh McDaniels came into our lives, I was hopeful that he would keep two of our, at the time, assistants (and for good reason).  One was the legendary Bobby Turner - the other was Rick Dennison.  Dennison, deep rooted in Broncos tradition, has been affiliated with us for the better part of two and a half decades (14 coaching the Broncos Special Teams, Offensive Line, and as a Offensive Coordinator - 9 playing as a Linebacker).  When I think about the identity of my Denver Broncos (recent memory before the let downs), I think of a no nonsense, juggernaut of an Offensive Line, and a bone crushing / dominating ground attack - both things are synonymous with Dennison's tenure here.
Under Dennison, the Texans have the run game that I covet, and are doing it with an undrafted free agent (sound familiar) in Arian Foster.  Rick Dennison would bring back that brand of Bronco football that most of us love, admire, and expect; the zone block / one cut / downhill running scheme (something I think Moreno would excell at).  He's as loyal as they come - he would protect the Broncos with his life - he'd emphasize the run game (getting us far away from that finesse, passing style of McD.... thank goodness) - the players would adore him - the staff would respect him - and most importantly, he knows what it takes, and what it means, to be a Denver Bronco.  Add to all of that the fact that he's a humble man without an excessive ego (he'd be more than willing to work with Tebow), and I've found this coach at the top of my wishlist - the coach of my dreams.  Do the right thing John (I think you will) and bring this wayward Bronco back into the fold.
Dirk Koetter - Offensive Coordinator, Jacksonville Jaguars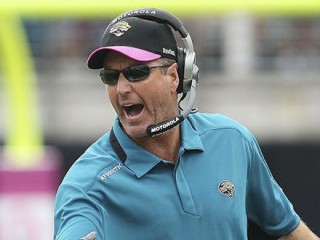 Scheduled Interview - Tuesday
I'll admit, Dirk Diggler Koetter (cool 1980's white boy name - along the lines of Biff, or Tad) is not a name I'm very familiar with, so I'll let someone else do the talking (typing):
"Through Koetter's first three years with the Jaguars (2007-09), the offense ranks 13th in NFL total offense (337.7 yards per game), seventh in rushing (129.0), tenth in first downs (19.6), fifth in third-down conversions (43.9%), sixth in average per rush (4.4), fifth in fewest giveaways (68) and first with only 31 interceptions thrown."
http://www.browsebiography.com/bio-dirk_koetter.html
After browsing over some of his accomplishments, Dirk has done a stellar job with the Jags offense, namely the running game, in his four years as Offensive Coordinator there.  Known for his coaching prowess in the passing game (coached Andrew Walter at Arizona St., who broke the PAC 10, passing record for TD's - a record once held by none other than John Elway), Koetter has produced a top ten rush attack, three of the years he's coached the Jags (2nd in 2007, 10th in 2009, 3rd this year...2010).  The fact that he specializes in coaching the passing game but produces nasty rushing attacks, only solidifies his validity as a candidate for me.  This guy would not only be willing to work with Tebow, but he's ran an Offense that utilizes an athletic QB, and could help Tim immensely.  Our run game could turn into a nightmare for opposing D's under him.  Don't think that Dirk is a nobody, he's not.
Gregg Williams - Defensive Coordinator, New Orleans Saints
On the short list
Gregg Williams, a journeyman defensive guru, has made quite the name for himself in the National Football League, by his aggressive, opportunistic style of Defense.  Sometimes labeled as a rogue, and hard to get along with, one thing is for certain - his way of doing things WORKS!!! 
Wikipedia - "From 1997-2000, Williams was promoted to Defensive Coordinator of the now Tennessee Titans after the Oilers moved out of Houston. As the Defensive Coordinator, the Titans led the league in total defense and only gave up 191 points, the third fewest in the NFL since the league adopted the 16-game schedule in 1978. The defense also helped lead the Titans to Super Bowl XXXIV where they lost to the St. Louis Rams."
From there, Williams stopped at Buffalo, where he was fired as Head Coach after two disappointing seasons.  He then went on to Washington, and enjoyed some success there.  While there, he had formed a special bond with the late Sean Taylor (RIP), calling him "the best player I've ever coached."  Once again from Wikipedia -
"When Taylor was murdered mid-season on November 27, 2007, Williams was deeply affected. In tribute to Taylor, Williams called a defensive play with only ten men for the first play of the Redskins' first game after the tragedy, a November 30, 2007 game against the Buffalo Bills.  For the remainder of the season, Williams ran an inspired defense which performed, along with the rest of the team, to honor Taylor's memory, highlighted by holding star running back Adrian Peterson of the Minnesota Vikings to 27 yards on December 23, 2007, and allowing a franchise-low one yard rushing to the Dallas Cowboys on December 30, 2007, sealing a playoff seed."
After a disappointing season as D Coordinator of the Jacksonville Jaguars, Sean Payton became enamored with Williams, and hired him for the same position in New Orleans.  Since he's been there, several players have stepped up their game (the entire secondary - pass rush), and the Saints D has greatly improved, putting that team over the top.  The opportunistic Saints D was a huge reason for the Super Bowl XLIV win against Peyton Manning's Colts (the Saints confused the bejebus out of him, and picked him off late in the game to seal the deal).
Bottom line - we can't go wrong with this guy.  His experience and defensive mastery could go a long way towards solving some of our problems, and making us respectable again.
Ron Rivera - Defensive Coordinator, San Diego Chargers
On the short list
We know Ron Rivera all too well, unfortunately, because his Chargers Defense has been pounding our heads in for the last three years.  Before Rivera ended up in S.D., he was a Defensive Coach with the Chicago Bears, twice over (Defensive Quality Control from 1997-1998 - Defensive Coordinator from 2004-2006).  He also had a successful stint as the Philadelphia Eagles Linebackers Coach, inbetween his two runs with the Bears, from 1999-2003.  He enjoyed his best season as a Bear Coordinator in 2005, when his D became the talk of the league, placing 2nd overall for the year (they drew comparisons to the vaunted 1985 Bears D).  In 2006, despite ranking 3rd in points allowed, the Rivera led Defense failed to match their previous year's success.
When the Bears found out that Ron was being considered for the Chargers Head Coaching position, they opted to let him go.  The Chargers ended up hiring Norvel Turner for the HC gig instead, but hired Rivera on anyway as their Linebackers Coach, and the next year promoted him to Defensive boss (when Wade Phillips left for Dallas).  Even though Rivera coached a 4-3 in Chicago, he took over Wade Phillips 3-4 with no problem.  This year, the Chargers ended up with the #1 overall D - nuff said!
I personally like him as a candidate, and his experience coaching a 3 man front adds to the positives of hiring him.  We need continuity on the Defensive side, and Rivera could build, and improve upon what Nolan/Martindale started.  It would be cool to see him run a hybrid 4-3/3-4 Defense here (once our guys gain some experience), and I think the players would respond greatly to his style of football. 
Jim Fassel - Head Coach, Las Vegas Locomotives (UFL)
Former Head Coach:  New York Giants (1997-2003), Utah Utes (1985-1989)
Former Offensive Coordinator:  New York Giants (1992), Denver Broncos (1993-1994), Arizona Cardinals (1996), Baltimore Ravens (2004-2006)
Former Quarterbacks Coach:  New York Giants (1991), Oakland Raiders (1995)
Assistant Coach:  Stanford University Cardinal (1979-1983.... He coached, and has a great relationship with, #7)
On the short list
Jim Fassel, as you now know (if you already didn't), has been around, a lot.  He is well respected as a QB guru, and as an Offensive mind in general.  His claim to fame was taking the NY Giants to Super Bowl XXXV, in 2001 (resurrecting Kerry Collins' career in the process), but his team ended up getting decimated by the Ravens (one of the best D's ever assembled), to the tune of 34 to 7.  I know this guy has tons of experience in the league, and has seen about every Offense / Defense there is, but I would only want him here if every other guy is off the board.  If Elway has to pull our new Head Coach from the UFL, I'll start believing Tim Lynch, and will humbly eat crow.  But until then, we should be excited and happy that these gentlemen are on our radar, and have made it to John's short list.
 UPDATE:
John Fox - Currently Unemployed 
Former Head Coach:  Carolina Panthers (2002-2010)
Former Defensive Coordinator:  Los Angeles Raiders (1994-1995), New York Giants (1997-2001), University of Pittsburgh Panthers (1986-1988)
Former Defensive Backs Coach:  Pittsburgh Steelers (1989-1991), San Diego Chargers (1992-1993)
Former Personnel Consultant:  St. Louis Rams (1996) 
Newly added to our short list
Out of all the gentlemen we've discussed here, John Fox is the one with the most NFL, Head Coaching experience.  Fox has been in the game of football (college & pros) since 1978, where he started out low on the totem pole as a graduate assistant for San Diego St. University.  After working his way through the college ranks, and many stops along the way (Boise St., Utah, Kansas, Iowa St., Pitt), John has always shown an aptitude for the Defensive side of the ball, and early on especially, Defensive Backs. 
John Fox was Defensive Coordinator for the New York Giants (under Jim Fassel) in Super Bowl XXXV, the same one we discussed above.  After his stint in the Big Apple, Fox became the third Head Coach in Carolina Panthers history, replacing George Seifert, who had led the team to a disastrous record of 1-15.  In 2003, only Fox's third year with the franchise, he took them all the way to Super Bowl XXXVIII, only to lose 39-29, on a last second field goal from the New England Patriots Kicker at the time, Adam Vinatieri (Hall of Famer?).  From Wikipedia - "Fox joined Vince Lombardi as the only coaches to inherit a team that had won only one game in the season immediately prior to their hiring, and then took that team to the NFL Championship game."
Fox's success was up and down from there, only having two good seasons (great seasons) since.  In 2005, the Panthers went to the NFC Championship, but were defeated by the Seattle Seahawks under then Head Coach, Mike Holmgren.  In 2008, Fox's "Cardiac Cats" posted a remarkable 12-4 record, but again suffered defeat in the tournament, this time to Ken Whisenhunt's Cardinals (do they miss Warner or what). 
Fox might not be the greatest Coach in NFL history, but he preaches a stout Defense, and he puts a strong emphasis on the run game (his drafting of DeAngelo Williams & Jonathan Stewart was nothing short of genious).  Where I believe Fox went off the deep end, is his unwillingness to draft a franchise QB (Jimmy Clausen is not - Tony Pike is possibly), and his stubborness in starting Jake Delhomme, when it was apparent he couldn't play at a high level anymore (interception machine).  If Fox would've sured up the QB position sooner, I fully believe he'd still be in Charlotte NC, calling the shots.  In parting, I want to share with you a hilarious sideline quote from Steve Smith (Mighty Mouse), regarding the Ragin Cajun, Jake Delhomme - "Jake, I love you as a person man, but I sure do hate you as a Quarterback."  This was after Delhomme had thrown four picks in an important game, LOL.
Other Possibilities:  Rob Ryan (DC - Cleveland), Greg Mattison (DC - Baltimore), Brian Billick (currently unemployed - former Ravens Head Coach, 1999-2007), Marty Schottenheimer (currently unemployed - former Browns, Chiefs, Redskins, and Chargers Head Coach), Brian Schottenheimer (OC - New York Jets), Bobby Turner (RB's - Washington), Ray Rhodes (DB's - Seattle), Mike Mularkey (OC - Atlanta), John Gruden (currently unemployed - former Raiders, and Buccaneers Head Coach), Bill Musgrave (QB's - Atlanta), Eric Mangini (currently unemployed - former Jets, and Browns Head Coach, Romeo Crennel (DC - Kansas City), Tom Cable (currently unemployed - former Raiders Head Coach), Urban Meyer (currently unemployed - former Florida University, University of Utah Head Coach), Russ Grimm (Assistant Head Coach - Cardinals), Dom Capers (DC - Packers), Marty Mohrninwheg  Help me in the comments with some more, please.  
Here's to Rick Dennison coming back to Dove Valley so we can witness the rebirth of a Juggernaut O-Line .  God Bless!!!!