Let me start off by saying that throughout this whole Orton/Tebow debate, I strove never to take a side standing with a certain player. They are both Denver Broncos, Tim and Kyle, and I was and am still rooting for both of them. As long as they are wearing Orange and Blue (with a white horse on the helmet) I will be their fan. Even when they play horribly... I will wish and hope they play well. I did that today when Orton was starting and not playing well, and I did it still in the second half when Tebow kept under-throwing his receivers. I don't expect either of them to be perfect. They are both human, they are both just as flawed as I. Throughout this firestorm of an off-season and the early games I supported Orton starting because that's what Elway and our coaching staff deemed best. They are also Denver Broncos, and I always wish and hope whatever decisions they choose to make end up panning out. I did it when Shanahan was in the end of his tenure, and I did it through the length of McDaniels' reign, even to the very end. So just as I didn't side with the debate on our current QBs in the beginning, I will not do so now. I simply try to make reason out of nonsense, so join me after the jump and let us see what we can determine.
One thing I do know is that we don't watch football for the scoreboard. If all we cared about was the scoreboard and the end result of a game, well then what the hell would we pay tickets for? There are phone apps, and the internet for those things. People in other countries with no access to televised games can easily find out how their favorite NFL franchise is doing. That's not why we watch it. That's not why we pay good money to attend games. We watch American Football, specifically the Denver Broncos, because it communicates to us. It speaks to us. Many of us have been following the game since childhood, though there are some that have just began their journey with this team. It doesn't matter when you started watching. We all watch for the same reason - it just speaks to us. Everyone experiences it differently, depending on where and how you became a Broncos fan. Regardless of how you got here, Broncos football speaks to you.  
The early Greek philosophers believed that communication itself was something that needed to be studied and understood. They had this idea that through analysis we can begin to understand things, even understand what it means to understand something. They believed that humans generally understand and interpret communication through the logos, ethos, and pathos. The logos is our logic and reasoning. It is the process by which we interpret facts and come to conclusions about what is or isn't. Ethos refers to the credibility of a source. It's authority, or it's trustworthiness. These two things are probably the first two filters (and sometimes the only two filters) that we apply to things communicated to us in our daily lives. When something is communicating and idea or thought to us, it must pass these filters. But what about the pathos? It seems to get lost these days in the world of facts, science, reasoning, and credibility. It gets lost because it is the emotional aspect of communication; and well, emotion is just opinion right?
I believe that the pathos is the more important filter that information should be going through. It is what could be referred to as the "eye-ball test". Does it sit right, regardless of how it looks? That is the pathos. And it is the filter that every Broncos fan should be aware of. Football speaks to our pathos. The scoreboard is for the logos. The record books and Canton are for the ethos. What happens every Sunday ON THE FIELD... that speaks to our pathos, to our emotions. That is what we fight through the traffic for on Sunday. That is why we endure the torment of Raiders fans on an away trip to Oakland. And finally THAT is why Broncos Country couldn't stand Kyle Orton.
Don't get me wrong. I like Kyle. I rooted for him. I will continue to root for him - but he doesn't speak to my pathos. Kyle Orton takes that field (at least from an outsider's perspective) to lead his team and put points on the board. That's his job. Unfortunately, that's not why we come to games. We don't come to games to watch players "do their job" as was the popular McDaniels mantra that permeated Dove Valley the last two years under McDaniels. It's not that it's a bad philosophy for winning. No, not at all. Its a GREAT philosophy for winning. But sadly, that's about all it's good for. I really  liked McDaniels when he first came on board. I LOVED the guy. Because he had passion, he had a competitive spirit. He appeared to LOVE coaching football. He loved it so much, and was so passionate, that his personal feelings happened to help create some professional blunders... Despite the state McDaniels left our franchise in, I respected him for having the balls to be passionate and give the thing a shot. He had an idea, he committed to it, and it flopped. It flopped BADLY. At least the guy tried. Hell, how many times did Edison have to try to finally get that lightbulb thing right? The problem is that he wasn't spending his own pennies and nickels on glass, wire, and filiments. McDaniels was spending our hard-earned dollars, he was playing on house money.
Where I am going with all of this is that McDaniels spent some of that house money on a guy we have been clamoring to get on the field for months. A guy not unlike himself. A guy that goes out there and plays with passion and fire and is willing to take chances. That guy is of course Tim Tebow.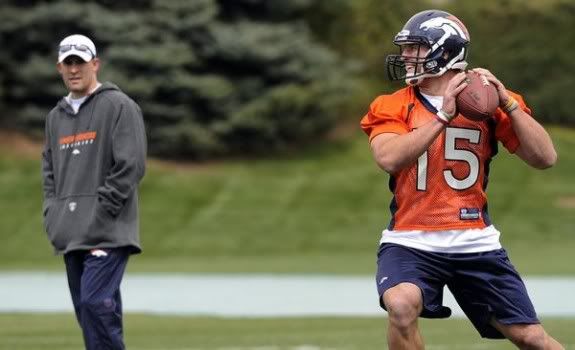 Tim is as much of a lightning rod figure as was the man that Drafted him, and I'm excited about that. Why? It speaks to my pathos. Tim isn't taking the field to lead the offense and score points (or at least not JUST those things). Tim takes that field to go and play FOOTBALL. Good, old, American FOOTBALL. Tim doesn't hit the classroom at dawn and lock up the weightroom at dusk because he wants to go and do his job on Sundays. Tim does those things because he wants to excite people. You can watch any interview or any documentary on how he interacts with his fans. Watch clips of his missionary trips out to the Philippines. Tim Tebow wakes up every morning because he wants to change lives. On Sundays, those lives happen to be the fans of the Denver Broncos. He wants to get us excited, he wants to show us how to win - not just in football, but life in general. Tim has an innate understanding of how to speak to a person's pathos. Is he the most logical answer? Does he speak to the logos of our football intellect - not particularly. Tebow doesn't really fill that ethos void either. Not from what the experts say and the authorities on football mechanics.
To hell with the logics and "authority" of Canton or the mentality of old cocky farts that think they know a thing or two about football; Tim Tebow gets under your skin and sends your emotions for a ride. He lives and breathes the essence of what Mile High Magic is made of. He runs on the same stuff that fueled the Orange Crush. American Football isn't about a scoreboard or a pristine season record. This game is about winning and having fun while you do it! (Al Davis is unfortunately making more sense to me lately, may he rest in peace).
I bet you can't find a single player that won the Superbowl after entering as a wildcard team that wishes they had done things better in the regular season during one game or another. THEY DON'T CARE about how they got there. The fact is that they got there at all! And it was as much the journey as it was the destination. There is a piece of art in the Denver Art Museum on the 5th floor. It is a sand Mandala created by a team of Buddhist monks. Traditionally the work of art is created over a painstakingly long and tedious process of days, and upon completion is dumped into a river or into the wind - because the creating the piece itself is the art, and the end result is a fleeting achievement... Much as the real world turns out to be.
Tim Tebow may not have the prettiest Quarterback mechanics. He may not be able to execute all the techniques and procedures expected of him... but honestly who really does in this world? The man loves the game of football, and you can SEE it when he plays. It radiates off of him like sunfire. My logos and ethos are worried that he may not become the best player he can be while starting still so raw... but my pathos doesn't care. He doesn't have to be the next greatest QB to ever play the game. Cause we don't watch football so we can watch a Joe Montana, or John Elway for ourselves. We watch it for the love of the game. For the ups and downs and the emotional ride. If we get to see the next greatest QB in the process, well that's just an added bonus!
If you made it this far, I commend you. Cheers for a spectacular loss today and tidings of great things to come. As always GO BRONCOS!!! (and YES that includes Kyle Orton and John Fox!!!)