Tebow haters and Tebow lovers all agree that Tim needs to improve his passing game. It's obvious, so why does everyone keep repeating it? We're not blind. And yes, it was painful to watch. The good news is, he's showing improvement. He's standing in the pocket longer and keeping his eyes downfield instead of taking off and running. The good news is, there's signs of magic coming from this kid already. 6 games and records are already dropping! How does that not excite Broncos Country? Well, it certainly excites me. I hate the idea of drafting a QB with our first pick this year. That will just set us back another couple years. We have holes throughout this team. I would rather our front office build the best Defense in the NFL.
Daddy Mac will make you jump...
jump!
In Tebow's very first NFL start, he ran for the longest TD by a Bronco QB. Best part is it was against the hated Raiders! It wasn't like 4th and inches and 11 in the box where once he breaks the first level, there's no one left to tackle him. This was on 3rd and over 20 yards. That means more people into coverage that just could not catch up to this run away train. First game and already he set a record?!?
In just his 4th NFL start, he completed the greatest comeback in 40 years! I wasn't even alive yet. That's roughly 10,240 games played and he lead our team to the greatest comeback. Wow! Along with that, was a little magic. John Fox had coached 358 games and all of a sudden his very first successful onside kick occurred. Coincidence? Tebow Thing? (oh and a shout out to our rookie Nate Irving for causing the ball to pop out)
In the middle of this huge win against the Raiders, Tebow became just the second Bronco to rush for over 100 yards. Only his 6th NFL start! What are we in line to witness for the next decade under this kid? Whatever it is, I'm excited!
Both of Tebow's games against the San Diego Chargers have come down to a last second pass into the endzone. Catch the ball, Broncos win each one. He will always give you a shot.
Clearly his passing looks awful at this point, but there are a lot of factors to that which are not being discussed. First off, we just gave away his best WR in Lloyd. Yes we have a solid group of young WRs but Lloyd was clearly better than the rest of the stable. Take away Steve Smith from Cam Newton and I'd like to see how successful he'll be.
Some of Tim's passes are SO way off at times, but look a little deeper. Are these young WRs running the right routes? An example is the over throw of wide open Julius Thomas this week right before Eddie Royal scored his first TD reception. With the speed of the NFL, a lot of the passing is based on timing. QB's are passing to a location where the receiver is "supposed" to be. The ball is thrown before the receiver even makes a break on his route. If the play calls for the TE to run a corner route, but instead the player runs a 10 yard out, obviously the ball will not land anywhere near the receiver. If you notice Tim's reaction, it seemed to me that he was trying to tell Julius what he was supposed to run. And the very next play where Eddie scored, he admitted that the wrong routes were ran.
If anyone can remember the deep ball to Demaryius Thomas down the sideline against Miami, please let me know exactly what route he was running! He looked like he was just running to get open. Just a terrible route. The ball landed by the sideline but Thomas ran up the seem and diagnaled it towards the sideline. It seemed to me that they weren't on the same page. I really don't think it was just blatant inaccuracy by Tebow. He does throw a good number of bad passes, but who doesn't. I remember a 7 year vet that threw plenty of balls into the dirt. But he gets a pass, I guess...As poor as his accuracy supposedly is, it's more accurate than throwing to the other team! Thanks Carson!!
Another contributing factor are all these dropped passes. What's going on here? Am I the only one that feels that the WRs are dropping an alarming rate of passes? The WRs are young so they get a pass, for now. But this is the NFL, if you can't catch a ball when you play WR, then how'd you even get this far?
Poor pass blocking also doesn't help any QB. This kid is getting creamed back there, but he keeps getting back up! No quit in this kid. If he can play with a broken leg, I doubt he'll come out of the game after a helmet to the chin. How does that not excite you? Clearly he has a LOOOONG way to go, but he's improving. A lot of those pressures are due to his slow play recognition. More live game time experience will help slow down the game. More reps with the WRs will build a better relationship. The offensive line is also very young and improving. We're going through growing pains right now. But there's optimism for the future.
A couple side nuggets:
I'm so glad we have Willis McGahee! I was so excited to hear we signed him this off season. I know a lot of Broncos Country wasn't very open to signing the aging RB. But I was one of the people that really wanted McGahee back when he first signed with Baltimore. Instead, we signed..........Travis Henry(sigh). Better late than never!! "Yea it hurts, but so what". Gotta love that attitude!
Of all that speed the Raiders "supposedly" have, Tawain Jones, their highly prized rookie RB, had no chance of catching Eddie Royal on that punt return. He didn't even gain any ground on Eddie. It's a great feeling to see our players outrunning their speedsters.
It's been REALLY quiet around here regarding Robert Ayers. And I'm so glad for it! He's been really playing well this year. So solid against the run. This guy is just strong. It's really crickets out there from his haters. He even has a couple sacks. Way to play solid Robert, keep it up!
Now comes the Chiefs. Hopefully they play like they have for all their losses. Can't figure out why they play so inconsistent, but hopefully they keep it up this week. We actually have a solid chance at a WINNING STREAK for the first time in years!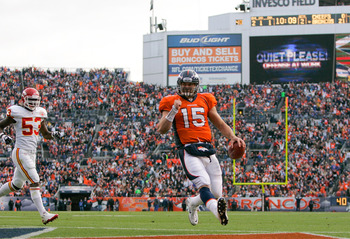 Keep the momentum going....GO BRONCOS!