It's a deja vu folks. Two years after Mike McCoy joined the Carolina Panthers as an Offensive Assistant, Fox got hired as their HC and kept him on staff. Two years after He became the Denvers Broncos OC, Fox becomes the HC and again retains him on staff, but this time without the demotion.
Personal Information:
Mike was born on April 1, 1972 and is a native of Novato, California, which is about 30 miles North of San Fransisco on Hwy 1. Situated on the shores of San Pablo Bay, Novato, is in Marin County, California, one of the most affluent counties in the United States. Who wouldn't want to grow up in such a beautiful setting? One glance at the area on Google Earth, and you will most likely agree.
Most of the members of The Grateful Dead, an American rock band, were from Marin County, and formed there in 1965. Seven years later Mike McCoy was born there. Do you think that he may be a "Dead Head?" An extraodinarilly large group of musicians come from Marin County, CA, as well as many actors including Brad Pitt.

Metallica
America, the band with Dewey Bunnell and Gerry Beckley ("A Horse with No Name", Ventura Highway"), Janis Joplin, singer; Van Morrison, singer and songwriter; Sammy Hagar, singer; Bonnie Raitt, singer; Lars Ulrich and James Hetfield, from the heavy metal band Metallica, and to many more to mention. I'm just guessing, but Mike McCoy may be a music lover, due to growing up in an area with as rich a selection of local musicians as Marin county has!
Mike and his wife Kellie have two children, (sorry, no photos) a daughter Olivia and a son Luke. They reside in Denver. He attended college at Long Beach State, and the University of Utah where he played QB.
As a professional player, Mike played for the Amsterdam Admirals (1997) and the Calgary Stampeders (1999), just prior to beginning his coaching career with the Carolina Panthers.
Coaching Career to date:
In 2000 Mike McCoy got his first shot at coaching as an Offensive Assistant with the Panthers, and was promoted to Wide Receivers Coach the following year. Then in 2002, John Fox was hired by Carolina as thier HC, and McCoy stayed on as an Offensive Assistant. Although this was a small step back, of sorts, it didn't last. Recognizing his talents and Football savvy, Fox continued to add more responsibilities to Mike each year for the next 5 years.
He went from Offensive Assistant Coach, to Offensive Assistant Coach/Quarterbacks, to Quarterbacks Coach/Passing Coordinator, to Quarterbacks Coach and for the last two years in Carolina (2007–2008) he was the Passing Game Coordinator/Quarterbacks Coach. Now, what can we make of all these similar titles?
That many similar titles may seem to just be a way for an HC to blow smoke up some young coaches arse, in order to just keep him happy, but careful consideration will show us that John Fox knows how to "grow a coach". By slowly adding more responsibility each year, in a way that guarantees success, it worked, and the fact that Mike McCoy preferred to stay with John in Denver tells me that Mike appreciated the education.
Success in the NFL gets noted, and when Mike was offered the OC position in Denver he grabbed it. His Denver history is shown below.
2009 - 2010 Denver Broncos (*Offensive Coordinator)
2011 - present Denver Broncos (Offensive Coordinator)
* As OC under Josh McDaniels, the OC possition in Denver was a farce. All work and no fun whatsoever. Josh did all the play calling, which is expected of a young, former OC turned HC, who has an ego the size of Alaska, and he simply expected Mike to be his hard working puppet, spending each week preparing the "Offense according to Josh" for Sunday's game.
I guarantee you that Mike was the happiest coach on staff to see Josh get the boot! Now he is actually able to do HIS JOB! I don't think that he isn't happy Josh was hired here, because Mike was hired thinking that He was going to finally have a true OC possition, and he finally did get it. It just took two more years than he expected.
The historical news flash read like this. "Former Carolina Panthers offensive coordinator Mike McCoy, 36, has just been added to Josh McDaniels' offensive staff...He reportedly will be in charge of Denver's game preparation, although McDaniels will call the shots on gameday. McDaniels is slowly working towards filling out his coaching staff, and has done so by plugging in tons of youth as well as a good mix of experience. He definitely has the Broncos pointed in the right direction."
NEED A HOUSE ANYONE?
We all know how that turned out! During the 2010 Denver Broncos season, head coach Josh McDaniels was fired from the team after an early December loss in Kansas City. That loss dropped the team to 3-10, and the removal of McDaniels with 3 games left to play, finally alowed Mike McCoy to be the Broncos offensive play caller." At that point, McCoy truly was in charge.
That is when our rookie quarterback Tim Tebow got his first start and the media frenzy began in ernest. During the last 3 games rookie Tim Tebow was solid, posting a 77.8 passer rating while throwing for four TDs and running for three. I'm betting that Mike was finally having some fun.
After the season ended, the Broncos hired John Fox, who worked with McCoy in Carolina for 7 years while McCoy was Carolina's Quarterbacks Coach. McCoy received interest from two of our traditional enemies, the Cleveland Browns and the Kansas City Chiefs, to become their new Offensive Coordinator, but Fox offered Mike the job here, and he accepted.
When asked about Mike during the "staffing process", John Fox said, "Mike is a guy that spent seven years with me prior to even coming to the Broncos, so I might even know him better than the people here in the Broncos organization. I definitely hold him in high regard..."
So, how's it going?
"The Broncos coaching staff has done a great job the past two weeks in running an offense tailored to fit the weapons they have to work with. The offense has evolved a little each week and the zone read run has seen variations in back-to-back games." Nov 15th by Jon Heath.
"Hey this is a football team that you have to just keep pounding the rock against. They are a physical bunch up front. When you watch film, there aren't a lot of guys running ball on them or doing a lot. You just have to stay patient, and from that game on, we've gotten a little better each week in the running game, and we have to continue to get better this week." McCoy talking about the Raiders.
Notable Quotes from Mike McCoy:
"We're just trying to win football games. It doesn't matter what we're running. We're just going to try to put the best product on the football field and score as many points as we can to help the team win."
"As a coordinator, you always look back in games and say, '[I] wish [I] would have called that,' but you can't do that. It's just one of those deals."
On the read option:
When McCoy thinks "option," his mind drifts back to that September day in 1993, when, as the quarterback for the University of Utah, he ran the option play for the first — and only — time. "I called it once up in Laramie when I was playing and broke my collarbone and my first rib ... I took the snap, and I got killed. It wasn't a good deal." From the Denver Post.
"We're just trying to win football games, that's all we're trying to do, take advantage of the guys on our football team and utilize their talents the best we can to win."
"It's just something we thought going into the game plan, a couple things we had in for (Tim) to take advantage of, what they had in for him, and that's why this week we ran it more than we had in the past."
On the read option idea coming about:
"We did this last year. It's the same thing we did last year. We're doing the same thing, so we practiced this all last year. We had it in there this year, so we've been doing it for two years now."

On if teams will copy the read option play:
"You have to have a unique quarterback to be able to do this type of stuff." [And he must be a monk]
"The whole wildcat thing actually came from Brett Basanez in Carolina and not in Miami. When we were in Carolina, Brett Basanez was our third quarterback, and that was when [former Carolina Offensive Coordinator] Dan Henning was there with us."
"That's where it came from, and then Dan just did a bunch of it down there. You have to have the right guy to be able to read that stuff and make good decisions with the football and move the ball down the field."
On the playbook:
"It's just things we have been doing the past two years to be completely honest with you. We just haven't run it as much in games. There are always going to be a couple things we have talked about building off of. You like to keep things as similar as possible to your normal game plan so the guys up front know what to block and how to block certain schemes, because the thing you have in this system now is, you're going to see certain things on Sundays that you haven't prepared for. A team has got to figure out how to stop it."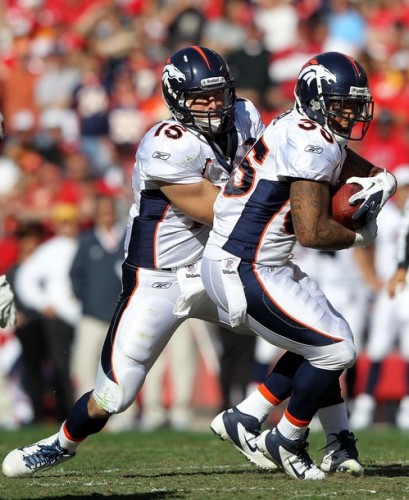 On passing and running:
"Balance is the key to anything in an offensive system. You have to be able to run it, and you have to be able to throw it. The one thing, if you get one dimensional in this league, they're going to expose you somehow."
On expanding the playbook:
"The numbers really haven't changed—the volume that we have from week to week—it's just you do certain things to utilize your talent you have. There were certain things that when Kyle was playing we were having him do that we wouldn't be running with Tim, or if Brady was playing."
"There are certain things, that's our job as coaches to kind of decide what are the best drop back passes, play-action passes, a move in the pocket, what are the best run plays? When Willis was out, what does Knowshon do better than Willis? Or what are those things that fit your players the best."
"What I'm talking about, you've got to get him easy throws. I think you put a quarterback into rhythm by your play-calling. I want to see some of those quick throws that we're seeing from Matt Stafford." McCoy on TT.
On how QB Tim Tebow fits into the offensive gameplan:
"We've got a system in place that we're going to take advantage of and continue to use, but there are certain things that we can do with somebody like [QB] Tim [Tebow] that you can't do with other guys. So, We'll implement some of those things—things that are already in, that we will run more of."

On improving QB Tim Tebow's fundamentals:
"We will try to improve his mechanics and do what we think is best for him as much as possible during practice and during the week of preparation, but once you get rolling in games, you can't worry about that stuff. Guys just have to go out there and cut it loose, like he does, [and] every player on the football team, we're [all] going to try to get better fundamentally on a day-to-day basis.
On how he will distribute the playing time between his receivers:
"What we're going to have to do is systematically put the guys in the right place who we think are best at doing what they do, and when you have guys like that—there is only one football. That's the tough thing. We'll just have to do the best we can to keep them all happy and [make sure] they get their touches as they go."
"They're going to have to be unselfish and understand that there is a rhyme or reason for every play we're going to be running, and there's going to be a reason why you're in certain spots, and [QB] Tim is going to have go to the right place with the ball and just read it out."

On adjustments to the game plan:
"There are certain things that we've worked on, whether as a staff when we all got together, once the whole staff got here—if he was playing in the game— some ideas we have with him, and some things he's done in the past here with us that we know he can already do. There are always going to be one or two wrinkles you're going to throw in from week to week."
"You might steal some from another team, or [use] something that I've talked to [QB] Tim about that he's done in the past. We'll just take it one day at a time and just try to put a good plan together and let him have success, but we're not going to change our entire system."

On how the quarterback change affects pass protection schemes:
"It won't change anything at all. We are not changing any rules up front in pass protection. It's going to be the exact same thing. The one thing that he'll do different than a lot of quarterbacks in this league is that the play is going to stay alive a little longer.
The linemen have got to finish their blocks a little bit longer. He likes to scramble and run around a little bit." "... the linemen have to understand that, 'Hey, you've got to play until the whistle blows,' because he's going to bail out of the back side of the pocket or step up and move around a little bit. I read a quote the other day, or someone said it, about 'a chicken running around with his head cut off,' as he'll do every once and a while; but that's the playmaker he is."
"The receivers have got to work all day long, too, downfield, because he's going to run around and make some big plays, because he's going to get out of some trouble that most guys can't get out of, and [defensive backs] can only cover you for so long."
EVEN THE SMARTEST ALIENS IN THE UNIVERSE
ARE BRONCO FANS! THEY BUILT THIS MEMORIAL! [It looks like alien O lines play with two tight ends a lot]
OKAY! So you have it strait from Mikes mouth. I think that he's a pretty smart cookie and that the game plan is going to be evolving forever. After all, doesn't everything? If it didn't then we wouldn't even need a guy like him at that possition. If you'ld like a lot more quotes from Mike, just copy and paste, quotes by Denver Broncos Mike McCoy, into Google and read away.
I'm Douglas Clancy Hale, (alias metalman5050, don't trust this guy! he's a spy) and that's just my opinion.