Mock Draft V.3
In this mock, I am doing one with no trades because as it looks like the CBA will not be done anytime soon. But keep your fingers crossed that it will be done by the Draft, or shortly there after. I will do the draft, then who I think we should sign as a result of the Draft.
With the 2nd overall pick the Denver Broncos select : Da'Quan Bowers DE (Clemson)
From everything I keep reading about Fox and how he took Peppers with the same pick we have now, it grows more and more on me that this will be our selection. Fox will be trying to catch "lighting in a bottle" again with Bowers at this pick. Bowers is big at 6 foot 4, 275 pounds, but has great quickness off the edge, and plenty of moves to get to the Q, he isn't one dimensional either, he is also great against the run which is music to my ears after watching the Broncos this year against the run. With a rotation of Bowers, DOOM, and Ayers we will be able to rush the QB and stop the run at the same time. Going from dead last in sacks this year to top 10 next year, thats what this kid will bring to our table.
Other notable options : Nick Fairley, Patrick Peterson, and Marcell Dareus
With the 36th overall pick the Denver Broncos select :  Stephen Paea DT (Oregon State)
Poor Paea didn't catch a break at the Senior Bowl practices and tears a ligament in his knee, hurting not just himself but his draft stock also. Paea projected middle of the first round has most likely dropped out of it, to the early second round. But with one's misfortune comes another's promise, with his draft stock dropping it means the Broncos pick up a middle 1st rounder with their second round pick. I absolutely LOVE Paea and if he does drop this far, the Broncos better pick him up without thinking twice about it. At 6 foot 1, 295 pounds he is a little short but makes up with it by having a fiery passion to prove those nay-sayers wrong. Going in he is supposedly the strongest player in the draft, which makes up for his short stature, he bursts off the line off scrimmage which also works for his favor, his agile and does a really good job in taking on double teams for LB to make a play.
Other notable options : Rahim Moore, Muhammad Wilkerson, Kyle Rudolph
With the 46th overall pick the Denver Broncos select : Quinton Carter FS (Oklahoma)
Brings the WOOD. Will make receivers think twice before crossing over the middle of the field. Will stick his nose into run support and not afraid of coming into the box. Good instincts and puts himself in position to make a play. Can sometimes miss open tackles, but under the guidance of B-Dawk for a year this kid will turn out to be a great pickup. 
With the 67th overall pick the Denver Broncos select : Mason Foster OLB (Washington)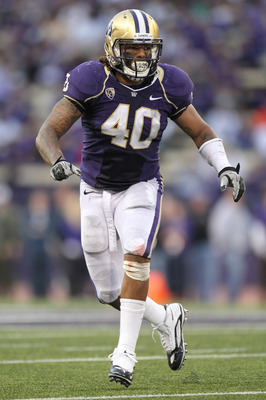 Tackling machine is one way to put this kid. GREAT instincts and seems to always be around the ball. Great pursuit from the backside, never gives up on the play. Outstanding attitude and work ethic, fiery player who will motivate others on game day. Will step in and be a leader from day one, and will produce terrific numbers also.
With the 188th overall pick the Denver Broncos select : Rob Housler TE (Florida Atlantic)

Meet Tim Tebow's new best friend. Housler comes in at 6 foot 5, has terrific hands for a TE, can be split out and will take advantage of slower LB's on him and can reach over the top of shorter safeties who try and cover him. Terrific speed, great hands, and precise rout running. this is the guy the Broncos have been looking for in a pass catching TE, will help in the maturity of Tebow as a QB and will be a great connection for years to come.
With the 194th overall pick the Denver Broncos select : Justin Rodgers CB (Richmond)
Shutdown corner with play making ability. Had 3 interceptions and broke up another 8 in his senior season, he is also one of the top kick returners and punt returners in the FCS, third highest return rate. With a year or two under Bailey, he can turn out to be an outstanding pick up this late, and has the potential to be really good on the next level. 
Tell me what you think if our Broncos draft turned out like this.. Looking for any and all criticism, help, or thoughts on who'd you rather see us take at those spots.