My last mock was more of a "could happen" type of post. Here I'm going to take more of a should happen approach (way harder cause everyone wants something different). First off lets all thank Elway for resigning Champ, we kept a top player and now we know he can actually run an organization, both are a relief. It's looking more and more like there won't be a CBA before the draft at least, so I'll approach this in that way. I'll start by looking at every position and evaluating need.
Offense
QB – Fine, Set, Secure
RB – Solid Starter with depth, could use a bruiser to share the lumps in our run heavy offense. I don't see us drafting anyone, i think Fox can work with this group and look at free agency when it eventually happens.
FB – Need, well need a good one for Fox's pound the rock offense.
WR – I'm going to hesitantly say good, if there's a high potential player late, may be worth taking a flyer. Depends on how they evaluate the Royal and Thomas' long term recovery.
TE – Need a player who can make plays to help our qb as well as block well enough to convince Fox he's worth it. I know Fox doesn't like receiving tight ends but I bet Elway and Tebow do.
OT – I'd like to see Harris kept around but that ship has most likely sailed. Clady has the left side on lockdown, a starting quality RT is now needed.
G – I'm going to say good on starters, depth needed. I think Beadles can get it done and Kuper is one of our best (and most underrated player). If fox sees Beadles as more of a RT, he'll bump him out there and look for a guard.
C – Set at starter, depth needed. Walton is going to be good.
Defense
DE – Set with starter, have one All Pro and one solid starter with high potential. A good situational pass rusher needed.
DT – Huge need, Bannon is a serviceable starter or rotational guy, more talent is needed as well as depth.
OLB – Woodyard is serviceable and a leader, Williams is really good, but one upgraded starter would be nice.
MLB – Mays is serviceable, but an upgrade is needed.
CB – Bailey is a star but aging and wants to become a safety soon. Cox is a question mark off the field but has potential to be really good on it. Goodman is serviceable yet injury prone and again. Thompson has shown potential. Ok for now but a second reliable starter would be nice.
S – A upgrade at SS and a replacement for Dawkins to groom are needed.  McBath needs to prove he can stay healthy if he wants to stay.
Special Teamers
K – Keep Prater, he's good when healthy.
P – Keep Colquitt, good and a hard worker with all the bloodlines you could ever want.
LS – Keep Paxton if we can.
Draft
1st round – 2nd overall pick
I think we have two smart choices here. One most of you will like, another a lot of you won't at least until I explain.
Option 1 – 2nd choice
Make a trade with Arizona so they can come up for Newton. This leaves us with the 5th overall pick and at least another second this year. With the 5th pick we grab DT Marcell Dareus out of Alabama. The man is a monster to put it plain and simple. He'll instantly improve our defense, especially against the run. Has been a consistently dominant player in the SEC. Can play nose too, which could help the hybrid defense Fox has mentioned. A large enough portion of scouts have him above Fairly and his charecter concerns that I'd take him as the first DT either way. Overall a great pick.
Option 2 – Preferred
Stay put or trade down, whichever will still allow us to draft CB Patrick Peterson out of LSU. Now many of you saying did this guy forget we just resigned Champ, I didn't. Think about this, you take the best CB prospect in recent memory and allow him to work under and learn from one of the best players ever in that position. In the short term it gives us the best corner pairing in the league and down the road when champ moves to safety and eventually retires we'll still have an elite CB to take away half the field in the mold of a Revis. Some of you will say this is too much invested into one position, I think it's a way better investment than adding a third giant DE contract to our books. Defensive line is deep in this draft, we can get one or two good prospects there later on. Peterson is one of freaks that just don't come around often. He'll contribute on defense and in the return game if Royal isn't 100%, and don't give me that nonsense about that being too risky for top draft picks, you draft good players to make great plays and it doesn't matter where they come. He'll also improve our pass rush; it'll take qb time to find the open guy when you start with his top two options taken away. Overall it's a unorthodox but great pick.
2nd round – 36th overall pick
The second round will show you why we can afford to not go defensive line with that top pick, theres so much depth there that can't be over looked. Here we grab one of Peterson's teammates in DT Drake Nevis. A violent DT who specializes in penetration, he's one of those rare DTs who's a good pass rushing threat. Needs to improve against the run or be appropriately complemented. He was surrounded by talent at LSU which limited his starting experience. Fox wants a front 4 that can get to the qb and he can do that. Overall a good pick.
46th overall pick
How do you fix an area of the field in a hurry? Pick multiple good prospects that fit in there.  The Broncos continue doing that by picking back to back DTs, here they take Stephen Paea out of Oregon State. Paea is the perfect counterpart to Nevis, he every bit the great run stuffing DT that Nevis is a pass rusher. He's fallen because he raw (only played one year of high school football) and has some injury concerns (had minor knee injuries in junior college and at the Senior Bowl), but we would be lucky to grab him this late. All of a sudden we have a good front 4 that has potential to be dominent. Overall it's a great pick.
If we do pick up another second, there are couple ways to go. There are a pair of good safety prospect depending on where in the round that pick comes. Rahim Moore out of UCLA and Quinton Carter out of Oklahoma. There both good prospects who could continue to upgrade our secondary.  Theres also a couple of top linebacker prospects around like Martez Wilson out of Illinois for the inside and Mason Foster out of Washington for the outside. If I had to choose I would grab a linebacker which depends on where that pick falls.
S Rahim Moore
S Quinton Carter
ILB Martez Wilson
OLB Mason Foster
Third Round – 67th overall pick
There are a lot of ways to go with this pick, Linebacker, Safety, Running back, or Offensive Tackle. I'll give you an option as each, for linebacker look at Greg Jones out of Michigan State. He's a tackling machine who can make an immediate impact. At safety, look at a Tyler Sash out of Iowa. He's a hard hitter in the mold of our own Brian Dawkins. If we give him a chance to learn from Dawkins for a year we may end up with a special player. A running back to watch is Jacquizz Rodgers from Oregon State. A good change of pace back who would complement Knowshon really well. He's small in stature but has been durable and productive in college, also a threat in the return game. Finally take a look offensive tackle Jason Pinkston out of Pitt. A highly experienced tackle out of a solid school, helped produce a 1000 yard rusher in all three years he started. Anyone of these guys would be a great addition but I'd go after Pinkston to protect Tebow's blindside.
LB Greg Jones
S Tyler Sash
RB Jacquizz Rodgers
OT Jason Pinkston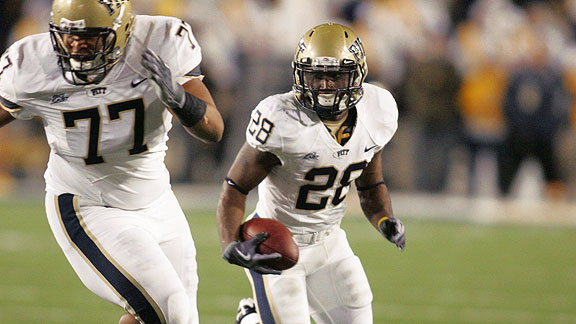 So just to clarify things we end up with
CB Peterson
DT Drake Nevis
DT Stephan Paea
OT Jason Pinkston
In a draft like this we take major strides to fixing  by adding playmakers in positions of need. The pair of Nevis in Paea will be a rock for years to come and will wreck offensive lines when paired with Doom and Ayers. Peterson is this year's Eric Berry, he will be an impact player from day one and will take pressure off everyone else. Our Linebacker core can be next years project.