Finally got a chance to post one of my mock drafts, so have at it Mile High.
Before I get to draft and my off-season, a little explanation behind my choices
The Future of Kyle Orton(Future of the CBA)
Kyle Orton will be a Bronco in 2012. Period. A good friend of mine who's currentlya free agent has told me that right now the feeling among the players around the league is that a new CBA won't get done until August or even September. Unless something miraculous happens and a new CBA gets done before the draft, Orton isn't going anywhere. Besides the uncertainty of the CBA, I want Orton to start this next season. Tebow is the future, I agree with that, but I think he needs to sit at least one more year to continue to polish up his mechanics and become accustomed to the NFL, along with the new offense.
The Future of Ryan Harris
I don't address the offensive line this year because if the Broncosbring back Harris, which I believe they should, they endup with one of the best young offensive lines in the NFL. Ryan Clady and RyanHarris are bookend tackles, and bookend tacklesaren't easy to find. When Harris was at his best back in 2008, his last full season, he allowed 2.5 sacks the ENTIRE SEASON. Between him and Clady, the two gave up a combined three sacks. In a zone-blocking scheme, the two Ryans are some of the best tackles in the NFL, and that's a combination that needs to be kept intact. If the front office still has concerns, then a veteran in free agency would be the best option.
The Future of Champ Bailey (Future of the Secondary)
Like most of Bronco nation, I was ecstatic to hear the Bailey was resigned. However, I was a bit surprised at the number of years. Don't get me wrong, I love knowing Bailey will be with us for the near future, but I will be surprised if Bailey plays all four years. I think the longevity of his contract shows that the eventual plan is to move Bailey to safety. Most people think he'll be moved to free safety, but what about strong safety?  The majority of pass defense in the 4-3 is Cover-2, so Bailey would have the same assignments as a free safety just on the strong side of the field, and would be more active in the run game. Bailey's already avid in run support from the corner position, so I think strong safety is the better position. That leaves the free safety as the primary hole in the secondary, because I think Dawkins will play strong this year.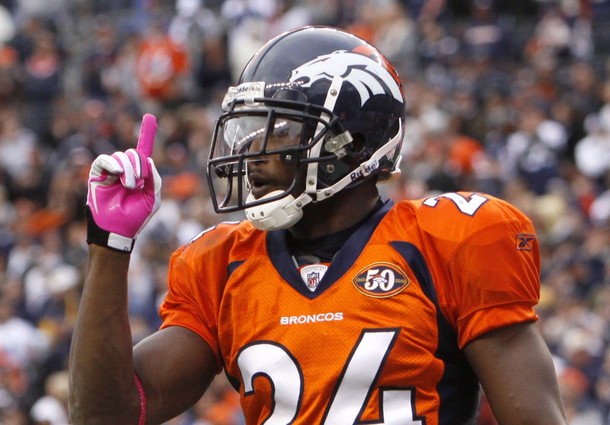 So going into the draft (and hopefully free agency) these are the needs I see in the Broncos-
1. Defensive Line: The Broncos have one true playmaker on the D-Line, and that's a Dumervil returning from an injury. Outside of Dumervil we have a lot of backups and question marks. We need Day 1 starters and impact players across the defensive line.
2. Safety: At safety we haveDarcel McBath(injure-prone), Brian Dawkins(aging), Renaldo Hill(done), and David Bruton(special teams only). I think Dawkins has one more year left in him, at least I hope so, and he can be a one year stopgap at the either of the safety positions, most likely strong safety. That leaves Darcel McBath at free safety. We need some new blood at both safety positions.
3. Linebacker (SAM): From what I've been hearing andseeing around the internet, the plan for the Broncos right now is for D.J. to play the weakside, and Joe Mayswill be given a chance to start at the middle linebacker position. D.J. is a solid 4-3 linebacker and he's back at his best position. Mays is a good young talent who has th skill to be starter, so I think the Broncos will pass on an inside linebacker this year. However, we still have a big hole at the strongside position that needs to be addressed.
4. Running Back:Fox is a coach who likes having a two-headed monster at running back. We currently have the talented but injury prone Knowshon, anda bunch of backups. Look for Fox to find his guy to complement Moreno and reestablish the Broncos once fearsome running game.
5. Tight End: WithDaniel Graham gone, the Broncos are left with Dan Gronkowski and Richard Quinn. A cheap replacement will be found.
Depth: Always a good (and necessary) thing.
The Draft
1st Round-2nd Overall: Von Miller LB/DE Texas A&M
Yes, I'm on the Von Miller train. The reason I have him over Dareusisbecause of the depth of this year's defensive tackle class. There'senough talent available in Round 2 andeven Round 3 to warrant waiting here. Also, while taking Dareus would immediately fill our biggest need, Miller fills two positions of lesser need, the strongside linebacker and pass-rushing defensive end. He'll play a similar role to that of Kamerion Wimbley of the Raiders, but I think Miller can even be better than that.
2nd Round-36th Overall: Aaron Williams FS/CB Texas
Williams gives the an aging secondary some new blood, and some flexibilty. As I mentioned in the Bailey section, I believe Bailey's skill set makes him best-suited at strong safety, and a combination of of Bailey/Williams combination would be an excellent safety tandem. There's another reason as well. What if Darcel McBath is finally able to stay healthy and proves himself as a bonafide starting starting free safety? If that's the case, then Williams becomes Bailey's replacement at corner. Either way, Aaron Williams potentially becomes either our free safety of the future or Bailey's eventual replacement.
2nd Round-36th Overall: Marvin Austin DT North Carolina
I think everyone knows the story. He's a first-round talent who's suspension took him out for the season. His loss is our gain. He's the best player available at our biggest position of need. Enough said.
3rd Round-69th Overall: Jarvis Jenkins DT/DE Clemson
Back to back on defensive line. A big reason for DeQuan Bowers production this past season was the play of Jarvis Jenkins. He's a big man who demands double-teams and has the athleticism to play defensive tackle and defensive end. The front office may believe Dumervilcanbe an every down player, I'm skeptical, but even if it does happen it won't happen in one year. Jenkins can rotate with Dumervil on run downs and sub in at tackle on passing downs.
6th Round-186th Overall: Shiloh Keo SS/ST Idaho
Another player who's gained some popularity on Mile High Report, Shiloh Keois an excellent depthplayer with starter potential. I think of it this way. If Bailey does move to strong safety, Keo will his backup and eventually replace him. If Bailey moves to free safety, then Keo can start at strong ASAP. Either way, Keo's a great value at this point in the draft and in my opinion will be a future starter.
6th Round-189th Overall: Charles Clay H-Back Tulsa
Fox loves having these versatile H-Backs (see Brad Hoover) and he gets his guy here in the 6th.
The 7this impossible to predict, so I'm sure we'll see some no name or value guy to provide some depth
Free Agency
RB DeAngelo Williams
The Panthers seem to have no interest in bringing Williams back, so Fox brings one his premier guys with him to Denver. We suddenly have one of the best running back tandems in the NFL. Nice.
 TE Jeff King
A prototypical Fox tight end. Solid, unspectacular, and can do everything Fox asks. Another Panthers comes to Denver.
So whatcha ya think?