This was originally post here.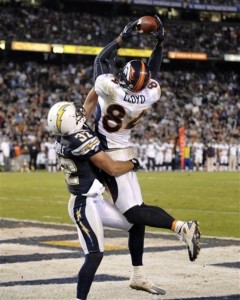 Over at ProFootballTalk, they are giving fans a chance to vote for best players of 2010 by position in the PFT Heroes of 2010 Awards.  Currently being voted for are the receivers, Packers receiver Greg Jennings, Falcons receiver Roddy White, Chiefs receiver Dwayne Bowe, Lions receiver Calvin Johnson, Steelers receiver Mike Wallace, and Broncos receiver Brandon Lloyd are the finalists.
Jennings won the Super Bowl so I guess that automaticly makes him one of the best wide receivers in the NFL.  The voters agree with that logic as he is currently leading in the poll.
Roddy White I must admit had a fantastic season and is the only receiver I would say was as hot as Lloyd last season.
Dwayne Bowe started off the season on fire before his production dropped off towards the end of the season.  In week 13 against Denver, Bowe was shut down by cornerback Champ Bailey and is the only finalists that didn't have at least one catch in every game he started.
The Lions' Calvin Johnson had a very productive 1,120 yard, 12 touchdown season.
Mike Wallace is fast which apparently makes him a top tier receiver.
As of 8:43 am MST on Wednesday morning, Lloyd is 2nd to last in the voting with 696 votes votes (Wallace is last with 672 votes).  When you compare the numbers, it's baffling that Lloyd is not higher in the voting.
Of the six receivers, none of them carried an offense on their backs like Lloyd did last season in Denver and it's probably safe to say none of them had as many acrobatic, bail out your quarterback catches.  Perhaps that is the Bronco bias in me coming out though, so lets look at the numbers.  The NFL leading receivers (in terms of yards) last season was Lloyd, the best first-down-per catch percentage average (93.5%) belonged to Lloyd (it was also the highest percentage in a season — with a minimum of 40 receptions — in the last ten seasons).
Only one player (Wallace) had more receptions of 40 plus yards and 20 plus yards than Lloyd last season.  Among the receivers PFT has nominated, Lloyd had the second best yards per catch average (18.8), the most yards despite officially starting the least amount of games (11) and the best yards-per game average (90.5).  Lloyd also took care of the ball, he's the only finalist that didn't fumble at least once in 2010.
 So with those numbers fresh in your mind, head over to ProFootballTalk and cast your vote!
The winner will be announced on Thursday.