OK guys, here it is.... installment #2 of an in depth look at our football team from top to bottom.  In part one, we took a long look at the defense and all possible options available to us to help heal some of our wounds (DT is a big gaping hole for now).  Here in part 2 (even though it's still titled Orange Crush - bear with me here), we are going to strip down the offense and look at all possible avenues to finalize this 2011 squad.  Follow me after the jump and let's have some fun discussion.  If you guys see any discrepancies, please let me know (I do my best, but sometimes we all get stuff wrong).
Special Note: College Free Agents will appear at the end of the lists in bold & italics...
Quarterback:
Kyle Orton - Wow... where do I begin.  When we traded away Cutler, I must admit, at first I was steamin' mad.  I didn't understand how it made sense to trade away a young, pro-bowl caliber, cannon-for-an-arm QB for a bevy of draft picks and a game managing, mid-level QB.  Pre-season of McD's first year solidified my fears even worse when Kyle looked like doo-doo, throwing multiple picks per game.  When the season started though, Kyle impressed the hell out of me and at one time was in the MVP discussion.  Moving on to year two, even though we were 4-12, Kyle Orton was doing his best Philip Rivers impression - throwing one of the prettier deep balls in the entire league.  Kyle is a very smart, hard working, team leading type of dude, who has made gigantic strides in his game every year he's played. 
Despite all of this, I still feel like our Broncos need a fresh start and I think that Tebow is one of those guys who will be the face of the Broncos... possibly even the entire league (think Manning).  My problem with Kyle is when the chips are down, Kyle just can't seem to rally the troops like Tim and he rarely comes from behind when the game is on the line.  If we were just talking about Orton and Quinn for the starting job, then I would be excited to see what Kyle can do with an improved running game and D..... but Tim can hand the ball off + be a huge part of the running game himself (if he started every game, he was on pace to break 1,000).  When this lockout is lifted, I say we make a deal to Miami, Arizona, or Minnesota, and trade Kyle (along with his expensive contract) for a mid level draft pick (3rd) and a decent player (OT, RB, DT).  Thanks Kyle, and if you stay here, I will follow you as my starting QB.
Tim Tebow - It's no secret people, I love this kid and I'm ready to follow him to the ends of the earth as the Denver Broncos QB.  I'm nowhere near anything resembling a Florida Gator fan (Mountaineers for me), but Tim Tebow captivated me, along with the entire nation, with his heroics down there in Gainsville.  Where Orton seems to fall short, Tim picks up the slack and moves forward.  I have a sneaking suspicion that Tim has been working so hard, he would beat Orton out of a job right now, straight up!!!  Tim has some chinks in his armor (for now), but he is a champion who absolutely HATES to lose games.  We're talking about one of the nicest people in the world, but if his grandma got in the way of him winning a game, he woud run her over in cold blood.  Tim is a unique, one-of-a-kind athlete, and he's the first true power RB / QB I've ever seen at this level.  He reminds me of a youthful Steve Young with more brute power, better intangibles (at least at that point of Steve's career), and a leader like the NFL has possibly never seen.  Tim will work tirelessly to correct his flaws (drops under center, footwork, reads, throwing motion), and I think in a few years we're going to have a top 10 QB, even if some of that production comes on the ground.  This is the best move McD made for our team and it is going to pay off tenfold.  From everything I've been hearing / reading, coach Fox seems ready to move on without Orton and see if Tebow is the Spartan Warrior that many of us think he will be.
Brady Quinn - Guys, I can't lie.  I've been so freakin' disgusted over the Hillis/Quinn trade that I haven't even gave Brady a fair shot.  We are talking about a 1st round talent, NCAA superstar QB here.... Brady still has a chance to be a good one down the road.  I would not mind keeping him as a backup, but I also wouldn't care if we made a move here either.  Any way you look at it, Denver has a good situation at QB.... many teams in this league would love to be in our shoes at this position.  Brady Quinn is a fine young man and he represents our Broncos well.... I wouldn't mind seeing what this kid could do with some more offensive consistency.
Free Agent Options - Matt Hasselbeck (SEA), Marc Bulger (BAL), Billy Volek (SD), Bruce Gradkowski (OAK), Vince Young (TEN), Caleb Hanie (CHI), Alex Smith (SF), Tavaris Jackson (MIN), Troy Smith (SF), Chad Pennington (MIA), Drew Stanton (DET), Nate Davis (SEA), Rex Grossman (WAS), Jim Sorgi (NYG), Matt Moore (CAR), Trent Edwards (JAX), Matt Leinart (HOU), Tyler Thigpen (MIA), Brian Brohm (BUF), JP Losman (SEA), Rudy Carpenter (TB), Charlie Frye (OAK), Kellen Clemens (NYJ), Jordan Palmer (CIN), John Parker Wilson (ATL), Brodie Croyle (KC), Todd Bouman (JAX), Todd Collins (CHI), possibly Donovan McNabb (WAS), possibly Jake Delhomme (CLE), Pat Devlin (Delaware), Scott Tolzien (Wisconsin)....
My Take - Stay put!!!  If we ship Orton or cut Quinn, then a lower tier backup will be needed.  A guy such as Delhomme (if available), Bulger, or Gradkowski could work here.  If Orton is traded & Quinn is cut, Matt Moore, Billy Volek (who some call THE BEST backup QB in football), and Tyler Thigpen could pan out too.
Running Back:
Knowshon Moreno - Once again people, it's no secret that I'm a fan of Knowshon Moreno's.  I'm always the first one to give homegrown talent some chances to shine, and I fully believe had Knowshon not been playing behind a young, confused, injured Offensive Line (+ not been injured himself), we would be talking about a 1,000 yard rusher here.  Knowshon was a college superstar back that drew comparisons to Emmitt Smith, and he proved to the nation that he should've been the 1st HB taken in that draft.  Moreno is a blazer by no means, but he has rare agility, acceleration, and hands (like a much smaller, speedster back).  Once he gets the jitters out and calms down, Moreno will be a deadly weapon for this offense.  Moreno has good strength and muscle tone;  behind a better O-Line he could be a little pounder.... with hands / route running ability to boot.  Even if we bring another feature back in to share time, Knowshon Moreno will stay a Bronco.  We're talking about a guy who's scored 17 TD's in two years (missing some playing time as well) - how does that not excite you?  I am very happy to see this young man shine behind a much improved O-Line, and a new team philosophy to run the crap outta that football.  P.S. - his blocking will improve (screw you Woody Paige - you sir are an instigator in a time when news is slow).
LenDale White - This is the other back on this roster that I'd like to see us move forward with.  If pre season of last year was any indicator..... Big LenDale White was headed for good things with this ballclub.  A bruising, punishing style of runner, White is the perfect short yardage / goal line / power back.  Don't get me wrong, I'd much rather have the Rumblin' Redneck back, but I feel like we can move forward with this player and succeed.  If he can stay out of negative headlines (moving back home to Denver should, and has helped), the sky is the limit for this toter of the rock.  As much as Foxy likes to pound the ball, LenDale, Knowshon, and another high tier back could have a home here.
Correll Buckhalter - I like this player.... I'd probably have come to love this player by now if he weren't injured ALL the time.  My bet is Buck has reached the end of his rope as a Bronco, and he will most likely catch on somewhere else for a year or two as a change of pace.  He really came on for us last year in a few of the final games - scoring some clutch points (TEN ~ HOU) and helping to put us in position to win a couple more games.  Buck is a straight baller when healthy, but the poor old dude is hardly ever healthy.  Thanks Correll.... I greatly appreciate your contributions to this team.
Lance Ball - Somehow, some way, Lance Ball has a cult following here in Denver.  My guess.... like myself, many of you guys tend to over-value some of our lower tier players and put a tad bit more worth to these guys than you actually should.  Lance Ball has done some decent things for this club, but I'm not sure it's enough to keep a seat open on our bench for him.  I do like Lance, but I'm indifferent on him making the cut or not.  Good luck to Lance Ball wherever he ends up.
Also in Play - Brandon Minor, Mike McLaughlin, Jeremiah Johnson (umm.... we'll see).
Free Agent Options - DeAngelo Williams (CAR), Ahmad Bradshaw (NYG), Michael Bush (OAK), Joseph Addai (IND), Darren Sproles (SD), Jason Snelling (ATL), Tim Hightower (ARI), Mike Hart (IND), Cedric Benson (CIN), Kevin Smith (DET), Ronnie Brown (MIA), Cadillac Williams (TB), Jerome Harrison (PHI), Brandon Jackson (GB), Clinton Portis (WAS), Ricky Williams (MIA), Jerious Norwood (ATL), Mewelde Moore (PIT), Tiki Barber (NYG), Noel Devine (West Virginia), Derrick Locke (Kentucky), Darren Evans (Virginia Tech), Mario Fannin (Auburn), Graig Cooper (Miami), John Clay (Wisconsin)....
My Take - Beyond a shadow of a doubt, help is needed here.  Whether that becomes a DeAngelo Williams or a Jerome Harrison, remains to be seen.  I believe the media outlets this time when they say we're very interested in DeAngelo Williams out of Carolina, and I don't think bringing him here will hamper Moreno's chances at glory, not one little bit.  The way Fox has historically ran the ball, there's enough love to be spread around to everyone (Tebow included, if it ends up that way).  I personally think we should go after Williams, Bradshaw, Bush, or someone of their caliber.... some experience and leadership is needed in that backfield.  I'd also love to see us give any one of those undrafted college free agents a chance in camp (there are some absolute speedsters there.... Devine, Locke - we need one of those to improve our offensive speed).
Wide Receiver: (voted the strongest position group on the team over at Denver Broncos.com, and rightfully so)
Brandon Lloyd - The hands down, undisputed MVP of the Broncos in 2010, Brandon Lloyd is due for a huge paycheck sooner than later.  A follow up performance like 2010 will 100% ensure that for the veteran wideout.  Out of all the 2010, starting WR's in the NFL, none was better at making the spectacular catch and tracking down balls than Brandon "Sticky Fingaz" Lloyd.  If not for him, Tebow and Orton would have made some head scratchers with some of those poorly thrown balls.  IMHO, I don't see Lloyd going back into obscurity after the taste of stardom he had last year, and I can see an impressive campaign in the stars for him this coming season.  If he does indeed continue upon his 2010 performance, I say we lock his butt up for the next 5 years.  You don't flash that kind of talent then turn it off one day unless you're a basket case like Randy Moss.  I don't think that is Lloyd's case, and I think a few years in the NFL cellar did great things for Lloyd, helping him put it all in perspective.  "They can't see me" - Brandon Lloyd, you sir are an animal... a huge Mile High Salute is coming your way.
Jabar Gaffney - This is a player I'm completely torn on.  On the one hand, Gaff is an awesome #2 wideout who showed much worth to our team with his clutch play.  On the other hand however, we have some nasty, young up-and-comers who will be pushing him hard for time + we won't be throwing the ball anywhere near as much as we have the past two years.  Where does that leave us.... I have no idea, glad that someone else has to make that call.  Gaff is a hard workin', salt of the earth type player, and has made some key receptions for us in tough games.  He's not much of a blazer, and he's not a height/weight/strength kinda guy, but Gaff is a well rounded receiver and he has a nice blend of possesion ability mixed with deep ball skills.  He will make some team happy, regardless of where he ends up.  Moving right along....
Eddie Royal - Jeez Eddie, what happened to you young man.  We love your attitude, it's indicitive of a new Denver Bronco.  We love your speed.... we love your return skills.  We love seeing you in the running game on end arounds.  We love your versatility as an outside wide out/slot wide out/special teamer.  What has been absolutely boggling our minds though is the fact that you cannot seem to duplicate your 2009 production as a Wide Receiver.  I know he's struggled with injuries and I know McD put the full load on him as a return man, but dang dude, a little more is expected out of him in the passing game for a 2nd round selection.  I guess his 2009 performance kind of spoiled me, and perhaps I expect too much, but I need to see a lot more from Eddie Royal in 2011 to want him on this young team, long term.  The good news is, I do want him back next year and I believe the coaching staff / FO will as well.  Maybe we should stop this whole slot experiment with him and focus him outside the numbers again.  Eddie also needs to work on getting off of jams at the line.  I still love him as a player, and I don't mean to gripe..... I just want the old Fast Eddie back.  Can you guys blame me?  
Eric Decker - Another one of McD's excellent draft picks, Eric Decker is poised to have a nice season for us in 2011.  I love the thought of having Eddie Mac 2.0, and I believe Deck is up to task.  Heck, he even showed some worth as a return man last year.  Deck is a big, tall, strong handed, possesion wideout, who makes QB's job's a lot easier.  I can't wait to see him grow into his role, and I can't wait to see the Tebow-Decker connection, if it happens to play out that way.  Decker is also a very nice blocking WR, and extremely smart (2nd best Wonderlic in the combine ~ 1st best for Wide Outs).  I'm very excited about this dude and there's no way in Hades he doesn't make the team.  Did I mention that he's also "GQ" baby???  Tebow, Brady Quinn and Decker form a team within a team - the Tiger Beat Broncos!!!
Demaryius Thomas - Did we reach a bit for this young fella coming out of Georgia Tech in the 2010 draft..... possibly.  Has he been a walking injury report the entire time he's been a Bronco.... most def.  Does all of this mean he can't be a stud WR for us in the next year or two..... absolutely not!!!  He's still a very young player and has a chance to shine for us (WR's can take a minute to groom - just ask Sidney Rice or Roddy White).  DT has all the potential in the world as a deep threat, jump balling, boxing out defenders, super smart (2nd best Wonderlic score for a Wide Out in the 2010 draft) yards after the catch, beast blocking (hailed as THE BEST blocking WR in the 2010 draft), blazer/speed demon, red zone threat wideout..... he just needs to stay healthy.  It was ignorant for McD to put such a large target back there as sole kick returner for the length of time that he did - DT should be that guy when we need a big play, not an every timer.  I am willing to give him another chance when he fully heals (when will that be - YIKES!!!), and I'm super excited to see what kind of player we have in him down the road.  DT makes this team.
Matthew Willis - Was there any receiver in football who had a better 2010 pre season than Matt Willis.... doubtful.  I'm not sure if he's going to make the squad or not, but we will be the better for it if he does.  If we weren't so crowded at this position group to begin with, I'd say he makes it for sure.
Also in Play - Britt Davis, Eron Riley (both of these young players I like and they both have some worth - what a deep WR core).
Free Agent Options - Santonio Holmes (NYJ), Vincent Jackson (SD), Sidney Rice (MIN), Brad Smith (NYJ), Eric Weems (ATL), Braylon Edwards (NYJ), Steve Smith (NYG), Malcolm Floyd (SD), Lance Moore (NO), James Jones (GB), Mike Sims-Walker (JAX), Santana Moss (WAS), Jacoby Jones (HOU), Danny Amendola (STL), Terrell Owens (CIN), Mark Clayton (STL), Legedu Naanee (SD), Michael Spurlock (TB), Randy Moss (TEN), Early Doucet (ARI), Devin Aromashodu (CHI), Terrence Tolliver (LSU), Tori Gurley (South Carolina), DeAndre Brown (Southern Miss), Jeff Maehl (Oregon), Darvin Adams (Auburn), Derrell Johnson-Koulianos (Iowa), Dane Sanzenbacher (Ohio State), Armon Binns (Cincinnati), Ricardo Lockette (Fort Valley State).... 
My Take - If ever we were ever set at a position on our football team, it would be Wide Receiver.  I can almost guarantee you that we will not be making any headliner moves in this dept.  If we were to let some go and sign some new, I like Lance Moore, Brad Smith, or Sidney Rice.  It may not be a bad move to sign the Maehl kid from Oregon to see if he can compete in camp or not.  Ricardo Lockette is a speed demon option, but we have that already in Eron Riley / DT.
Denver - please sign this man at the start of free agency, before somebody else does!!! PLEASE???
Fullback:
Spencer Larsen - Old leather head....  Spencer has been quite the treat for us Bronco fans.  Brought in as a 6th round Mike Linebacker, Spencer Larsen has since became our starting FB / special teams hero.  Honestly, Spencer hasn't shown us much as a lead blocker / offensive weapon (even though he did make strides last year - think Tebow's 1st NFL TD pass).  I abso-freakin-lutely love him as a core special teamer and I think we need to make room for him on this roster.  Starting FB though?  I'm not sure.
Also in Play - Virgil Green, Mike McLaughlin???
Free Agent Options - Vonta Leach (HOU), Le'Ron McClain (BAL), Marcel Reece (OAK), Lawrence Vickers (CLE), John Kuhn (GB), Brian Leonard (CIN), Heath Evans (NO), Naufahu Tahi (MIN), Tony Richardson (NYJ), Henry Hynoski (Pittsburg)....
My Take - John Fox hasn't historically used a lead blocker that much (he has prefered the two TE, singleback sets), but he has also never historically drafted freakishly athletic, receiving TE's either.  I think we're going to have to do something here, even if it's signing Tony Richardson to a one year deal until we can figure it out.  If we don't bring in a veteran FB, I'd absolutely LOVE to see us bring in Henry Hynoski from Pitt - he is a throwback, leather head type of player and I'd love to see him get a shot to compete in camp.  Spencer Larsen is just not a starting fullback I'm afraid, and I'd love to see us bring in a run blocking beast / offensive weapon like McClain.  Most of you guys shot this down in one of my comments the other day, so maybe I'm way off, but something is needed at FB other than what we've already been doing.  Perhaps Virgil Green comes into play here... IDK.
Tight End:
Richard Quinn - Up to this date, Richard Quinn has been one of the most disappointing draft picks in Denver history (mainly because he was a blocking-only TE, taken foolishly in the 2nd + we traded up to get him).  That doesn't mean that he can't be a player for our Broncos.  Call me a dreamer (dreamer), but I really feel like this is his year.  The shadow of Josh McDaniels is gone, and with it, all the expectations of that regime taking him in the 2nd.  Richard Quinn will now have to start over, because he means nothing to the new regime.  I've watched tape of this big fella from college, and I'm here to tell ya that he can be a Dan Graham for this offense - will he or not is totally up to him.  I'm pulling for you dude, please make me proud and give us that inline, extension of the o-line, blocking beast that I know you can be.
Dan Gronkowski - This is one of those players that I'm not as high on as some of you seem to be, and why that is I don't really know.  I'm still kinda peeved that all we got out of Alphonso Smith (who cost a 1st rounder btw), was a 7th round TE.  Gronk has the ability to be a well rounded, balanced TE for us, and I love his bloodline (I would kill to have his Patriot brother on our team), but I fear it's not enough to save him from the cut list.  Time will tell, I'm not against him.  Really and truly though, the dude hasn't done much in this league.
Julius Thomas - Making up a pair of young, newly drafted Tight Ends, Julius Thomas excites the heck outta me.  Even though this kid played mainly basketball for the duration of his college career, he graded out REALLY well in the mental department at the combine.  For a guy who only played one year of college football, Xanders said Thomas had the football knowledge of a 4 year starter.  Add in his god given abilities as a big, strong, fast, sure handed receiving weapon, and it's easy to see why EFX took a chance on this kid.  His basketball pedigree could be a fun thing to watch now that he's working with Clancy Barone, who was on the San Diego staff that groomed Antonio Gates.  He makes this team, no doubt.
Virgil Green - Hailed by some as an offensive weapon (and rightfully so), Virgil Green is also a nasty blocker who helped pave the way for some sickening ground attacks for Nevada.  Green is blazing fast for a man of his size, and I'm thrilled to see him become a mismatch to opposing DB's & LB's on Sundays.  This is also a player with elite leaping ability and quickness.  I think this staff feels like he is a true H-Back, a joker of sorts, who can be moved around and utilized from many different alignments.  This player was an extreme value in the 7th round, and I think he makes the team easy.  I'm very proud of John Fox for changing his philosophy up some, and going after some athletic, pass catching TE's in the draft.  This bodes well for him as our Head Coach.
Also in Play - Daniel Coats.
Free Agent Options - Zach Miller (OAK), Marcedes Lewis (JAX), Kevin Boss (NYG), Evan Moore (CLE), Bo Scaife (TEN), David Thomas (NO), Matt Spaeth (PIT), Daniel Graham (DEN), Leonard Pope (KC), Dante Rosario (CAR), Jeff King (CAR), Donald Lee (GB), Kris Wilson (SD), Desmond Clark (CHI), Andre Smith (Virginia Tech), Schuylar Oordt (Northern Iowa), Weslye Saunders (South Carolina)....
My Take - Stay put and let the young guys hash it out.  It's not like the rest of our team isn't young too... there's going to be some growing pains anyway... see what happens.  If anything at all (which I hope doesn't happen cause that means some of our young guys aren't cutting it) bring back Graham at a reduced price - if we can.  I like Bo Scaife, Matt Spaeth, Desmond Clark, or Donald Lee, if we absolutely must.
Offensive Tackle:
Ryan Clady - The cream of the Denver Bronco offensive line, Ryan Clady might be one of the top 3, best young left tackles in football.  This guy has everything you look for at the position - quick feet, speed, moves like a DE on the run, orangutan arms, strength, size, smarts, exceptional punch/hand placement, supreme pass blocker, uber-athlete, and he's all ours for the next decade - Kansas City fans (along with a couple other teams that come to mind) BEWARE!!!!  I remember Doom saying in an interview that one of the major keys to Clady's success was the fact that he always gets his hands on you first with a monster punch, and he has an inate ability to mirror a defender with those crazy-athletic feet.  I want the next monster contract our team offers a player to be his - I don't care what he wants, pay that man and retain his services for eternity.  To start and play every game while having the manner of injury he did is amazing.  Towards the end of the year, Clady was back to his normal, All-World self.  Look out NFL.... when this man gets this offense down, it's going to be ugly for you.  Special note to Ryan Clady - look big fella, you're so athletic, I'm sure you're a hella hoops player... however... just for me (and the other 25 million Denver fans)... can you please stay off the B-Ball court? Thanks!
Ryan Harris - Guys, I know he's a free agent and I know this will seem like a cop-out, but I have no idea where I stand with Ryan Harris.  I love the guy as an athlete, football player, and I adore his football intelligence, but.... he hardly ever stays healthy and we could use some more strength on the strongside to help boost our ground game.  My bet is we try to resign him because he's farther along than anyone else available to us at learning the offense.  Harris is one of the smartest, young OT's in football right now, and I honestly believe he's a good fit to protect Tebow's blindside (if we do end up going that way).  IMO, Harris is a LT playing RT.... he's a very fluid, very athletic, good pass blocker, playing on a side of the line that's traditionally reserved for bigger, stronger, road grading men (Orlando Franklin). 
Don't get me wrong, Harris is no slouch as a run blocker, but he just doesn't quite have the upper body strength/size typically expected out of a RT (plus he's injury prone).  A move back to more zone blocking sets will help our young Tackle duo tremendously.  Ryan Harris, as Orton put it, had the nastiest demeanor of all our young O-Lineman, and his aggresive play helps feed the rest of that line with some juice (Walton and Franklin could easily overtake him in this dept. soon).  However this plays out, I still think we need one, to two more Tackles so we can round out this position group.  For far too many years have we ignored backup OT's - I want this to change now, Franklin was a great start. 
Orlando Franklin - Denver Bronco fans, meet your new, young, road grading O-Lineman - Orlando Franklin.  EFX seemed to think that Franklin had the most nasty/toughness out of any player in the 2011 draft, and after watching some clips on him, I tend to agree with them.  All Franklin did at "the U" was knock men backwards (far backwards).  Not the most gifted pass blocker, Franklin is a mountain of a man with long arms, good upper body strength and an extremely violent demeanor that reminded John Elway of our best O-Lineman ever - Gary Zimmerman.  His skillset is typically what one looks for in a RT/LG, and it would not shock me to see him replace Ryan Harris in the lineup.  Now, some peeps will say that Ryan Harris is a better fit to protect Tebow's blindside as a pure pass blocker (and he may be in that dept.), however, Tebow is an animal on the run and he's super hard to bring down (think Roethlisberger).... so..... Franklin could afford to fake it till he makes it as a pass blocker, just as long as he bulldozes D-Lineman in the run game.  I love this young player and feel like he's going to be the next in a long line of Miami Hurricane superstars.
Also in Play - Herb Taylor, Chris Clark (meh).
Free Agent Options - Willie Colon (PIT), Doug Free (DAL), Jammal Brown (WAS), Tyson Clabo (ATL), Matt Light (NE), Marshall Yanda (BAL), Sean Locklear (SEA), Ryan Harris (DEN), Jared Gaither (BAL), Barry Richardson (KC), Langston Walker (OAK), Damien Woody (NYJ), Ryan O'Callaghan (KC), James Lee (TB), Jeremy Trueblood (TB), Jeromey Clary (SD), Mario Henderson (OAK), Jermon Bushrod (NO), Tyler Polumbus (SEA), Ryan Cook (MIN), Alex Barron (DAL), Lydon Murtha (MIA), Jarriel King (South Carolina), Willie Smith (East Carolina), Kyle Hix (Texas)....
My Take - We need some help at OT (both at RT and LT).  I don't trust Herb Taylor or Chris Clark.... Harris is going to be heavily pursued..... reinforcements are needed desperately.  Let's say Harris leaves via FA and Franklin takes a while to groom, a guy like Clabo would be much appreciated (Gaither as well).  Regardless of what happens at RT, we also need a good player to come off the bench and spell Clady.... more than likely, Beadles will be starting at LG, so somebody else will have to backup LT.  I know we don't have much cap space right now, but Dawk is in the process of taking a paycut and other players will be cut (I also look for Orton and his contract to be shipped).  I personally think that DT, RB, and OT are the three greatest areas of free agent need for this ball club.
Offensive Guard:
Chris Kuper - Even though Kupe seemed to struggle in McD's system (who didn't), we're still talking about a very smart, tough player who's allowed only 6 sacks in 42 starts (31 at RG, 11 at LG).  I think with the move back to a more familiar blocking style, we're going to see Kuper take off again and reclaim his title as one of the best RG's in football.  I remember reading an article on the best Right Guards in the NFL a couple years back and they said that NO ONE lays better placed blocks on the move (at RG) than Chris Kuper.  Sounds like a typical, Denver zone blocker to me.  Fox and Magazu are going to get these guys absolutely ballin' again, and then we can start braggin' about our Secret Service (the Juggernaut, as I like to call them).  This guy got payed for a reason - he is the new leader of our young line.  His toughness, professionalism, attitude, and work ethic, rubs off on the others.  I'm happy this fella is a Bronco.
Zane Beadles - I have a feeling that John Fox and Dave Magazu are going to love them some Zane Beadles (he should remind tham of another super talented Ute lineman - Jordan Gross).  Beadles wasn't in contention for the best young lineman in football or anything, but what he did do as a rookie turned some heads for sure.  Beadles (along with JD Walton), did not miss a game as rookies thrust into the lineup.  Not the greatest athlete in the world, Beadles is a technician who has worked super hard to get where he is today.  Versatile, smart, tough, and mean, Zane Beadles is the start of something good brewing in Denver on that O-Line.  I remember reading that towards the end of the season, Beadles (behind Clady) was our 2nd best Offensive Lineman.  I look forward to seeing where this young man ends up (LG, RT), and I think McD drafted a real player in Zane Beadles.
Eric Olsen - This is another young lineman from the McD era that I feel could be a good backup interior lineman.  Olsen can play both Guard and Center, which allows us some flexibility, and he is known for his competitiveness, nasty streak, smarts, and toughness.  I'm not real sure what the new staff is going to do concerning him (since we've brought in a bevy of interior lineman), but I have a feeling that he'll fit in just fine as a backup - we need more mean lineman like him to change the culture back to a more violent one (especially when facing the Raiders, Chiefs and Chargers).
Jeff Byers - I was happy to learn that we picked this kid up last year, he could be a nice player for us down the road (especially as a zone blocker).  I remember playing some Madden a few years back, and I was in the market for a zone blocking Center/Guard from my imported, NCAA draft class.  Honestly, no one fit that bill better than Jeff Byers.  This kid has some great feet on the move, and his agility/acceleration could help him fit right in on the new Bronco line.  I hope he stays.
Manny Ramirez - Yet another player I'd like to see make the cut.  Manny Ramirez is a behemoth of a human with elite upper body strength (I'm pretty sure he led all OL at the combine in the bench press the year he was drafted).  We need some more road graders on that line (for short yardage / goal line, if for nothing else).  Another player with a nasty, nasty demeanor.
Also in Play - Russ Hochstein (it's time to go), Shawn Murphy (I like him - strong player), Stanley Daniels (it's time to go).
Free Agent Options - Logan Mankins (NE), Carl Nicks (NO), Harvey Dahl (ATL), Justin Blalock (ATL), Kyle Kosier (DAL), Chris Chester (BAL), Davin Joseph (TB), Kyle DeVan (IND), Derrick Dockery (WAS), Robert Gallery (OAK), Mike Brisiel (HOU), David Baas (SF), Deuce Lutui (ARI), Evan Mathis (CIN), Mike Pollak (IND), Daryn Colledge (GB), Floyd Womack (CLE), Chester Pitts (SEA), Alan Faneca (ARI), Max Jean-Gilles (PHI), Trai Essex (PIT), Doug Legursky (PIT), Zach Hurd (Connecticut), Bryant Browning (Ohio State), Ray Dominguez (Arkansas)....
My Take - Once again, stay put.  We have a lot of money wrapped up into Guard (Kuper, Beadles) and most of our players here are very young - they will improve.  We have also signed a few intriguing options here to future contracts, such as Ramirez, Shawn Murphy, and Jeff Byers.  Let it play out in camp, possibly bring in Zach Hurd from U-Conn for some more competition if some of the others are underwhelming.  Harvey Dahl or Evan Mathis would be nice if we feel the need.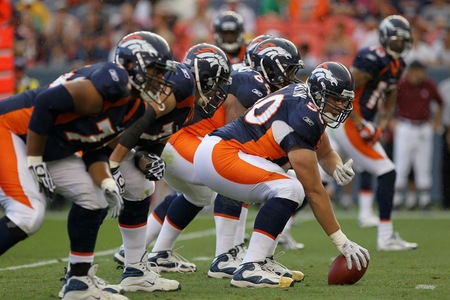 Center:
J.D. Walton - How I love J.D. "built like a bag o' doorknobs, I-Hop" Walton..... ohh..... let me count the ways!!!  I know that young J.D. wasn't flawless (not many rookie centers are), yet, much like Beadles above, Walton showed tenacity, toughness, a nasty arse mean streak, and the ability to learn on the fly.  Once the mental side of the game clicks for this young man, I believe we have a Pro-Bowl Center on our hands!!!  J.D. did not miss a game last year, and he gave me some of the most memorable moments of the deflated Bronco season: 1. Him smashing James Fairy-ors head in the pre season (I do love an aggressive, nasty O-Lineman). 2. His double pancake block against Seattle to spring Buck into the endzone was A THING OF FREAKIN' BEAUTY!!!!  That second memorable moment alone showed me proof as to why his nickname is "I-Hop".....  J.D. Walton is a new Bronco through and through.  He may not have the quick feet of a Tommy Nalen, but he accels in other areas that Nails was just average in (power).  He stays..... period!!!
Also in Play - Jeff Byers, Russ Hochstein, Eric Olsen???
Free Agent Options - Ryan Kalil (CAR), Olin Kreutz (CHI), Lyle Sendlein (ARI), Kyle Cook (CIN), Jonathan Goodwin (NO), Chris Spencer (SEA), Samson Satele (OAK), Scott Mruczkowski (SD), Casey Wiegmann (KC), Jason Spitz (GB), Kris O'Dowd (USC), Jake Kirkpatrick (TCU), Tim Barnes (Missouri), Alex Linnenkohl (Oregon State)....
My Take - I love Walton as the starter and I think we'll see him make significant strides in the mental/technical dept. this year.  All young Centers take time to develop, unless you're a freak like Pouncey (he could probably be an All-Pro OT or OG as well).  Hopefully Byers can fill in as the backup.  If not, there are a number of rookie free agent options to try out (Kirkpatrick from TCU is my favorite).  If the new staff feels like Walton needs some more time, Olin Kreutz may be an option here.  Also, I hear Buffalo is high on moving Eric Wood to his natural postion of Center, which may spell the end for Geoff Hangartner (a player whom Foxy drafted).... if so and if Walton needs to be bought more time, he would be a cheaper, valid pickup.
There you have it my friends... part two is finished (whew)!!!  I hope you all enjoy and I anxiously await any feedback / criticism from the most intelligent / knowledgable fanbase in pro football.  Stay tuned for part three, a brief look at the Denver Bronco Special Teamers.... which will focus almost entirely on resigning our howitzer-for-a-leg, young Kicker, Matt Prater.  Peace, Love, Mile High Salute, GO BRONCOS!!!!!