Doug Pensinger - Getty Images
Hello and welcome back Broncos fans. We finally finished up the left side of the first round of our bracket last week and not one of the match ups saw a margin of victory over 63 percent. With the insane level of talent on our squad this year, I'm fully expecting the same level of competition for the remainder of the first round. But why talk about it when we can get it started!
For those of you who missed out on the fifth match up, third-year cheerleader Jenna defeated rookie Chelsie with 63 percent of the vote. She was able to maintain that lead for much of the contest, which was no easy task considering how amazing all of our tournament rookies are this year.
As always, I encourage voters to take a little bit of time and read the bios before voting (I know how distracting those wonderful pictures can be). It doesn't take long, and it can be extremely fascinating to get to know our squad. Also, more than once, my vote has been swayed by the information provided. And speaking of my vote, just like last year, if there is a tie, I will nullify my own vote declaring the other cheerleader the winner (this actually happened).
But, without further adieu, lets get down to business.
If you can't see the full bracket, just click on the picture. It should take you to the source image.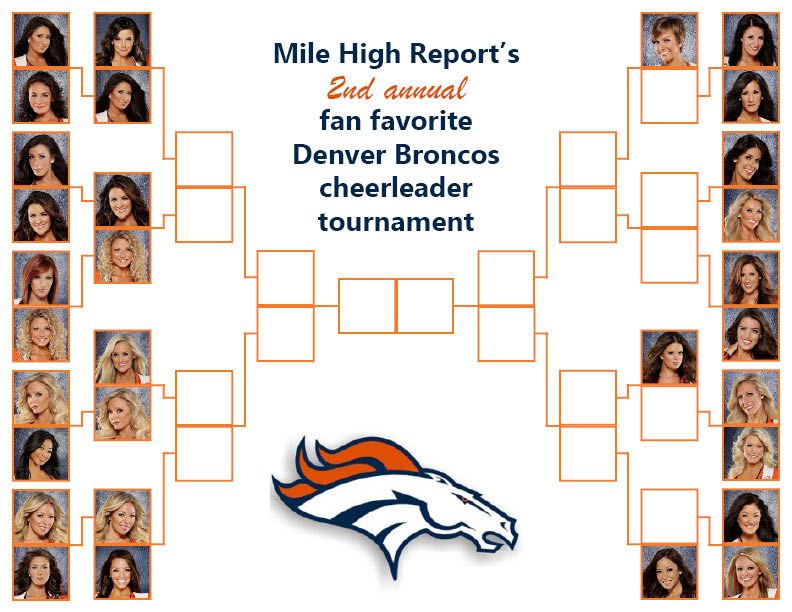 Match 6 of Round 1: Tara vs. Kimberly
Tara

This is Tara's fourth season cheering for us. This Boise State alumn now works in commercial real estate. She ended up losing in the first round of last year's contest to Megan, who ended up making it to the quarter finals.I think we can all agree that the results had more to do with Megan than Tara, as she's just another member of our squad who could top out any other squad's list.
What is the best thing about being a Broncos Cheerleader?
The best thing about being a Broncos Cheerleader is the game day experience. I have the opportunity to perform in front of 75,000 fans, cheer on the most amazing team in the NFL, and spend time with my teammates who are some of my best friends.
What is your most memorable experience as a Denver Broncos Cheerleader?
I had the opportunity to travel to London when the Broncos played the 49ers in 2010. Not only was Wembley Stadium amazing, but we got to travel with Broncos greats Floyd Little, John Elway, and Gary Zimmerman. I had a moment on the bus that I thought I was dreaming.
How do you spend your time off the field?
I love to dance. When we have some time off I enjoy taking hip hop dance class, ballet class, and working out at Pure Barre.
What was your most memorable game?
My first game will always be the most memorable. I think I could have broken into tears of joy at any moment. My dream had come true. All of my hard work and dedication had finally paid off.
What is your occupation and how do the Broncos affect your work?
I work in commercial real estate. You have to become much more organized and a better communicator once you make this team or you will never survive the season. I am fortunate that my employer understands my time commitments with DBC.
Who do you admire most in the Sports industry?
Duke head coach Mike Krzyzewski. He runs such a wonderful program at Duke. He cares about the athletes developing as people as well as great basketball players. Plus, he delivers; four national championships with Duke and one gold medal for the USA in 2008. I think that he is an incredible coach.
What is your favorite book?
"Are you there Vodka, It's Me Chelsea" by Chelsea Handler. She is awesome and it's a fun read.
Where do you see yourself in 5 years?
I do not know where I will be in five days! I just hope that I continue to grow as a person. I want to be better every day, not only as a dancer but as a contributing member of society. I would like to continue to dance and I wouldn't mind having a smoking hot husband.
What is the best thing about Broncos fans?
They are loyal. One of my favorite parts of game day is meeting the fan of the game. They have had tickets in their family for years and years. It isn't just a game to them, it is a family tradition.
What do you do in your spare time to relax?
I have been known to take some epic naps. There are few things better in life then a 5K, brunch with your best friends, and then a nap.
What is your best advice to kids?
"Failure will never overtake me if my determination to succeed is strong enough."
-Og Mandino
What are the best gifts you ever received?
My siblings (Julia, Rachel, Joe) and my education at Boise State. Without my family or education I would not be the person I am today.
Most important goal in life?
Happiness. I know that sounds cliché, but as long as I am happy in my work and private life I figure that everything else will fall into place. Fingers crossed.
Place you would most like to visit?
Italy. I would go tomorrow if I could. Between the fashion, architecture, culture, and food I may travel there and never come home!
Who has been your greatest inspiration?
My mother Billie. She is my heart and soul. She has always been my biggest cheerleader I don't know what I would do without her.

What is the one thing that you value most in life?
Personal relationships. At the end of the day, you can't take any tangible items with you. Only love and memories. My family, friends, and teammates make me who I am.
What is the toughest part about being a cheerleader?
The summer is a ton if work for our team. We learn all of our material for the season. We have photo shoots for our head shots and calendar, which means additional work outs on top of our practices and there is always a learning curve of a new team. However, don't kid yourself; maintaining a "sunless" tan all year long is tough.
Who are two people you would like to have dinner with?
If I had to answer seriously,
1. Michelle Obama
2. Vince Lombardi
But, if I got to answer for fun,
1. Ryan Gosling
2. Ryan Lochte
What is your favorite things to do in Denver?
I love that Denver has all four seasons. All year round there is a ton of things to do outside. I love going to baseball games, riding bikes, and running at Wash Park in the spring and summer. I also enjoy our annual Winter Park ski race in the winter and supporting all of Denver's sports teams all year long.
What is your favorite sport to participate in?
If kickball counts as a sport I am pretty fierce behind the plate.
What are the three words that best describe you?
Fun, fearless, loyal
What is your most prized possession?
My education. A close second is MAC foundation. God bless both of them.
What is your greatest accomplishment?
My greatest accomplishment is my dancing career. I have danced for both NBA and NFL teams. I feel truly successful, because nothing has given me more happiness in my life. Every time I get to attend practice or a performance, I am truly happy.
Kimberly

Kimberly is currently on her fifth year on our squad. This beauty from Newark, California, currently works as an accountant executive for a nutrition company. And if you thought Tara's first-round match up last year was unfair, she had the unlucky draw of facing the eventual winner, Patricia, in her first round match up.
What is the best thing about being a Broncos Cheerleader?
In all my 5 years I'd have to say the best thing about being a DBC is being able to do something I love, all while getting to make a difference in the community. I have met so many amazing people that have truly touched my heart and I am so thankful to have had the opportunity to hear their story and to allow them to make a difference in my life as well. I have made so many lasting memories!
What is your most memorable experience?
I have so many awesome experiences that I will cherish forever! It's definitely hard to pick just one, but I'd have to say going overseas last year to Iraq and Kuwait is definitely in my top 5. It was such a humbling experience and such a great reminder for myself that I have nothing in life to complain about. It was amazing to see what these men and women do for our Country.
How do you spend your time off the field?
Off the field I am usually doing something active outside and doing it with friends. Some of my favorite activities include hiking, running, water sports, barbequing and riding my bike.
What is your most memorable game?
My most memorable game would have to be last season when we did the military salute game. Ever since I was able to go to Iraq, I have had such a newfound respect for our military men and women. To be able to give them recognition on our field was an amazing thing to be apart of. What also made it so special was that a few people that I had met overseas were able to be in our military halftime show and it was SO good to see them again!
What is your occupation and how does the Broncos affect your work?
I work in the fitness industry, so being a DBC and being around fitness go hand in hand. It takes hard work, motivation, and discipline to eat right and workout. Being a DBC takes the same amount of dedication and I try to convey this to all my customers and clients by being an example for them and showing them that they can achieve their goals.
Who do you admire most in the Sports industry?
Athletes are role models to so many young kids. I absolutely love it when I see a humble athlete out there getting involved in the community and using their gifts and talents for a bigger purpose. Tim Tebow and Brian Dawkins are great examples of this.

What is your favorite book?
I love to read and get lost in a good book. My all time favorites are The Notebook & Tuesdays With Morrie. I also try and read from the Bible ever day. God is the reason I'm here!

Where do you see yourself in 5 years?
I have never answered this one in this way, but I can now say that I hope to be married with a family. Whether that is what happens or not, my #1 goal in 5 years is to be living life with no regrets and joy in my heart no matter where I may be at that point in my life.

What is the best thing about Broncos fans?
Broncos fans are so dedicated to their team. They are a huge part of what makes this experience so amazing. Their enthusiasm and excitement are very contagious. I love game day and seeing all the fans on their feet in the stands yelling and having a great time!
What do you do in your spare time to relax?
In my spare time (which is very rare these days) I love to read. Sometimes I have to stop myself from buying a book because I know that if I buy it my choices will either be read the book or stay up all night and get no sleep!
What is your best advice to kids?
Be nice to each other. When you see someone making fun of someone else, be that kid that stops it. Never make build up your own confidence by brining another's down.
What is the best gift you ever received?
The best gift I have ever received was on my birthday a few years back. I was surprised with a vintage, electric blue, Beach Cruiser. I absolutely love that thing and enjoy cruising around Denver on it.
What is your most important goal in life?
My most important goal in life is to live each day remembering how truly blessed I am. I have a wonderful family, amazing friends, I'm healthy, I cheer for the Broncos…the list goes on and on. I have nothing to complain about in life and I use these as reminders for when I am having a "bad day"

What place you would most like to visit?
I am hoping that next year is the year that I will finally be able to visit the Philippines! I have wanted to do this ever since I was a young girl. My dad grew up in the Philippines and I would really love to see the places he has talked about and learn more about the culture first hand.

Who has been your greatest inspiration?
My parents have been my greatest inspiration. They have taught me to value the importance of my family and my faith. They are the most unmaterialistic people I've ever met and I really admire that about them.
What is the one thing that you value most in life?
I value time with my family and friends. I've definitely been blessed with amazing people in my life and I want to spend as much time as I can with them.
What's the toughest part about being a cheerleader?
After 5 years, I can still say the toughest part is time-management. We all either work or go to school full-time and DBC is very demanding, but it is all fun and worth every bit of it. A planner is definitely a MUST to keep around. Without it I would be lost!

Who are the two people you would like to have dinner with?
The first person I would like to have dinner with would be a younger version of myself, let's say around 14 years old. I would tell myself to not worry about the petty things in life, to be nice to every one, to not judge, and to cherish every moment with friends and family because life just goes by too fast and we never know what tomorrow will bring. The second person would be Ryan Gosling… need I say more!
What are your favorite things to do in Denver?
My favorite thing to do in Denver involves anything that has to do with hanging with friends on a warm sunny day. Some things I really enjoy are barbequing in the park, going to Rockies game, working out outside, and sitting on a patio enjoying food, drinks, and a good conversation.
What is your favorite sport to participate in?
My favorite sport to participate in is any kind of water sport. I love the beach, the pool, or the lake. I recently just started wake surfing and my goal is to start doing some cool tricks tricks with that. Water and sun: who can beat that!
What are the three words that best describe you?
1) Friendly - I love meeting new people and getting to know their story. I love saying hello to everyone.
2) Compassionate - I believe this is what drives me to volunteer my time and what allows me to know that I am truly blessed. Being compassionate has always helped me try not judge others and be genuinely nice to people.
3) Nerdy - I've been called a nerd quite a bit in my life. I've learned to accept that it may just be true…I laugh at my own and others not so funny jokes, I talk to myself quite a bit, I get excited for board games, and I love to read.
What is your most prized possession?
My most prized possessions are my diaries and home videos from when I was a kid. I have diaries all the way back to when I was in 2nd grade and home videos from preschool! There are some hilarious memories there that I would have never remembered had they not been recorded.

What are your greatest accomplishments?
I'd have to say I'm in a place in my life where I can look back and see how the challenges I've had in reaching my goals have made me who I am today. A big goal of mine has always been to cheer for an NFL team. It took me a couple years, but I kept on pushing myself and finally made it! I feel I've achieved success in just knowing who I am and knowing that life is what you make of it.
So the sixth match up of our first round features two long-time members who both definitely deserve to move on. They both have a deep love for the Broncos and all the right priorities to deserve to win our contest. We can't go wrong this week... but that just means' it's going to be another impossible decision. As always, please feel free to add your opinions and any info you can find on these lovely ladies, and let me know if there's anything I can do to improve this series. Go Broncos!
Poll
Who is your favorite cheerleader?
40%
Tara (104 votes)

59%
Kimberly (150 votes)