Man, I thought we were done with all the cardiac games when Tebow left town. The trend has continued throughout this young season. Week after week, it's down to the end of the game to decide who wins. This time, the comeback was finally completed! 3 losses came just a Manning possession away from being 6-0. That's crazy if you really think about it. This is a brand new team with new philosophies and coaches. I knew not to get too high on this team during the preseason. I figured it would take a while for this team to gel and really get the gears cranking. Well folks, Peyton Manning is in MVP form since week 4! Now it's up to the rest of this young team to catch up.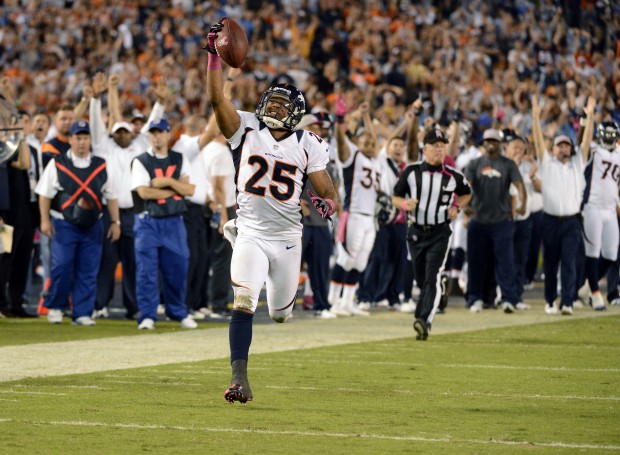 A Tale of Two Halves
That was the worst first half of football I've seen from any team in the NFL this year. Down 24 and this looked reminiscent to the Raiders beatdown we took in our own house. Turnovers just kept happening left and right and our offense just couldn't get moving. But this isn't Kyle Orton's team. PFM is amazing. To start the second half 13 for 13 and 3 TDs is just insane. As bleak as things looked in the first half, I still believed we were still in it. Manning just confirmed that as long as there is still time on the clock, this team will have a chance no matter how big of a hole we put ourselves in. As poor as our coaching philosophy is in the first half, their half time adjustments is unequaled. What ever happens in the locker room at halftime needs to happen in pregame warm ups. Our 4th quarter scoring difference of 79-6 is astounding. Is that some sort of record? I've never heard of such an accomplishment. Cheers to this team for never giving up and always fighting no matter how bad things are looking. They BELIEVE!
Get Off My Back, Bro
Someone tell McCoy to go take an extended bye. This offense could not get into any type of rhythm in the first half. The dink and dunk was failing miserably. The Chargers were coached up to come up hard on short patterns. Safeties were tackling our TE's 3 yards down field. Where were the deep throws? The safeties were obviously coming up in a hurry and our coordinator blew it off. Where is the adjustment? Clearly an adjustment was made at halftime. And that adjustment was for McCoy to just sit back and not say a word. Peyton took control and ran the hurry up offense like a hall of famer. Again, this is mentioned week in and week out. Why are we not running the no huddle the entire game? McCoy needs to give up the clipboard and just watch how an offense is run by arguably the greatest ever. It's like me telling Bill Gates how to build a web page.
Will the Real Defense Please Stand Up
We've seen flashes all year of what this defense is capable of. They have the "potential" to be great. Well, this game showed us the two faces of this defense. The first face is pretty dang ugly. We couldn't get any pressure and Rivers was cutting up the pass defense. He lead his team to what seemed to be an insurmountable 24 point lead. Then the gorgeous Alyssa Milano defense showed up in the second half. Players were aggressive and hungry to get to Rivers. He was rattled often which lead to 5 second half turnovers. They returned 2 of them for TDs. That's championship football. Turnovers were our only shot at winning after being down so much after the first half. Again, this is a new defense and they're still learning to play together. Hopefully we keep Alyssa on our arm the rest of the year.
The Mystery of Eddie Royal
This guy came out his rookie year and made his mark. He was a playmaker all over the field including special teams. He even had me convinced after nearly 1000 yards receiving that we had the next Steve Smith(the good one) on our team. Since then, his mark has dried up and is no where to be found. Chris Harris had Royal on lock all day long, even intercepting two passes intended for the ex-Bronco. One leading to the game sealing pick 6. Eddie said he was "on the right side of the rivalry". After several dismal seasons with disappointing return on investment, you definitely are on the right side of the rivalry my old friend. He's the same old Eddie Royal on the Chargers as he was for the Broncos. All the potential in the world his rookie year, to his NFL career being in jeopardy just 5 years in. He's just not a difference maker.
Shine Bright Under the Bright Lights
Monday Night Football! Only game across the country. The night before, we hear that our starting corner Tracy Porter was ruled out of this big game. I was interested to see who would step up. Well, I got two answers. Tony Carter AND Chris Harris! Both players accounted for 2 turnovers each and a TD to go along! What!?! That's outstanding production. We all knew the player Chris Harris was. And I can't say I'm surprised by how well he played. He's been pretty consistent since he's stepped on the field. The one time I've seen him struggle was against Welker last week, but he made the electrifying Eddie Royal look like a dud. Tony Carter on the other hand has seen his fair share of doubt here on MHR. He didn't really show me anything that warranted a roster spot, but clearly the coaches see more than I do. So glad we kept him over the aging Drayton Florence, who by the way is a starter for the Lions. Great to see the youth come up big under the big lights.
Youth Movement
I was very excited to see so many young players contributing to this win. Danny Trevathan showed great instincts on a run play where he shot up field to make a tackle for a short loss. Even Nate Irving made his presence felt the very first play he stepped on D. Our young DB's were in tight coverage all night. Rahim Moore has been a solid safety for us this year. He's not flashy, yet, but he's been pretty reliable since the regular season started. Derek Wolfe adds another sack and was in on a bunch of tackles. Outstanding value on a second round pick. Omar Bolden had several special teams tackles. He's this year's David Bruton! Orlando Franklin keeps getting better and Von is just on another level. Kudos to Elway for building a team through the draft and keeping the perfect balance of youth and veterans across the board.
Dancing with the Stars
I was thoroughly impressed with Peyton Manning's pocket presence. His footwork helped him move within a heavy traffic area and enabled him to get his passes off accurately. I was elated to see him dodge a rusher and then hurdle another right before throwing a strike to Stokley in the redzone. Peyton just has that 8th sense to go along with 3 eyes on the back of his head, or so it seems. He feels when he has extra time to analyze the play and when to get the ball out before it's too late. It's such a pleasure to see this guy leading the offense. I was skeptical when reports came out that we were interested in a broken neck QB. I was concerned we were giving up a promising future for a declining vet with a name. Well, I'm fully on board. I'd say I was on board 6 weeks ago, but I've stopped longing for what could have been...
Manning the Middle
I was skeptical of Brooking against the Raiders. I thought that it was just coincidence that our run D was so dominant that week. I thought Brooking was just too slow and took bad angles, but after a second week of him starting and our run D looking so good, there must be something more to it. I'm assuming it's the awareness and leadership of Brooking that has the run D playing better than when Mays is back there. We held a good running team to 3.3 yards per carry. That's winning football right there. Now if only we can cover a TE once in a while...
Come On Man
Eric Decker, you have an easy 85 yard TD right in front of you and you trip yourself? Come on man...Bubba Caldwell, you're supposed to be our 3rd WR this year ahead of an aging over the hill 36 year old Stokley. Stokley is scoring TD's every week and is probably as fast as Peyton. Come on man...Trindon Holliday, you were supposed to pump life into our return game. Then you fumble and spot the Chargers a TD. Come on man...
Peyton Manning Can't Throw to the Right Side
Little Quick Notes:
I'm so glad we didn't spend all our cap money signing Manning and Mario Williams! Some suggested we do such a handicapping move. Mario hasn't done much of anything for the Bills. Definitely not to the standard of his paycheck at least.
Only 2 teams in the AFC has a winning record! One of them being the decimated Baltimore Ravens. And Houston just got buzzkilled by the Packers. Even the Patriots are tied for last in their division! Home field advantage here we come!
Anyone hear from Cpt. Caveman lately? He was constantly talking about how great the Chiefs were and how they had arguably the most talented squad in the league. He even kept posting articles about his chiefs excelling in preseason like it was news worthy here at MHR. Just worried for him. Haven't seen him in a loooong time.
Well, we're in a bye week now. Stress free for this weekend. I can actually relax and enjoy the rest of the league. We got past the hard part of our schedule. Now it's time to run the show and go deep into the playoffs. Would anyone else be surprised if we run the table? Baltimore was the toughest opponent on the schedule. Well, until they started losing their whole defense. I know I'm drinking the Kool-aid, but Peyton has done this before. And he's already in top form......or is he? Go Broncos!