I have been doing a lot of remember when and imagine if posts. Now its time to delve into the world of mocking drafts.
This to me would be the perfect draft.
Round 1 - Michael Brockers - DT - LSU
NFL Draft Preview: Michael Brockers (via FoxSports)
Player Name: Michael Brockers

Position: Defensive Tackle
School: LSU

Height: 6'6

Weight: 306
A rather raw defensive tackle, Michael Brockers entered the 2012 NFL Draft unexpectedly. Brockers started just one season for LSU at defensive tackle, after making just one start and playing in every game as a redshirt freshman.
Finishing with 10 tackles for loss and two sacks, Brockers was a force in the middle of the LSU defense that finished #2 in the nation.
Strengths
Very athletic and versatile tackle, despite size. Frame doesn't suggest he should be as agile as he is, but he can move well laterally and also penetrate.
Does well penetrating and re-directing the play in the back field. Can move the pile at times, often needing a double team to completely take him out of a play.
Gets his hands up in the passing game which will help his already 6'6 frame bat down balls. Still has room to bulk up and grow, which is great for a team that wants a space eater.
Violent hands when trying to shed blocks. Just turned 21 in December of 2011.
Weaknesses
Inconsistent motor, sometimes taking plays off. Very raw, only having started one season and not being very fundamentally sound.
Needs to show more strength at the point of attack.
Lacks great tackling ability, sometimes just sticking a shoulder into a ball carrier, not bringing them down.
Seems to get gassed a bit easier than we'd like to see, but that may just be conditioning.
Overall
Michael Brockers has a ton of talent and has the size to go with it. His versatility will make him coveted by NFL front office's as they look for him to move to a five technique in a 3-4 defense, or continue as an interior lineman.
With more strength and work on his technique, he could be an All-Pro talent at either 4-3 DT or 3-4 DE, although five technique 3-4 DE seems to be the best fit.
Look for him to move up into the Top 20 range of the 2012 NFL Draft.
NFL Comparison: Richard Seymour
Round 2 - Doug Martin - RB - Boise State
Draft Preview: Doug Martin (via FoxSports)
Player Name: Doug Martin
Position: Running Back
School: Boise State
Height: 5'9″
Weight: 220 lbs.
40-Time: 4.55
Martin had a very productive career at Boise State, rushing for over 1,200 yards in his both his junior and senior seasons with 33 total touchdowns (28 rushing) over that span on his way to being named First Team All-Conference in the Mountain West each year. Even as a sophomore in 2009, he had 15 rushing touchdowns despite having just 129 carries. Quarterback Kellen Moore and the Broncos' passing game got more attention than Martin, and deservedly so in some respect, but it can be argued Martin is the better NFL prospect of the two on the heels of his strong showing in pre-draft workouts up to this point.
Strengths
- Has strong character, dedication and work ethic
- Has a low center of gravity, making it hard for defenders to find him
- Has a strong core, runs hard with good pad level and balance as well as excellent lean
- Flashes burst into and out of the hole, exhibiting good vision and instincts
- Shows good acceleration and straight-line speed
- Is a reliable pass catcher, and is flexible enough to catch passes that are not thrown perfectly
Weaknesses
- Lacks elite speed, and does not play as fast as his timed speed
- Needs work in pass protection, but is a willing blocker
- Is not overly elusive, and is a bit straight-linish through the hole
- Had issues with ball security at times in college, and will need to clean that up at the next level
- Often struggled against stronger competition in college, which creates concern his numbers may have been inflated by playing in the Mountain West
Overall
Martin projects as a three-down back in the NFL due to his ability as a pass catcher, and his intangibles along with his strong showings at the NFL Combine (28 bench press reps) and Boise State's Pro Day will get the attention of NFL teams. There will be some questions about his putting up nice numbers against weak competition in college, but his overall skillset may allow him to make an immediate impact as a rookie.
Martin is in the mix to be the second running back off the board in late April, and how he does in specific pre-draft visits with NFL teams should determine where he winds up. He stands to go off the board sometime in the early rounds, possibly as high as the second round.
NFL Comparison: Mark Ingram
Round 3 - Brock Osweiler - Quarter back - Arizona
NFL Draft Preview: Brock Osweiler (via FoxSports)
Player Name: Brock Osweiler
Position: Quarterback
School: Arizona State
Height: 6'7″
Weight; 240 lbs.
Osweiler had a very productive season in his lone season as the starter for the Sun Devils, as he threw for 4,036 yards and 26 touchdowns (13 interceptions) while completing over 63 percent of his passes. His size and arm strength has the attention of NFL scouts, and a good showing at Arizona State's Pro Day had NFL.com's Gil Brandt mentioning him as a possible first round pick. His overall lack of experience made it fairly surprising he chose to forego his senior season to enter the 2012 NFL Draft.
Strengths
- Has a strong arm, can make all the throws, and is accurate throwing the deep ball
- Displays good accuracy on all throws, showing good zip and ball placement
- Shows a commanding on-field presence and is a vocal leader
- Is a diligent worker
- Moves well in the pocket, particularly for a player his size
Weaknesses
- Only started one full season in college (15 games total)
- Operated a fairly simple offense in college, with limited pre-snap reads
- Shows only average instincts and anticipation, tends to stare down deep targets and telegraph his throws
- Is too easily derailed by pressure, and takes too many sacks
- Occcasionally drops his arm angle, which negates his height advantage
Overall
Osweiler may the most raw of the quarterbacks ranked toward the top of this year's class, and his upside potential may cause him to be drafted higher than his current skill set dictates. That said, sitting behind an established veteran could allow him to learn and develop before having to become a full-time starter and many teams that have such a veteran in place may be interested in him. The Denver Broncos reportedly had a privateworkout with Osweiler recently, so they appear to have strong interest in bringing him aboard as Peyton Manning's eventual replacement. In any case, Osweiler looks likely to go off the board somewhere in the first three rounds of the draft later this month.
NFL Comparison: Joe Flacco
Round 4 - Ryan Broyles - Wide receiver - Oklahoma
NFL Draft Preview: Ryan Broyles (via FoxSports)
Player Name: Ryan Broyles
Position: Wide Receiver
School: Oklahoma
Height: 5'10″
Weight: 192 lbs.
40-Time: N/A
Broyles finished his college career as the NCAA's all-time leader in receptions with 349, highlighted by his 131 catches for 1,622 yards and 14 touchdowns as a junior in 2010.
He missed the final four games of the 2011 season after suffering a torn ACL in his left knee, but still had a productive season with 83 receptions for 1,157 yards and 10 touchdowns in the nine games he did play.
He started 44 games during his four seasons, including all 26 of the Sooners' games in 2009 and 2010, so durability does not seem to be an issue overall. The injury has prevented him from working out for NFL teams up to this point, but he is reportedly ahead of schedule in his recovery and is expected to hold a private workoutsometime in April prior to the draft.
Strengths
Has excellent natural ball skills, showing ability to extend and catch the ball outside of his frame
Shows good quickness off the snap, and exhibits nice acceleration
Is elusive after the catch, exhibiting loose hips and quick feet along with toughness
Works the middle of the field effectively out of the slot, using his quick feet to create separation
Has experience as a return man
Weaknesses
Lacks ideal height for an NFL wide receiver and is thinly built, which may lead to struggles against press coverage at the next level
Does not have exceptional long speed, can be caught from behind
Not a strong blocker, but does show effort
Has only average run strength, which may be a bi-product of his lack of size as much as anything
May need to further polish his route running to succeed at the NFL level
Overall
Broyles' draft stock will be tied to the health of his knee, and if he shows he is on track to be ready to go by thestart of the season he could become a potential steal as a mid-round pick come April.
His college productivity shouldn't be ignored since he typically played against solid competition in the Big 12, and could be a worthy option for teams looking to add a slot receiver in the draft, as that is the role he is likely best suited to filling.
NFL Comparison: Davone Bess
Round 4 - Vontaze Burfict - Linbacker
NFL Draft Preview: Vontaze Burfict (via FoxSports)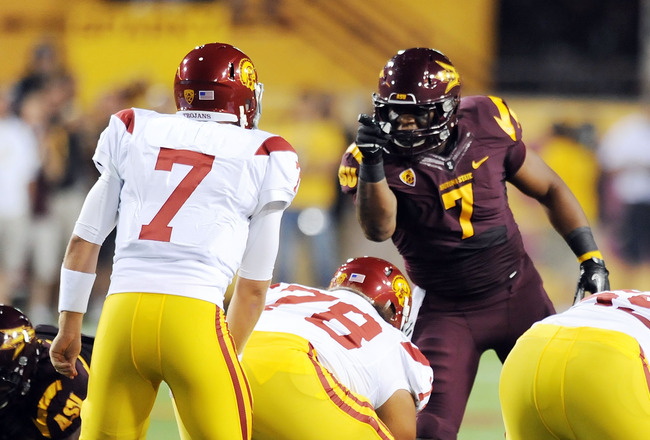 Vontaze Burfict, LB, Arizona State
Vontaze Burfict is one of the better inside linebacker prospects to come out in a few years. He has the size, strength, range and athleticism to be an every-down linebacker at the next level.
This Arizona State product really excels at tackling and working his way through traffic to find the ball-carrier. At 6'3″ and 250, he can take on blockers, disengage, and work up the middle. He has enough speed and lateral quickness to be effective in underneath zone coverage. However, he will need to improve in man-to-man coverage, whether it's tracking a tight end over the middle or spilling into the flats to get after running backs.
NFL coaches will need to work on his technique since he too often falls back on his instincts and athleticism. Whether it be pass coverage, footwork in zones or if he is tackling, he'll need to be mindful he is playing under control. In the past he struggled with keeping a level-head on the field– showing issues with keeping emotions in check.
Burfict will be a useful NFL pro and will nicely fit in a defense that needs their inside linebackers to show multiple looks. He can do it all, but will need coaching up to remain disciplined to his assignments.
Burfict projects as a first round pick in the 2012 NFL Draft.
Round 5 - Derek Wolfe - DT - Cincinnati
Derek Wolfe Highlight: 2011 Big East Defensive POY (via RepresentTheCFilms)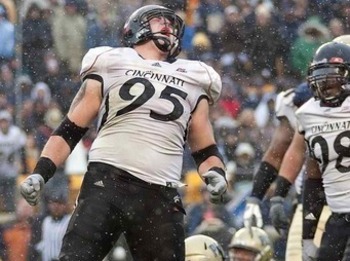 A tall, long-limbed defensive tackle who coils up well for a guy his size and looks a bit thicker in the mid-section/base than his weight would indicate. Can keep his base down off the snap and extend his arms into contact vs. the run game. However, lacks ideal natural anchor strength. Possesses decent natural power and did a better job keeping his legs under him as a senior. Uses his length well to shed, showcases some violence when asked to shed and finds the football well. However, simply lacks the physical make-up to simply hold up well at the point and too often gets a bit upright and knocked off balance through contact inside.

Also, did a better job in 2011 getting off the ball on time and playing with better leverage. Does a nice job extending his long arms into contact and will keep his base under him as a puncher. However, he's a linear athlete who doesn't initially overwhelm on contact, lacks the explosion to quickly get back into his opponent or side-step laterally. Works hard through contact and uses his length well to work himself free. However, isn't a real explosive or sudden laterally kid.

Impression: A high motor, had working kid who finds the football and uses his length to make plays. Doesn't have the anchor to play inside in a 43 front at the next level. However, as a two gap five-technique in a 34 he's got the skill set to fight for playing time in a rotation and create some negative plays vs. the run.
Round 6 - Ryan Miller - Guard - Colorado
NFL Draft Preview: Ryan Miller (via FoxSports)
At 6-8, Miller possesses the frame more so of an offensive tackle prospect than guard. He has the ability to sit into his stance and keep his butt down off the football. However, at his size it makes it tough for him to gain leverage on contact in both the run and pass game. To his credit he does a nice job creating a snap off the football in the run game as an in-line guy. Doesn't waste much motion and does a decent job keeping his pad level down. However, has a tough time gaining leverage. Allows defenders to get under him and can be initially overwhelmed on contact. Works his hands well in order to gain inside position and pumps his legs through contact. Plays with a mean streak and is tough to disengage from once he gets his hands on you, but isn't a guy who will be able to create a push routinely off the ball inside in the NFL. Looks coordinated on the move, can pull from the backside, breaks down in space and can hit/seal on his target. Is quick footed and coordinated for his size, steps and seals quickly, looks comfortable on slide down blocks and is effective on the move.

His leverage struggles show up in the pass game as well. Initially will allow defenders to get under his frame and can be worked backward on contact vs. the bull. Is longer armed and it takes him a while to uncoil his length, as he doesn't deliver a great punch into contact. Isn't nearly the velcro player vs. the pass he is vs. the run game. However, uses his length well when sliding laterally. Showcases good footwork/re-direction skills, can shuffle and slide in space, mirrors wells and uses his length to keep lineman from getting into his frame. However, isn't real heavy handed and too often can be easily disengaged from through contact.

Impression: The big guy can bend, but leverage is always going to be a struggle for him inside. However, he does have some natural balance/coordination to his game in both the run and pass game and in my mind is better suited to play as a right tackle at the next level in any scheme rather than guard.
Thoughts? This of course I think would be filling all needs. If the draft board went this way.