Okay so this is my first attempt at a Mock draft. I think it's in Denver's best interest to trade back into the early part of the 2nd round. The reason being is I think Denver is really looking at Wright or Kirkpatrick in the 1st at 25, but I think they'll be picked before us.
So with Wright gone, the Vikings in dire need of another playmaker at WR trade their 2nd(35th) and 3rd(66th) round picks for our 25th and 108th picks.
Broncos 2nd round (35th overall)
Select: Kendall Reyes, 6-4, 299-pound defensive tackle from Connecticut
CBSSports.com

Overview

Reyes played both end and tackle in college and didn't impress scouts as a pass rush threat until he outplayed some of the best offensive linemen in the country at the Senior Bowl.

He has good short-area quickness and will win most fights in a phone booth. This ability was demonstrated at the Combine, where he hoisted 225 pounds 36 times and surprised scouts with an unofficial 40 time of 4.79. Teams still appreciate his consistency against the run more than his threat as a pass rusher, however.

Reyes arrived at Connecticut as a 245-pound, three-sport prep star (including basketball and track) and developed into a big body without losing his quickness and agility. He started 42 games at UConn and finished with 31.5 tackles for a loss, 10th in school history.
The top 2 DTs in the draft in my opinion are Fletcher Cox and Kendall Reyes, the odds of Cox falling to us are very slim so us picking the 2nd best DT in the 2nd is a good way to start the draft. Reyes is an explosive player and if he doesn't get to the QB he uses his big hands to knock the ball down.
NFL comparison: Trevor Pryce(our Trevor Pryce)
Alternate pick: Alshon Jeffery WR, South Carolina
Broncos 2nd round (57th overall)
Select: Lamar Miller, 5-11, 212-pound Running Back from U of Miami(FL)
CBSSports.com

Overview

After doing well in his only full year as a starter, Miller has decided to enter the draft although many scouts think he needs to learn a little more in college. But with an eye on the cash and a concern over getting beat up in college, he is convinced it is, as teammates call him, "Miller Time."

He is a tough runner with deceptive second-gear acceleration, both of which serve him well as a kickoff returner. In his only full season as a starter last year, Miller finished second in the ACC with 1,272 yards rushing on 227 carries with nine touchdowns.

The third-year sophomore's career included 1,918 yards, 335 carries, 15 touchdowns, 28 catches for 181 yards, and 15 kickoff returns for 376 yards and his most memorable college play, a dazzling 88-yard return for a touchdown against Ohio State in 2010.
There's always a couple of players that fall in the draft because teams panic and overdraft players or pick players for their track team. Miller will need to work on his blocking if he wants to become an effective 3 down back for us, has tremendous speed(4.40 forty), great burst. Fast through the hole and a home run threat.
NFL comparison: Clinton Portis, Miller will become our first home run threat since well Portis played for us.
Alternate pick: Brandon Thompson DT Clemson
Broncos 3rd round (66th overall)
Select: Mike Martin, 6-1, 306-pound defensive tackle from Michigan
CBSSports.com

Overview

At 6-1, Martin is undersized height-wise, but he has a thick, compact build on his wrestler's frame. He fires off the snap with a relentless attitude and uses his low pad level and violent hands to tear through blockers.

Martin's long arms allow him to keep his opponents from grasping a firm hold of him. With good lateral agility, power and a relentless motor, Martin got the better of Ohio State's Michael Brewster, a possible top 100 pick, on numerous occasions during Senior Bowl practices.

Martin is an undersized nose tackle with loads of experience in a 3-4 defense. But he lacks a consistent anchor against double teams and just does not have the right frame to be an NFL starter. Because of his ability to penetrate against one-on-one blocks, Martin could be a solid rotation player in a 4-3 scheme as a three-technique tackle and move to the nose on passing downs.
A former High School wrestling champ, Martin is not the tallest DT in this year's draft but has a good bull rush and is able to get skinny to avoid double teams and has good short-area quickness to make a play in the backfield. I don't have alot of confidence in the DTs on our roster and I believe Martin could fight for the 3rd spot in the rotation.
NFL comparison: Tommie Harris
Alternate pick: Bernard Pierce RB Temple
Broncos 3rd round (87th overall)
Select: Sean Spence, 5-11, 231-pound OLB from U of Miami(FL)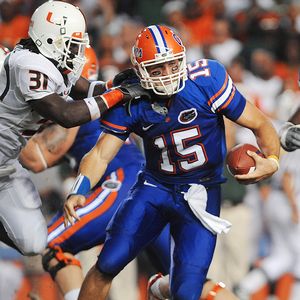 CBSSports.com

Overview

Spence does everything he can to overcome lack of natural size and strength. He is already a coach on the field -- something teams may note for the future -- and shows amazing recognition skills that result from intense film analysis.

Athletically, he reads and reacts quickly without wasted steps. Spence is not fooled often by play-action, and shows above average skills as a pass defender.

At the Combine, he said "I think I am a three-down linebacker -- very fast, I can go sideline to sideline, I'm a smart, very instinctive player. … I lead by example, and most of all I make plays."
Don't let the dreads fool you, this isn't another Nate Webster. Spence is undersized but Fox loves picking LBs that are undersized and fast, which Spence is at 5-11 and 4.56 forty. Read and react is probably his best asset, rarely gets fooled by good play actions. With DJ Williams looking at a possible 6 game suspension, this pick will add depth to our OLBs.
NFL comparison: James Anderson
Alternate pick: Chase Minnifield CB Virginia
Broncos 4th round (120th overall)
Select: Joe Adams, 5-11, 180-pound WR from Arkansas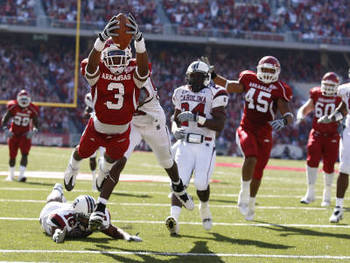 CBSSports

Overview

A four-year starter, Adams was a top-10 cornerback/receiver recruit out of high school, choosing hometown Arkansas over Florida, USC and Oklahoma. He saw playing time as a true freshman in 2008 (7 starts), recording 31 catches for 377 yards (12.2) and 1 TD, adding a passing score. Adams again started 7 contests in 2009 as a sophomore, finishing with 29 receptions for 568 yards (19.6) and a career-best 7 touchdowns, earning Second Team All-SEC honors.

Adams is an exciting playmaker with natural explosion, foot speed and electric burst, wanting to score on every touch, but too often backtracks and loses yards in search of the big play -- an unpolished pass catcher who needs to work on the little things, but offers immediate value as an impact return man, which pushes his draft value into the top-100 range.
Adams is a playmaker who whenever gets his hands on the ball is a threat to take it to the house. Has 5 career Punt return TDs, dangerous weapon with some offensive versatility also has experience lining up in the backfield and taking hand-offs (2 rush touchdowns, 1 pass score in his career). Plays faster than his 4.55 forty time, been known to talk alot on the field but I think Manning will straighten him out.
NFL comparison: Jacoby Jones
Alternate pick: Ryan Lindley QB San Diego St
Broncos 5th round (137th overall)
Select: Jake Bequette, 6-5, 275-pound
CBSSports

Overview

A four-year starter, Bequette (beck-ETT) was a three-star defensive end/tight end recruit out of high school, choosing hometown Arkansas over Kansas State. After redshirting in 2007, he saw immediate action in 2008 as a redshirt freshman (11 starts), recording 27 tackles, 3.0 tackles for loss, 1.0 sack and one pass breakup. Bequette played in all 13 games in 2009 as a sophomore (8 starts), finishing with 39 tackles, 9.0 tackles for loss, 5.5 sacks, two pass break-ups and two forced fumble.

Bequette is a stiff, upright runner with one-speed and limited explosive qualities, but is tough to stop when he is playing at full-go with intensity -- mid-round pick with borderline pro starting traits who won't wow athletically, but fights through the whistle and gets the most out of his ability.
A relentless rusher with a competitive attitude, an overachiever and rushes like every play is his last. Good vs the run, also has a very good bull rush move and will abuse blockers while attracting alot of holding penalties. I think that Bequette will be the steal in our draft.
NFL comparison: Jared Allen
Alternate pick: Ryan Miller OG Colorado
Broncos 6th round (188th overall)
Select: Levy Adcock 6-6 320-pound OT from Oklahoma St
CBSSports.com

Overview

A decorated three-sport star in high school who gained 30 pounds his senior year, Adcock is a late bloomer who took the junior college route to Stillwater. He coasted as a sophomore at OSU but made a stronger commitment in 2010 and '11 with the athleticism and long-term potential to attract teams in the later rounds.
Adcock will have a private workout with the Broncos in the upcoming days. Has good natural athleticism, quick to pickup edge rushers. Will fight to the end of the whistle, but strugles vs stronger pass rushers.
NFL comparison: Tyler Polumbus
Alternate pick: Junior Hemingway WR, Michigan
There you have it Bronco Country, my dream draft for the 2012 season. Agree? Disagree?