Whew! Where do I begin. Thank the heavens some positive posts have started filing in! For a minute there... I lost myself (Thom Yorke.... anyone?). I was starting to feel real nervous, even though I knew in my gut there was no reason to be. No offense, but the open draft threads here at MHR during the draft, tried their very best to ruin this special and much anticipated time in the NFL junkie's world, for everyone else who cared.
I don't know how many of us view our draft as an epic bust. I don't know an exact number. But let's just say the swarm was out to kill. Like a dozen or so drones let out the attack phermone, and a good portion of the hive followed suit. I haven't seen MHR that negative since..... oh yeah.... it's not the first time. In the hive's defense though.... this franchise has seen about two decades worth of change in a four year span.... so..... semi understandable I guess.
At the end of the day though, why would anyone bash the Broncos? Because their big board didn't match up with yours, or CBS Sports??? I promise.... EFXR are smarter / wiser than us. It's too easy for us to sit here at our PC's and pass judgement. We don't put in the mind boggling man hours to make this team a contender.
Let me ask all of us here a serious question, please? How do any of us know what this draft class is capable of doing or not doing? Bruce Irvin could be the next Lawrence Taylor, and Morris Claiborne could be the next DeAngelo Hall. How is any negative judgement being passed right now? How are any of us supposed to take it seriously?
What purpose does dogging Elway serve (someone even acted like this was his ticket out the door - HAHAHAHAHAHAHA x infinity)? Let me put it this way to you... if a Bronco fan of old, that somehow got frozen in a time warp in 1999, suddenly popped back into the present day, and took a gander at those open draft threads.... he most certainly would know (not think) that the Denver Broncos were at the lowest point in team history. No doubt about it.... the mighty Bronco had fallen. And the one time savior of the franchise, rode it into the dirt... HARD!!!! The biggest face plant of all time!!! Seriously peeps...... was it THAT bad?
I'm pretty sure there are still some level headed, non dramatic fans out there (what is it with the dramatics these days?) who see this for what it really is - the Denver Broncos, lead by business and football savvy John Elway, stuck to their board..... they stuck to THEIR evaluation of the talent at hand -- not WalterFootball's!!! They did not waver once, or worry about what we thought. They only had one thing at heart and in mind... improving the Denver Broncos!!! Perhaps Madden has become a reality these days.... but you guys do realize, in the real world, there's not a whole lot of difference between a low first rounder and some third rounders.... right?
Perhaps Ronnie Hillman, Derek Wolfe and Brock Osweiler were mere 4th round prospects to some teams.... but it doesn't matter!!! It's irrelevant!!! To the Denver Broncos front office, those players were the tops of the available talent left on the board. Also.... keep this in mind.... EFX had better feelers out there than we did - as to what other teams might snag these guys before we get a chance to pick again.
At pick 25, EFXR (Russell) didn't feel like there was any player - in that talent bracket - that couldn't be had with the 36th pick as well. Smart move... if you ask me. We turned our wheelings and dealing's out of the first round, into a high 4th round pick. We then turned the lowest of our now three 4th rounders (and our third - which was also low), to gain ground all the way back to the top of the 3rd, for a kid who's exactly the type of runner this team's needed for a long, long time (he just might not be YOUR guy).

People of MHR, let's really take a deep look at these players.... keep an open mind.... and realize that Todd McShay, Mel Kiper, and Mike Mayock, don't know the Denver Broncos and what the Denver Broncos need, more than John Elway, Matt Russell, John Fox, and Brian Xanders. Remember folks, there is no definitive, invisible line that separates a 3rd rounder from a 4th or 5th!!! EFXR got their men, for THEIR scheme!!!
Round 2, Pick 36 - Derek Wolfe (DT/DE - Cincinnati Bearcats)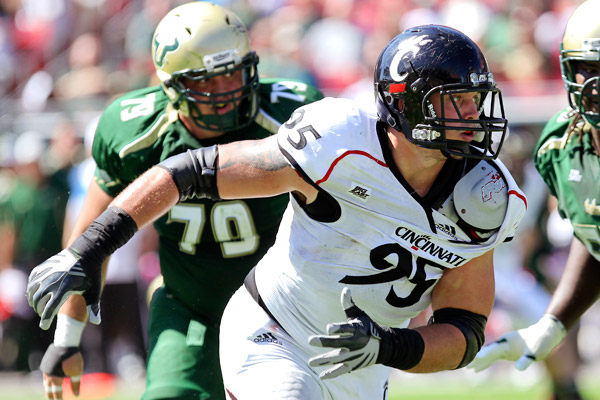 Personally.... I'm crazy about this kid!!! The Big Bad Wolfe is a classic throwback player.... a lunch pail and hard hat type of guy, with a motor that was unmatched by any DT in this years draft. The epitome of a worker bee. Who would you rather have..... a guy that's going to give his all on every single snap, or a guy like Worthy, who you have to pull on passing downs cause he's disinterested and tired? That's an easy one if you ask me.
Derek Wolfe, IMO, was the best pass rushing, pocket collapsing, high motor DT in the 2012 draft. With Peyton Manning at the helm.... isn't he exactly what we needed? A guy who can get after opposing QB's, who are trying to play catch up. I can't imagine how sick our pass rush is going to be now that we have an interior rusher..... QB's can't just step up into the pocket anymore to evade VonDoom. In return, Wolfe will help push players into the gaping jaws of death we have on the edges.
Don't get it twisted though folks.... Wolfe isn't JUST a pass rusher. He also doubles as a stout run defender, and could easily add 15 or so lbs. of bulk to handle NFL O-lineman better. He will help to stop the speedy backs of the AFC West, in the backfield, before they get a full head of steam. We haven't had a true penetrating DT since.... IDK.... Trevor Pryce? Bertrand Berry?? Wolfe played a lot of NT in nickel/dime packages, so he knows how to handle his own. Look... I know the Big East isn't the SEC, but I've seen several big time, top-flight, SEC DT's flop straight on their faces in the NFL.
This kid was an absolute burr in the Mountaineers ass when we played the Bearcats last year. Very rarely do you see hustle from the 1st to 4th quarters like Wolfe has. I also love the fact he's a long, linear athlete..... well built and strong as a bull. Wolfe has the one trait I absolutely love in trench players..... he's a BIG-UGLY-NASTY football player, who plays with a chip on his shoulder. The staff will have no problems motivating this kid!!!
Just because Wolfe wasn't the big name you guys wanted (Worthy, Thompson, Still, Reyes, Brockers), doesn't mean he won't improve this team immensely. He was Mel Kiper's 8th best player available (not just DT) when we took him, and Mayock said he was one of the most solid players in the entire draft. Mayock went on to say, when watching tape of Wolfe, you'd be hard pressed to find many mistakes. This kid eats, breathes, drinks, sleeps, and lives football.... takes it as serious as a person can, and will be a much needed leader on the interior of our D-Line for years to come. Great pick!!! One of the only knocks I've heard on the Big Bad Wolfe, is he struggles fighting off double teams. That shouldn't be too much of a concern here, cause O-Lines will have their hands full with VonDoom.
Round 2, Pick 57 - Brock Osweiler (QB - Arizona St. Sun Devils)
Denver Bronco fans, meet your 1st round, future franchise QB, who we just managed to steal in the late 2nd. It's a mystery how he lasted as long as he did..... Tannehill is no better. If Brock would have stayed in school another year, we'd be talking about a top 15-20 pick here. This kid has everything in spades that cannot be taught. You either wake up in the morning with his arm strength, size, and athleticism.... or you don't.
A former basketball standout, Brock has a chance to be the Antonio Gates of QB's..... a big, tall man, who should not move as fast and quick as he does. Yes..... he's super raw, and to a team that needs an immediate starter, he doesn't have the same value. But we do not need an immediate starting QB.... we have Peyton freakin Manning!!!!
Brock is going to have a rare opportunity that few young QB's ever get. A chance to learn for multiple years under the smartest, coach on the field QB, to ever play the game. It's an old school approach that is tried and true! Look no further than Aaron Rodgers or Philip Rivers to see what sitting and learning can do for a green QB. Add in Brock's natural ability, and we could have a world breaker on our hands folks. I don't understand this sentiment that the FO is confused..... do they want to win now? Do they want to win in the future? Are they confused.... lacking direction? Do I really have to explain this? THEY WANT TO DO BOTH!!!
I applaud them for not cornering themselves into this, "we have to draft guys who will help us win now!" mentality. How many 2nd rounders come out each year who win Super Bowls single handedly for their teams? This is where that Madden, invisible line comes into play again...... OH NO.... WE DRAFTED THIS KID A WHOLE 12 SLOTS BEFORE HE SHOULD HAVE GONE, THE WORLD IS COLLAPSING!!!! Silliness!!!
When you have an opportunity to grab your franchise QB.... you do it.... NO HESITATION!!! I'd say that Elway knows a little somethin' about QB prospects..... maybe just a little more than your average blogger. LOL! Brock has the chance to learn from not one, but two Hall of Fame QB's. If he can learn some of the refined parts of QB play, such as using his eyes to look off defenders better, then outer space is the limit. I may be way off here.... but I like his chances.
Round 3, Pick 67 - Ronnie Hillman (RB/RET - San Diego St. Aztecs)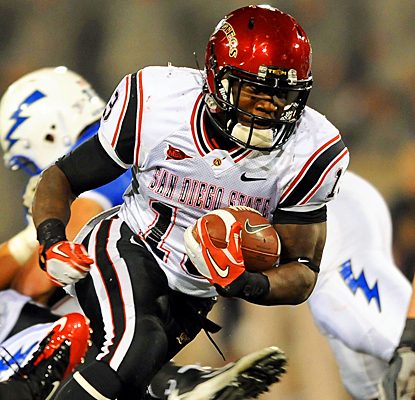 Fast, quick, elusive, home run threat to score on every play, durable, scheme diverse, can pound it, good receiver, and a nasty return man...... sounds exactly like what we all wanted out of our new RB. Oh wait!!! You pigeon holed yourself into thinking that Lamar Miller, LaMichael James, or Chris Rainey were the only backs in this draft who could do all that I listed above. Wrong people..... you were wrong (as I have been many times myself).

I personally think Ronnie Hillman is a BEAST!!! Very rarely do you find a skill position guy like him, go through two different schemes in college.... and not only acclimate himself.... but absolutely beast in both of them (not just running either.... he caught the ball out of multiple schemes and formations as well). He's not the biggest guy in the world, but very dependable and durable.
Hillman averaged 23 carries a game for the Aztecs.... and his college production was good enough to shatter several records held by Marshall Faulk there at SD St. Reminds me of a mix between Darren Sproles and Ray Rice. Hillman was one of John Gruden's favorite players in the entire draft.
Let's give this kid a chance before we start calling for Elway's head, why don't we. Whining and crying does not become us..... we aren't Charger fans. The only holes in Ronnie's game are his blocking is shoddy (McD is gone and we want our RB's to attack now, not chip block every play), and he has coughed the ball up a few times. I know one thing for certain though.... Peyton Manning is going to love him some Ronnie Hillman.
I'm so glad this kid isn't a Charger (and Brock isn't a Chief... and Wolfe isn't a Raven). When you watch this kid in interviews, you can see why any team fell in love with him. He has that disarming smile and charisma that any FO would love. Add in his immense talent.... and we have ourselves a keeper. This kid is faster than Knowshon peeps. However, I'm not knocking Knowshon. If he could stay healthy for a change... I think we'd be singing his praises.
Round 4, Pick 101 - Omar Bolden (CB - Arizona St. Sun Devils)
EFX steals a 2nd round pick in the 4th!!! You should all be happy lil' campers they've upgraded the D-Backfield like they have!!! Bolden is one of the strongest CB's I've seen..... he benched 225, 25 times (better than some O-Lineman) at the NFL Combine. Very big looking for his size, and athletic..... Bolden was a 1st team, All Pac-10 player, before he tore his ACL and missed the entire 2011 season.
Had he played, we could be talking about a 1st day selection here. More quck than fast, Bolden has the fluid hips needed to be a great man coverage Corner. He is also a great return man (we needed a couple of those) with good acceleration and field vision. I think, if he stays healthy, Bolden could be our #2 corner in a year or two. Durability and his ball tracking are two things he needs to work on.
Round 4, Pick 108 - Philip Blake (OL - Baylor Bears)
I am so thrilled we finally spent a draft pick on quality, interior O-Line depth! That's not to say that Blake can't beat out Walton OR Beadles though. Either way.... our interior needed competition. Blake is bigger than our current starters on the interior.... all of them. He weighs in around 322 lbs.
He is older for a rookie, at 26, but many feel he'll be a day one contributor. John Fox said at the Senior Bowl, Blake absolutely stoned every DL he went against in pass pro. If his hands got on them, they went nowhere fast!!! Sounds awesome to me coach!!! He will push the other young guys on the line. Blake is also a stout run blocker, and has the size/power needed to push the pile. I've heard multiple analysts say that Blake will be a starter at Center for us in a year or two!!! No offense J.D. Walton, but I'll take it.... considering Philip Blake's size. Blake needs to work on his footwork and balance.
Round 5, Pick 127 - Malik Jackson (DE/DT - Tennessee Volunteers)
First off... what really jumps out to me about this kid is his size. Tall, and long, Jackson is 6-5ish, 275 lbs. of pure potential. Honestly.... he could probably play just as well as Robert Ayers did when he first came out, but as a 5th rounder (Ahhh.... McD). This kid is a run defender first who can be taught the intricacies of rushing the passer with time. A great depth pick, and a solid find in the 5th round. He's a high ceiling player - we need depth with the loss of Derrick Harvey (not that he did anything while here, but we still needed to replace his body).
Round 6, Pick 188 - Danny Trevathan (OLB / SS? / MLB? - Kentucky Wildcats)
My guy...... right here!!! I literally fist pumped when I saw we made this selection. I knew from the very first time I saw this kid play that he was a John Fox Linebacker. I'll go ahead and include my scouting report on Trevathan that I posted a few months ago. It can be found here (Derrick Wolfe was in it as well):
http://www.milehighreport.com/2012/2/2/2766390/players-the-we-should-look-at-from-my-neck-of-the-woods
Physical... explosive... productive... athlete!!! Any team in football could use another player like Trevathan (even if just as depth). Trevathan added bulk this year without losing any speed whatsoever, which is a good sign moving forward. He may be one of those guys who jumps insanely up the charts after a strong Combine showing. 4th in the nation in Tackles.... Danny Trevathan totaled 143 Tackles, 11.5 TFL, 3 Sacks, 4 INT, 5 FF, and 3 PBU's this season alone (sounds like a careers worth of stats doesn't it).

Trevathan has elite pursuit skills and immense hit power to violently take ball carriers / QB's to the ground. His blitzing is also great for his size / position. I feel he has the speed & athleticism to play SS in the pro's (possibly even MIKE under Foxy). He was 7th in the nation in Tackles in 2010, with 144, to go along with 16 TFL, 3 Sacks, and 4 FF. Highly productive college player right here.
Danny Trevathan reminds me of a young London Fletcher.... I seriously think this kid could be a star, not just an average starter, down the road. Keep in mind.... Danny Trevathan accumulated these gaudy stats in the SEC.... on arguably the crappiest team in the SEC (Kentucky has no QB, or at least HAD no QB of note last year). If it weren't for a lingering pulled hammy, my buddy who follows the Wildcats closely said it would have been nothing for Trevathan to clock in at a 4.50 flat forty (or better).
If healthy, we could be talking about a 2nd or 3rd round pick here. He's not going to wow you with his physical strength, but make no mistake about it, this kid is a perfect form tackler (Woodyard), but has some hit power Woodyard only wishes he had. Trevathan will be a lights out Special Teamer from day 1.
* * * * * * * * * * * * * * * * * * * * * * *
Thanks for taking the time to read this MHR! Even if some of you still disagree that our draft wasn't as good as I think it is, I at least hope it helps you see that the sky is not falling. All is well in Broncos Country tonight.... we have more bases covered than we did before this offseason started. Goodnight all, peace to you and yours!!!


R.I.P. Junior Seau...... I'm sure you're sitting atop the pantheon of football gods as we speak. God bless x2!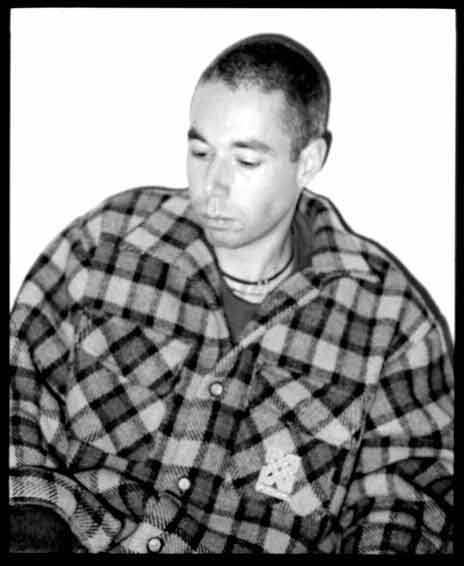 R.I.P. Adam (MCA), you are much loved brother! Thank you for all the great music you've impacted me with throughout the years!!! We'll meet one day in the Intergalactic!!!