Well I'm not sure how long it's going to be before we can get this contest up and running this year because the Broncos' website still hasn't finished updating all of the cheerleader profiles (most are done, but some still have only half the info and some have none at all. I emailed the site about it, and they said they have all the info and will hopefully have it updated soon, but that was a few weeks ago). I was hoping to get this contest run on the main page this year during the offseason, but since it looks like we'll be well into the games that count by the time this really gets up and running, I'm guessing it will have to remain in the fanpost section this year. But, since they've had the overall roster page (with the thumbnail pictures) finished for a little more than a month, I've been able to work ahead a little bit and at least get the bracket made and a few other images to prepare us for the upcoming contest and remember last year's cheerleaders who aren't on the squad any longer.
Last year's winners
First of all, I thought it'd be good to honor last year's winners. For those of you who followed the contest, you'll remember that I screwed up the final vote by adding pictures that could be considered unfair. You have my word that won't happen again. So, those of you who want to remember Nikki in 1st place have every right to do so. We also never had an actual third place match, but judging from past vote totals, the choice was pretty obvious to me. In the future, we will actually vote for this place. But, without further adieu, here are last years winners for one last look:

The retirees
While there are seven cheerleaders who aren't returning this year, one in particular hurts the most. Nikki is no longer with our squad. This ruins all chances at a second chance for her to win the contest or even get a fair re-vote between her and Patricia.That said, all seven will be missed and I'm terribly sorry if one of your favorites is among them.
The Rookies
The only thing that can take away the pain of losing seven of our cheerleaders is taking a quick peak at the seven who replaced them. And let me be the first to say, we did one helluva great job filling their shoes. I can't wait to see how far some of these ladies will make it.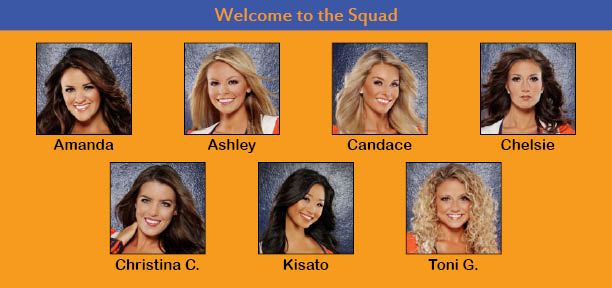 The Bracket
There was a lot of debate last year as to how to properly fill out the bracket. Last year I used a random number generator and the women fell where they did. For this season, there were plenty of ideas on how we could properly judge their positions, but it seemed like they would all take way too long. So, I decided to let you judge for the most part where they go. This years bracket follows last year's voting. The higher they placed/more votes they got, the better position they were placed. The seven rookies filled in the bottom seven spots with a random number generator hopefully giving the vets a little bit of an edge, unless the rookies truly deserve to move on. Here's how the bracket came out (and just like last year, you can click on the image to see the full bracket).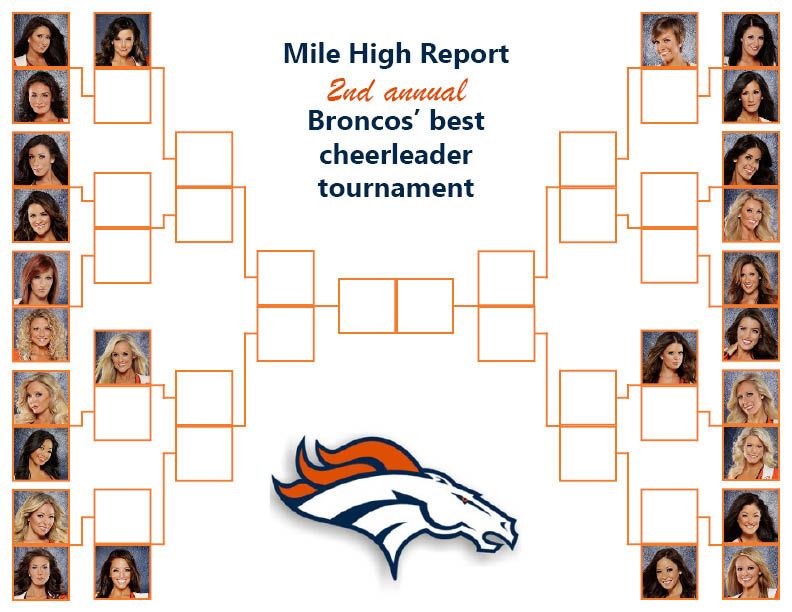 So that pretty much sums up what we have to look forward to this year. There's still plenty of time to change things up if you notice any major problems, so feel free to let me know about them or anything else you'd like to see this year. And as always, go Broncos!