Life feels normal again now that we have football back in full swing. It was a great first day of football with plenty of surprise break out players throughout the league. RG3, wow. Good job rookie. And they played a powerhouse Saints team that was looking as good as new in the preseason without their head coach. Luck, eh, playing with a poor Colts team. Good luck this year. The paper champ Eagles looked terrible, again. The defending champs got beat at home by Romo and Orton. Chris Johnson still sucks after getting his big money. He's the reason front offices balk at paying their players before their contracts are up.
On to the real story. THE Denver Broncos. Starting on primetime, of course. Denver is back in the national spotlight, and for better reasons than the circus we had last year. I was/am a huge Tebow fan but my loyalty belongs to the Broncos first and foremost. What an electric atmosphere in Denver. The fans were outstanding and caused several penalties on the Steeler O-line. We need to keep that momentum throughout the season and get back to being unbeatable at home!
When I say jump, you say "Mile High"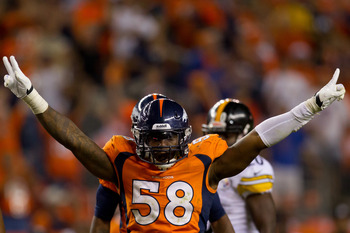 Defense Wins Championships?
Even though everyone in the country wanted to see how Peyton was going to perform, I was more excited to see our defense. It got off to a great start with a quick 3 and out. Unfortunately, the Broncos offense took longer than we had wanted to get rolling. We were losing the field position game early and often. Fortunately our defense has matured and went with the bend a lot but don't break philosophy. There's a lot of work to be done but the best news is, this is game 1 with a brand new defensive coordinator, again. Things will only get better. Now let's keep everyone healthy.
Playmaker
Tracey Porter has just become the greatest corner to play opposite Champ Bailey in just his first game. He was all over the Steeler WRs and wasn't scared to mix it up and make some solid tackles. He even went stride for stride with one of the fastest receivers in the game in Mike Wallace and even had the ball skills to break up the pass. Sure we've seen plenty of fast DBs but they couldn't make a play when the ball got there. We have seriously upgraded this position. It's real early, but this guy is playing for a new contract and he seems to be worth every penny. Defensive game ball!
The Brain
Peyton Manning was outstanding! Of all the QBs around the league, Peyton was the one I hated playing against the most. A 2 point lead with 90 seconds left in the game was too much time and I hated it. Now a 2 point lead with 90 seconds left in the game is too much time and I love it! He had such control over the game. I'm not sure if he always did this for the Colts, but I guess I never got to appreciate it like I do now. Wow were the Colts "Luck"y. I'm so excited for this season. His first game at home and already he has orchestrated a 4th quarter comeback win.
"Huddle? We don't need no stinking huddle"
The no huddle offense looked outstanding. It's going to be real tough to stop this offense if they keep improving week after week. Our receivers were getting great separation on each play and Manning was finding the open person. It's satisfying to know that your QB will give you the best chance at succeeding on each snap of the ball. Relieving to know that your QB is going to do the right thing with the ball. It was a clinic out there.
Unfortunately, as good as our no huddle offense looked, our defense looked equally bad when the Steelers executed theirs. I'm going to give our D a pass this time because the time of possession was heavily in favor of the Steelers. It's tough to play efficient defense when your offense was out on the field for just 2 plays in an hour span. Doesn't help that Big Ben was the QB and he's done these same heroics for his entire career. Now if it was Brandon Weeden doing it, then I'd be concerned. The bright spot is we only gave up 1 TD!
The Duke of Hazzard
A great big THANK YOU to John Elway. The man is still pulling miracles for the Denver Broncos. In just a 2 year span, he has constructed a team that is the 3rd favorite team to win the Super Bowl according to Las Vegas. That is amazing considering we are just a short 1.5 years removed from the McDaniels project. Elway has put out a product that is a serious contender. I believed he would be great at running the franchise, but never did I think he would do it this fast. He has built a defense that is scary good with even more potential. This will be a top 10 defense if not top 5. The steelers won 12 games last year. This was no tune up game. This had a playoff atmosphere to it, especially being on primetime. 6 sacks and more to come. 3 to end the game!?! That's ridiculous. The Steelers had no chance and I love it!
1st Game Jitters or Same Ol' Same Ol'
Missed tackles! What is going on. There were so many missed tackles out there that for a good portion of the game, there was doubt we would win the opener. Thankfully, this isn't the same Broncos team of the recent past. Still, Joe Mays is missing tackles in bunches. I was pleased to hear that he has improved since last year, but I definitely didn't see it last night. Missed tackles almost cost us the game and kept us on the field on 3rd downs. Knowshon had a great play to score that TD, but clearly there was confusion out there. Manning took a sack in what looked to be a missed assignment by Moreno. He also went the wrong way on a Peyton audible where The Freaking ran for a first down! I won't get on KM too hard but I'm sure the coaches, Peyton included, were not too happy with it. Hopefully we can blame all these deficiencies on it being the first game.
The Great Wall
I just finished mentioning the missed assignments and sacks given up, but the Offensive Line played beautifully throughout the game. 1 sack was a missed assignment by Knowshon and the other sack was Peyton's fault when he didn't adjust the protection to the correct side and left a man unblocked for the sack. Knowshon made the right choice in blocking the inside guy, which you should always do. Other than that, Peyton had all day in the pocket to pick the defense apart. Precise route running and Peyton's ability to process the play in lightning fashion made it seem like no one was covering our receivers all day long. There was so much separation whenever the ball arrived at the receiver. That's what happens when the ball is released before the receiver makes their break. Outstanding anticipation by the QB along with great route running and even better pass blocking. This is going to be fun to watch!
Little Quick Notes:
Derek Wolfe was a man on a mission. All I kept hearing was about this kid's motor. He displayed great athleticism and determination in recording his very first sack. He played outstanding for our DL which as a whole shut down the Steeler rush. The DL went from being a weakness to being a strength(thanks again Elway). I'm hoping he starts doing a signature celebration dance whenever he gets a sack. Something wolf like. Any suggestions?
Demaryius Thomas is so fast that the Steelers really should double team him on every play. On what was a short screen which figured to gain 9 yards went 71 instead. Outstanding blocking by Clady and Zane but Thomas showed the NFL exactly why they won in the playoffs last year. He left everyone in his wake as he just kept getting fast and faster. No one gained an inch on him once he turned on the jets. Optimus Prime!
It was awesome to see Peyton playing with the Steeler defense every time they showed their hand. Loved how Peyton regrouped not once, but twice on the same play after seeing Polamalu creap up to the line of scrimmage. Sorry Troy, not today. We have a QB that's way too smart to let you make a play. This was truly awesome!
Now let's move on and stay healthy. Go Broncos!