I know I know, it's already Wednesday. I haven't actually given up on our Broncos, just real busy at work. Better late than never I guess. Seems like it's been so long. MHR doesn't even look the same anymore. Can't say I like the change. I'm trying to accept it, but it's going to take a while. Change is always tough. Compound that with how tough it is to find anything on this site now. Oh well, move forward.
Our Broncos are 1-2 but that's not as bad as it looks. Our 2 losses came down to a 3rd down stop with 2 minutes left in the game to 2 of the last undefeated teams in the NFL. Don't be so gloom. These were two very good teams that juuuuust escaped with the win. Champ was within 2 inches of breaking up that 3rd down conversion. It's a game of inches. Just like last week, no doubt in my mind that we win this game if we got Peyton the ball back with 2 minutes left in the game. Another week, another loss. Rant on...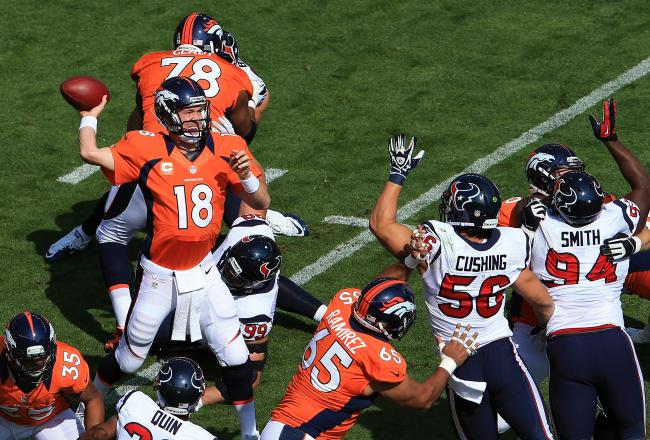 Come On Back Kuper
Teams have figured it out. Attack Manny Ramirez. Find the weakest link and attack it. Manny had a rough day. And he's going to keep having rough days until Kuper is back in the line up. J.J. Watt just made it onto my fantasy team because of what he did to our line this weekend. Ramirez is improved, but still not good enough to start. Kuper couldn't come back soon enough.
My Time to Shine
Is it me or does everyone have their personal bests against the Broncos? Schaub throws his first 4 TD game when they're more known for their rushing. Tom Brady throws 6 TDs in the first half, record. Christian Ponder, Colt McCoy and Sam Bradford all had their best games of their careers to that point against the Broncos. Even Jamarcus Russell looked great and lead his team to a victory. McFadden always burns this defense and Janikowski even tied the NFL record for FGs. Are teams actually excited to play against this defense every year? Corey Dillon ran for 278 yards against us too. We're even in football commercials getting beat by other teams. I was hoping this kind of thing would stop this year, but from the looks of it, we're still the same old D.
Calling All Rushers
Where is this pass rush? I was lead to believe that our pass rush was something most teams dreamed of having. Well, we seem to be dreaming because it's not showing up on game day. 1 sack on the day on the very first play of the game. Then nothing for the next 57 minutes of regulation? Schaub lit up our defense. To the point where our week 1 hero, Tracy Porter, was benched. Or was he? I didn't get to hear the first part of the game because I'm in Rhode Island and that lame Jets game went into overtime. I didn't hear of Porter getting injured so I figured the blown coverages lied in his lap. Looks like without this vaunted pass rush we're supposed to have, our DB's are going to be watching from the bench.
Mmmmm DROP
Even without the blamed "left-handed" spin on the ball, our receivers seem to actually be dropping more passes this year. Especially against the Texans. What's going on here? Decker was touted with having some of the best hands coming out of college. Something like 3 drops in 500 catches. He's far from sure handed in the NFL. Even the Dreesen TD slipped through Decker's hands for a pinpoint TD. Great throw by Peyton by the way. Terrible execution by the receiver.
He Dropped the Ball
Lance Ball....bleh. Really, why is he still active on game day? He lets a pass go right through his hands on what would have been a 3rd down conversion. Though Moreno gets a lot of heat at this site, he would have made that catch. When given the opportunity, you have to seize it. Ball just doesn't do it for me. Glad to see Hillman finally active, but would have liked to see Ball as the inactive. Moreno fits this offense perfectly, but we're still not using him the way we should. Hope Hillman gets more and more action every week because I don't want to see Ball on the field unless injuries happen. And then at that point, just cut him and sign someone else!
Pro-Bowl Nickel?
Maybe they should add this slot to the pro-bowl voting. Chris Harris has been a stud! Except for one play, he was on lock down. He was making sure tackles and blanketing his opponent. We're very fortunate to have found this guy. He is a weapon on our defense. He locks down the slot better than anyone I've seen in the league. I'd vote for this guy if there was ever a designated nickel for the pro-bowl.
Fair Catch
Can we PLEASE find a legit return man? Leonhard used to be good at punt return, but he's clearly lost a step and isn't quick enough for the job. Decker is a waste back there. Worst thing that ever happened was that he returned a punt for a TD. He doesn't have the quicks to get the job done. His TD was a little deceiving because he had perfect blocking on the play. He's not going to make people miss and that's what you need in your returner. It's just painful to see our return game. I'm just glad we haven't turned it over. And that, I'm thankful for.
Focus, Maaaan
3 Personal Fouls and 45 yards in 1 drive that leads to 7 points and we end up losing by 6....Unacceptable. Though the calls were pretty close, the players must know by now that the league is trying to protect these guys. The two roughing the passer calls were pretty lame to me. Our guys got there as the ball was being thrown. Not like they took 2 steps after the ball had already been released. The helmet popping off definitely didn't help. Again, undisciplined things like this is what loses ball games. And it just did.
Consistency Is Key
Rahim Moore has quietly been having a good season. He was all over the field against the Texans making sure tackles. That was one of his problems last year, missed tackles. He lead the team this week which isn't necessarily a good thing, but at least he's not missing the tackle at the second level. Now we need him to start ball hawking out there like he was drafted to do, but at this point, The Dream is not the problem on this defense.
Little Quick Notes:
Prater is still money. Glad(fantasy wise) he finally got involved in the game after 3 weeks. But it's reassuring that he's still the man. Money well spent.
Champ is still playing at an ELITE level. He's been quiet which is really good for a CB. QB's are still staying away from the old man. He came within inches of stopping that 3rd down conversion at the end of regulation. Schaub just got away with that one. I'm certainly glad this old geezer is still on our team.
Though Peyton didn't throw any INTs on record, he could have easily thrown another 3 this weekend. Luckily the Texans DB's can't catch for squat. Let's keep an eye on this poor decision making Peyton's been guilty of the past 2 weeks.
Does anyone see Demaryius slide at the end of the 3rd quarter like Decker did? Me neither...
Elvis Dumervil's awareness on screen plays have really improved. I've been noticing all season that when Doom feels the blocker let him go, he quickly stops his pursuit and drops into coverage for a screen. This is something I rarely noticed Doom do so it's great to see that his game is still improving. Come to think of it, this defense hasn't really been getting hit by the screen like we did last year. And that's a testament to our coaching staff.
Why do these games seem so similar to last year's magical run? Except for actually winning at the end. The very slow start on offense and eventual surge at the end of the game.Give me Tebow back! Just kidding...

Julius Thomas....anyone have any issues letting this guy go for Virgil Green? JT is non-existent on the field. Virgil comes back from suspension soon, so who do we drop? JT is like the Al Bundy of our team. "I scored 4 TDs in 1 preseason practice once upon a time".

I know I'm being overly critical here, but can't really reward too many performances after a loss at home. I understand this is just the 3rd game these guys have played together. I'm in no way saying the season is lost and that the Peyton pickup was a bust. I know this team is still learning each other and is no where near a finished product yet. I guess that's a positive...It's rivalry week. Go Broncos!