I apologize for missing last week's post. The holidays were so hectic for me. Between working for a company implementing 4 new systems for our call center, a new custom cake business my wife and I opened in the summer(www.kamicakes.com) and the hustle of Christmas/New Year's, I just didn't have any time whatsoever, but of course I put aside enough time to watch the Broncos play. Multi-tasking to the MAX. Enough of that, time for football.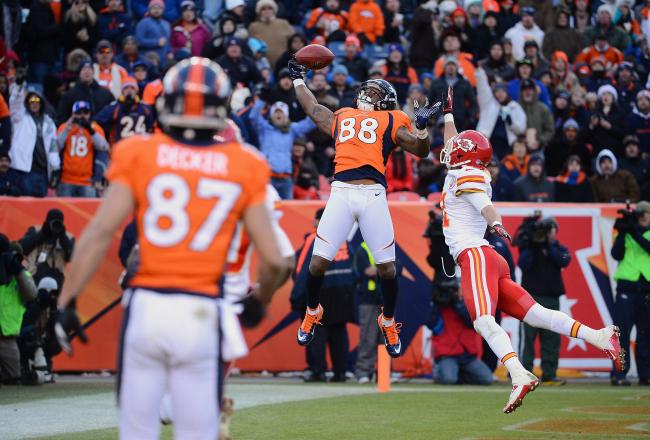 Full Steam Ahead
We got off to a fast start on both offense AND defense. Except for a stretch between the 1st and 2nd quarters, this was a totally dominant performance for 3 weeks in a row. We are in playoff form. Just in time too. I can't remember the last time we looked this good as a football team. Offense was moving the ball and putting points on the board. Knowshon wasn't statistically significant, but he made plays out there and found the endzone. The defense was getting after the quarterback and stuffing the run. You could even see the progress being made as we are now starting to sniff out the screens which was clearly evident in last week's game against the Browns. This team is READY! OUTSTANDING coaching throughout the year as the team progressed week after week. This is a complete team that is peaking at the perfect time. Who would have ever guessed that our Broncos would be the best team in the NFL to end the regular season? Especially starting off 2-3. The Lombardi trophy comes through Denver. AWESOME!
Peyton Precision
Peyton's career has been well documented. As a Colt, I witnessed him tear our Broncos apart. He is arguably THE best QB to ever play the game, but I didn't really grasp how amazing he was and still is until he became a Bronco. Now that I get to see him week after week, I'm seeing what every Colts fan saw for 13 years. He is so pinpoint accurate that our receivers aren't even open and he fits it into windows that you only see good quarterbacks fit 1-2 times a game. His passes are always about 2 inches outside the reach of the defender and right into the receivers extended hands. It's so impressive and we're so very fortunate to have this legend playing for our team.
Breaking Through the Rookie Wall
I was excited to get Derek Wolfe in this year's draft. Just wasn't sure he would be our first pick. Well, that pick is definitely paying off. He hasn't had a Suh type of rookie season but this kid is playing past many expectations. We needed interior pressure when we started the season and this beast of a child was the answer. 6 sacks and still going strong and ending the regular season with a 3 game sack streak. Usually rookies start to break down due to the extended NFL season compared to college, but week 17 might have been his best. He was all over the field sideline to sideline. First round production drafted in the second. Excited that this guy is a Bronco. He reminds me a lot of Richard Seymour. Would love to see his career produce in the same manner. Let's keep that sack streak going in the playoffs young man.
I'm Focused, Maaaaan
That stretch after Hillman's fumble was annoying. Great job by the defense to hold them to just 3 points, but then our offense looked sloppy on the very next possession and actually went backwards and punting. With past teams, this was the start of a snowball effect that lead to an upset defeat. I've seen it happen time and time again in the past decade. Overlooking a lesser team and falling into a trap game. For a second I had that feeling that we will follow suit. Then I remembered this is a TOTALLY different team. This team is so focused on the task at hand that they went on a 31-0 scoring run. This team has not shown any signs of letting up. They are actually getting better week after week just like what they've been preaching. I'm just as excited to see our defense as I am our offense. How many games have we started this season with a 3 and out on defense? So impressive.
Player Progression
The most exciting thing about this team is watching the obvious progression of so many players on the team. In year's past, we'd have a team that played well at times, but pretty much stayed the same throughout the season. Players just played to their ability and usually it just wasn't enough to make a difference come playoff time. With this year's team, you can visually see how players are improving week after week. I've already mentioned Derek Wolfe up above, but he's not the only one getting better. All of our receivers are catching every pass thrown their way. In the beginning of the season, I couldn't help but mention how we constantly dropped passes. Nowadays, our receivers are making 1 handed TD catches. Decker has been quietly unstoppable of late. And DT has been a nightmare for every team this year. Congratulations to Decker and DT for being the first 1000 yard pair since the glory days. Rahim Moore also had another outstanding game. Many were questioning his selection in last year's draft especially when it was a disappointing rookie season for him. He really turned it around this year and has been a solid to great player for our defense. Congrats to him for recording his first career sack to go along with 8 tackles and 2 for a loss. That's an aggressive game plan having your safety making tackles in the backfield. Kudos for JDR for switching up his calls throughout the season and confusing every offense we face. Across the board players are improving week after week and is primed for a championship run. Even Virgil Green has been a blocking machine and hauled in two more catches. He's one of the players I'm real excited to see develop. Of all the talk with Julius Thomas, I think we already have a gem in Virgil. You could clearly see his athleticism when he has the ball in his hands and his blocking has been exceptional. Especially when the knock on him coming out of college was his blocking ability. Dreesen and Tamme have both had solid seasons, but I wouldn't be all that surprised if they weren't brought back. This team has been built for now and the future.
Little Quick Notes:
Jacob Hester has been another outstanding pickup by the staff. I always thought he had the ability to be a contributor on offense. He wasn't really utilized in Sandy Eggo, but he always seemed to make plays when he played against us.
Opposing team's only choice is to play a lot of quick routes because of all the pressure we bring with just 4 guys. We held the Cheifs to just 29 total passing yards! What a rush we can bring! This team is the perfect example of complementary football. Total package.
We grinded out 32 first downs against the Chiefs!
Lance Ball had a great game, but still can't make anyone miss in the open field. #opportunitytoshinefail
When it's an obvious passing down, why not bring Von EVERY single time? I don't like that we drop him into coverage on obvious passes. It's really not maximizing his ability. Let someone else drop into coverage. I don't care about the whole, confuse the QB stuff. Von rushing is already adding plenty of havoc in the backfield.
Well, that's my write up for the week. Again I apologize for missing last week. Things have finally calmed down and we are now waiting to see our next opponent. Not being a homer, but this team is the most complete and hottest team in the entire NFL entering the playoffs. We get an extra week to rest and I'm not concerned about the whole rhythm issue. This team is completely focused and lead by great veterans that are hungry to make a statement to the doubters. Doom mentioned it in the preseason. Teams think it's all fun and games in Denver, but the team is not messing around. They're here to win a championship. I'll see you guys in 2 weeks and hopefully that won't be my last write up. And if any of you are in the Rhode Island area, I'm still waiting for someone to order a Denver Bronco cake! We can even make a helmet out of cake. Check out our site. I'd love to pick up more Bronco fans as followers.