I apologize for the delay of this week's review. I'm currently in Las Vegas and I had to settle for NFL Redzone while "mingling" at Wet Republic at MGM. Sure it was a party scene, but you couldn't find me away from the closest TV. It was nerve racking and I just had to settle for clips and pieces as Red Zone kept switching back to the barn burning Cardinal/Panthers game. I had to pay for NFL Rewind just to get a more focused review of the game. And what a game it was. After scoring 51 points, a 50 burger for the second week in a row, there is PLENTY of ranting to come. 48 points to the Cowgirls is unacceptable. This is a clear LOSS if we didn't have an offense that's currently on a historic run. There's definitely things to fix on this defense, but fortunately, there's plenty of weeks left before it's do or die in the playoffs.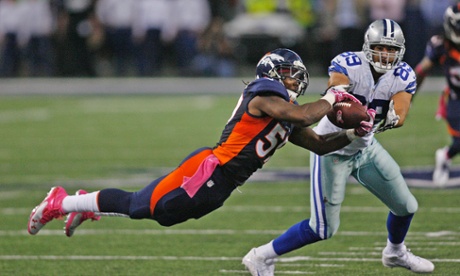 "It Was All Good Just A Week Ago"
Our secondary used to be a strength. Until Chris Harris Jr. goes down and then all of a sudden a Cole Beasley(who?) is running rampant in open field. This guy had just 47 yards, but they were huge yards including a lead taking TD. Apparently, we couldn't cover this second year player from SMU. He caught every pass he was targeted with and converted first downs. The worst part was, 3 other receivers accumulated 400+ yards between them. There's this misconception that we don't need Champ out there. Look, Tony Carter may be "Stickyman" but he has been "missingman" way too many times this year. He's the DB other teams target week in, week out. His tackling is what keeps him from being a starter. His piss poor attempt at that 82 yard TD by Terrance Williams(again, who?) was just sad. I've heard others say it would just be a minimal gain if Champ was in there is just way off base. Tony Carter is what he is, a mediocre DB with great cover skills...only. Champ is a HUGE upgrade and he can't come back soon enough. We need him in against the Jaguars to knock off that rust of not playing since the preseason. Even DRC came back down to earth as he looked like he was wearing an Eagle jersey. He was pretty irrelevant out there. Dez had his way with pretty much everyone, but Kayvon Webster. He's been a player that is progressively improving. Maybe it's Champ's mentoring program that has this kid playing better than expected. Omar Bolden on the other hand, is a waste of a roster spot at this point. He hasn't made a single play on defense. He's letting guys get free releases and just doesn't have the ability to cover anybody. I don't want to give up too soon on this kid, given the coaching staff's track record for developing young talent. I just don't think he should be on the field because he's a liability and other teams know it.
Chink In The Armor?
Ok, I'll give the defense a pass this week. They almost cost us dearly by giving Romo his career best game. The first 4 weeks, they played pretty well and I considered all the points given up as garbage time. Definitely helps that the offense puts up 70 points a game, but this shootout brought out into the light where we're lacking. I'm doing my best not to knee jerk here. Dallas was playing at home and had their best offensive outing. Of all the star QBs and Super Bowl victories to go through Dallas, Romo was the first ever to break 500 yards. Maybe our pass defense really is that bad. Von and Champ will help tremendously, but injuries will continue to happen and we'll need our depth to improve. Giving up 48 points in the playoffs will lead to an early exit. Can't keep expecting the offense to put up 50 a game. It's unfair to them. They're the ones going over every play as a unit. Why aren't we hearing the defense do this? Clearly, they're the ones that need the extra work.
Comeback Player Of The Year?
It wasn't all that long ago that Knowshon was inactive for the first 7 weeks last year. Remember that? He couldn't even beat out Lance Ball to suit up on game days. Now, he might be the most valuable player on the offense outside of the Freaking. He has really turned the corner of his career and he's cruising at this point. He came up huge when we needed him the most, in a shootout. It's a tough task asking a RB to run as hard as he can to get a first down, but not gain another inch and power into the endzone. He's been an outstanding receiver out of the backfield and he's stonewalling blitzers coming for Manning. He has emerged as our bell cow and he's earned it. And to think, he was inactive for a good part of last year and his time with Denver looked dire. He makes me proud to back him week after week and I'm glad we didn't give up on him. He's now averaging 5.1 a carry and has 4 TDs in 5 games. His pass blocking is what I'm most proud of because we know Manning is in good hands.
The Juggernaut Keeps On Rolling
Is there any doubt that this offense won't score when they get the ball? It's more of a surprise nowadays when they don't put up any points with a possession. There's just too many weapons on this team and at least 2 guys are open on every play. And with Peyton at QB, he already knows who it will be before the snap. I've never seen such a stacked offense. And all the historic records dropping every week confirms that statement. Big credit to Chris Clark. The front offense knew exactly what they were doing when they gave him a 2 year extension right after Clady was lost for the season. Sure he get's help more often than Clady, but he's on an island plenty. And he's facing the opposing team's best rushers. Demarcus is an All Pro player and he was shut out by our "downfall" left tackle. He's impressed me each week and he's only going to get better, just like Manny Ramirez from last year. Everyone was crying about having Manny in at Guard after the J.J. Watt beating, but he kept improving with more game time experience. To the point the naysayers were saying Kuper never should have replaced him in the playoffs. That's what I expect from Clark as we move on. Now, if we suffer another injury at the position, all bets are off. Even with all these weapons, we have an elite special teams. Great with the coverage unit but even deadlier with the returns. Then you add in Money Prater and it leads to a game of zero punts. Prater is earning every penny of his rich contract. He's perfect on game deciding kicks. He's having a career year where he might actually be the best kicker in the league. Like this offense really needed it.
TD On The Set
It's good to see Terrell Davis on NFL Network. I think he's doing a great job and he doesn't make himself look like a fool in front of the camera. With so many talking heads talking outrageously on these NFL shows, it's good to see a well spoken TD in front of the camera. Jamie Dukes is just a fool and Shannon Sharpe isn't really known for his proper annunciation. I like Willie McGinest and Heath Evans is just ok, but someone really needs to cut off Brian Baldinger's pinky. Stop waving that thing around. Don't even get me started on Skip Bayless, pfft. TD is one of my favorite Broncos of all time and I'm glad he's out there showing these other tools how it should be done.
You Don't Know What You Have Til It's Gone
Sounds like Robert Ayers is more important to the pass rush than people wanted to admit. Not to discredit Shaun Philips and his team leading 5.5 sacks in 5 games, but you could notice the difference without Ayers in the lineup. One of Shaun's sacks even took 3 pass rush moves just to finally get to Romo 6 seconds into the play. What I noticed from Ayers is his improved hand play. Instead of just bull rushing every play, he's winning the hand battle and it's getting him past LTs. These are team's best offensive linemen. He's now averaging just under a sack per game. He may be one of our most improved players and it's showing. He's also tough as nails as he got hurt early in the game only to come back in and beast his way to another sack on a bum shoulder. Is he really going to be the one to lose out on snap counts once Von returns? I'd have to see it to believe it. He's one of our better players on defense. I don't see how you can bench him. Back to Shaun Philips. He's been a god send to this defense especially when you take into account Von's 6 game suspension. Without Shaun, we don't even have a pass rush. I never understood the infatuation everybody had with John Abraham and Dwight Freeney especially with Philips out in the market. He was the guy I wanted to go after and I knew it wouldn't cost an arm and a leg that the other two "big names" were demanding. Philips has been a consistent pass rusher and I was surprised he wasn't being mentioned along with the other two.
Little Quick Notes:
Last week I ranted about Colquitt not playing up to his contract. Well, apparently the coaching staff and front office noticed it too and brought in a punter for a try out. Better get your ish together Britton. This FO doesn't accept mediocrity. Not on this juggernaut.
Are we ever going to have a 10 INT player? With so many teams being forced to pass and catch up to the juggernaut, I'm surprised we aren't picking more passes off. Rahim was labeled a ball hawk, but I have yet to see it with his 3 career INTs. Hopefully Von brings that number up starting week 7.

JDR, please get rid of the zone.
Are opposing kickers enemies? Or are they a brotherhood that doesn't consider the rivalry as seriously as other positions?
Anyone else notice Nate Irving run down Dez Bryant? How about Omar Bolden chasing him down 80 yards down the field. Talk about team speed.

Vasquez called for a penalty. Won't see that often.

Welker already has more TDs than he did all of last season with the Patriots. Welcome to the Land of Touchdowns Wes.
Anyone else notice Troy Polumalu trying to jump the snap count? I'd like to see him try that against the Broncos. Peyton will play him like a fiddle.
Sack Count: Ayers 4.5 - 3 Doom
Well, that sums it up folks. Again, apologies for the late write up. We won in a barn burner. There's some positives from this game. It shows the younger players that even though we're on a historic run, we're still vulnerable. This game will refocus the team. Usually this comes from a loss, but fortunately we're better than that. The team knows that any given Sunday, you need to stay focused and play how you're expected to play. Injuries definitely have bearing on how this game played out, but injuries are part of the game. Can't be used as an excuse. Have to play through it. Patriots lost Wilfork, Falcons lost Julio Jones. Just have to overcome adversity and keep moving forward. We're only 1 week away from Miller Time. Count me as more than excited to see my favorite player back on the field. Go Broncos.