Von, we love you bro, but what the hell is wrong with you?


It all started with a fax machine blunder. Wishy washy and flip flopping like a teenager, Elvis Dumervil finally made up his mind that he wanted to be a Bronco. After a gut wrenching month, we finally were able to settle down a bit... Elvis most certainly DID NOT leave the building. And then 2 minutes later happened. Was it the front office's fault cause the final proposal was changed a bit? Was it Doom's fault because he was so late with his decision? No one will ever know for sure. All we do know is.... it felt wrong. A different bad taste started to form on the back of our tongues.
And then July hit. Matt Russell and Tom Heckert both decided they were 18 year old thugs, and went joy riding with a vengeance. Bad taste in our mouth # 3 & 4 (the playoff loss was #1). Oh well... at least they weren't players. We can live without a couple executives. The sky hasn't fallen yet.
Before July is even in the past we all tune into our favorite football outlet, and WHAM... Von Miller suspended for 4 games? It's substance related? No! Nooooo! Not Von. Not Mr. Defensive Denver Bronco Football! I mean, this guy is a pillar of the community and a great human being, right? Probably, but as a human, Von Miller made a mistake. Unless this entire thing is a screw up by the league or a urine tester, Von Miller more than likely made a bad, bad mistake. Ok, the sky has finally dropped on top of our heads... there's no room to breathe. Wrong....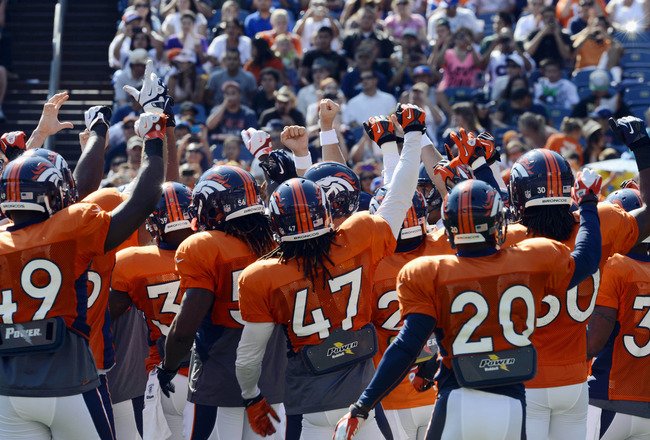 We have Peyton Manning!
We have DT, Decker, and now Wes Welker!
We have a nice Tight End core. Orange Julius just may have finally made that leap!
Albeit injured, we have a nice O-Line.... Clady is a Bronco for the foreseeable future!
We have a good, well balanced coaching staff!
We have some intriguing young RB's!!!
We finally have some talent in the D-Tackle rotation!
We have some exciting rookies and newcomers!
We have Jack Del Rio... for the second year in a row? Get out!
We have guys like Chris Harris, Derek Wolfe, Ronnie Hillman, Zane Beadles, Wesley Woodyard, who have another year under their belts, and really, really want it!
We have a CB core that should scare the daylights out of opposing QB's!
We have a defense that is hungry to correct the mistakes of Playoff Past!
WE HAVE A TEAM!!!!

One man doesn't win a Super Bowl! Ask John Elway! Ask Pat Bowlen!

Besides, Von may even get this thing overturned. He seems fairly confident he will and we've had no reason to doubt him until now. Maybe it doesn't get completely thrown out... but there's a possibility it can still get reduced. At the very worst it's 4 games. Four games into what is being viewed as the easiest schedule in football!

Let's assume the worst. Von Miller is suspended for four whole games. Let's take a look at the schedule, shall we?







Week 1: Ravens - It's at home. This ENTIRE TEAM.... not just Von.... is HUNGRY to redeem themselves against these villains in black. Anyone who thinks that Baltimore is the same team from last year is fooling themselves. Anquan Bolden is gone... Ray Lewis is gone... Ed Reed is gone... Paul Kruger is gone... Matt Birk is gone... Danelle Ellerbe is gone. That's better than half their leadership gone right there. Sure, they added some pieces in return, but not HOF, all-time, franchise leading guys like Ray-Ray and Ed Reed. No way on earth are they going to make up for that in one year. Joe Flacco is not an elite signal caller. Yes, he's an elite deep ball thrower, but we have some extra help against that this time around. This is still a competitive team, but let's get real. This is more than likely a 9-7 team, and not a repeat Super Bowl contender. Oh.... and we still have Peyton Manning.
I know Eli, I know. It stinks to lose to big bubby.

Week 2: Giants - This is a road game, so that makes it a little more stout. The Giants are about due for a big year again. Still.... I think we stand more than a good chance of winning this game. No way does Peyton drop a game against his little bro. Not on TV. This is year two for us with Peyton... with Del Rio. We have more than Von folks. I think we go into the Meadowlands and eat their lunch. The Giants aren't a perfect team. Oh... once again... just to reiterate... we have Peyton Manning.
Week 3: Raiders - Ummm, do I have to say anything else? Of course not, but I will. I think this is the game that our ground attack really gets going. Not that we'll really need it or anything, since our aerial attack will carve the Faders up nice, but I think Foxy and Studes will show off the mustangs in the garage for this one. This is also a home game at Mile High! We hate the Raiders... what's more demoralizing than getting ran on early and often. The Raiders have lost so many talented players (Seymour, Wheeler, Tommy Kelly, Huff). Yeah, they signed a 38 year old Charles Woodson and Josh Cribbs, but it's not going to be enough. No QB on that roster is going to do squat against Manning, who, by the way, we still have,
Week 4: Eagles - Once again, a very winnable game. It's at Mile High! The Eagles are very flawed. The D is weak as water... the O isn't what it once was. The O-Line is mangled. The secondary is a joke (this section should end right there.... their secondary is a joke/we have Manning). Chip Kelly was a mastermind in college... personally, I don't think he's the second coming of Jimmy Johnson in the pros. I don't even think he'll be a decent coach, I think he'll flop and run back to the college ranks with his tail tucked between his legs. I could be wrong about that, and in a couple years he may assemble a team.... but that year isn't here yet. What QB on that roster is going to win a shootout with Manning? Vick? Matt Barkley? HAHAHAHA!!!! Not even close. Sure... Von would help us win this game, but it's very attainable without him. In fact, I think it's a given. WE HAVE PEYTON MANNING!!!



Keep the faith Bronco Country! Von Miller is the best thing to happen to us in a long, long time, but we may not end up losing him for any time at all. If we do, it might only be a couple games (if it's reduced). If it all stands... four games isn't forever. We have a team finally! I promise you.... our team isn't crying. Our team isn't worried in the slightest. Peyton Manning has that calming effect on a team. We're going places with or without Von Miller, Matt Russell, and Tom "Who?" Heckert. At the very least, our pass rush may suffer a little.... that's it. We almost beat the Ravens without a pass rush last year. We can do it this time around, if need be. Matt Flynn and Mike Vick can be smashed without the worlds best pass rush!