I would like to begin this Fanpost by stating in my opinion the areas of need the Broncos have in order from greates to least.
1. Safety (preferably hard hitting to compliment Rahim)
2. Defensive end - We need a guy that can get to the quarterback to play opposite Malik/Wolfe.
3. Guard- I do not think Beadles is coming back and I think that we can replace him with someone better, for cheaper anyway.
4. Inside Linebacker- I think Irving should be given a shot at Mike instead of always being put behind Von but if the coaches don't see it then I think we might go ILB early.
5. Wide Receiver- I don't think we should draft a reciever in the first 4 rounds as Peyton has a history of making every receiver look like a stud. I think the FO will however since it is so important in this offense.
6. Cornerback- This is a position I don't feel is quite as pressing as many people do but since having talented corners is important we will probably go corner early.
Now on to the Mock
Round 1 Pick 31- SS/FS Calvin Pryor (Louisville) 6"2" 208
This is the hard hitting physical safety that our defense has been missing since Brian Dawkins' first year here. Bleacher Report says that scouts see Kam Chancellor in him. We need a guy who can lay the wood and consistently make tackles that prevent big gains. I like Nacho and thought we had the safety of the future during the pre-season but after an inconsistent season this year I think he's better suited for a special teams role. We'd be lucky to have him drop to us here and I would be elated. Here are some highlights of Pryor.
http://www.youtube.com/watch?v=jzHPP54WvUI
Round 2 pick 63- CB Kyle Fuller (Virginia Tech) 6"0" 195
Kyle Fuller is a 4 year starter that is known for his consistent tackling in run support (something we needed a against the Seahawks). He may not be an elite athlete but he is a solid corner. As long as he is not freelancing will not be overmatched. He pulled out of the Senior Bowl due to injuries which may allow him to drop to us and I think it would be wise of us to take him.
http://www.youtube.com/watch?v=G8o-aandA74
Round 3 Pick 95- OG Anthony Steen (Alabama) 6"3" 309
You know what every team cannot have enough of? Alabama offensive lineman. An experienced 3 year starter who has gone against the best the SEC has to offer sounds like a pretty solid pick to me. He does not have prototypical size but is very technically sound and would be a very good replacement to Beadles. Has a solid base and will give Peyton the two seconds he needs to get the ball out.
http://www.youtube.com/watch?v=2TikMvQgl5k
Round 4 Pick 127 - WR Devin Street (Pittsburgh) 6"4" 190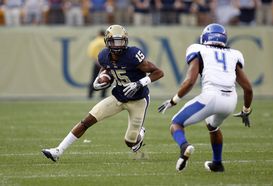 Smart receiver who has soft hands and catches everything thrown his way. Doesn't have top end speed but his skill set stacks up well with Eric Decker and I think he is the type of receiver Peyton will love. Pittsburgh's all time pass catcher.(which is saying a lot considering Larry Fitzgerald went there!)
http://www.youtube.com/watch?v=vaAgtNWewh8
Round 5 Pick 159- Avery Williamson ILB (Kentucky) 6"1" 238
May be considered a reach but if the Broncos have learned anything it's that Kentucky linebackers are worth drafting. Has a nose for the ball and locates it quickly. Wraps up and has solid technique while tackling which is what this team needs. Needs to become more physical but that can be taught and no one wants more physical linebackers than JDR.
Round 6 Pick 191- Cassius Marsh- DE (UCLA) 6"4" 254
Known for a quick get off and fiery passion for the game of football which I think this team needs. I do not think DE will be addressed early in the draft because I think we will sign a pass rusher in free agency. Marsh helped himself at the East-West Shrine game and I think the Broncos are looking for someone like him.
http://www.youtube.com/watch?v=FykVLCSpAGk
Round 7 Pick 223- Silas Redd Running back (USC) 5"10" 201
Nothing wrong with taking players from big name schools late. Silas Redd might drop because of the knee injury that held him out of the senior bowl. He's a solid runner with decent speed and vision. Hopefully he will push Hillman to become better if Moreno doesn't come back.
http://www.youtube.com/watch?v=2rZIBCgKzQU
As you can see from my picks the emphasis is on defense and getting guys that are consistent tacklers unlike our sloppy defense in the Super Bowl. Hopefully you guys like my picks!