@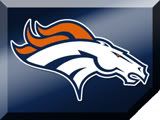 QB Jake Plummer and Head Coach Mike Shanahan took time out from preperations for Sunday Night's game against the Raiders to talk about the game and how to avoid overlooking an 0-4 team that everyone thinks you should dominate.


You can tell Jake Plummer is not one to overlook a team, and his love/hate relationship with the Denver Media is in full dis-like mode as Plummer was short and not-so-sweet with the writers in attendance.  Most of Jake's comments were regarding the thought that the Broncos have this one in the bag --
*--Statistically, the Raiders' Defense is playing very well.  The offense haas turned the ball over and left the defense with some short fields, and that is where the scoring has come from.  It's a rivalry game and it isn't going to be easy.  If you think that it is you've never played a competitive sport in your life.  We can't take them lightly



*--We need to prepare like it's Baltimore again.  The theme from you guys this week will be we have it wrapped up, but you guys are reporters, and we have to play the game.  SO if you think it's already in the books you don;t have much of a clue.



*--When it comes to thinking negatively about our preperation, that you guys.  We think positively, everyone in this building is a positive thinker.  You guys are the ones that think about us taking them lightly.



*--Jake was then reminded that you can't get much more positive than thinking the Broncos have this game in the bag already, as Jake stated the reporters do, to which Jake replied - Yeah, positively clueless...There's a pride factor in the NFL, and it's a rivalry game so we are going to need to go out and perform



*--Their defense is fast, and they have some playmakers up front.  When they aren't given a short field they have made stops.  We're not going to be able to go ouot there and throw the ball around, run around and just get it done, we need to work.



*--It's important to the fans.  Bronco fans are passionate, and Raider fans seem to be everywhere, and they can be a bit annoying at times, so it would be nice to get the win.



*--We see the importance of beating teams in the AFC West.  If you do, good things are going to happen.  As for the offense, we have left some points on the field.  Our defense is playing great, but there is going to be a time when the offense has to make a play, and hopefully we can make some this week.







Head Coach Mike Shanahan spoke about many of the same things, and of course the questions about his well-documented past with Raiders' Owner Al Davis were explored as well.



*--I know what it's like to be 0-4, in '99 after having a good season the year before.  It's tough, you're embarrassed.  I went back and took a look at all the teams that started out 0-4 since 1999, and there were 25 of them.  Of those 25, 15 came out of their fifth game at 1-4(60%).  There is alot of pride in the NFL, everybody has alot of talent, and when you hear all week how bad you are, and how you'll be dominated, you start to get motivated.



*--Offensively, the Raiders can run the ball, they are second in the league in Yards Per Carry(5.1), on defense, they are #2 in the NFL against the pass, and are giving up 3.9 YPC, the same as us and we think we are pretty good against the run.  The difference has been the turnovers(31st in the league).  When you have 6 turnovers in one game and 5 in another you don't give yourself much of a chance.  Needless to say, we can't fall into that trap of taking the Raiders lightly.  We need to take care of business.



*--You go back and look at why we were 0-4, what happened to cause it, and why 60% of those teams go to 1-4, and it because the other teams start to buy in to all the talk about how good you are, and how easy it's going to be, and you don't prepare as hard.  My job is to remind the team of what reality is, not perception.



*--Anytime you go against a team that has fired you it is always special.



*--Rivalries, at any level, are about winning.  Especially in the AFC West, any divisional game is important, becuase your first goal is to get to the playoffs, and if you win your division you are guaranteed a home playoff game, and possibly a BYE and a home playoff game.



*--As for the decision to go with Paul Ernster over Todd Sauerbrun - Paul has done a good job, and even thoough Todd is very talented he is on his last strike.  Paul is a better fit for our team short term and long term.  Paul had an excellent pre-season, and even though he did struggle in a couple games, he had a great game on Monday Night in some bad conditions.



*--We've got a long way to go, we are only 4 games into the season, which means there are 3/4 left to go.  Our players are smart enough to know to take it one week at a time, and they realize you are only as good as your last game.



*--Tatum played very well, but I was very excited about our Offensive line.  The way they stepped up, I have never had a O-lIne step up, both blocking and pass protecting, aainst a defense like that, and in those conditions.  It is a credit to the unit and the way they prepare.



*--On the Quarterback sweep I was very happy with the effort.  They had blitzed strong side most of the night so we were a bit surprised they blitzed from the strong side.  Rod Smith had a great block, as well as Scheffler who did a great job on the D-End.  Jake can make plays.