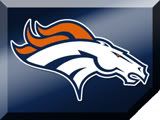 @      



As if going on the road wasn't hard enough, the locker room chatter going on in Denver and Cleveland is starting to grow louder, and quickly this game is becoming much more than a 4-1 Vs. 1-4 contest.  Sure, we all know the history of these two teams, going back 21 years ago and "The Drive", followed immediately by "The Fumble" in 1987.  More recently, however, the mini-rivalry has been stoked by the swapping of multiple players on both sides, though if there was a fight or former teammates the Broncos would definitely have more beef.
The Broncos have no less than 7 former Browns on the roster, and 1 coach.  The Browns have a few former Broncos of their own, most notably RB Reuben Droughns.  With that much inter-mingling you have to imagine that there is going to be some bulletin board material, and so there is.
We'll start with the Broncos, who sport 6 defensive lineman that have spent time in Cleveland, and mostly during lean years.  When asked about their time in Cleveland, here are what a few of the "Browncos" had to say --
EBENZAR EKUBAN -- You know what the word is? Good riddance, I mean, Courtney Brown was a bust. Gerard Warren was a bust. Michael Myers can't play. He's just a backup guy. Ebenezer Ekuban, well, he had one good year but he didn't help the team win. I think it was just good riddance. But we all had confidence in ourselves that we were better players than our team showed.
GERRARD WARREN -- Once the team went south after the playoffs, they had to find a finger to point, somebody to blame, and with me coming in and being a vocal individual and media friendly, always talking, it made me a target when things started going wrong.
And Warren, probably the most hated of the former Browns in Cleveland, wasn't finished --
The (words) 'Super Bowl' (were) forbidden in the building almost, They didn't even think about Super Bowl. That's all I think. Teammates would look at me like yeah, 'I'm dreaming,' when I'm in the locker room talking about try to win a Super Bowl. They were like, 'You're on the Cleveland Browns.
Even Quincy Morgan, who has only been with the team for a few weeks, had something to say about the team that drafted him in the 2nd round in 2001 had something to say about all the former Browns on the D-Line --
QUINCY MORGAN -- You know they've got to be kicking themselves because I think they'd be a hell of a team if they still had those guys right now, that's what they're missing right now.
And Morgan had more to say about the attitude of the locker room --
A lot of guys were more into women, we had guys having a competition to see who could bring the best- looking chick to the game. That's true, man. We had one to see who had the nicest car. It was a mess.
As for the former Broncos, they had some things to say as well.
Running Back Reuben Droughns has no regrets about the trade that sent him to the Browns after the 2004 season --
It was time to go out and make a name for myself, and the trade, I think, worked out for the best for both of us.  (The Broncos) got what they wanted on the D-line, and the Browns got what they wanted at running back and surpassing something they hadn't had in 20 years. There's no regret there.
It should be fun this weekend when these two teams face-off, and I'll be there to take it all in!