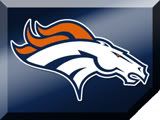 @      




Let me start by re-iterating the fact that I live in Cleveland, and have a pretty good pulse on Browns football.  The feeling here is this is a game the Browns not only can win, but will win.  Maybe it's the lack of success of the Broncos' offense.  Maybe it's the national analysts that seem to be all over this game as one where the Broncos will stumble.  If the Broncos are paying attention, don't come into this game flat, and if at all possible get off to a fast start.
Let's take a look around the news-wire and see what's being said and who's saying it --
On the Cleveland side, there are those  that actually think if they win this week, and certain other things, like a Steelers and Bengals loss, happen the Browns will be right back in the division race.  Ummm, I don't think so, but here is what they had to say --
Hard as it is to believe, the Browns could be in the thick of a sluggish race in the AFC North if everything falls their way Sunday.

The Browns host the Denver Broncos at 4:05 p.m. By that time they will know the result of the game between the Steelers and Falcons in Atlanta and the one between the Panthers and Bengals in Cincinnati. The Ravens, in first place at 4-2, have a bye.

Cincinnati started the season 3-0 but has since lost two straight. The Bengals will try to stop Panthers end Julius Peppers by using a patched up offensive line. The game in Atlanta will provide clues whether the 45-7 whipping the 2-3 Steelers gave Kansas City last week was real or a mirage.  Of course, what happens to the division rivals won't mean anything if the Browns do not hold up their end of the bargain. They are 1-4 and five-point underdogs against the Broncos. Denver, 4-1, has allowed a scant 37 points and just one offensive touchdown. The last four opponents have scored just 19 total points, yet the Browns are convinced they can be the ones to crack the Denver defense.

"We need to win a game," Kellen Winslow Jr. said flatly. "This would the best time to do it vs. a great team like this. The situation we're in now is we have to find an identity and stick with it. We have to turn it around now, or else it's going to be a long season."

The danger of talking about "must games" in October is getting geared up to play 10 more times if the ending is not a happy one. Nevertheless, a sense of urgency pervades the locker room this week.
 The feeling in Cleveland is that the Browns have played well enough to beat Baltimore and Carolina but beat themselves.  Live I have said many times, if my aunt had a
*
* she'd be my uncle.  You are what your record says you are and the Browns are 1-4.  Oh, and for teams that are successful, every game is considered a must-win, that's how you avoid 1-4 starts....
Sometimes, players really stretch to create a reason to get fired up.  First, let's look back at the comments by Bronco Quincy Morgan, who was drafted by Cleveland in the 2nd round in 2001, the same season the Browns made Gerrard Warren the #3 overall pick in the draft --
A lot of (Browns) were more into women. We had guys having a competition to see who could bring the best-looking chick to the game. That's true, man. We had one to see who had the nicest car. It was a mess.
Notice the past tense terms, such as
WERE
,
HAD
,
WAS
.  It is obvious that Morgan was talking about his time in Cleveland, NOT THE CURRENT BROWNS.  Well, the media being what they are, must have let Reuben Droughns know what Morgan said about the current Browns --
From his Cleveland locker stall Thursday, Droughns referred to Morgan as "No. 11."
"I don't know the guy," Droughns said. "He doesn't know half the players in here. There's probably three guys in here that he still knows.
"For him to come out and say what he said, that's pretty much disrespectful, so, you know, um ... who is he?"
"I heard he said the reason we're not winning is we're buying nice cars and things like that," Droughns said. "For him to make a comment like that is really disrespectful. You've been - what - on 10 different teams? Who are you?"
Hey Reuben and the rest of the idiot Cleveland reporters, Quincy was talking about the Browns when he was there.  Way to stir the pot, though I guess with the Browns being as bad as they are they need all the help they can get...
As for the Broncos, the Offense is still be inundated with questions about their struggles, and everyone's frustration with it.  Rod Smith says, Hey, we just need to relax...
While frustration has been the word of the week concerning Denver's lackluster offense, Rod Smith is trying to turn attention to another relevant word involving the Broncos: winning.
"I really feel if we just go out and relax and have fun, we'll open our offense up," Smith said. "We'll let our coaches get some good sleep for once. I don't think any of them are probably sleeping well. But at the same time we are winning. It would be different if we were 1-4 but we're 4-1."
"We're trying to live up to how we've always been in the past, and we've always been high-powered. That's our standard," said Smith, a 12-season veteran receiver. "At the same time, some of those things that we used to do back in the past, we can't do now. Because it was just a tremendous group of people, a collective effort that was going all in the right direction. We still have to have that for this group as we get closer as a closer-knit group and start having fun, because we really aren't having any fun."
Monday, fellow receiver Javon Walker said he wants to get the ball more in order to help the offense. Smith said that's a universal feeling.
"It's just the way it is. And Jake (Plummer) knows, Mike (Shanahan) knows, everybody knows: Javon, myself, David (Kircus), Todd (Devoe), all of us, we all want the football, every time he drops back, we all want it. That's a given. And that's what you want out of your guys."
With all due repect to Javon Walker, and I love what J-W is going to bring to this team, Smith is the guy I have wanted to hear from, because Smith is the leader of this team.  And as usual, Smith is exactly right.  To me, the best thing for the Broncos is to get back to the relative anonymity of playing on Sunday afternoons, instead of these highly pub'd primetime games.  Just getting back into a normal routine should do wonders for this offense.
Meanwhile, the defensive line continues to answer questions about their respective past in Cleveland.  Friend of the MHR, Andrew Mason, Managing Editor of DenverBroncos.com has a great SERIES about the returning "Browncos".  
EKUBAN -- I didn't leave there on bad terms," Ekuban said, citing the fact that he was traded, as a part of the deal that also shipped Michael Myers to Denver while sending running back Reuben Droughns to the Browns. "But still, any time you go against a past team or former teammates that you had, you always want to prove them wrong.
WARREN -- "Bulletin-board material -- what is it worth? To me, really, nothing," Warren said. "Guys do a lot of talking, but you've got to get on the field and back it up on Sunday."
That doesn't mean he's going to try and provide anything for his former team to use this week.
"I ain't much to starting comments before the game," he said. "I'm just willing to go out and do what I've got to do on the field."
In a side note, Andrew does a great job on DenverBroncos.com and on his BLOG as well, and I recommend checking it our daily.
On the injury front, Kyle Johnson practiced on Thursday, and could play on Sunday.  It's a bigger deal than most people are making it, especially since Cecil Sapp dropped a sure TD against the Raiders.  I think the Broncos can be very effective running the ball on Sunday, and having both FB's healthy and on the field will be key.  Said Johnson --
The goal is to continue to improve and get out there and play.
 The only other Bronco on the injury report, Cedric Cobbs, was upgraded to Questionable on the injury report and is expected to play for the first time since Week 2 against Kansas City.
Darrent Williams has made a name for himself on the field, and off it as well with his crazy "Fro-Hawk".  Well, style critic, Williams is going back to a more traditional look this week.  Said Williams --
It's back to normal for awhile.