@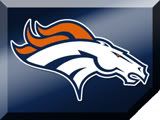 Time to close the book on Week 7, and look ahead to week 8.  There's alot swirling around Dove Valley as preparations set to being for Peyton Manning and Co., so let's get to it --


Denver's Quarterback Situation -- Mike Shanahan did his best to try and suffocate the growing controversy regarding embattled start Jake Plummer.  As reported here at the MHR, a major portion of Shanny's Monday Presser was spent on the quarterback play, and a report by ESPN's Chris Mortenson that stated Shanny's patience was wearing thin.  Not so, says Shanny, and said with a great vengeance for all to understand --
When we do make a decision, we make a decision in the best interest of our organization," Shanahan said. "I will tell you this, that Jake Plummer will be our quarterback against Indy. Then I'll get a chance to be on this little program again (next week) and we'll talk about the same thing."
Shanahan again answered a national report Sunday morning that the Broncos' patience with Plummer was wearing thin and Cutler would enter the lineup as soon as Sunday's game against Cleveland, which the Broncos beat 17-7.
Cutler did not play against the Browns.
After the game, Shanahan said, "If we were going to play him, we would have played him."
"I didn't write the article," Shanahan said Monday. "I've said this from Day 1. . . . Things don't change from the first day. I don't have time to listen to all the rumors and all the speculation when we're trying to win some football games.
"You play your best players and you try to find a way to win. That's as factual as I can get. Just because something is in the newspaper or on a so-called channel does not mean I said it or someone within the organization said it.  I know it's the thing to talk about, the quarterback situation," Shanahan said. "It happens all the time. Any time you've got a guy who is a first-round draft choice. It happened with John Elway and Tommy Maddox; it was the same thing. It happens all the time.
"But we're winning football games, and why don't we support the quarterback who's winning those games?"
 That last statement is the one the rings true to me, and should to all Broncos fans.  But the fact remains that this team is living on the edge, and before long Plummer is going to make a mistake the defense cannot overcome.
Broncos, Colts Nursing Injuries
-- Both teams come into this game with some injury concern, and how it progresses during the week will be something to watch.  What we know now is this --
The Colts will be without two key players on that defense.
First, Safety
MIKE DOSS
is done for the season after tearing his ACL Sunday against the Redskins.  Though he had lost his starting job, Doss was forced into action when Bob Sanders went down 4 weeks ago and has played well.  The Colts hope Sanders will be able to return this week.
The other big injury is to former Bronco
Monte Reagor
, who was injured in a car accident heading to last Sunday's game.  At this point, not much information is available about Reagor's injuries other than that he received stitches to close wounds on his face and head.
The Broncos have some injury issues of their own, with word coming down that starting LT
Matt Lepsis
to a torn ACL.
Lepsis has been a stalwart in the starting lineup for nearly a decade and will be tough to replace.  Erik Pears replaced Lepsis during the game, but that move may not be the permanent solution, with more to be determined as the week progresses.
On the D-Line, the Broncos are unsure on the status of
Gerrard Warren
, who is suffering from a sprained toe, including some "slight ligament damage".  Shanny was unsure to a time line, only saying that, "I think it really has to do with pain threshold," Shanahan said. "We won't know until later in the week exactly whether he can go or not. . . . We'll wait a couple days, see how it heals up".  If Warren were to miss time, expect Ebenzer Ekuban to slide inside and split time with Demetrin Veal and Michael Myers.  If Ekuban moves inside, rookie Elvis Dumervil, yea the guy with 5 sacks already, would be pressed into even more action, and he would need to be even more of a presence.
As of now, the Broncos did get a bit of good news regarding FB Kyle Johnson, who appears ready to practice and should return this Sunday.
Colts Looking To Be Elite
-- News out of Indianapolis heading into this game involves the Colts looking to reach into
HISTORY
with a win this weekend.  If they beat the Broncos, the colts would start 7-0 for the 2nd straight year, and would become just the second team to do so, the other being the 1929-31 Green Bay Packers, who did it three years in a row.
Broncos Look To Pass 'Final Exam'
-- In Denver, this game is being viewed as a measuring stick.  After getting blasted in the playoffs by the Colts two years in a row, the Broncos set out to revamp their defense, starting with the Clinton Portis trade.  Add a draft that included a Linebacker, 3 DB's and some D-Lineman, and you can see the Broncos are building themselves to be a defensive force.  So far, so good, but dominating now mean nothing if you can't do it in the playoffs.  As
Jeff Legwold
says, all those changes in personnel and attitude, from offense to defense, will be put to the test this weekend in Denver.  If the Broncos aspire to big things, we will find out just how prepared they are on Sunday.