@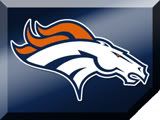 The Indianapolis Colts have 20 players on their injury report, 19 listed as questionable.  The Broncos on the other hand, have just 4, but it's the player listed as OUT that still has everyone talking.  LT Matt Lepsis tore the ACL in his right knee and will miss the rest of the season.  On Sunday, it was Erik Pears that replaced Lepsis in the line-up, and though Shanny spoke well of Pears after, he did allow the Alvin McKinley of the Browns to sacks, though TE Stephen Alexander took blame for one of them.  When Shanahan was asked about the situation, he responded in typical Shanny fashion --
We'll experiment at practice, we'll make the decision later.
In other words, no one is going to know a thing until game day.  There is no doubt that Shanny is totally sold on Pears as a possible replacement.  He is going to look at all possibilities and combinations to go against Dwight Freeney, who is lickiing his chops to get his first sack of the season. In reality, there are three options Shanny has at this point.  Let's take a look at all three --
COOPER CARLISLE
-- Carlisle has been a Bronco since coming into the league in 2000, but only became a full time starter in 2005.  Overall, Carlisle has started 28 out of 85 total games, including the last 26 in a row.  At 6-5 290, he is very similar in size to Lepsis(6-4, 290), though not as fast or fundamentally sound.  Carlisle has done a great job at RG, and sliding him to the other side leaves an opening on the right side, probably to be filled by rookie Chris Kuper.
ADAM MEADOWS
-- Meadows was signed during training camp after ended his retirement.  Since returning, Meadows has be in-active every week, and has been experiencing pain in the surgically repaired shoulder that forced him to leave football in the first place.  An MRI came back negative last wekk, however, and the pain is something that Meadows is going to have to see if he can handle.  Meadows does know the Colts defense, having started 96 out of 103 games for the Colts from 1996-2003.  I like Meadows, but this is a bad time to test his physical abilities, unless, of course, Shanny knows something about Meadows' condition than we do, as we know that is certainly a possibility.
ERIK PEARS
-- Pears, who spent all of 2005 on the practice squad, saw his first action on the line last Sunday coming in for Lepsis, and did ok.  Something in my gut tell me that even though Shanny had nothing but good things to say about Pears performance he is less than thrilled about having Pears face Dwight Freeney for 4 quarters, even though Freeney has been nicked up this season.  Pears has good size(6-8, 305), but in limited action on Sunday showed below average lateral movement that he is going to need against this D-Line.  I don't think Pears will be the guy.
This are the choices the Broncos have.  Though Carlisle seems to be the best option, it also creates the most chaos, since Carlisle is already a starter.  Instead of one unknown, there would be two, and that could actually make matter worse.  One thing was certain on Sunday;  Jake Plummer isn't used to getting hit from the blind side, which the look on his face after getting planted by McKinley in the 2nd half said rather explicitly, and Shanny is going to have to have faith in whomever he decides on.
In other injury news, the Broncos are still in wait and see mode with Gerrard Warren, who is nursing a sprained toe. Warrnen missed practice yesterday, and isn't expected to test the toe until Friday. Shanny is cautiously optimistic --
We think he has a chance, but we'll know more on Friday
The other Broncos on the Injury Report -- Kyle Johnson, Tatum Bell and Cedric Cobbs -- all took part in practice and are expected to play.