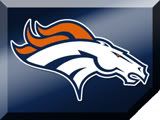 @            



DENVER BRONCOS
Questionable

RB Tatum Bell---------Toe
DE Patrick Chukwurah--Hamstring
DE Ebenezer Ekuban----Thigh
S Nick Ferguson-------Concussion
LB Ian Gold-----------Hamstring
FB Kyle Johnson-------Ankle
S John Lynch----------Concussion
WR Rod Smith----------Shoulder
CB Darrent Williams---Shoulder
LB Al Wilson----------Concussion

PROBABLE

RB Cedric Cobbs-------Ankle  
DT Gerard Warren------Toe

OAKLAND RAIDERS

QUESTIONABLE

QB Aaron Brooks-------Shoulder
S Jarron Cooper-------Hamstring
RB Zack Crockett------Knee
LB Isaiah Ekejiuba----Foot
G Barry Sims----------Abdomen
TE Randal Williams----Back

Probable

RB Justin Fargas------Shoulder
S Michael Huff--------Concussion
RB LaMont Jordan------Back





No changes to the injury report for either team, though it is becoming clear as to who could play and those who probably won't.
On the Broncos side, Ian Gold plans on testing his injured hamstring at practice on Friday, though it appears a long shot for him to see action on Sunday.  Two other Broncos expected to miss the game include DEs Ebenezar Ekuban and Patrick Chukwurah.  That leaves the D-Line thin to say the least and could lead to the first appearance of Kenny Peterson in a Bronco uniform.
A few other injured Broncos returned to practice yesterday and are expected to play on Sunday.  Al Wilson and John Lynch, who suffered concussions on the same play last Sunday have been cleared to play.  Rod Smith was back in action with his injured shoulder, and Darrent Williams will be fitted with a harness to protect his partially sepereated shoulder.  Hopefully Williams can have the same success that Champ Bailey had last season playing with a similar device.
Of the lingering injuries from previous weeks, Tatum Bell is expected to play after missing the game in Pittsburgh.
All the injuries could lead to a revamped Special Teams unit as well.  Nate Webster and Hamza Abdullah are likely to see their first action of the season after being inactive every week to this point.  Al Wilson is confident the new guys can get it done --
That's the NFL man, no, I'm not concerned. These guys are professionals, looking for the opportunity. You have a chance to play and you have to take advantage of it, because that could mean a job down the road, if not with this team, maybe another team.
On the Raiders side, two of the players on their injury report have missed the past two days of practice and are likely not to dress on Sunday --
LB Isaiah Ekejiuba
and
G Barry Sims
.