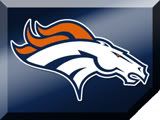 @      



Week Nine: Denver Broncos @ Oakland Raiders


Location: Oakland, CA  


Kick-off time: 4:15 pm EST


Broadcast: CBS

The 2nd meeting of the year between the Broncos and their hated rivals in Oakland, though I must admit when the Raiders aren't playing well it is nearly as much fun.  The Broncos will need to avoid looking ahead to next week's showdown with the Chargers on Sunday Night.  Make sure to check out Silver and Black Pride for the Raiders point of view!





GAME DAY NOTES:


*--The Broncos have won 4 straight divisional games by a comined score of 67-19

*--The Broncos lead the league in points allowed per game(12.3) and have allowed an NFL-low 7 touchdowns this season

*--The Broncos are 18-5 vs. the Raiders under Mike Shanahan

*--Jake Plummer is 6-1 vs. the Raiders since joining the Broncos in 2003

*--Last Regular Season Meeting -- 13-3, Oct. 15, 2006 -- WIN

Official Gameday Press Release




BRONCOS INACTIVES


RB MIKE BELL

TE TONY SCHEFFLER

LB IAN GOLD

DE EBENEZAR EKUBAN

WR QUINCY MORGAN

OL CHRIS KUPER

DE KENNY PETERSON

LB PATRICK CHUKWURAH

A couple of Broncos will get there first regular season action in a Bronco's uniform today as Antwon Burton and Damien Nash make the jump from Practice Squad to game day roster.  A couple of surprises on the inactive list are RB Mike Bell and TE Tony Scheffler.  Scheffler has seen his role drop every week and he will be inactive for the first time all season.




FIRST QUARTER

--The Raiders get the ball first, and quickly attempt to establish te run, something they did not do last week against the Seahawks
--David Kircus to return punts to give Darrent Williams shoulder less wear. Williams has looked good so far, playing with the harness
--Interesting to see Adam Meadows starting in place of George Foster. I guess Shanny has finally gotten sice of Foster's bone-headed play.
--Exactly what the Broncos had to avoid, a turnover deep in their own territoy. No shut owt, I'd imagine
--A look at the replay shows a horrible throw by Plummer, and the Broncos' defense will need to hold the Raiders to a field goal try
--Walter has all day to throw and picks up the first down inside the Broncos' 5
--A big third and goal, and you'd have to imagine the Raiders will try and run it in again
--A penalty give the Raiders new life, and they make the Broncos pay...TOUCHDOWN RAIDERS...
--RAIDERS 7 - BRONCOS 0
--After getting up by 21 in the 1st quarter, the Chargers have come all the way back, and lead 49-41
--Well, count on the Raiders to screw something up, and they do, as Janikowski botts the kick-off out of bounds
--Looking for the offense to come right back and tie this game...
--Shanny sporting the specs, and the Broncos are going to be a 1/2 yard short. Going to go for it here
--Another interception for Plummer, as the Broncos try and get a bit to creative, throwing on 4th and a half yard. @ picks already for Plummer
--Broncos defense quickly has the Raiders in a 3rd and long
--Nice catch, but will be short of the first down, and the Raiders elect to pin the Broncos deep
--Lechler is as good as there is, and sits right on the gaol line, but fortunitely for the Broncos the goal line is the endzone and they'll start at the 20.
--Well, it couldn't have been a worse start, and we find ourselves only down 7. Time for the offense to get it going...
--Plummer at his absolute WORST so far today....How long can this continue??
--Nice job by Engelberger to string out Fargas...another big third down
--Walter has time, but misses Moss and the Broncos get the ball back
--Great return by Kircus, and if Keith Burns can block the punter it's a TD. Great field position for the Broncos
--Great throw by Plummer to Walker, and like that the Broncos have tied the game. Damn, Javon Walker is a bad mutha! TOUCHDOWN BRONCOS
--BRONCOS 7 - RAIDERS 7
--Best comment of the game so far by WABronco, with the classy - "SUCK IT, SCHWEIGERT", you guys and gals are the best!
--END OF 1ST QUARTER - BRONCOS 7 - RAIDERS 7

SECOND QUARTER

--The 2nd quarter starts with 2 completions for Walter and a quick 1st down
--Always an adventure when the Riaders try and throw the ball, but Ferguson just can't get the pick
--Almost another great catch, but Williams can't hold on and the Raiders punt again, and once again the Broncos start at the 1 yard line
--A big first down gets the offense out of the shadow of the end-zone
--The one first down is all the offense can get, and the Raiders figure to get great field position, and they will starting around mid-field again
--Raiders run the screen to perfection, and are moving into scoring position
--If Walter keeps throwing the way he is now the Broncos are going to HAVE to intercept one
--Big 3rd down, and the Broncos get the sack
--Janikowski nails the long field goal, and the Broncos are behind again
--RAIDERS 10 - BRONCOS 7
--Nash gets his first carry, and looks good getting 7 yards
--Not so good on the next one, and the Broncos quickly are in another 3rd and long
--Two false start penalties on Meadows in the first half
--Things are getting ugly for the Bronco's offense right now, and this could become one of those games that Shanny hopes the D comes up with a score
--If the Broncos are going to let Walter have that much time, then I could complete passes. Broncos are going to have to start bringing some pressure
--Raiders doing the same thing the last twi teams have done against this defense, and that is throw the ball. No pressure from the front four, and the Raiders are on the cusp of going up two scores
--Walter make a poor throw, and the Broncos defense holds the Raiders to a field goal
--RAIDERS 13 - BRONCOS 7
--As bad as the Broncos have played in the first half we are damn lucky it is only 13-7
--Clark fumbles, but the Broncos recover, and that could have been a disaster, but as it is, the Broncos should just let the half end
--They don't and Kircus gets a quick 15, and after another 4 yard gain the Broncos have 24 seconds to try and get into field gaol position. The Raiders get the ball to start the 2nd half
--Another sack of Plummer and the half ends with Rod Smith failing to get out of bounds. As bad as it gets Bronco's fans, but the Broncos only trail 13-7

--HALFTIME -- RAIDERS 13 - BRONCOS 7

THIRD QUARTER

--Third quarter starts with a decent return from the Raiders. A 3 and out is a key to try and give the offense some field position
--They'll get a chance, with a 3rd and long...Bring some pressure!!!
--The defense can't get it done, and the Raider are once again to mid-field. I know Jake has played poorly, but starting a drive inside the 5 every time doesn't make it any easier...
--Another 3rd and long, let's see if we bring some pressure this time...
--They do, and Walter throws an incompletion...But Lechler has a chance to pin the Broncos deep, but the ball gets into the enadzone...A victory in itself to be starting at the 20
--Nice throw and catch to Rod Smith, who predictably comes to the side line after the 15 yard catch
--Another big gain, and the offense looks much more crisp to start the 2nd half
--Nice scramble by Plummer, and Alexander is getting destroyed by Burgess, big 3rd down
--A bad throw keeps the Broncos from getting the first down, but a penalty brings a 3rd and long. The Broncos need to start converting a few of these...
--The Raiders, unlike Denver's front 4, gets great pressure, and a promising drive ends at midfield. Can't blame Plummer for that one
--Is anyone else totally disappointed with Paul Ernster???
--Broncos bringing pressure again, and again Walter throws incomplete...FINALLY!!!
--Again, this defense gives up a third down and long conversion. 33 yards later, and the Riaders get a big 1st down...
--Another 3rd down, and at some point this defense needs to make a BIG PLAY!
--A big play, but not by the defense, as Walter misses an easy 1st down, and Janikowski gives the offense new life by missing the long field goal. The Raiders are doing everything to hand this game to us!
--Another interception, on first down no less, and if anything, at least the Raiders are pinned deep. 3 Picks for Plummer on the day
--Not for long, and 20 yards later the Raiders are back to the 35
--No doubt, the injuries to the defense have had an effect today. Another bad Walter pass saves the Broncos and forces another 3rd and long
--Finally the front 4 gets some pressure and Lang has his 5th sack of the season. The Raiders will have to punt again
--Even the running plays are roughshod, as Plummer nearly runs into Nash
--If you are a reader of this blog, you know how I feel about the Broncos' ability to run the screen. THEY CAN'T! More proof on the 3rd and three, and the Broncos have to punt again
--Can someone let Paul Ernster know he's allowed to punt the ball further than the 26 yard line
--Quickly the Broncos defense has the Raiders in a 3rd and long...
--The defense gets the 3 and out I have been crying for, and hopefully Kircus can get something he can return...
--A HUGE penalty against the Raiders forces Lechler to punt again, and get Kircus off the hook!!
--How nice it is when your punter can kick it 57 yards!! As it is, the Broncos have great field position again...
--A Bronco first down to mid-field ends the 3rd quarter, and somehow Denver is right in this one, and if they can play a good 4th quarter can steal one
--END OF THE THIRD QUARTER -- RAIDERS 13 - BRONCOS 7

FOURTH QUARTER

--Stephen Alexander has been our biggest weapon today, and has the Broncos at the 35
--Nate Jackson, in there for Tony Scheffler today, make a hug catch, and just like that the Broncos are in a Goal to Go situation
--Another near disaster, as Nash fumbles, but gets it back. A wasted down brings up 3rd and goal
--Nice catch by Smith brings up a 4th and 1/2 yard, and the Broncos will go for it. If you can't get a 1/2 yard, you don't deserve to win!
--A horrible challenge would waste 2 timouts...They had better get a TD out of this now....
--TOUCHDOWN BRONCOS!! A great play fake lets Plummer hit a wide open Kyle Johnson and the Broncos take the lead
--BRONCOS 14 - RAIDERS 13
--The defense got some well-needed rest, and how great would it be for a turnover now?!?
--Both teams showing poor time-out management, each with only one left...
--Another 3rd and long, will Coyer bring pressure?? He does, and the Broncos hold, getting the offense the ball after a 3 and out
--Another 55 yard punt, dies at the 2 yard line, where the offense will start, and will have to be ultra careful..Lechler has been a difference maker today, no doubt about it
--Typical Bronco offense from the 2, fake the hand off and throw to the flat gets 9 yards...and Tatum Bell gets the Broncos a needed first down
--Another big run for aum leads to another 2nd and short
--Third and an inch, and needless to say, you have to pick this up!
--First down, Cecil Sapp, and this is shaping up as one of those good ole' fashioned Bronco drives, eating up a bunch of clock
--Just like that Plummer gets the ball to Walker for a huge gain, and the offense has moved the ball to mid-field
--A field goal here would be huge, as the Raiders haven't sniffed the Broncos end-zone without the help of a Denver turnover
--The Broncos take their last timeout, leaving a huge third down
--Nearly Jake's 4th pick, and after a challenge it will be, as Plummer badly underthrew Javon Walker. Rarely can you win when you throw 4 picks, and the only consolation can be the Raiders will have the ball at the 20
--Actually, it is an incomplete pass, and Paul Ernster will punt...Net gain, 4 yards
--Time for the defense to get it done again...
--Finally, the turnover we were waiting for, Kenard Lang hits em, Engelberger recovers, and the Broncos can put this one away...
--A ouchdown would be delicious here, giving the Broncos an 8 point lead
--Nothing going, and Jason Elam comes out to try a field goal that would give the Broncos a 4 point lead, but first, the 2-minute warning
--Elam converts, and the Raiders still have life
--BRONCOS 17 - RAIDERS 13
--Broncos need to be careful on the kick return, as Carr has the ability to go the distance
--Decent return, and the Raiders are 65+ yards from where they need to get to
--They won't get the first yard, as a fumbled snap is recovered by Elvis Dumervil, and the Broncos will do exactly what I said at the start of the 4th quarter, they'll STEAL one from the Raiders today
--Three Plummer kneel-downs end it, and the Broncos sneak out of town, beating the Raiders and geting to 7-2
--FINAL -- DENVER 17 - OAKLAND 13