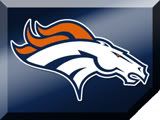 @      


If you have read what I have to say about the Broncos on a week in/week out basis, you know I am a glass half full type of guy.  A win is a win.  A divisional win is even better, and a divisional win on the road against your arch-rival is best yet.  If I had polled everyone before the year started, asking if a season sweep of the Raiders would be acceptable, I would have received a 100% positive response.  But now that the game is over, message baords filled with this guy sucks and that guy needs benched, etc.  Just remember what is important, take every game for what it is, and move on.  Lastly, be honest.  What felt better, scoring 31 aginast the Colts and LOSING, or scoring 17 against the Raiders and winning?  I thought so.....
All that warm and fuzzy stuff aside, there were some troubling trends that continued yesterday.  Some the team can control, some are not, but all need to be discussed in my opinion, and I welcome all of your excellent opinions --
Lack Of Field Position Continues --Over 1/3 of our offense possesions(5/14) started from our own 20, or worse, including 2 from our own 2 yard line.  Yes, Lechler is one of the best there is, but it is a disturbing trend none-the-less.  After Week 5 I gave the stats of every Bronco drive this season and will update the numbers with the past 5 games to get an overall view but one other stat I am going to look at is how many times our opponent has started a drive deep in it's own territory, coupled with how many 3-and-outs our defense has forced.  My feeling on it is the defense is probably towards the bottom of the league in that category and that effects field position, big time.  More on the later in the week, when I pull the actual numbers together.


Mr. Sauerbrun, You Have A Telephone Call -- Todd Sauerbrun has yet to sign with a team, after being released by the Broncos after Week 5.  He stated at the time it was his wish to return to Denver.  A few tryouts later, Todd is still out there, and Paul Ernster is struggling, mightily.  Yesterday was a microcosim of Ernster's season so far -- 33.6 Avg., long of 46, 1 downed inside the 20 and that was at the 17.  Compare that to Lechler -- 44.5 Avg., long of 57, 3 downed inside the 20, two at the 2, one at the 8.  That is being a difference maker in a game, and in a close game that can make ALL the difference.  Early in the year I was giving Ernster the benefit of the doubt becuase of some nasty weather, but now, I've seen enough and I would get Sauerbrun back ASAP!


Sometimes You Have To Tip Your Cap -- Don't forget one thing, this Raiders defense is pretty damn good.  In honesty, we have faced some pretty good defenses this year, which may account for some of our offensive struggles.  The Raiders are a Top 10 defense, #2 against the pass.  They were #27 against the run, which is why I was surprised when we went so pass happy, but that is how Shanahan coaches anytime we are behind.  Yesterday was a proto-typical game for the Raiders -- If there offense can give them anything, anything at all, they would win some games.  Event he TD they scored was after we gave tehm the ball at the 15, THEN had a defensive penalty when we stopped them three times inside the 5.  Don't look at the record and think they should've been a pushover, that's a solid defense, and young, especially in back.


It's Not How You Start, But How You Finish -- This might be the first ime I have seen Jake play so poorly, then turn it around late in a game.  Usually you can tell how Jake is going to go during the first drive of the game.  He actually made a good pass to Kircus on that 3rd down, but it was dropped.  After that, Jake was way off target and seemed to be out of sync within the offense.  I think it's a combination of a bunch of things, namely all the new faces that keep getting shuffled in and out of the starting lineup.  Stepehn Alexander then Tony Scheffler then Nate Jackson.  Mike Bell, then Tatum Bell, then Mike Bell again, the Cedric Cobbs, then Damien Nash.  Matt Lepsis then Erik Pears.  George Foster then Adam Meadows.  Every week there is someone else coming off the scout team onto the first team.  It's hard for a quarterback to get into a rhythem with all that change, and if any QB is reliant on that rhythem, it's Jake.  Just look at the Colts, Manning, Harrison, Wayne, Clark, every week, every game, for the last 5 years.  It doesn't totally parden Jake from the blame of the pick that led to the Raider TD but it does have an effect.  Jake will need to play better starting this week, and I think he will, but Shanny also needs to decide on a first team to run out there with him.


We Were Almost Too Late Again -- Like all of you, I was throwing stuff at the television, watching this defense sit back and let ANDREW WALTER pick it apart.  If Walter could have made a good throw a couple of plays, where there was no pressure at all, the Raiders win the game.  It was going the way of the Colts game, until the 6 minute mark of the 3rd quarter.  That's when Larry Coyer started bringing pressure, and that's when the Raiders started to struggle.  And to me, pressure isn't sending John Lynch around the outside, he's too slow for that.  It's sending Lynch, or Al Wilson, or D.J Williams right up the gut, right in the QB's face.  Sometimes you'll get burned, but against a guy like Walter, who got roughed up repeatedly against the Seahawks on Monday Night, hitting him in the face is the best way to get him off his game, and from the 6 minute mark of the third quarter, the Raiders gained a grand total of 8 yards on offense....EIGHT YARDS!!  A scheme is what it is, but you have to adjust, in-game, to what's happening in that game.  We let one game get away becuase we failed to do that, and nearly lost another one.  Let's hope we can recognize a bit earlier this week, if need be.


That'e my take, and I'm sticking to it.  One positive note was the play of the defense, even with all the injuries.  John Engelberger played his best game as a Bronco, and Kenard Lang came up huge late.  Nate Webster was never really mentioned, but in that situation that's a good thing becuase it means he didn't make any major mistakes either.  One concern I do have is the success of Raiders TE Randal Williams, who came in with a TOTAL of 5 catches all season, and ended with 6 yesterday.  Sam Brandon has played the opposing Tight Ends until he was lost for the season.  Don't think the Chargers and Chiefs won;t try and take advantage of that weakness with tight ends that are a bit superior to Randal Williams.  Something to watch for sure!