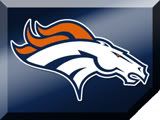 @      




Let's take a look at the early injury report, and make no mistake, the Steelers are beat up and battered, especially on offense.  I've said it before, and I'll say it again, there isn't a better time to get the Steelers in Pittsburgh.  I'm not guarunteeing anything, but we NEED to take of business!!!


DENVER BRONCOS

Probable

CB Champ Bailey -- Ankle
RB Tatum Bell ---- Toe
RB Cedric Cobbs -- Ankle  
LB Ian Gold ------ Hamstring  
FB Kyle Johnson -- Ankle  
C/G Chris Myers -- Shoulder  
TE Tony Scheffler -- Hip  
DT Gerard Warren --- Toe  
LB D.J. Williams --- Foot  
LB Al Wilson ------- Thumb


PITTSBURGH STEELERS

OUT

LB James Harrison -- Ankle  
C Jeff Hartings ---- Knee  
S Mike Logan ------- Hamstring  
WR Willie Reid ----- Foot

QUESTIONABLE

DT Casey Hampton --- Hamstring

Probable

LB Larry Foote ----- Shoulder
LB Clark Haggans --- Ankle  
WR Santonio Holmes - Shoulder  
G Chris Kemoeatu --- Ankle
FB Dan Kreider ----- Ankle  
WR Sean Morey ------ Toe  
S Troy Polamalu ---- Foot  
CB Deshea Townsend - Quadricep  
WR Cedrick Wilson -- Groin






BAILEY HONORED


A hardy MHR Salute to Champ Bailey, who is set to be named the AFC Defensive Player of the Month for October.  When OFFICIALLY announced, Bailey will become only the third Bronco to win the award multiple times, and the first to do it since Terrel Davis, who was the AFC Offensive Player of the month 4 times: September 1996, 1997 and 1998 and October 1998.  The only other Bronco to win the award more than once is the great John Elway, who won the award twice.




Bailey, who also won the award in November, 2005, was incredible during the month of October, intercepting passes in three straight games (Week 5 versus Baltimore, Week 6 against Oakland and Week 7 at Cleveland) while notching 20 tackles -- including 13 solo stops -- and nine passes defensed.  Better yet, each of Bailey's interceptions came inside the 2-yard line, adding to the signifacance of the picks.

The other Broncos to win the award, established in 1986, are: Defensive end Rulon Jones (October 1986), safety Dennis Smith (October 1989), linebacker Karl Mecklenburg (November 1989), linebacker Simon Fletcher (December 1991) and cornerback Deltha O'Neal (October 2001).