@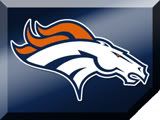 Broncos-Seahawks Game Moved To Sunday Night

If you think five prime time games for the Broncos was enough, too bad.  If you though you should see more of the Orange and Blue at night you're in luck.  The NFL ANNOUNCED today that the Broncos game with the Seahawks on December 3rd has been moved to Sunday Night.  It will mark the 2nd time this season that the team will play 3 night games in a row.  Earlier in the year they played the Patriots, Ravens and Raiders at night.
The Broncos are 3-1 at night after losing to the Chargers last night, and face the Chiefs in Kansas City Thanksgiving Night.
I said this when the Charger game was moved and I'll say it again.  I am not a big fan of this becuase of the motivation factor.  Both teams look to play hard on national TV, and I think it removes a bit of the home-field advantage.  Just my opinion, but for of you that don;t get to see Broncos games except for when the are televised nationally you have to be excited!!