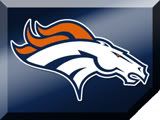 @      





Not much change on either team's injury report, though Casey Hampton was upgraded to probable.


DENVER BRONCOS

Probable

CB Champ Bailey -- Ankle
RB Tatum Bell ---- Toe
RB Cedric Cobbs -- Ankle
LB Ian Gold ------ Hamstring
FB Kyle Johnson -- Ankle
C/G Chris Myers -- Shoulder
TE Tony Scheffler -- Hip
DT Gerard Warren --- Toe
LB D.J. Williams --- Foot
LB Al Wilson ------- Thumb


PITTSBURGH STEELERS

OUT

LB James Harrison -- Ankle
C Jeff Hartings ---- Knee
S Mike Logan ------- Hamstring
WR Willie Reid ----- Foot

Probable

DT Casey Hampton --- Hamstring
LB Larry Foote ----- Shoulder
LB Clark Haggans --- Ankle
WR Santonio Holmes - Shoulder
G Chris Kemoeatu --- Ankle
FB Dan Kreider ----- Ankle
WR Sean Morey ------ Toe
S Troy Polamalu ---- Foot
CB Deshea Townsend - Quadricep
WR Cedrick Wilson -- Groin




A look at the news circulating starts in Pittsburgh, where OFFENSIVE LINE ISSUES are starting to take it's toll.  The Steelers lost Pro Bowl Center Jeff Hartings to knee injury last week in Oakland, forcing the Steelers to start Chukky Okobi, who hasn't made a start in four years.  In other moves, Kendell Simmons will reclaim his starting job at Right Guard after he was benched for the 2nd Half in Atlanta and for most of the Oakland game.  All the movement doesn't sit well with Simmons --
The offensive line is kind of tough, shuffling people in and out, because you want to get some rhythm going," Simmons said. "That's tough. But you leave it up to coaches. They try to find the right fit to get some things going."
Okobi might be the biggest story, starting for the first time since 2002, when he also replaced an injured Hartings.  Okobi says he's ready --
Physically, I don't think anything has changed much [since his last start]," Okobi said. "I might be a little bit shorter since they took that piece of my disk out. The only difference, I would say, is from a confidence standpoint. I've been in this league for a while. This ain't my first rodeo."
After a tough week which saw the Raiders sack Ben Roethlisberger 5 times, the Steelers will need the O-Line to plpay well.  Let's hope the Broncos' D-Line can get healthy and get it done this week.
A few other nuggets about the Steelers heading into the game
--
--Willie Parker comes into the game 4th in the AFC in rushing.  The Broncos defense is also 4th against the rush.  Parker has 3 100 yard rushing games this season, all at home
--One name being heard very little this week is Duce Staley, who has become a forgotten man in Pittsburgh.  Brought in as a free agent a couple years ago to replace Jerome Bettis, Staley has ben often injured, and ineffective when healthy.  He first loast the starting HB job to Parker, and couldn't even win the short yardage job from Bettis last season.  This year the Steelers have continued to go in another direction, using Parker as the feature back, with Najeh Davenport and Veron Haynes in short yardage.  Now, word out of Pittsburgh is that Staley will remain inactive even though the Steelers lost Haynes for the season against the Raiders.
--Casey Hampton looks to return after missing the game last weekend against Oakland.
On the Broncos' side, You have to love the story of
ERIK PEARS
.  In 18 months, Pears has gone from undrafted free agent to Practice Squad player to NFL Europe star to surprise 53-man roster addition to starter at Left Tackle for Matt Lepsis.  Pears has great size(6-8, 300) and did a decent job against Dwight Freeney last Sunday in his first start.  Plummer likes what he saw from Pears --
He played really well, he was real strong on the run, did good in the pass. That's what I felt all along he would do. He's a guy that works hard. We didn't put him on any islands or make his job real hard, but he went out there and still got after it. I knew he would do that. He's a competitor. He's strong. Hopefully he'll just keep improving."
The bad luck of one guy can be to the fortune of another, and Pears just might be the next diamond in the O-Line rough for the Broncos.
As the week goes on, the status of Tatum Bell seems to be moving further and further
IN DOUBT
.  Bell has sustained sprains to toes on both feet and the pain has failed to subside.  No decision will be made on Bell until game-time, and Bell was still listed as 'Probable' on Thursday's Injury Report.  To Bell, it's about the team --
"I'm just worrying about getting better and not hurting the team," he said. "I just want every play to be a good play instead of a bad play because I know I'm hurt. I've got to put that behind me. I've played hurt before."
Bell has stated that he has felt fine in practice this week, but the Broncos can ill-afford to have Tatum at less than 90% or so.  In a game destined to be hard hitting and ultra physical, the Broncos are going to need all their runners fresh and strong.